PRODUCT: Pro Circuit had a challenging task for the 2023 KTM 300SX. Many riders considered the stock powerband a little too much to handle. The bike is all new for 2023, with an electronically controlled power valve, as well as throttle-body fuel injection integrated with spark advance through the ECU. It has two maps available through a handlebarmounted switch—a mild white map and a fire-breathing green map. The problem is that the two maps actually have different port timing, something that wasn't possible with previous systems. Improving the exhaust system of a bike with so many variables is tricky, to say the least. Otherwise, the Works pipe is typical of the systems that Pro Circuit has been manufacturing for almost 40 years. It has a raw, unfinished steel exterior and uses all the stock mounting hardware. We teamed it up with the Pro Circuit R304 stainless/aluminum silencer. This comes from Pro Circuit's Shorty line, although it's essentially the same length as the original but round instead of oval.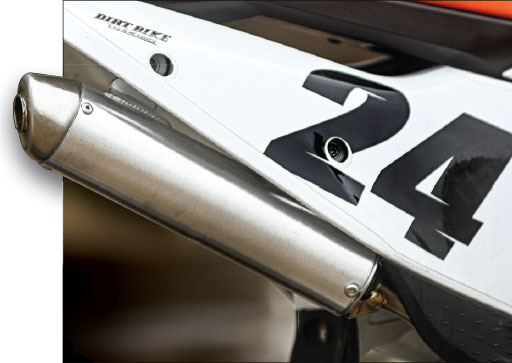 OUR TAKE: As we said, the stock KTM 300SX is a handful, particularly in the green map. It makes 450-level power, but only briefly in the middle. Beforehand, the ramp-up is short, and afterwards the over-rev is short. As a result, you have to hold on tight and shift quickly. In the white map, the bike is easier to ride, but once you taste the sheer power of the more aggressive map, it's hard to go back. With the Pro Circuit Works pipe and silencer, the KTM is more manageable in that green map, and you don't have to accept less power in exchange. The ramp-up starts at lower rpm, and over-rev is slightly higher. In the middle, it actually makes just a little bit more than stock, although it's no harder to handle. The over-rev is particularly useful because you don't have such a short window to upshift. The exhaust note is a little louder than stock, but it's a good, rich sound and we love it.
Racing against 450 four-strokes is still going to be a challenge for the 300SX. You have to hold on tighter, shift sooner and be more precise with throttle control. But, the Pro Circuit pipe is a step in the right direction, and we're impressed that it's available already for such a new bike. We also have a particular fondness for a raw steel finish. You just gotta know up front that you have to spray it down after every ride and every wash with some kind of rust preventative (WD-40 at a minimum). A little Scotch-Brite action won't hurt, either.
PRICE: $334.95, pipe; $171.95, silencer
CONTACT: www.procircuit.com