Honda unveils Dakar Rally model – the new CRF450 RALLY
| | |
| --- | --- |
|   | Honda has released official photos of the new CRF450 RALLY model designed specifically for rally racing. TEAM HRC (the Honda works motorcycle rally team) will use the CRF450 RALLY at the upcoming '2014 Dakar Rally -Argentina, Bolivia, Chile- in January 2014. |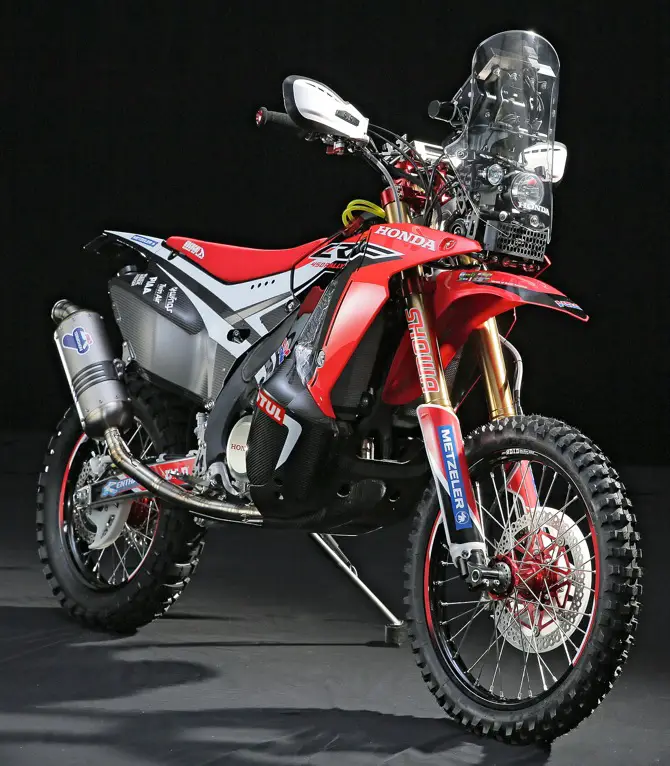 TEAM HRC returned to the Dakar Rally in January 2013 for the first time in 24 years, with a Prototype of CRF450 RALLY based on Honda's commercial CRF450X enduro racing model. The 2013 Dakar Rally generated valuable data in key areas such as engine output, aerodynamic performance, durability and maintenance requirements, which was used as the basis for further design modifications and enhancements. The resulting all-new CRF450 RALLY model retains the Programmed Fuel Injection 
(PGM-FI*) electronic fuel injection system that has shown proven performance in the severe and highly variable environmental conditions of the Dakar Rally. The new CRF450 RALLY will be used by TEAM HRC and will be released to other rally teams as a production rally bike during 2014.
TEAM HRC will participate in 2013 Morocco Rally starting October 13 with CRF450 RALLY, using the same combination of five riders and five machines for the 2014 Dakar Rally. Testing in actual race conditions is expected to provide useful data for further refinements and enhancements.