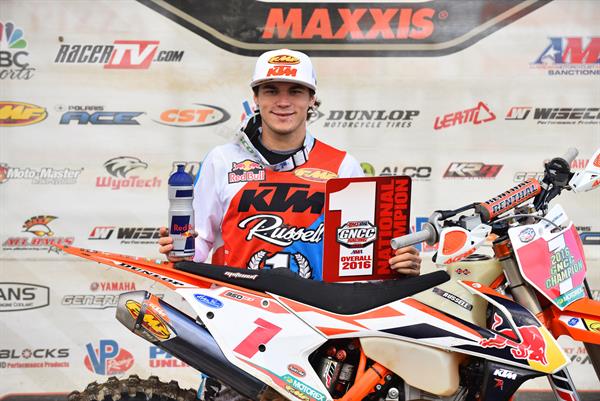 FMF KTM Factory Racing's Kailub Russell wrapped up his fourth consecutive GNCC National Championship on Sunday with his ninth victory of the season at Round 12 of the 2016 Grand National Cross Country Series in Ohio.
Russell came into the penultimate round with a good opportunity to wrap up the title but the defending champ was still tasked with three hours of racing against the nation's best offroad racers, as well as a difficult course to conquer. Russell wasn't the first rider off the line but he quickly put his KTM 350 XC-F into the 2nd place position on the opening lap, paving a favorable start to the day.
Russell applied heavy pressure to the leader, Josh Strang, early on and was eventually able to make a pass for the lead before the first lap was complete. From there, Russell worked on creating a comfortable gap between himself and the rest of the pack, while maintaining a "championship mindset" along the way.
Russell led flag-to-flag en route to his fourth consecutive GNCC National Championship, despite a few obstacles along the way.
Russell: "I didn't get the greatest start again but I made some moves and got into the lead early. I pulled a gap and tried to settle into a pace but it was really slick and I was on the edge a little bit. I tried to go in and stabilize it and then Thad caught me, so we rode together at the end but I was trying to focus on the task at hand and get the win done. I had a good time today, I'm happy to get the win and happy to wrap up the championship one round early."
Westfield Powersports/KTM-mounted Jordan Ashburn put forth a solid ride to secure 4th overall – just narrowly missing a podium finish. SRT/KTM's Steward Baylor Jr. finished 7th overall, while his teammate Cory Buttrick finished 9th overall.
In the 10 a.m. race, FMF KTM Factory Team rider Kacy Martinez powered her KTM 250 XC-F into the early lead in the WXC class. Martinez led the early portion of the two-hour race where she battled it out with Becca Sheets for the lead position. The duo went back-and-forth for the lead spot but Sheets made the move on Martinez to overtake the lead on the final lap where Martinez went on to secure 2nd place for the day.
Next Event: Crawfordsville, Indiana – October 30, 2016
Overall Results (XC1 Pro and XC2 Pro Lites Combined)
Kailub Russell – KTM

Thad DuVall

Ricky Russell

Jordan Ashburn – KTM

Layne Michael

Grant Baylor

Steward Baylor Jr. – KTM

Chris Bach

Cory Buttrick – KTM

Trevor Bollinger
WXC Results
Becca Sheets

Kacy Martinez – KTM

Brooke Cosner

Kendall Lafollette
Overall Point Standings
Josh Strang (236)

Steward Baylor Jr. (155)

Ricky Russell (137)

Grant Baylor (122)
WXC Point Standings
Kacy Martinez (169)

Brooke Cosner (165)

Shelby Rolen (127)