Sometimes here at the magazine we just gotta test the limits, go to the extremes and see what happens. This can be a double-edged sword. On one hand, we can bask in the limelight of praise and prestige. On the other hand, we can go down in a burning clump of molten metal never to be heard from again. We decided to test the limits with this 2015 Yamaha YZ125 motocross-inspired build. With the help of companies like Pro Circuit, Dubya, Pro Taper, Lightspeed and Ride Engineering, we set out to build a machine with looks and performance all rolled up into one. After all, you live by the sword, you die by the sword, right?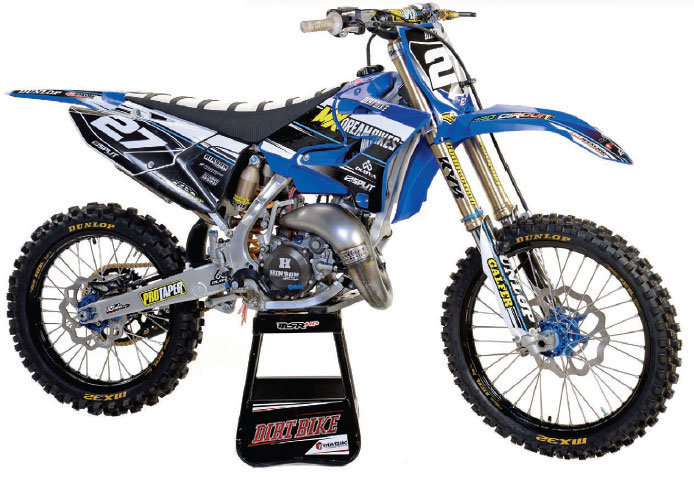 With Yamaha redesigning the 2015 two-stroke line, some of the styling work was done for us, so we got straight to work on the heart of our YZ125. The engine was disassembled and the top end sent off to Pro Circuit for some massaging by Mitch Payton and his porting tools. The cylinder and head got the royal Pro Circuit treatment without going too far and sacrificing overall reliability. The YZ125 would run on VP Racing MR12 race gas from here on out. We installed a few items from Boyesen to increase performance and provide some additional protection. The Rad valve is designed with an aerodynamic internal surface and multi-stage reed petal. Boyesen's patented multi-stage design incorporates a specially shaped top reed petal and a ported bottom reed petal. The top petal is lightweight and resilient for crisp throttle response at partial throttle or low rpm. The stiffer bottom petal is ported to provide maximum flow and horsepower at higher rpm. We teamed the Rad valve with a Power X-Wing, and for some added protection we installed a Boyesen castaluminum ignition cover. One of the most abused items inside a 125 engine is the clutch. We installed a complete billet-proof clutch from Hinson Racing that consists of a clutch cover, basket, inner hub, pressure plate, fiber and steel plates, and high-temp clutch springs. Hinson precision-machined each part from billet T-6 aircraft-quality aluminum to aerospace tolerances, and hard-coated the parts for extra wear-resistance. The last performance modification to our YZ125 was the addition of a Pro Circuit works pipe and brand-new Ti-2 Shorty silencer. Pro Circuit's new Ti-2 Shorty has a carbon fiber canister with titanium tubing and stamped titanium end cap. It doesn't get any more factory than that!
With the YZ125 engine buttoned up, we moved on to the handling. Yamaha not only gave the two-stroke line an updated look, but they also gave these bikes the first major suspension upgrade since 2006. They now come with the same forks that are found on their four-stroke cousins with a more modern shock in the rear as well. Because most of the staff here at Dirt Bike will not pass up a chance to grab a cheeseburger-and-fry combo, we needed some suspension help. The crew at Factory Connection re-valved both ends and even went slightly stiffer on the spring rate to accommodate our added girth. Weight is the enemy of small-bore machines, so we decided to go absolutely top of the line with our wheel setup. Kristen from Dubya got us a set with Talon carbon fiber billet-aluminum hubs and oversized spokes. Farrah from Excel sent over a set of black A60s, and the crew at Dubya put it all together. This is identical to the setup of top factory racers such as Chad Reed, Andrew Short and Davi Milsaps. We also added a Galfer oversized front rotor for additional stopping power. Pro Taper's new Fusion handlebar lets us choose between a solid crossbar and a shock-absorbing crossbar in seconds with just a turn of the magic knob.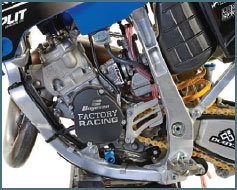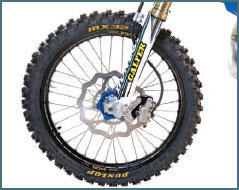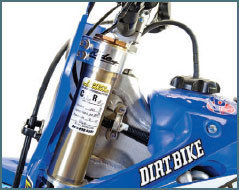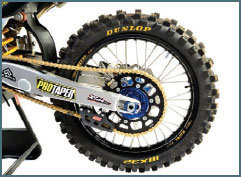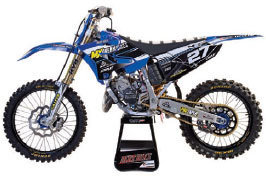 THE BOTTOM LINE
Once you get past all the carbon fiber, titanium and billet aluminum that adorns our YZ125 and get it on the track, the real truth comes out. Sometimes the truth surprises us, as it did with this build. This bike looks like a million bucks and had people pointing and commenting about it wherever we went, but did it perform? In one word, "Yes!" Not exactly the way we expected it to perform, but we weren't disappointed. Many of our other YZ125 builds produced big power increases, but you had to be a professional-level rider to enjoy the benefits. You could rev them to the moon, but once they fell off the pipe, it took two laps to get back into the meat of the powerband. Not this baby. It made good power on the low end (125s aren't lugging engines anyways) with a strong pull through the midrange and tons of over-rev on top. Most test riders found it easy to stay in the bulk of the power and, if it fell off, it didn't take much effort to get it going again. Pro Circuit's engine and the Boyesen intake system work very well together. With this setup, our final jetting specs were main jet: 420; pilot jet: 38; and air-fuel screw: 1 3/4 turns out. The new generation of KYB suspension components (same as those on the four-stroke) really helped the YZ125 handling all around, and the Factory Connection crew dialed it in to our liking. It was a little on the soft side for our larger test riders, but 200-pound-plus riders shouldn't be on a 125 anyway. Then again, when it's this much fun, who can blame them? This bike is a hit with everyone on the Dirt Bike staff. It looks insane and delivers in the performance department.