Kailub Russell Captures Third Consecutive Win of 2015 at the FMF Steele Creek GNCC
Jason Thomas Makes it Two-in-a-Row in XC2 Pro Lites 
MORGANTON, N.C. (March 29, 2015) – The 16th running of the FMF Steele Creek GNCC took place on Sunday at the beautiful Steele Creek Campground, where Kailub Russell saw his third straight victory of the 2015 AMSOIL Grand National Cross Country Series presented by Maxxis, an AMA National Championship season. Russell extended his points lead in the XC1 Pro class to earn his 25th career win in front of a hometown crowd in Morganton, North Carolina.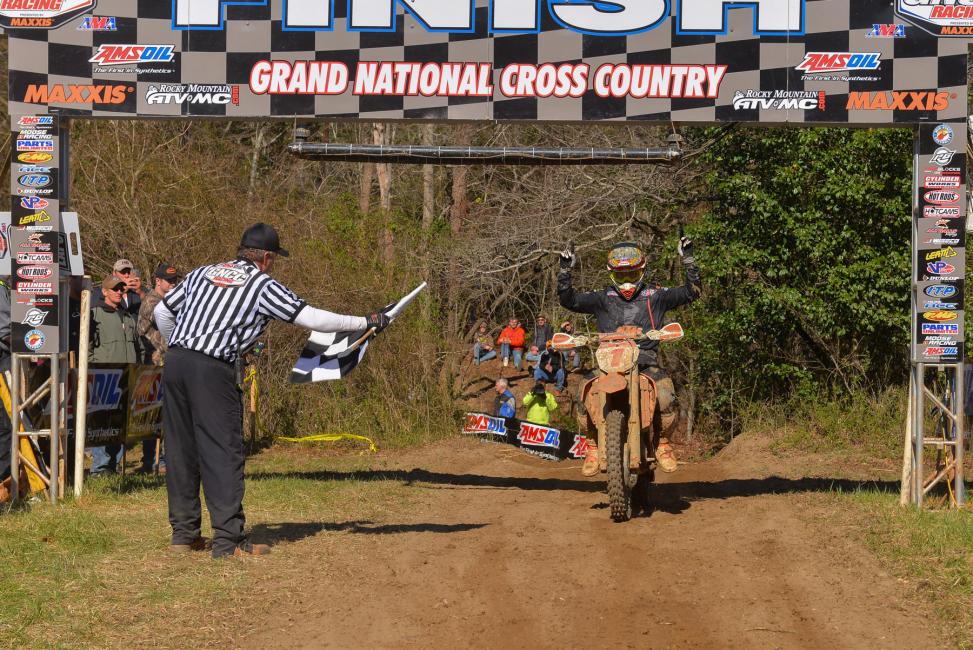 N-Fab AmPro Yamaha's Jordan Ashburn put himself into the early lead after grabbing the $250 All Balls Racing Holeshot Award but Russell quickly made his way to the front on the opening lap. The two-time GNCC National Champion created a gap on the rest of the field early on, leaving an exciting battle to shape up for the second place position.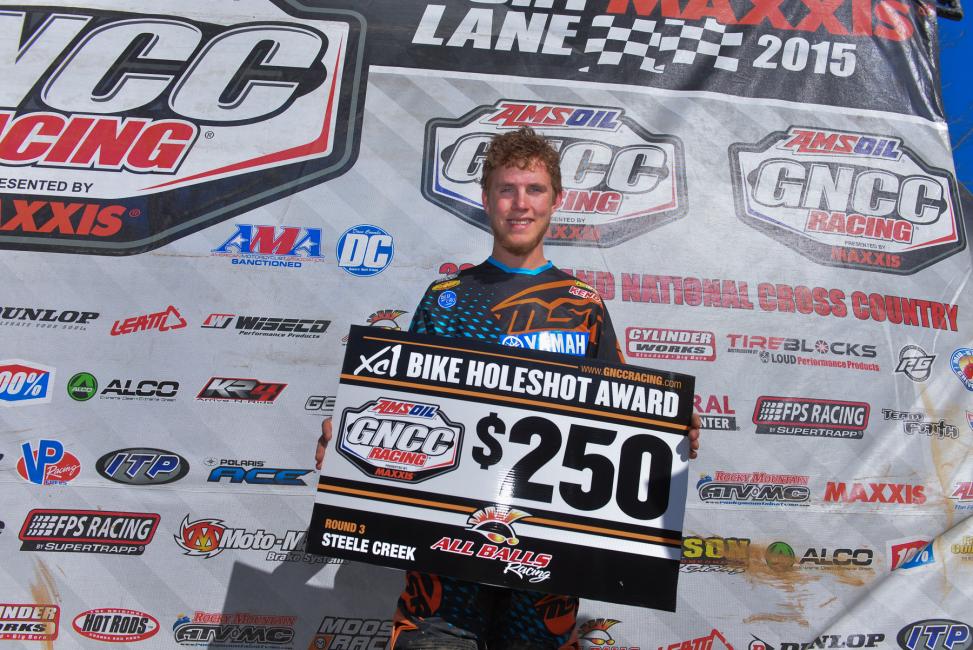 AirGroup/Rockstar Energy/Husqvarna's Ryan Sipes jumped into second on the opening lap, with N-Fab AmPro Yamaha's Jordan Ashburn and Daniel Milner right in the mix. Rocky Mountain ATV/MC KR4/FAR's Thad DuVall also put himself into a favorable position off the start, where he joined the front-runners early on to engage in a battle for the podium position.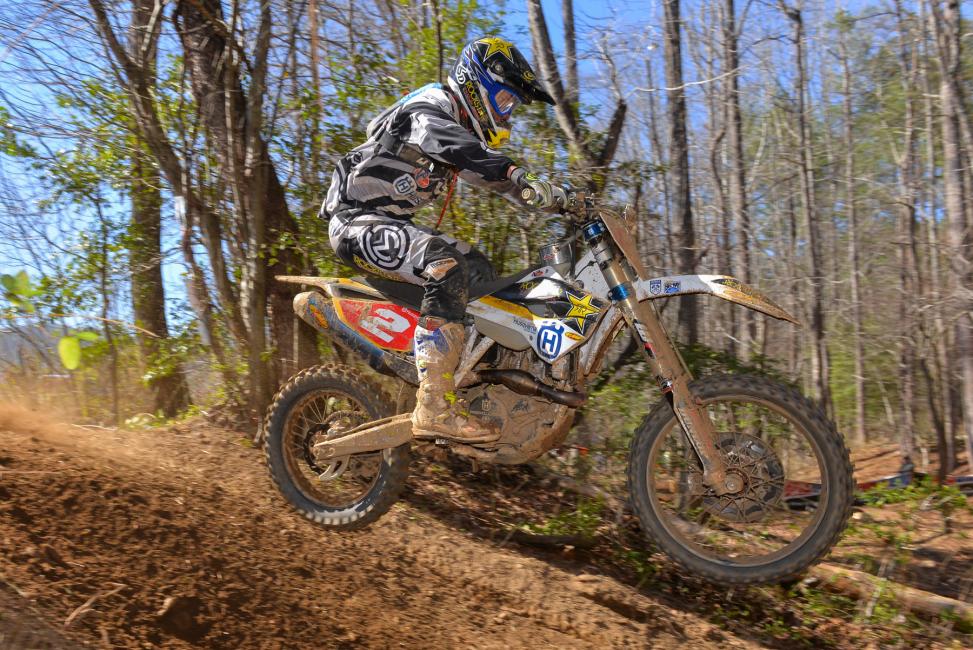 Rockstar Energy Husqvarna Factory Racing's Josh Strang got tangled up with another rider just after the start, knocking the Australia native to the back of the pack early on. From there, the top ten running order continuously changed as riders battled it out for valuable championship points at the third round.
JCR Honda's Chris Bach was the next to step into contention for second place after Ashburn made his way into that spot, setting his sights on Russell ahead. Bach chased Ashburn down but it was DuVall who surpassed both riders to inherit the second place position as the three-hour race neared its halfway mark. Strang joined DuVall in what turned out to be an exciting battle between the two Husqvarna-backed riders all afternoon.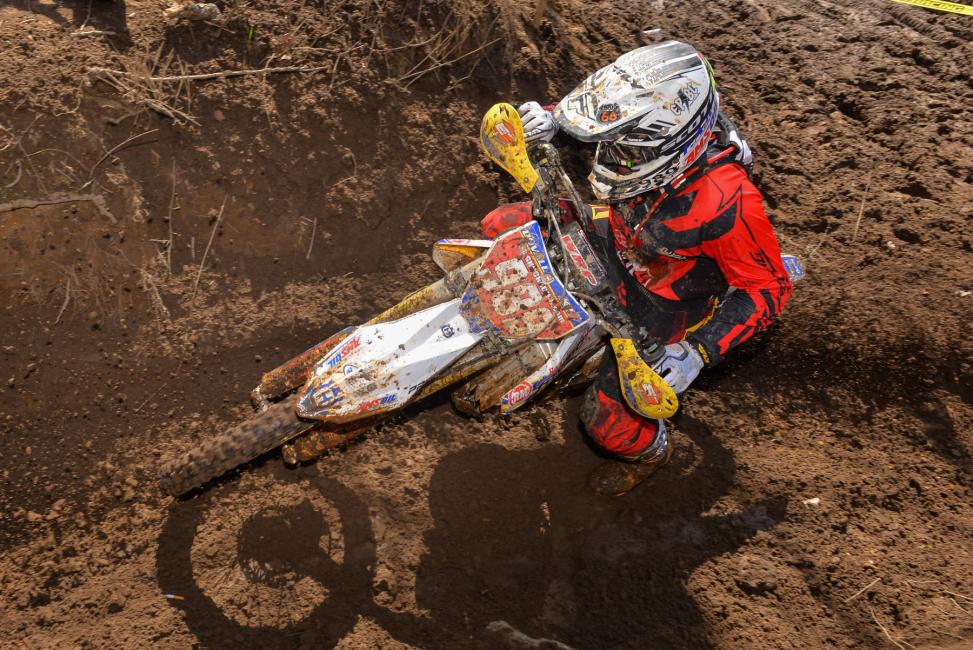 XC1 Pro rookie Grant Baylor made a jump in the championship standings on Sunday with an impressive come-from-behind performance to land fourth overall for the day. Baylor began the day just outside the top ten as he pushed his way through the pack all afternoon, ultimately landing just outside the overall podium in his third full-time race in the premier class. Baylor's AmPro Yamaha teammate Jordan Ashburn was able to maintain his top five running from the afternoon, securing fifth overall for the day, where he now sits tied with Grant Baylor for fourth in the championship standings.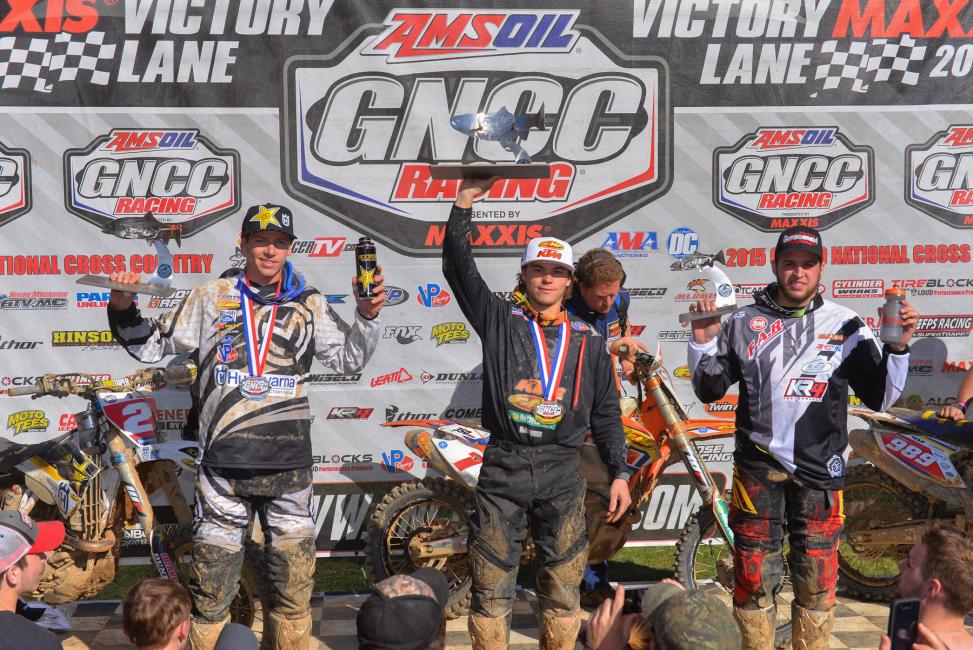 In his first race back from injury this season, Moto-Tech/KTM's Steward Baylor put in an impressive ride to finish sixth overall after being forced to make his way through the pack, alongside his brother Grant. Milner put forth his best GNCC performance of the season with seventh overall, while Factory FMF/KTM's Russell Bobbitt took eighth overall. After experiencing a few crashes along the way, Sipes finished the day with ninth place in XC1 and 14th overall, while Husqvarna Canada/Parts Unlimited Canada's Tyler Medaglia rounded out the top ten in XC1 with 25th overall.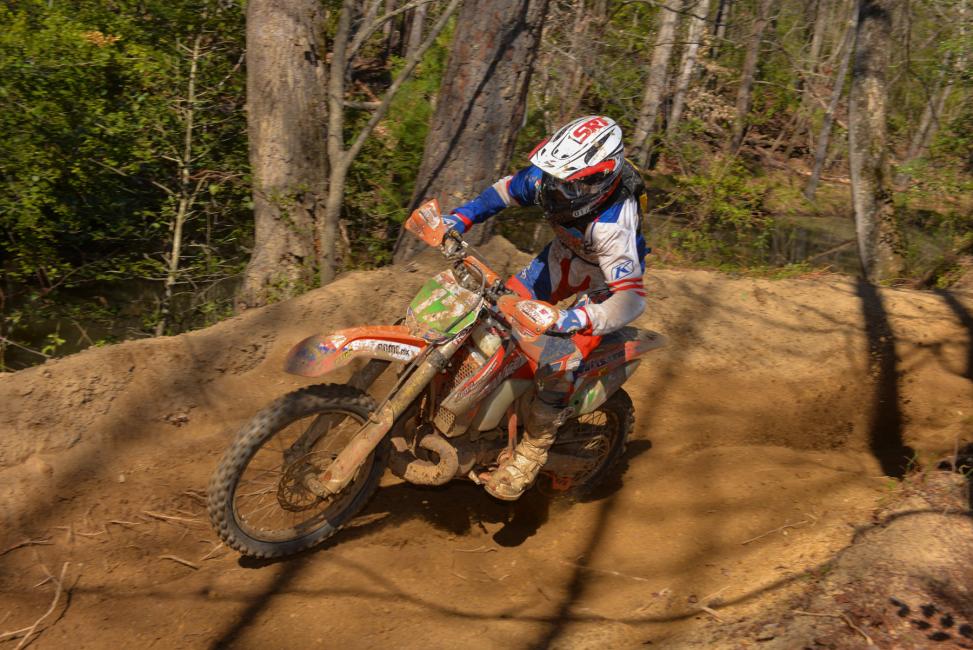 The XC2 Pro Lites battle heated up at the third round as DirtWise/Maxxis/KLIM's Jason Thomas emerged victorious after three hours of racing. Thomas began the day with the $100 Hot Cams XC2 Pro Lites Holeshot Award and the early lead in the class. Thomas had early competition from the usual suspects like Rocky Mountain ATV/MC KR4/FAR's Nick Davis and Moto-Tech/KTM's Trevor Bollinger, but as the race wore on the top three began to spread out.
Thomas and Davis came together about halfway through the race, causing both riders to go down just after the finish line. With Bollinger in the lead, RideMPS.com/AMSOIL/Honda's Layne Michael made his way past the downed riders for second, and the lead duo got back up and began charging once again.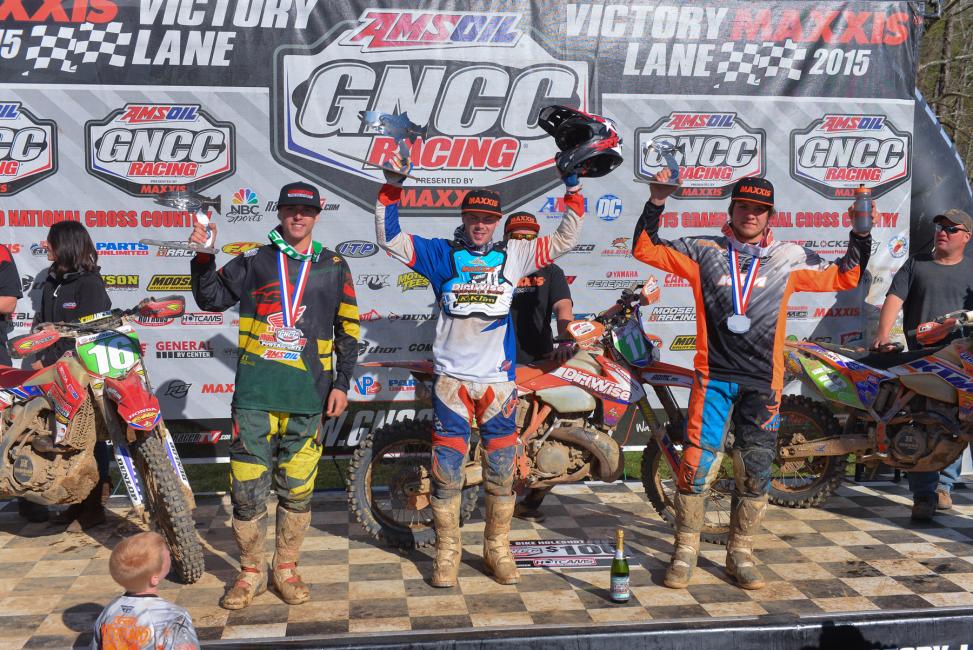 However, Davis ran into a mechanical issue that would ultimately remove him from the race and any chance at salvaging championship points for the day. Thomas went on to capture his second straight XC2 victory of the season, with Michael holding on for second and Bollinger, a Morganton, North Carolina native, capturing a third place finish in front of his hometown crowd.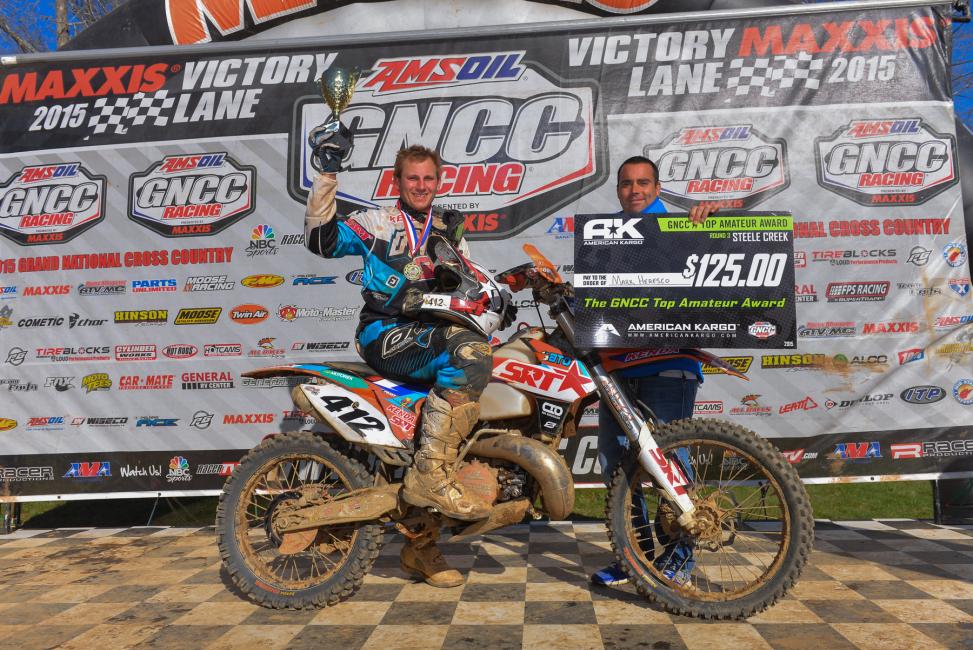 The 1 p.m. race was broadcast LIVE in its entirety on RacerTV.com and can be viewed as an archived video now online by visiting the GNCC LIVE page on RacerTV.com.
The 2015 AMSOIL Grand National Cross Country Series resumes April 11 and 12 with the VP Racing Fuels Big Buck GNCC in Union, South Carolina. For more information on the series, visit www.gnccracing.com.
Stay up-to-date with exclusive content from the AMSOIL GNCC Series by following the series Facebook, Twitter and Instagram.
FMF Steele Creek GNCC
Morganton, North Carolina
Round 3 of 13
Sunday, March 29
XC1 Event Results:
Kailub Russell (KTM)
Josh Strang (HSQ)
Thad DuVall (HSQ)
Grant Baylor (YAM)
Jordan Ashburn (YAM)
Steward Baylor (KTM)
Daniel Milner (YAM)
Russell Bobbitt (KTM)
Ryan Sipes (HSQ)
Tyler Medaglia (HSQ)
*Overall National Championship Standings:
Kailub Russell (90)
Josh Strang (75)
Thad DuVall (60)
Grant Baylor (44)
Jordan Ashburn (44)
Jason Thomas (38)
Chris Bach (37)
Nick Davis (28)
Tyler Medaglia (26)
Craig DeLong (25)
*Indicates that the Overall National Championship Standings will determine the 2015 National Champion.
XC2 Event Results:
Jason Thomas (KTM)
Layne Michael (HON)
Trevor Bollinger (KTM)
Craig Delong (HSQ)
Scott Grills (YAM)
Austin Lee (YAM)
Cory Buttrick (BET)
Trevor Barrett  (HSQ)
Callan May (YAM)
Brad Bakken (YAM)
XC2 Series Standings:
Jason Thomas (71)*
Layne Michael (56)
Nick Davis (55)
Craig Delong (52)
Trevor Bollinger (44)
Cory Buttrick (43)
Brad Bakken (34)
Callan May (27)
Scott Grills (26)
Phillipe Chaine (25)