BLAST FROM THE PAST
NEWS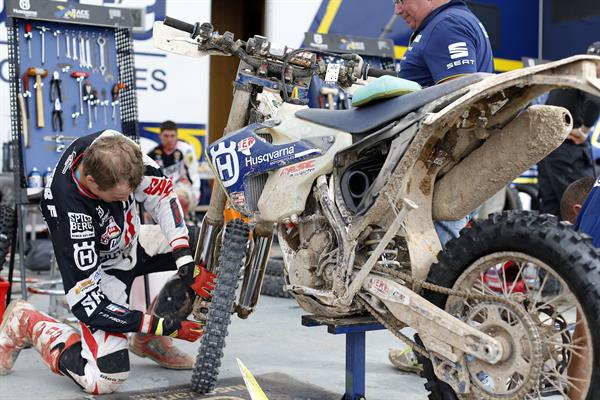 HUSQVARNA MOTORCYCLES ANNOUNCE ISDE 2017 SUPPORT PACKAGES
BIKE RENTAL, RACE SERVICE & SPARE PARTS PACKAGES FOR THE 2017 ISDE IN FRANCE
Husqvarna Motorcycles are pleased to release full details of their Bike Rental, Race Service and Spare Parts packages that will be offered during this year's International Six Days Enduro in France. Kicking off on August 28, the 2017 edition of the prestigious annual event is set to take place in the city of Brive-la-Gaillarde in the south of France. Husqvarna Motorcycles will be there to supply a comprehensive list of services designed to meet the needs of the competitors and teams coming from around the world.
Experienced technicians will be on hand in Brive to support all Husqvarna mounted riders contesting the 92nd edition of this celebrated international event. The range of services offered will include: Husqvarna Bike Rental, Race Service and Spare Parts.
Husqvarna Six Days Bike Rental
Husqvarna Motorcycles offer an exclusive rental program of Husqvarna motorcycles. Available will be 2018 enduro motorcycles for the following classes:
• 2-stroke: TE 250, TE 300
• 4-stroke: FE 250, FE 350, FE 450, FE 501
The rental price includes:
• Husqvarna motorcycle for the period of the Six Days 2017
• Bike transport costs to Brive, France
• Registration and insurance of the motorcycle for the event
Order deadline for the bike rental is June 30, 2017.
The number of rental bikes is limited and orders will be handled on a 'first come-first served' basis. No delivery guarantee can be given for orders received after the order deadline.
Husqvarna Six Days Race Service
Perfected over many years, Husqvarna Motorcycles' ISDE Race Service package ensures all Husqvarna riders (rental bike or privately owned) get the best equipment and professional support, allowing them to focus on racing and enjoying the event.
The Husqvarna Six Days Race Service must be ordered before June 30, 2017.
For further information and registration please contact the authorised Husqvarna Motorcycles dealer or importer.
The Husqvarna team will be in Brive to welcome you to the ISDE and to guarantee you receive expert technical assistance during your time in France.
Desalle and Jonass Win the MXGP of France
The weekend started well for Monster Energy Kawasaki Racing Team's Clement Desalle as he took pole position, winning the Qualifying session. Desalle started Sunday looking to keep the momentum on his side but a 4th place in Race 1 wasn't what he was capable of or expecting. In Race 2 the #25 came out on a mission when he jumped past Red Bull KTM Factory Racing's Antonio Cairoli for the lead on lap 2 and then led every lap to the finish winning his first race and overall of the year. Desalle in the press conference said: "It's really nice to be back on the podium and it's a good feeling to win a race after a while. I'm very satisfied about the job me and my team did in the last few weeks and we'll keep working to be consistent for the rest of the season and enjoy riding".
Team HRC's Tim Gajser withdrew from today's racing due to shoulder pain. The Slovenian was at one point the red plate holder and coming into this weekend was second in the championship. Gajser is now 4th in the championship and his status outside this weekend is yet to be determined.
MXGP Championship Top Ten: 1. Antonio Cairoli (ITA, KTM), 347 points; 2. Gautier Paulin (FRA, HUS), 297 p.; 3. Clement Desalle (BEL, KAW), 289 p.; 4. Tim Gajser (SLO, HON), 261 p.; 5. Jeremy Van Horebeek (BEL, YAM), 261 p.; 6. Jeffrey Herlings (NED, KTM), 253 p.; 7. Evgeny Bobryshev (RUS, HON), 214 p.; 8. Romain Febvre (FRA, YAM), 209 p.; 9. Maximilian Nagl (GER, HUS), 200 p.; 10. Glenn Coldenhoff (NED, KTM), 176 p.
Red Bull KTM Factory Racing's Pauls Jonass did what he has done now many times this season, win the MX2 overall and extend his points lead. Jonass won Saturday's Qualifying races and had a similar Race 1 by getting the lead and creating a gap early and then coasting to the finish. Race 2 was a new challenge as Jonass had Benoit Paturel ahead of him and Jeremy Seewer providing pressure from behind. Jonass stay second and took home the overall with the 1-2 result. In the press conference Jonass said: "To get the overall on the hard pack is a pretty good feeling, as you know last week it didn't go so well in Germany. I made some improvements during the week and it payed off this weekend, I felt better on the bike and overall the feeling was much better than last weekend. It was a really good race and the whole time the French crowd cheering".
MX2 Championship Top Ten: 1. Pauls Jonass (LAT, KTM), 372 points; 2. Jeremy Seewer (SUI, SUZ), 330 p.; 3. Thomas Kjer Olsen (DEN, HUS), 291 p.; 4. Julien Lieber (BEL, KTM), 282 p.; 5. Benoit Paturel (FRA, YAM), 265 p.; 6. Thomas Covington (USA, HUS), 208 p.; 7. Jorge Prado Garcia (ESP, KTM), 206 p.; 8. Brent Van doninck (BEL, YAM), 174 p.; 9. Hunter Lawrence (AUS, SUZ), 171 p.; 10. Darian Sanayei (USA, KAW), 157 p.
VIDS
Glen Helen National Recap
Hunting for Wins – Thad Duvall – X Factor GNCC
In his first year as part of the Rockstar Husqvarna Factory off-road team, Thad Duvall has been a rider on a mission. After convincing wins at the Cajun Classic National Enduro, and Full Gas Three Day ISDE Qualifier, Duvall came into the sixth round of the GNCC series with a new level of confidence and momentum. Watch Thad put that confidence to work and slide his way to victory at the X Factor GNCC in rain-soaked Peru, Indiana.
Filmed and edited by Mason Rader.
Kailub Russell- ON IT!
Ken Roczen: A perfect day…last year at the Nationals
GEAR BAG
14MM KTM/Husqvarna Axle/Pivot Nut Now Available!
Nihilo Concepts self locking Ny-Lock Nuts are made from heavy duty 6061 anodized billet aluminum to ensure that your axle nut will not vibrate loose under extreme conditions. Available in 3 different colors; Orange, Blue and Silver. This nut has many different applications:
Axle and Swingarm Pivot Nut – 2016-2017 KTM/Husqvarna 65
Swingarem Pivot Nut – 2013-2017 KTM/Husqvarna 85
Linkage Pivot Nut – 2011-2017 KTM/Husqvarna Big Bike
TM DESIGNWORKS 2017-18 CRF450R and CRF450RX CHAIN SLIDER
Honda CRF450R(X) owners know the OEM chain slider wears out incredibly fast. TM Designworks is rescuing Red Riders with their Dirt Cross Swingarm Super Slider.  The TMD front slider has a new chain control angle and thickness for superior performance and wear life; at a suggested retail less than the OEM part. Each plastic slider is oil-impregnated to reduce drag and UV protected to prevent color fade and dryness. TMD's Honda CRF450 Slider has custom chain slap dampening pads bonded between the slider and arm to reduce noise. Patent Pending Side Tabs help's to keep a loose drive chain centered for long moto's or off-road races.
$46.95
 POLISPORT PLASTICS IGNITION COVER PROTECTOR
The Polisport Ignition Cover Protector is the easy solution to an age old issue; wearing out the ignition cover. Rocks, roots, ruts, and rubbing of the boots or shifter plague the ignition case with scuffs and scratches. This strong and stylish plastic guard excels in rocky terrain and protects the ignition cover from impacts and scratches. The hardened plastic polyamide shell is heat resistant and offers a precise fit in many colors for a variety of makes and models. It also preserves the looks of the ignition cover, giving your ride a stylish accessory while also preserving resale value. $34.99
LEATT'S SPRING COLLECTION
Leatt announces their 2017 Spring collection including new helmet colorways, a full range of apparel, new hydration, and new knee braces.
Ride Engineering teams up with MX101 for a 3rd year
It's no secret the top level Canadian teams send their riders to Southern California to train and test in the winter time. The MX101/FXR/Yamaha team is no different. Ride Engineering provides the team hard parts like triple clamps, anti-twist bar mounts, brake lines and our unique machined brake caliper for improvements with handling and braking.

We caught up with team newcomer Shawn Maffenbeier, while training and testing at Milestone MX. The number 12 rider last year (the first 10 numbers are reserved for 450 riders) finished 2nd in points to Cole Thompson. Is 2017 his year to move up that one spot and earn national number 11? We're convinced, watch this clip and see if you think so.
WOLF: BACK IN THE DAY