Steward Baylor Takes First Career Win at VP Racing Fuels Big Buck GNCC
Kailub Russell and Ryan Sipes Round out the Overall Podium
UNION, S.C. (March 5, 2017) – The second day of the AMSOIL Grand National Cross Country (GNCC) Series presented by Maxxis, an AMA National Championship, racing action took place today, March 5, at the Big Buck Farm in Union, South Carolina. Warm, sunny conditions greeted the 1 p.m. pro bike race as they lined up on the starting line.
After a four-month hiatus, anticipation was at all-time high when the famed "10 seconds" was called and the green flag waved for the VP Racing Fuels Big Buck GNCC season opener. Rockstar Energy/Factory Husqvarna Racing's Josh Strang found himself in a favorable position where he jumped out to the quick lead and claimed the All Balls Racing $250 Holeshot Award.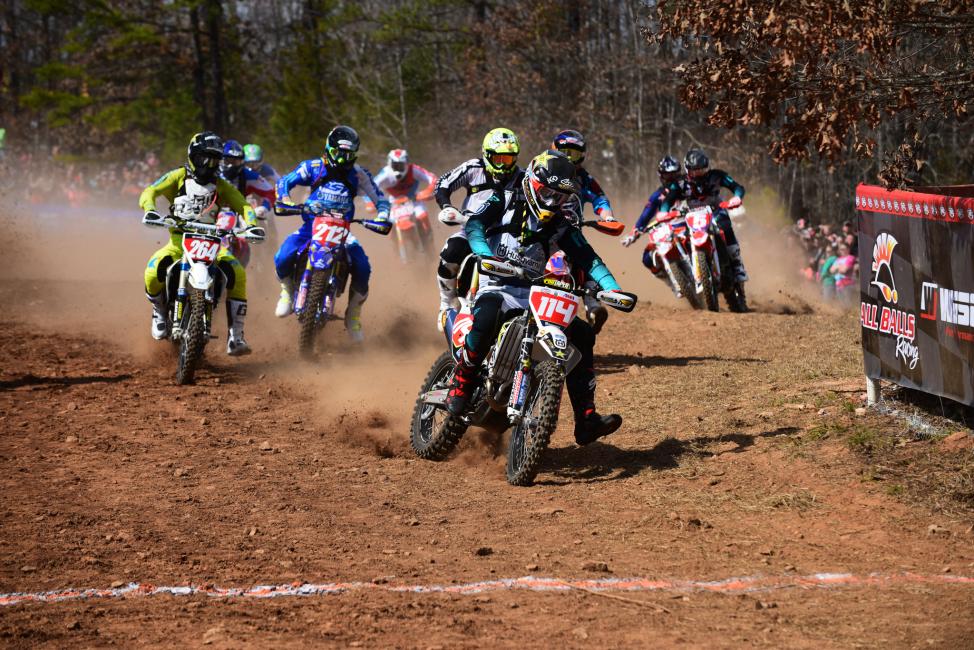 Josh Strang started off the race earning an extra $250 courtesy of All Balls Racing.
– Ken Hill
Strang's luck quickly ended halfway through the first lap, when his lingering ankle injury he sustained five months ago at the ISDE started to take a toll. While he wasn't winning the race, Strang played a huge role in the event, where he stopped to help an injured XC2 racer. Strang ultimately decided to end his race early due to ankle not being fully healed.
SRT/KTM's Steward Baylor Jr. had full control of the race on the third lap, once Strang was out of the picture. However, he began to feel pressure from FMF/KTM Factory Racing's Kailub Russell who had recovered from a mid-pack start and kept the momentum going to ultimately pass Baylor.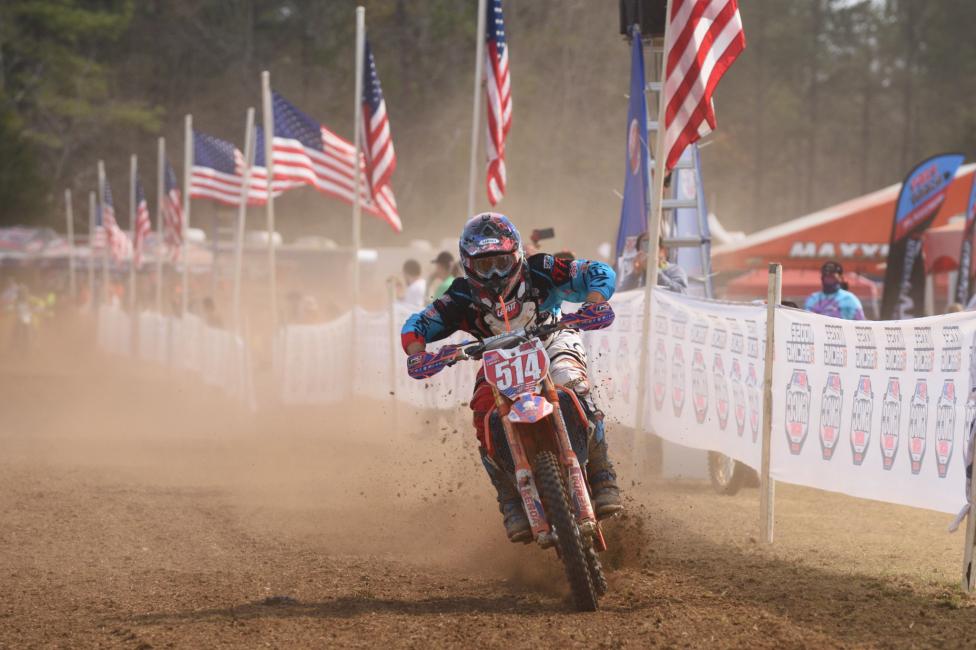 After a four-year battle with injuries, Steward Baylor is back and ready to contest for the National Championship.
– Ken Hill
However, Baylor held on and stuck right with the four-time champion. While the two KTM riders battled it out for the lead, another fight was taking place behind them. Rockstar Energy/Factory Husqvarna Racing's Thad Duvall and Coastal Racing's Ryan Sipes were also in the mix before the third lap was complete.
Just like his teammate, bad luck would strike Duvall when he stopped in the pits with a bent rotor. His new mechanic, Tanner Tremaine, and team members worked diligently to change out the back wheel and get him back on the race course as quickly as possible. With a little less pressure, Sipes shifted his focus on Baylor and Russell. Sipes began to reel in the top two competitors, until lapped riders troubled his journey.
"I started in sixth but I eventually caught up with Baylor and Russell and was right on their back wheels when the lappers got pretty bad," said Sipes. "They were both riding really good and when I lost them it was hard to make up time."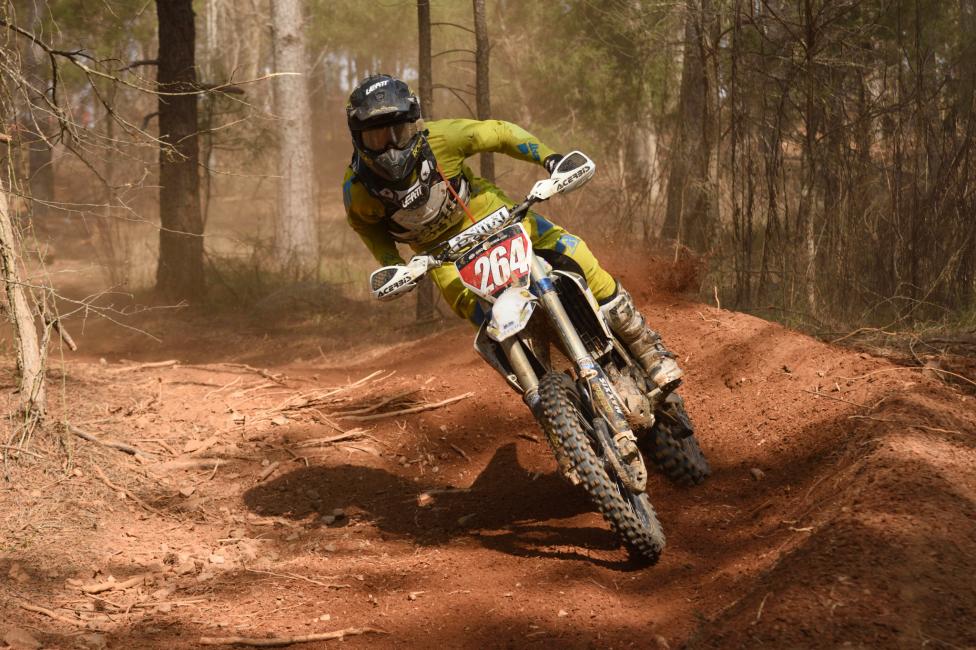 After battling various setbacks in 2016, Ryan Sipes proved he's still in the game.
– Ken Hill
Russell worked his way around Baylor, but faced issued soon after when he came together with a lapped rider on the hill climb section. "We had a pretty decent day," said Russell. "Baylor was riding really well, and he had the pressure on me. Right when I got into the lead, I ended up coming together with a lapped rider on the hill climb and Baylor was able to pull a lead. He put about 30 seconds on me and I could just never close the gap. I was trying and trying, but tops to him for being so fast today."
When the two-lap card came out, Baylor maintained his focus. Russell attempted to close the gap, but Baylor continued to only get faster. Once Baylor crossed the finish line, it was almost a minute and a half until Russell saw the checkered flag. After racing his own race, Sipes would end up finishing in the third overall position.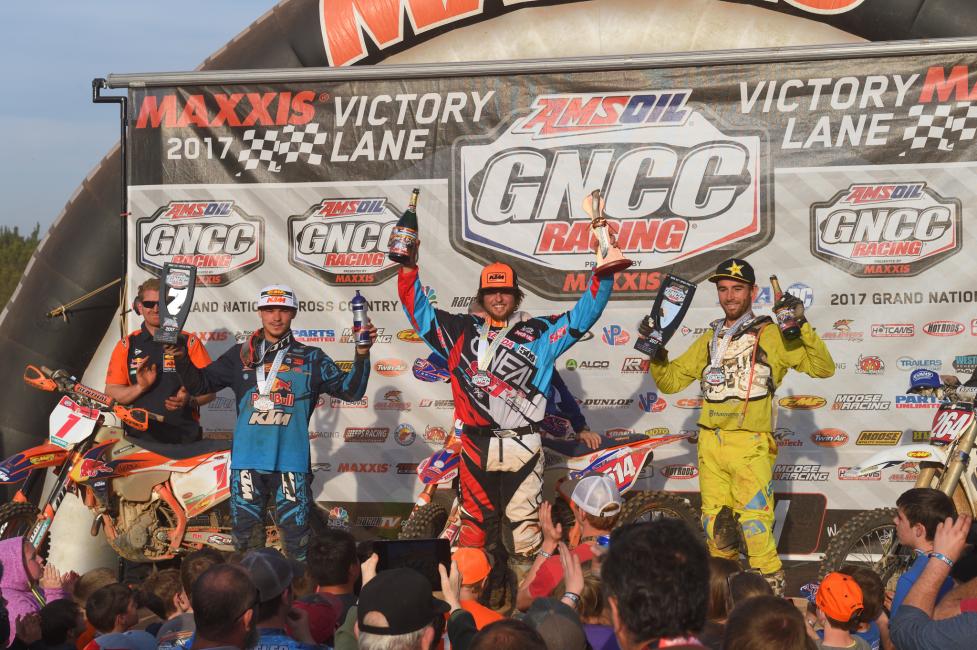 Overall Podium: (2) Kailub Russell, (1) Steward Baylor, (3) Ryan Sipes.
– Ken Hill
"I knew coming into this race that Russell and Duvall would be the guys to be with," said Baylor. "I put myself in a position to ride with them. Once Russell made his mistake and I had a clear trail, I gave it everything I could to get a big lead knowing that every second counts because Russell is the fastest guy on the line. I just knew I couldn't make a mistake and it feels great to pull off my first win not only at the season opener, but also in front of my friends and family."
XC2 250 Pro Rookie, Chris Venditti, had a stroke a beginner's luck where he pulled the holeshot over the remaining 30 riders to earn the XC2 250 Pro Hot Cams Holeshot Award. Venditti's contusion on his leg would eventually play a role in his race and N-Fab/Am Pro Yamaha's Josh Toth would capitalize on Venditti's misfortune and take the overall win. Coast Racing teammates, Layne Michael and Craig Delong, continued their success from last season where they rounded out the XC2 250 Pro podium.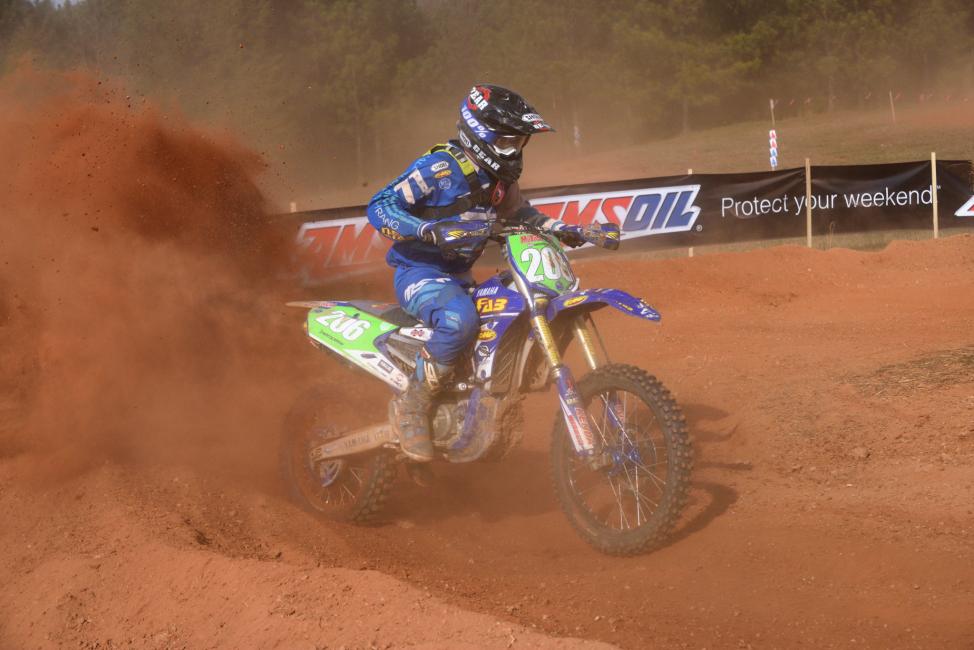 Josh Toth kicked off the new season by taking home gold in the XC2 250 Pro class.
– Ken Hill
"I got off to a good start, and was able to work my way into the lead on the first lap," said Toth. "I knew Michael was right behind me so I just kept pushing and it paid off."
The FMF XC3 125 Pro-Am podium was filled with talented racers from overseas. Coastal Racing's Jack Edmondson claimed his first ever GNCC class win. Jason Thomas followed in second, and former GNCC champion and N-Fab/Am Pro Yamaha's Paul Whibley grabbed third.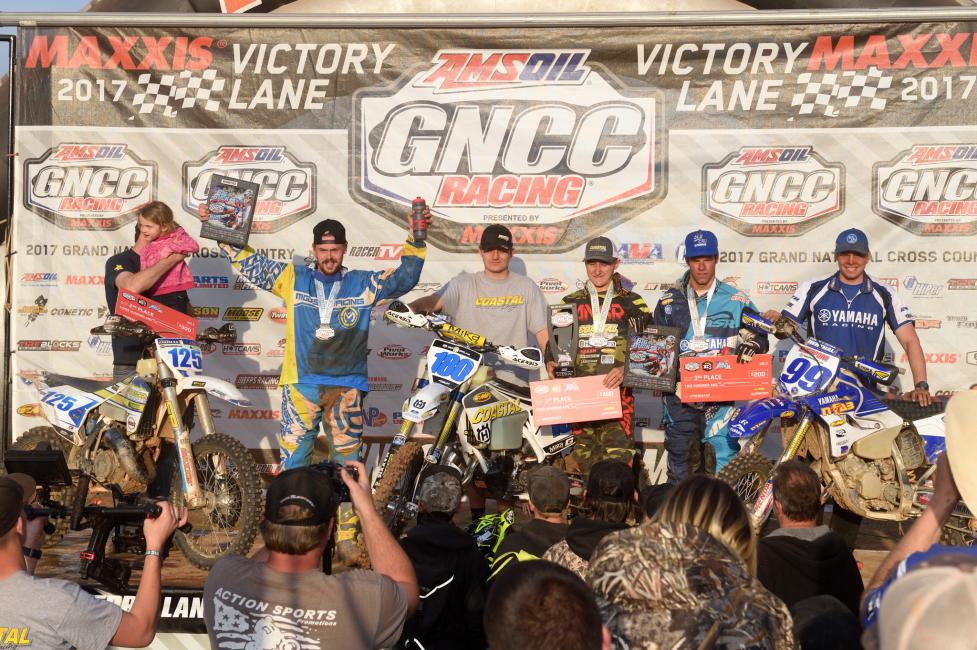 FMF XC3 125 Pro-Am Class: (2) Jason Thomas, (1) Jack Edmonston, (3) Paul Whibley
– Ken Hill
While Cody Barnes took the top amateur honors, Evan Earl and Levi Keller rounded out the overall amateur podium in the 1 p.m. pro race.
When it came time for the 10 a.m. amateur race, the WXC class took off the line first. They continued to lead the way until the checked flag was out. Rocky Mountain ATV*MC/KR4 Arive-N-Ride's Tayla Jones grabbed the early lead and never looked back. It wouldn't be easy though, as defending champion and Fly Racing/Maxxis/Seat Concepts/KTM's Becca Sheets kept the pace and finished just behind Jones. KTM-mounted rider MacKenzie Tricker held onto third. Maryland native, Randall Ervin earned the top amateur honors with his 125 B/C class win.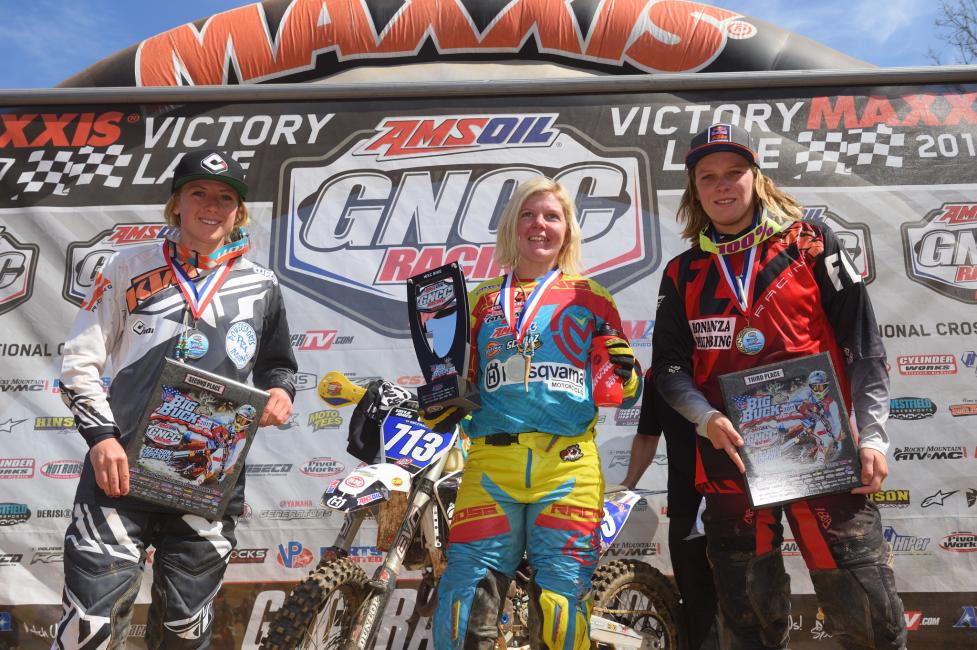 10 a.m. Overall Podium: (2) Becca Sheets, (1) Tayla Jones, (3) MacKenzi Tricker
– Ken Hill
The 8 a.m. youth race headed into the South Carolina woods to begin the day. An incredible 160 racers battled for the final three overall positions. In the end it would be Zack Davidson, Peyton Whipkey and Shawn Myers standing on the box.
The 1 p.m. pro bike race was broadcast LIVE in its entirety on RacerTV.com and can be viewed as archived video online by visiting the GNCC LIVE page online. A highlight show featuring the event will be aired on the NBC Sports Network on Saturday, April 1.
The 2017 AMSOIL Grand National Cross Country Series resumes in one week, March 11 and 12, in Palatka, Florida with the Moose Racing Wild Boar GNCC.
For more information on the GNCC series, visit the official website at www.gnccracing.com or call (304) 284-0084. Join the conversation on the series Facebook page, follow us on Twitter and Instagram, and be sure to always hashtag #GNCC.
VP Racing Fuels Big Buck GNCC
Union, South Carolina
Round 1 of 13
Sunday, March 5
XC1 Open Pro Event Results:
Steward Baylor Jr. (KTM)
Kailub Russell (KTM)
Ryan Sipes (HSQ)
Trevor Bollinger (HON)
Ricky Russell (YAM)
Russell Bobbitt (KTM)
Chris Bach (KTM)
Grant Baylor (HSQ)
Jordan Ashburn (BET)
Cory Buttrick (KTM)
*Overall National Championship Standings:
Steward Baylor Jr. (30)
Kailub Russell (25)
Ryan Sipes (21)
Josh Toth (18)
Trevor Bollinger (16)
Ricky Russell (15)
Russell Bobbitt (14)
Layne Michael (13)
Chris Bach (12)
Grant Baylor (11)
*Indicates that the Overall National Championship Standings will determine the 2017 National Champion.
XC2 250 Pro Event Results:
Josh Toth (YAM)
Layne Michael (HSQ)
Craig Delong (HSQ)
Michael Witkowski (KTM)
Austin Lee (HON)
Benjamin Kelley (KTM)
Chris Venditti (YAM)
Jesse Groemm (KTM)
Ryder Lafferty (KTM)
Zack Hayes (KTM)
XC2 250 Pro Series Standings:
Josh Toth (30)
Layne Michael (25)
Craig Delong (21)
Michael Witkowski (18)
Austin Lee (16)
Benjamin Kelley (15)
Chris Venditti (14)
Jesse Groemm (13)
Ryder Lafferty (12)
Zack Hayes (11)