The Rocky Mountain ATV/MC Mountaineer:
Motorcycle Race Report
Steward Baylor Earns Second Overall Win of 2023
BECKLEY, W.Va. (September 18, 2023) – As the second day of racing got underway at round 10 of the Progressive Grand National Cross Country Series presented by Specialized, an AMA National Championship, (GNCC Racing) the skies opened up once again on the motorcycles and the rain showers fell for the majority of the day, making for some intense and rough racing at Summit Bechtel Reserve.
As opening ceremonies ended, the green flag would wave for the XC1 Open Pro class where Rockstar Energy Husqvarna Factory Racing's Craig DeLong would snag the $250 All Balls Racing Holeshot Award. However, it would be AmPro Yamaha's Ricky Russell emerging from the woods first after the completion of one lap. Russell wasn't alone though, a handful of his fellow XC1 competitors were just seconds behind him racing through the muddy conditions to try and overtake the lead.
Russell would continue to hold the number one position for the first three laps of the race, but the battles were brewing behind him and Rocky Mountain/Tely Energy/KTM Racing's Steward Baylor was making his way through the pack after coming through in fourth on the opening lap. By the time they came through on their fourth lap of the race, Baylor had moved himself in the lead position. Baylor was not able to let his guard down though as Delong was tailing him for the duration of the race, looking to strike on the last lap as he came through just 1.7 seconds behind him.
Baylor would be able to hold off Delong and earn his second overall win of the season, and taking over the points lead with a five point gap between himself and Delong as the series heads into its penultimate round of racing on October 8. Russell would continue to battle and come through to round out the top three overall finishers on the day.
"Man, I'm feeling good. I really, really thought I could break Craig, and that was my intent, but man….we just went back and forth," said Baylor. "I mean the passes for the lead; it was back and forth. Those last three laps, hell, the whole race you could throw a blanket over us. One mistake and it would have been over."
Baylor continued, "I tried to put a heater down, I was sending it with two to go, trying to put a gap on those guys. I looked back and I was like "Shoot, he's matching me." I gotta say, I expected it from Ben, but not Craig. Hats off to him. That kid has elevated this summer, and this whole sport right now, it's a good time to be a fan. It's going to come down to the wire."
Behind the top three the battles kept on going as FMF/KTM Factory Racing's Ben Kelley would push throughout the entire race, moving himself into fourth overall for the day after dropping back to eighth at one point. Magna1 Motorsports/Husqvarna's Jordan Ashburn made his way through the mud to earn fifth overall as he started his race off closer to the back of the pack.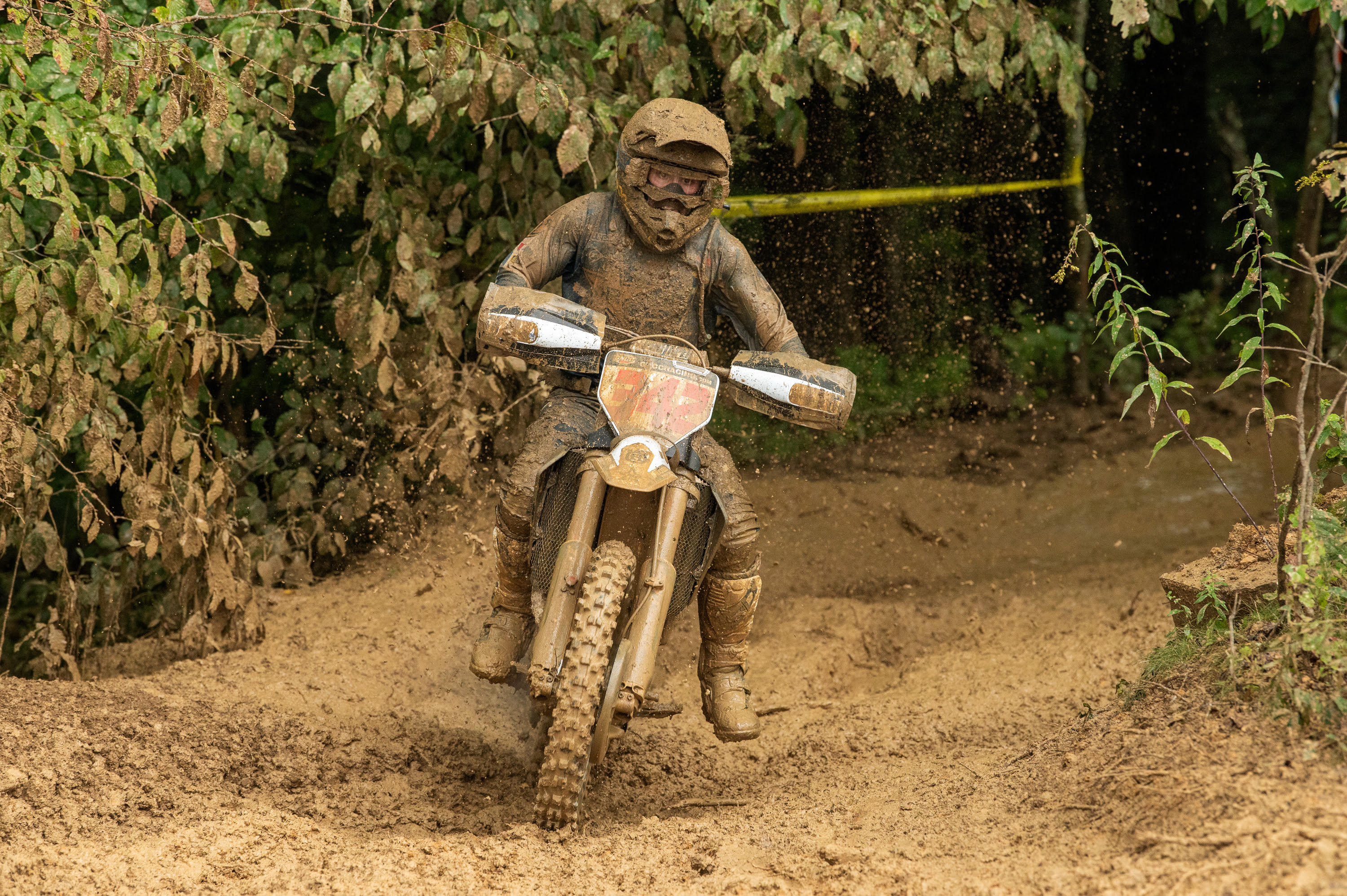 "That was a wild race, that's for sure. First lap we were feeling it out. Ricky got into the lead and took off. He was riding really well. Stew and I kind of figured it out and I knew it was going to be a battle to the end," said Delong. "We got to the pit stop and it ended up being just Stew and I. Man, we went back and forth so many times. As much as it hurts and it [makes me angry] to get second, that was a fun battle. We were probably back and forth five or six times in the last lap. We'd get to a section, and he'd go all the way left and I'd go all the way right, and it would just come down to who had the best line."
Delong continued, "I thought I had a run on him on the last lap, about 10 mile marker I got alongside of him on a long straightaway, I kind of hesitated with my pass, but I should have just stuck on it. I stayed with him, but I took on a lot of roost and I finally had to ditch my goggles. Yeah, it was a great race, but the guy I had to beat, beat me. I just need to be better next time. I feel good. I knew Stu was going to come in prepared, but I am too. It's going to be a battle, these last two. I've got to get some points back. We'll be ready."
Rockstar Energy Husqvarna Factory Racing's Trevor Bollinger continues to improve after returning from an injury before summer break. Bollinger would come through to earn sixth overall at round ten. The Babbitts Online/Monster Energy/Kawasaki Team Green teammates didn't have the race they hoped for as Josh Strang and Grant Baylor came through seventh and eighth in XC1 just outside the top 10 overall.
GASGAS/FXR/Scott Goggle's Layne Michael would drop back to ninth in XC1 after running second on the opening lap of the race, while a mechanical issue would take out FMF/KTM Factory Racing's Jonathan Girroir as he was running inside the top five. Liqui Moly Factory Beta Racing's Evan Smith and Babbitts Online/Monster Energy/Kawasaki Team Green's Lyndon Snodgrass would make the move from XC2 to XC1 this weekend, but they would unfortunately both have to retire early from the race.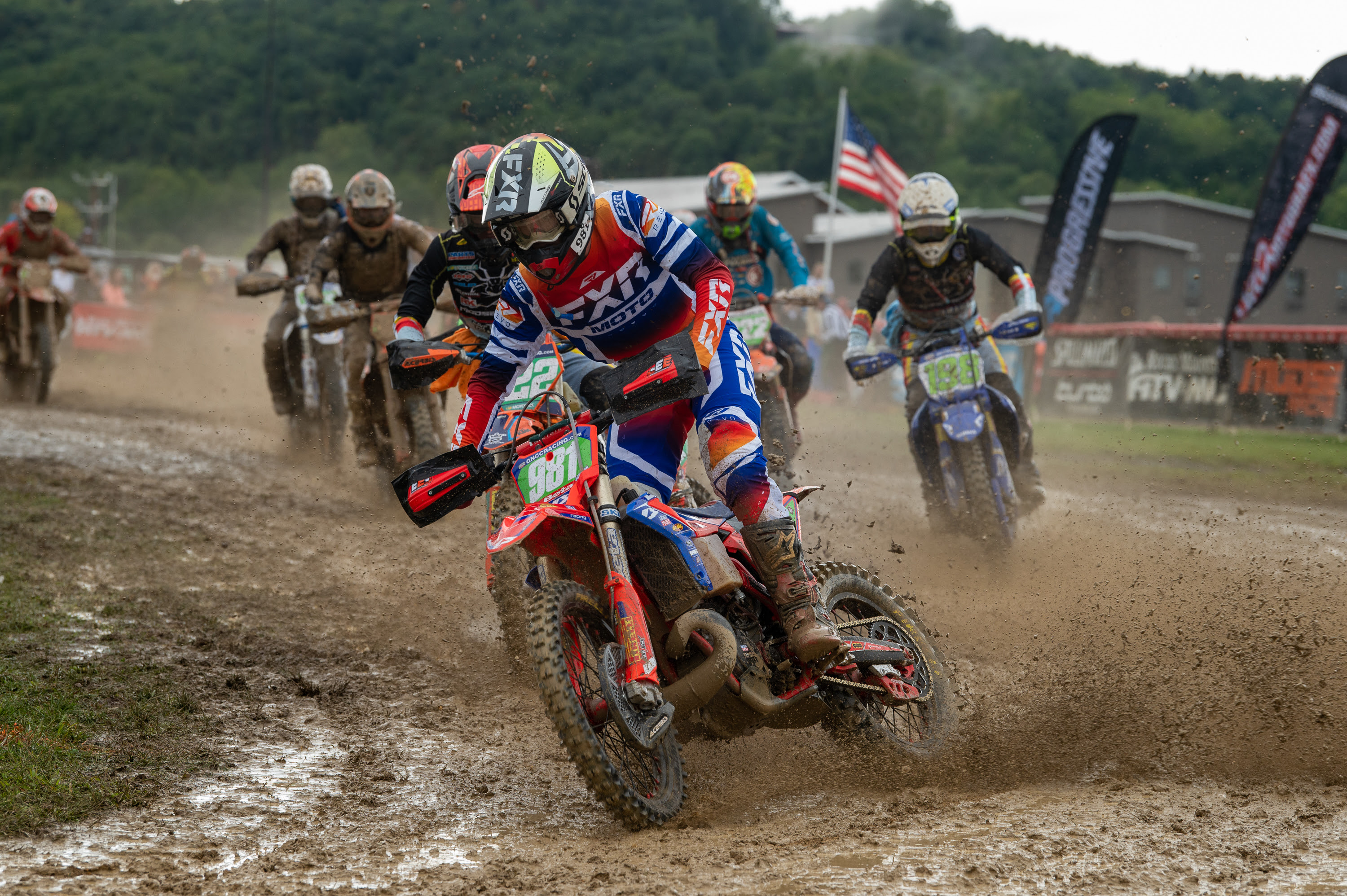 In the XC2 250 Pro Lites class it was Liqui Moly Factory Beta Racing's Jonathan Johnson's day as he grabbed the $250 Steel City Men's Clinic Holeshot Award and held the lead from start to finish. The muddy conditions did not deter Johnson from pushing throughout the race as he inched further and further ahead from the rest of his XC2 competition. RPM/FMF KTM Racing's Angus Riordan would continue to push behind Johnson as he made his way up to second in the XC2 class, while AmPro Yamaha's Liam Draper continued to push to try and catch Johnson he would have to battle Riordan for the last couple of laps. Draper would hold on to finish third in the class and maintain his points lead heading into round eleven.
The FMF XC3 125 Pro-Am class saw FXR/X Brand Goggles/6D Helmet's Dakoda Devore get the class win, while Steel City Men's Clinic Sawyer Carratura and Yamaha's Drew Callaway rounded out the class podium. Devore would work his way into the number one spot on the second lap and continue to push for the duration of the race. Carratura and Callaway would battle behind Devore to hold onto their podium positions in West Virginia. Current points leader Beaver Creek Cycles/Bells Electric/Wossner Pistons Toby Cleveland would suffer a mechanical issue on the third lap of the race and would be unable to complete the race. Cleveland continues to hold the points lead by 16 over Devore.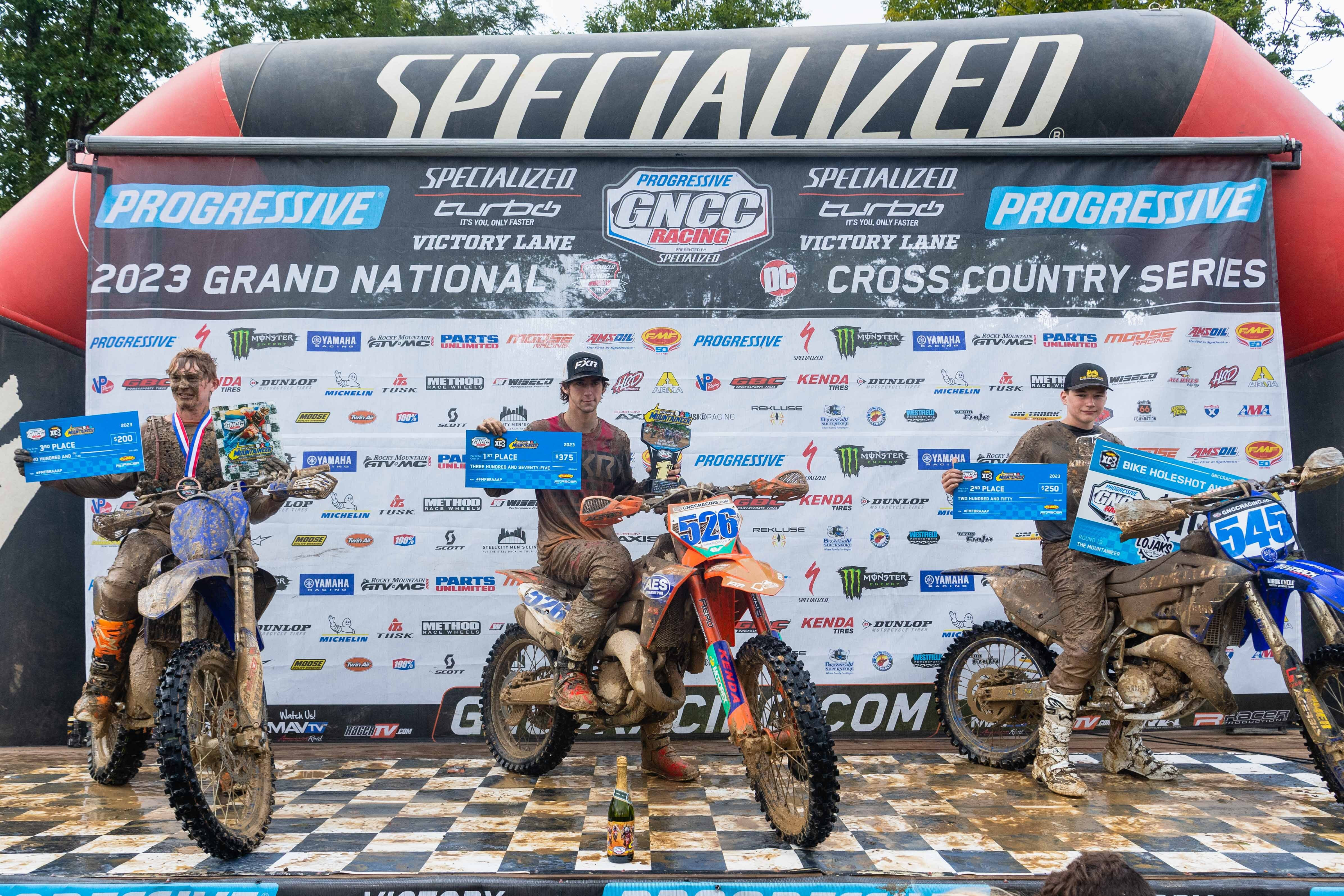 Team Green Kawasaki's Joseph Cunningham would earn the Top Amateur honors at round ten as he finished 15th overall and first in the 250 A class. Nicholas DeFeo would come through 16th and first in the 4-Stroke A Lites class to earn the second position atop the Top Amateur podium. Then it would be Gavin Simon taking the final spot on the Top Amateur podium as he came through 18th overall and second in the 250 A class.
During the morning race, the WXC class would take off first where Trail Jesters KTM Racing's Korie Steede earned herself the $100 Trail Jesters Holeshot Award. However, it wouldn't take long for AmPro Yamaha's Rachael Archer to make the move into the lead and continue to push forward. Archer would lead the WXC class for the duration of the race, earning her second GNCC WXC National Championship.
GASGAS/Over and Out/RG Factory Racing's Rachel Gutish would continue to run in the number two position for the course of all five laps of the morning race, earning second in the WXC class. Trail Jesters KTM Racing's Korie Steede would round out the WXC podium at round ten as she came through in third. Gary Fridley of the Super Senior A (45+) class would take the overall win in the morning race.
As the 8 am youth motorcycle race came to an end, it would be Ryan Amancio taking the overall win and the YXC1 Super Mini Sr. (14-15) class win. Ethan Harwell would come through second overall and take home the YXC2 Super Mini Jr. (12-13) class win, while YXC1 competitor James Jenkins came through third overall and second in his class.
Canyon Richards would round out the top three finishers in the YXC1 Super Mini Sr. class, while Doc Smith and Travis Lentz rounded out the top three finishers in the YXC2 Super Mini Jr. class.
In the 85 Big Wheel (11-15) class it was Mason Tsakanikas taking the win, while Ryder Reick took the 85 (12-13) class win, and in the 85 (7-11) class it was Ace Tokar earning the win. In the 65 (10-11) class it was Evan Porter battling for the win, with Ryder White earned the 65 (9) class win and Tripp Lewis earning the 65 (7-8) class win.
The Girls Super Mini (12-16) class win was earned by Addison Harrison, while Sahara Robinson earned the Girls 85 (7-13) class win. Audrina Anello earned the Girls 65 (7-11) win. Cale Dejarnett would take home the Trail Rider (7-15) class win in West Virginia.
The AMSOIL Moto Hero went to Jacob Hefner from Ronceverte, West Viriginia. Hefner has five years of active service, and is ranked as a sergeant. Hefner was worked on State Active for the West Virginia Program. He has helped build new houses for people who had their homes destroyed by the 2016 flood, and has even traveled to Guatemala to help build a school for an overpopulated community. On the civilian side, Jacob is a lineman for his local power company as he continues to help his community and country. Jacob will receive a set of Kanati Truck tires courtesy of GBC, an AMSOIL Shopping spree, an American Flag and gift. card from Columbia Sign & Co. and a pair of camo 100% goggles.
Rocky Mountain ATV/MC Mountaineer Results and Points Standings
Beckley, West Virginia
Round 10 of 12
Sunday, September 17, 2023
XC1 Pro Event Results:
Steward Baylor (KTM)
Craig Delong (HQV)
Ricky Russell (YAM)
Ben Kelley (KTM)
Jordan Ashburn (HQV)
Trevor Bollinger (HQV)
Josh Strang (KAW)
Grant Baylor (KAW)
Layne Michael (GAS)
Jonathan Girroir (KTM)
*Overall National Championship Standings:
Steward Baylor (208)
Craig Delong (203)
Ben Kelley (192)
Jordan Ashburn (169)
Grant Baylor (139)
Ricky Russell (134)
Jonathan Girroir (124)
Josh Strang (119)
Angus Riordan (111)
Liam Draper (107)
*Indicates that the Overall National Championship Standings will determine the 2023 National Champion.
XC2 250 Pro Event Results:
Jonathan Johnson (BET)
Angus Riordan (KTM)
Liam Draper (YAM)
Michael Witkowski (HON)
Cody Barnes (HON)
Brody Johnson (HQV)
Mason Semmens (KTM)
Grant Davis (KTM)
Cade Henderson (KTM)
Nathaniel Tashal (KTM)
XC2 250 Pro Series Standings:
Liam Draper (204)
Ruy Barbosa (191)
Angus Riordan (188)
Cody Barnes (178)
Ryder Lafferty (155)
Michael Witkowski (152)
Mason Semmens (138)
Jonathan Johnson (127)
Evan Smith (123)
Grant Davis (103)