MASONTOWN, W.Va. (September 24, 2017) – The 2017 AMSOIL Grand National Cross Country (GNCC) Series presented by Maxxis, an AMA National Championship, spent the weekend at Marvin's Mountain Top in Masontown, West Virginia, for the sixth annual Rocky Mountain ATV/MC Mountaineer Run GNCC.
Ricky Russell jumped out to the early lead on his N-Fab/AmPro Yamaha-backed machine once the green flag waved and earned the $250 All Balls Racing XC1 Pro Holeshot Award. Mason Atherton was in tow, but as they entered the woods Coastal Racing/Husqvarna's Ryan Sipes lead the way onto the dusty 12-mile course.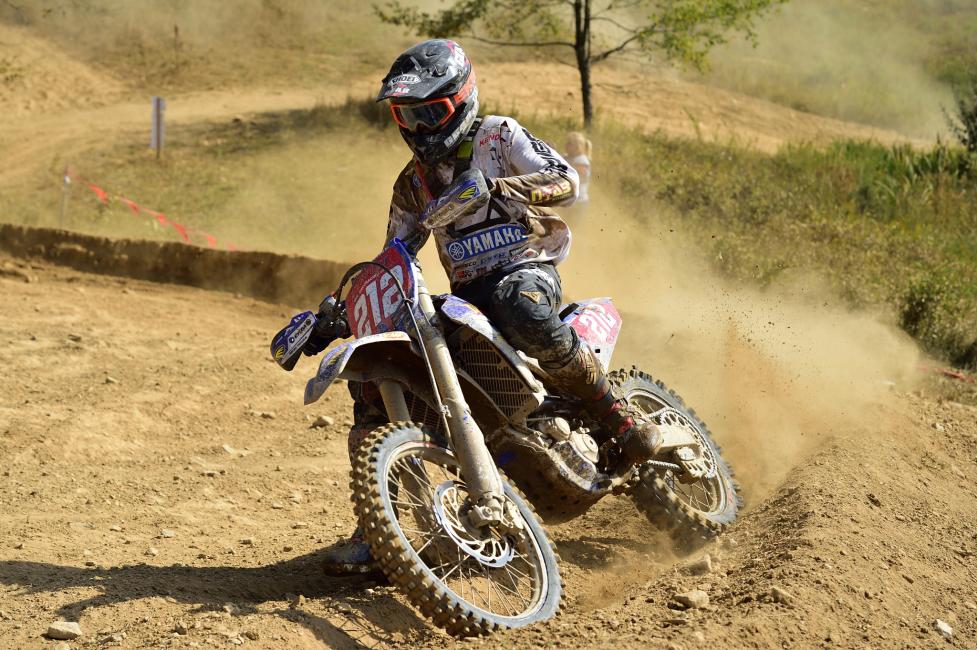 After dicing it out in the woods and settling into a pace, Sipes maintained the lead as they emerged in the first open field section with FMF/KTM Factory Racing's Kailub Russell sitting 30 seconds behind him. As the opening lap came to a close it was Sipes, K Russell and JCR Honda's Trevor Bollinger sitting in podium contention.
Sipes continued charging and as they completed the second lap, he sat over a minute ahead of K Russell who was accompanied by Bollinger who was on his rear wheel. Bollinger secured the second-place position on the next lap right before the FMF PowerPoint rock garden, but K Russell quickly worked his way back by him.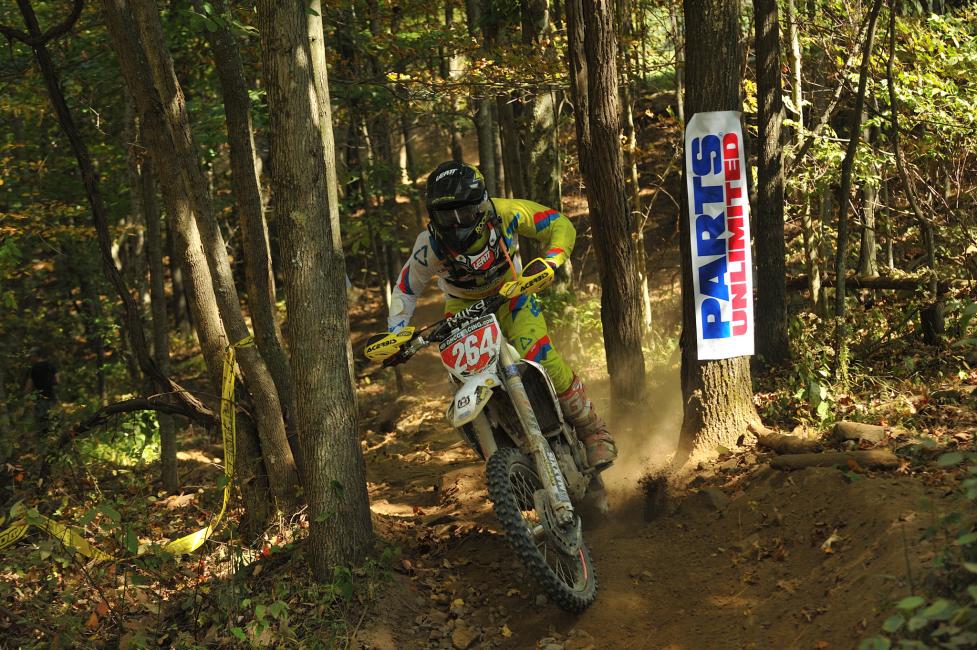 All eyes were on K Russell and Bollinger who had cut the gap on Sipes to only 30 seconds as they set out on lap four of the seven-lap race. Sipes' struggled through a pit stop where his quick fill gas can malfunctioned, followed by a machine that wouldn't fire back up, but even with the added time he kept a comfortable gap over K Russell.
At the mid-way point of the race, a change-up occurred for the final podium position where Bollinger fell back to fifth and R Russell and SRT/KTM's Stu Baylor moved to third and fourth.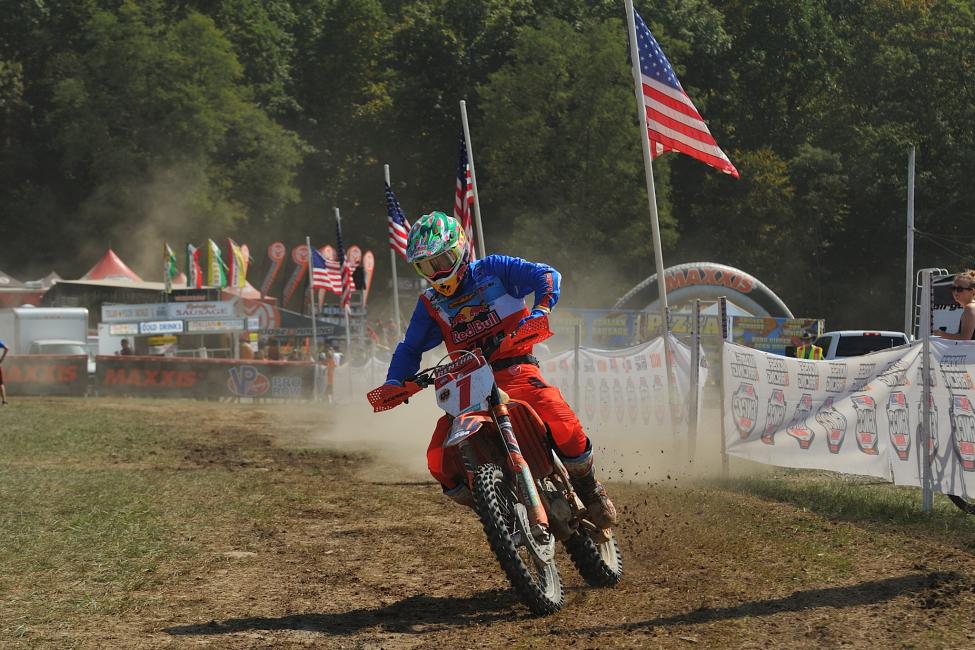 Sipes still had command of the lead once the two-lap card came out, while K Russell tipped over just before checking in timing and scoring. K Russell quickly remounted his bike, but the gap remained the same as the white flag came out.
Sipes continued his dominance on the last lap, while R Russell began closing the gap on K Russell. Sipes raced his way to the checkered flag 33 seconds ahead of K Russell, earning his first ever overall win. R Russell cut the gap to only five seconds by the time he crossed the finish line in third.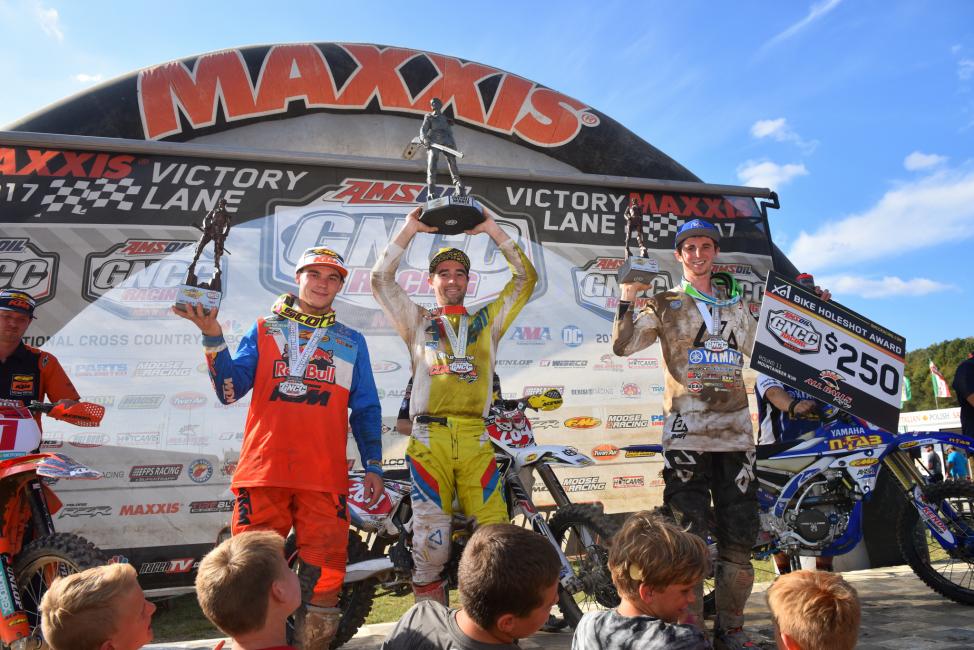 S Baylor was accredited fifth overall, while Rocky Mountain ATV*MC/KR4/Husqvarna's Grant Baylor and Bollinger finished sixth and seventh.
When it was time for the second line to take off, Coastal Racing/Husqvarna's Layne Michael earned the $100 Hot Cams XC2 Holeshot Award. Michael lead the first two laps of the race, until N-Fab AmPro Yamaha's Josh Toth took over the lead. Toth stayed consistent in the lead until the finish, where he was awarded with the No. 1 plate for the XC2 250 Pro class championship. Coastal Racing/Husqvarna's Craig Delong followed in second, while Michael followed his teammate in third.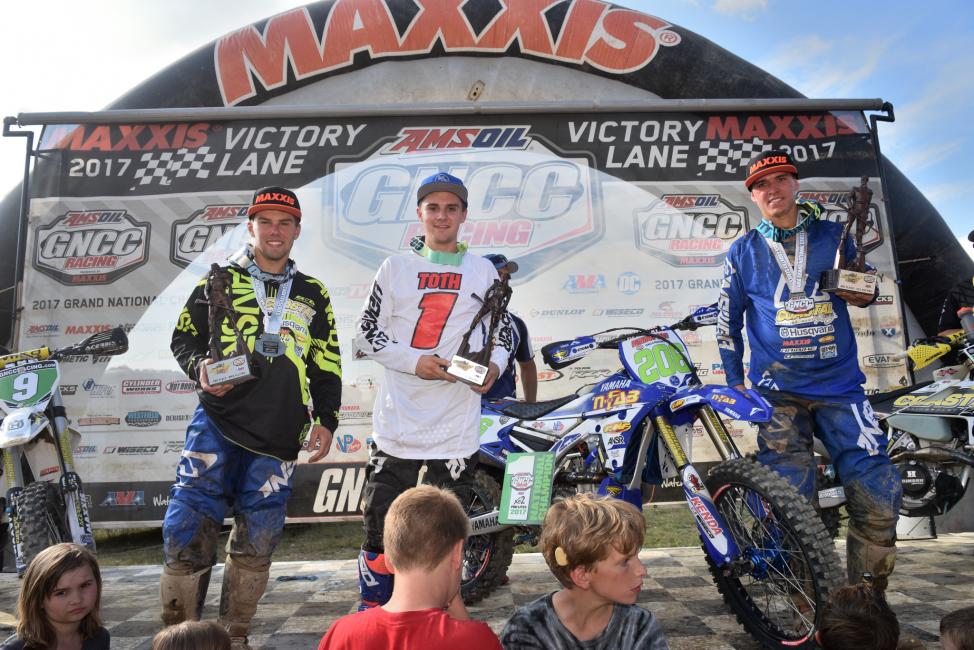 N-Fab/AmPro Yamaha's Paul Whibley snagged the $100 Wiseco FMF XC3 125 Pro-Am class holeshot, but Jason Thomas was able to get in the early lead and maintain the front position until the checkered flag flew. Whibley and Coastal Racing/Husqvarna's Jack Edmondson rounded out the class podium. Thomas' win vaulted him to the top of the points standings where he was presented with the National Championship.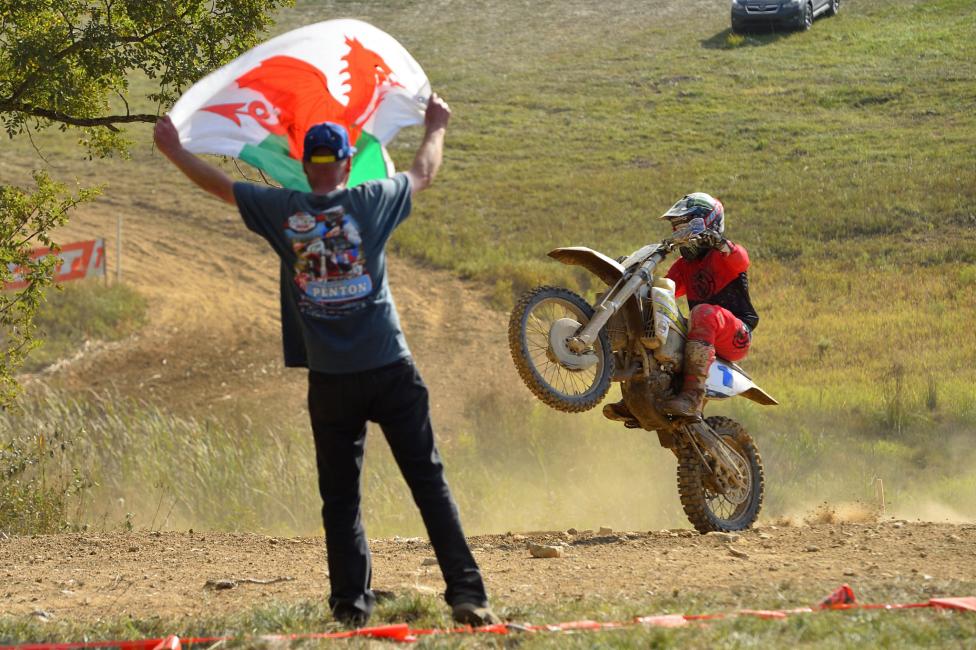 Alex Teagarden secured top amateur honors with 18th overall, while Cole Mattison and Hunter Bush filled the rest of the amateur podium in the 1 p.m. pro race.
The WXC ladies topped the 10 a.m. overall podium, where Fly Racing/Maxxis/Seat Concepts/KTM's Becca Sheets claimed her second win of the season. Bonanza Plumbing/Trail Jester KTM"s Mackenzie tricker followed in second, while The Motorcycle Shop/Kenda/Bell/V3 Off-Road's Brooke Cosner rounded out the podium in third. Randall Ervin was awarded the Overall Amateur award after his 125 B/C class win and tenth overall.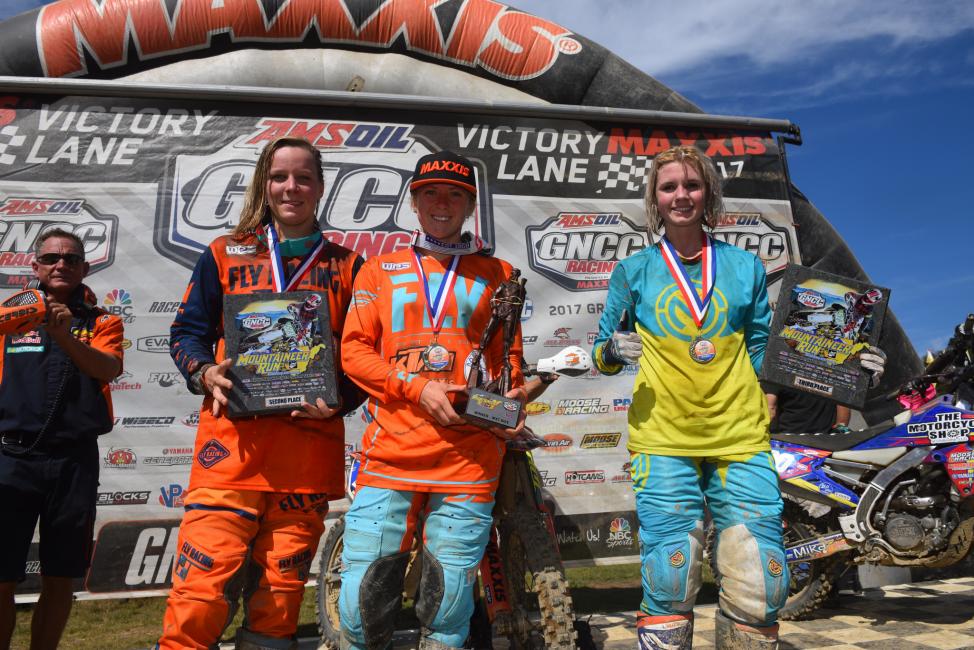 After a hard fought battle, MXTire.com/Cernics Racing/Sidi-backed Ryder LeBlond grabbed his first-ever youth overall win over Shawn Myers and Tely Energy's Peyton Whipkey.
The 1 p.m. pro bike race was broadcast LIVE in its entirety on RacerTV.com and can be viewed as archived video online by visiting the GNCC LIVE page. A highlight show featuring the event will air on NBC Sports Network on Sunday, November 11 at 6:30 p.m.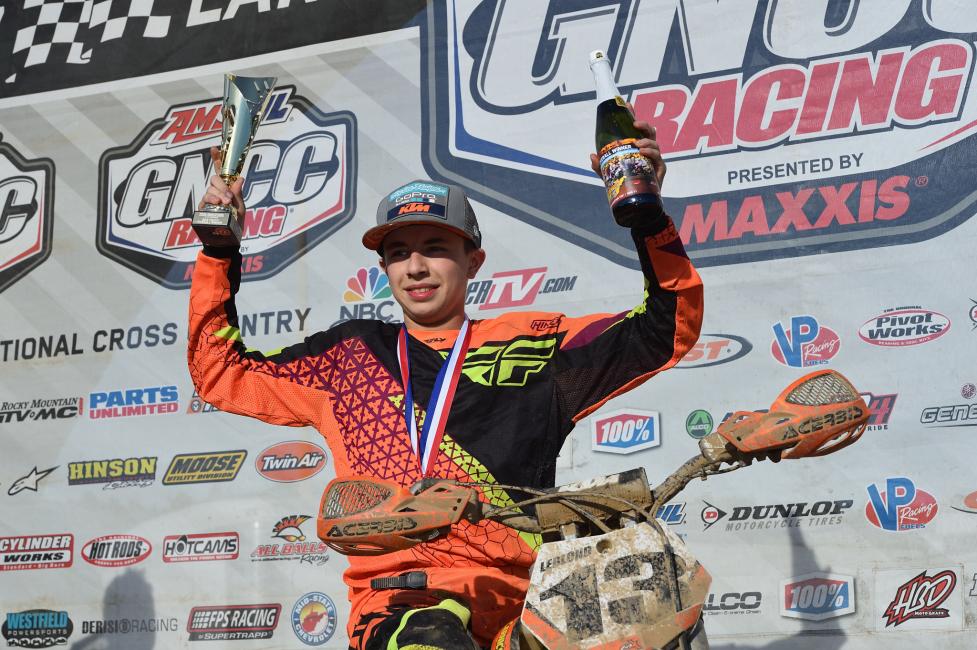 The 2017 AMSOIL Grand National Cross Country Series travels to St. Clairsville, Ohio in two weeks, October 7 and 8, with the Polaris Ace Powerline Park GNCC.
Rocky Mountain ATV/MC Mountaineer Run GNCC
Masontown, West Virginia
Round 11 of 13
Sunday, September 24
XC1 Open Pro Event Results:
Ryan Sipes (HSQ)
Kailub Russell (KTM)
Ricky Russell (YAM)
Steward Baylor (KTM)
Grant Baylor (HSQ)
Trevor Bollinger (HON)
Russell Bobbitt (KTM)
Mason Atherton (HSQ)
Chris Bach (KTM)
Josh Strang (HSQ)
*Overall National Championship Standings:
Kailub Russell (260)
Thad Duvall (202)
Steward Baylor (193)
Ricky Russell (184)
Josh Toth (167)
Grant Baylor (144)
Trevor Bollinger (129)
Layne Michael (116)
Craig Delong (114)
Jordan Ashburn (112)
*Indicates that the Overall National Championship Standings will determine the 2017 National Champion.
XC2 250 Pro Event Results:
Josh Toth (YAM)
Craig Delong (HSQ)
Layne Michael (HSQ)
Michael Witkowski (KTM)
Ben Kelley (KTM)
Austin Lee (HON)
Brendan Riordan (YAM)
Dylan Macritchie (KTM)
Jesper Borjessen (HSQ)
Jesse Groemm (KTM)
XC2 250 Pro Series Standings:
Josh Toth (301)
Craig Delong (238)
Layne Michael (237)
Mike Witkowski (195)
Ben Kelley (159)
Austin Lee (158)
Jesse Groemm (151)
Zack Hayes (131)
Sam Evans (100)
Zach Nolan (94)
FMF XC3 125 Pro-Am Event Results:
Jason Thomas (HSQ)
Paul Whibley (YAM)
Jack Edmondson (HSQ)
Chris Venditti (YAM)
Hunter Neuwirth (HSQ)
Tayla Jones (HSQ)
Devan Welch (YAM)
Jaryn Williams (YAM)
Mark Heresco Jr. (KTM)
Josh Adkins (YAM)
FMF XC3 125 Pro-Am Points Standings:
Jason Thomas (292)
Hunter Neuwirth (217)
Mark Heresco Jr. (205)
Jack Edmondson (178)
Jaryn Williams (137)
Josh Adkins (137)
Paul Whibley (117)
Devan Welch (111)
Nate Smith (62)
Dustin Gibson (61)