Kailub Russell Tops AMSOIL Snowshoe GNCC
Kailub Russell Tops AMSOIL Snowshoe GNCC
Bollinger and Ashburn Fill Overall Podium
SNOWSHOE, W.Va. (June 27, 2016) – Snowshoe Mountain hosted the ninth round of the 2016 AMSOIL Grand National Cross Country (GNCC) series presented by Maxxis, an AMA National Championship, this past Sunday, June 26. The rough and rugged conditions created a grueling track for the AMSOIL Snowshoe GNCC that lived up to the nickname of "America's Toughest Race." After three hours of intense racing it was FMF/KTM Factory Racing's Kailub Russell taking home the coveted win and earning his sixth win of the season.
The unique live engine start modeled after the famed Blackwater 100 race treated Russell well where he jumped out to the early lead. Russell quickly pulled a large gap on the rest of the field and continued to hold the lead position as he checked through timing and scoring for the first time.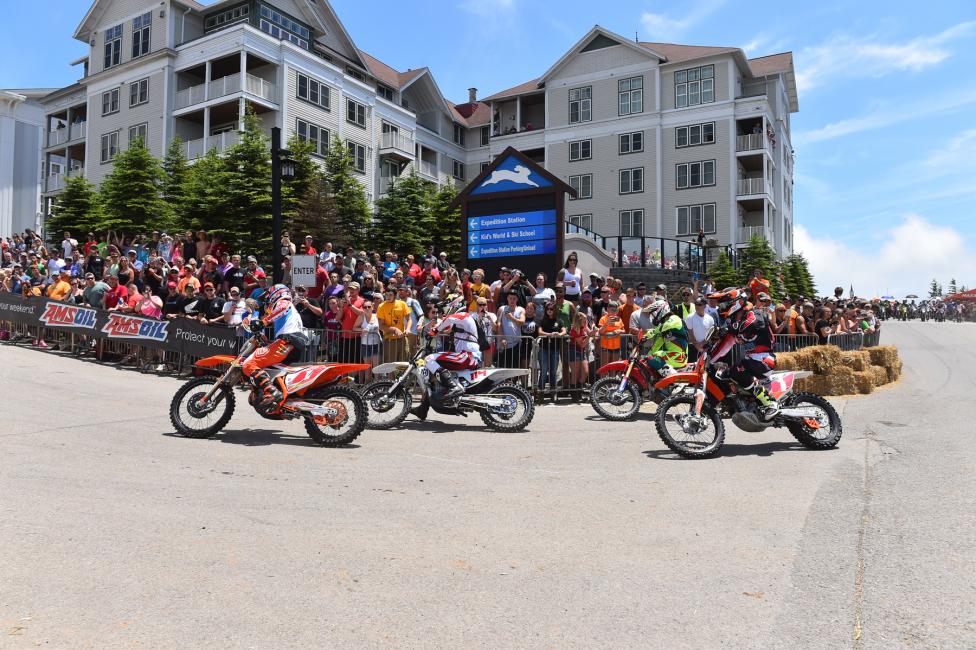 After starting on the second row, Rocky Mountain ATV*MC/KR4 Arrive-N-Ride Team's Thad Duvall made quick work into third by the conclusion of the first lap. While Russell maintained a dominate lead, Duvall began to start charging and took control of the lead position on the second lap with adjusted time.
Duvall was a man-on-a-mission and right on the back tires of Russell when Rockstar Energy Husqvarna Factory Racing/Bel-Ray's Josh Strang came into the mix. The three rode within seconds of each other until Strang fell back allowing for Westfield Powersports KTM Presented by Moose Racing's Jordan Ashburn and N-Fab/AmPro Yamaha's Grant Baylor to catch up to the front runners.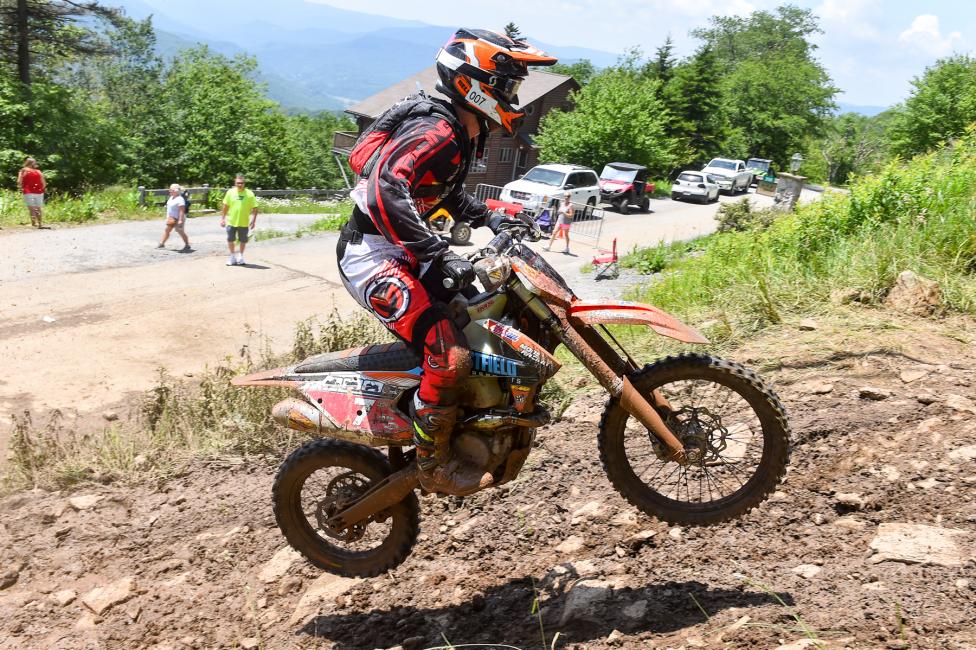 JCR Honda/Lucas Oil/Maxxis/FLY Racing's Trevor Bollinger used his first row start to his advantage where he was riding just in front of Duvall and learning the ways of the front row. Unfortunately, Duvall would face a mechanical issue with two laps left where he could not keep his bike started. Bollinger was able to reel in Russell around the halfway point of the race until Russell started to pull away once again.
Meanwhile, Baylor secured the second place position in XC1 Pro class on the fifth lap with Ashburn racing right behind him. Russell continued pushing where he crossed the line over two minutes ahead of Baylor and took the overall win. Bollinger's outstanding ride earned him second overall with Baylor following in third. Ashburn rounded out the XC1 Pro podium.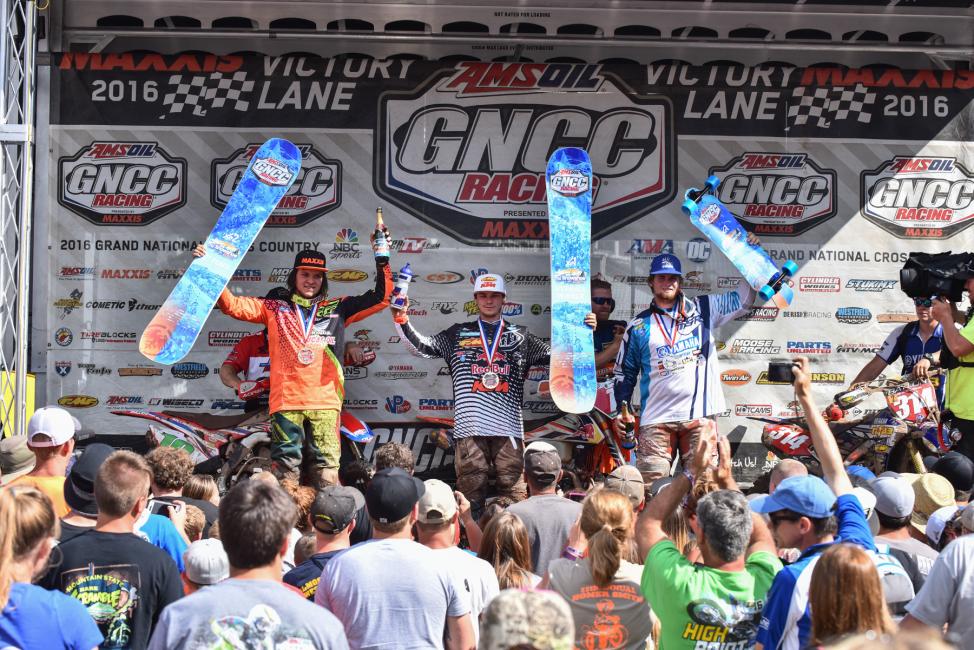 "I think I belong up there with the XC1 Pro guys, and I work too hard not to think that," said Bollinger. "It was good to ride with Kailub and Thad. I definitely learned some things and I'm going to try and carry this over into next year. It's hard to catch them from the second row due to the starts I normally get, but to be able to start with them was eye opening, today was just awesome. Thank you to everyone on the whole JCR Honda team for your support."
SRT/KTM/Kenda Tires' Steward Baylor crossed the line fourth in XC1 Pro and sixth overall. This finish vaulted Steward Baylor Jr. into eighth in the points championship. Strang ended up finishing seventh overall with Coastal Racing/Rockstar/Husqvarna's Ryan Sipes following in tenth overall after making his return to GNCC Racing after missing the past four rounds due to injury.
With Bollinger holding the top spot in the XC2 Pro Lites class, Coastal Racing/Husqvarna/MSR's Craig Delong rode an equally impressive ride where he maintained the second place position throughout the entire three-hour race. After getting off to a bad first lap, Trail Jesters Racing's Benjamin Kelly recovered from a 14th place start to round out the podium in third. Kentucky's Vance Francis and Solid Performance KTM's Jesse Groemm followed in fourth and fifth.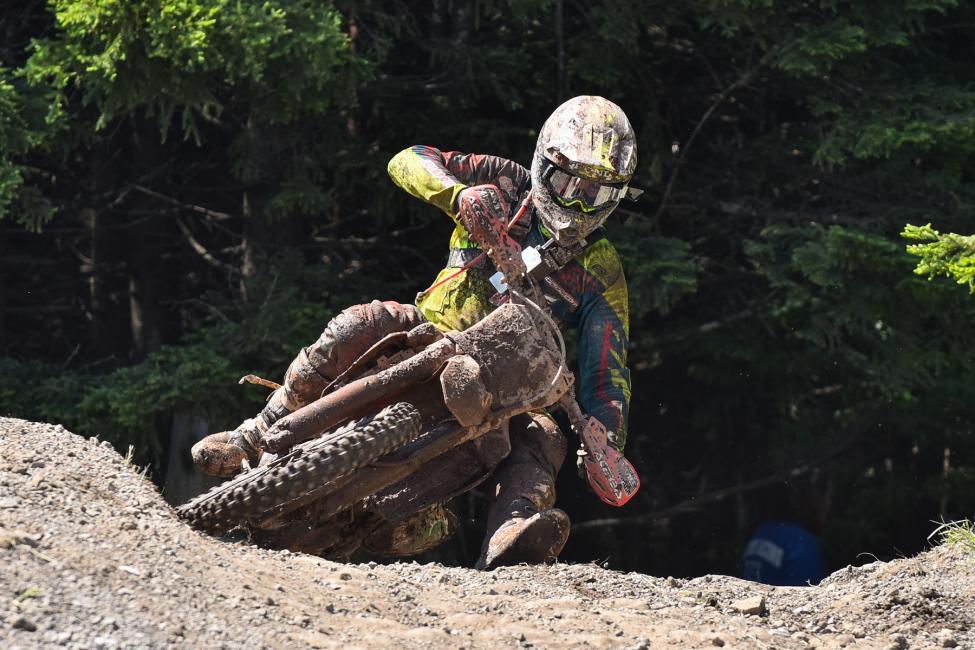 After finishing sixteenth overall, Alex Teagarden earned the $125 American Kargo Award along with the 250 A class win. Loic Leonard and Chris Venditti took home second and third in the amateur overall podium.
The 10 a.m. overall podium was topped by Super Senior A (45+) competitor Phil Smith. WXC winner FLY Racing/Maxxis/Seat Concepts/Yamaha's Becca Sheets was in second overall and Cernic's Racing/MXtire.com's Carl LeBlond rounded out the top three overall.
Sheets would end up winning her third win in the WXC division. RPM/KTM's Rachel Gutish made her first podium appearance of the season in second with Bonzi/RideMPS.com/Yamaha's Brooke Cosner landing on the box in third.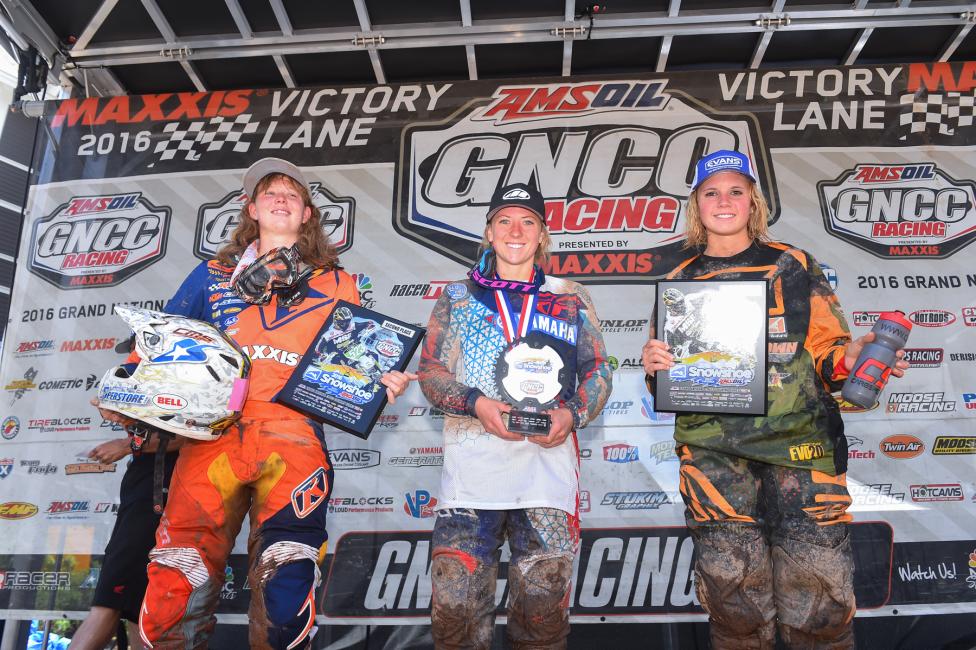 Yesterday's racing action kicked off with the 8 a.m. youth race. Benjamin Wright emerged through the fog to cross the finish line first with Hunter Riemer and Super Mini Jr. (12-13) racer Zack Davidson following in second and third overall.
The 1 p.m. race was broadcast LIVE in its entirety on RacerTV.com and can be viewed as an archived video now by visiting the GNCC LIVE page online.
The 2016 AMSOIL Grand National Cross Country Series continues in the fall, September 10 and 11, with the Parts Unlimited Unadilla GNCC at the popular Unadilla MX in New Berlin, New York.
For more information on the series, visit the official website at www.gnccracing.com call (304) 284-0084. Join the conversation on the series Facebook page, follow us on Twitter and Instagram, and be sure to always hashtag #GNCCLIVE.
AMSOIL Snowshoe GNCC
Snowshoe, West Virginia
Round 9 of 13
Sunday, June 26
XC1 Pro Event Results:
Kailub Russell (KTM)
Grant Baylor (YAM)
Jordan Ashburn (KTM)
Steward Baylor Jr. (KTM)
Josh Strang (HSQ)
Ryan Sipes (HSQ)
Ricky Russell (SUZ)
Cory Buttrick (KTM)
Scott Grills (KAW)
Chris Douglas (SUZ)
*Overall National Championship Standings:
Kailub Russell (226)
Josh Strang (211)
Trevor Bollinger (132)
Jordan Ashburn (123)
Craig Delong (109)
Chris Bach (105)
Grant Baylor (102)
Steward Baylor Jr. (98)
Ricky Russell (89)
Thad Duvall (84)
*Indicates that the Overall National Championship Standings will determine the 2016 National Champion.
XC2 Pro Lites Event Results:
Trevor Bollinger (HON)
Craig Delong (HSQ)
Benjamin Kelley (KTM)
Vance Francis (HON)
Jesse Groemm (KTM)
Joshua Toth (KTM)
Layne Michael (HSQ)
Samuel Evans (YAM)
Luke Parson (HSQ)
Zack Hayes (KTM)
XC2 Pro Lites Series Standings:
Trevor Bollinger (231)
Craig Delong (202)
Jesse Groemm (158)
Layne Michael (155)
Benjamin Kelley (130)
Joshua Toth (105)
Trevor Barrett (101)
Samuel Evans (97)
Vance Francis (95)
Tegan Temple (93)
About GNCC Racing
The AMSOIL Grand National Cross Country Series presented by Maxxis is America's premier off-road racing series. Founded in 1975, the 13-round championship is produced exclusively by Racer Productions. Cross-country racing is one of the most physically demanding sports in the world. The grueling three-hour GNCC races lead as many as 2,000 riders through tracks ranging in length from eight to 12 miles. With varied terrain, including hills, woods, mud, dirt, rocks and dmotocross sections, GNCC events are tests of both survival and speed. The series draws talent from all over the U.S., Europe, Japan, Australia and New Zealand. GNCC Racing is televised weekly on NBC Sports and RacerTV.com. For more information, please visit www.gnccracing.com.
-RP-
©2016 GNCC Racing. All rights reserved.
| | | |
| --- | --- | --- |
| | | |