UP CLOSE WITH THE HONDA CRF450L
The 2019 Honda CRF450L dual-sport bike still has us buzzing. At Honda's coming-out party Monday, that was the model that had everyone crowding to see. Most people expected something more like the Honda CRF250L. That machine has been a huge success for Honda, but only because of its price. It's made in Southeast Asia and has never made much impact in off-road circles. The 450L was made for a completely different rider. This is a head-on attack on the KTM 500EXC.  Even the price is KTM like: The Honda's MSRP is $10,399. That's almost double the price of a CRF250L, but still slightly less than the price of a 2018 Husqvarna FE450, which is $10,899. KTM doesn't currently have a 450EXC in the line, but there will likely be a special ISDE Edition later in the year.
We talked with Ryan Dudek and several other people who worked on the project at Honda, and it was clear that they were proud of the result, and of the fact that Honda even built it. A bike in this price neighborhood might sell around 3000 units, and that usually isn't enough to generate much interest at Honda, which makes 17,000,000 motorcycle worldwide. KTM, on the other hand, make around 150,000 units. So the enthusiasts within Honda won this battle.
Ryan and the Honda insiders were happy with the motor, which they say has excellent low-end power despite all the EPA requirements. We asked how easily it could be modified into full-race specifications, and they didn't seem to know. The CPU is completely different from that of the CRF450R competition bike, and doubtlessly has locked fuel metering and ignition advance settings. That's an EPA requirement. They didn't know if the entire CPU could be taken from an R model.
The bike's weight was a topic of concern. It's listed at 289 pounds. That's shocking when you compare it to the Husky FE501 (248 pounds without fuel on our scale) and the Beta 500RR (257 pounds). But you need to take several factors into consideration. First, Honda has new-found honesty in its weight specs, which are given with a full tank of fuel. The titanium tank holds 2 gallons, and we weigh all of our test bikes without fuel, so that's around 12 pounds. The Honda also has bolt-on things not found on the others, like the smog pump, a larger instrument panel and various guards, reflectors and so forth. The new green-sticker version of the same bike (the 2019 CRF450X) lost 14 pounds of that stuff. Still, the Honda will be overweight. Not surprising. So is the motocross bike.
The frame is said to be the same as that of the newly-released CRF450X off-road bike. That frame, in turn, is said to be very similar to that of the MX bike, with the engine intake routed over the top shock mount. The shock is similar to the MX bike's, too, but the front suspension is a less expensive version of the 49mm Showa coil spring fork. Will it be a KTM killer? We'll find out when it arrives in September!
ENGINE
Type: 449.7cc liquid-cooled 10º single-cylinder four-stroke
Valve Train: Unicam® OHC, four-valve
Bore x Stroke: 96.0mm x 62.1mm
Compression Ratio: 12.0:1
Induction Programmed fuel-injection system (PGM-FI); 46mm throttle bore Ignition Full transistorized
Starter: Push-button electric starter
Transmission: Constant-mesh 6-speed return; manual
Clutch: Multiplate wet (6 springs)
Final Drive: #520 sealed chain
SUSPENSION
Front: 49mm fully adjustable leading-axle inverted telescopic Showa coil-spring fork
Rear: Pro-Link system; fully adjustable Showa single shock
BRAKES
Front: 2-piston caliper hydraulic; single 260mm disc
Rear: 1-piston caliper hydraulic; single 240mm disc
TIRES
Front: IRC GP21 80/100-21 w/ tube
Rear: IRC GP22 AT81 120/80-18 w/ tube
MEASUREMENTS
Rake: (Caster Angle) 28°20'
Trail: 116mm (4.6 in.)
Length: 85.9 in.
Width: 32.6 in.
Height: 50.0 in.
Ground Clearance: 12.4 in.
Seat Height: 37.1 in.
Wheelbase: 58.9 in.
Fuel Capacity: 2.01 gal.
Color Red
Curb Weight* 289 lbs.
NATIONAL MOTOCROSS COMES TO SO. CAL
Glen Helen is hosting the second round of the Lucas Oil Natinal MX Championship this weekend, and we can't wait. Travis Fant caught a few of the National riders out practicing on Tuesday at Pala. Glen Helen was under construction all week. Here are some of the facts and figures for the riders coming into the weekend.
JOHN PENTON GNCC THIS WEEKEND
The 2018 AMSOIL Grand National Cross Country (GNCC) series, an AMA National Championship continues this weekend, May 26 and 27, with the 29th Annual Wiseco John Penton GNCC in Millfield, Ohio. Not only is this event the longest running GNCC race of the series, but it also pays homage to the legendary John Penton who pioneered numerous modern advancements in the world of off-road racing.
FMF/KTM Factory Racing's Kailub Russell comes into his hometown round with five overall wins, and currently leads the way in the National Championship standings. K. Russell will look to extend his points lead while he continues his quest to earn his sixth consecutive GNCC title.
As the 13-round circuit reaches its halfway point, the previous race just two weeks ago made it evident that the racing action is far from reaching its climax. The battle for the lead between K. Russell and Rockstar Energy/Factory Husqvarna Racing's Thad Duvall has been close at almost every event this season, and one thing that will be certain this weekend is no matter the outcome we are promised a great race.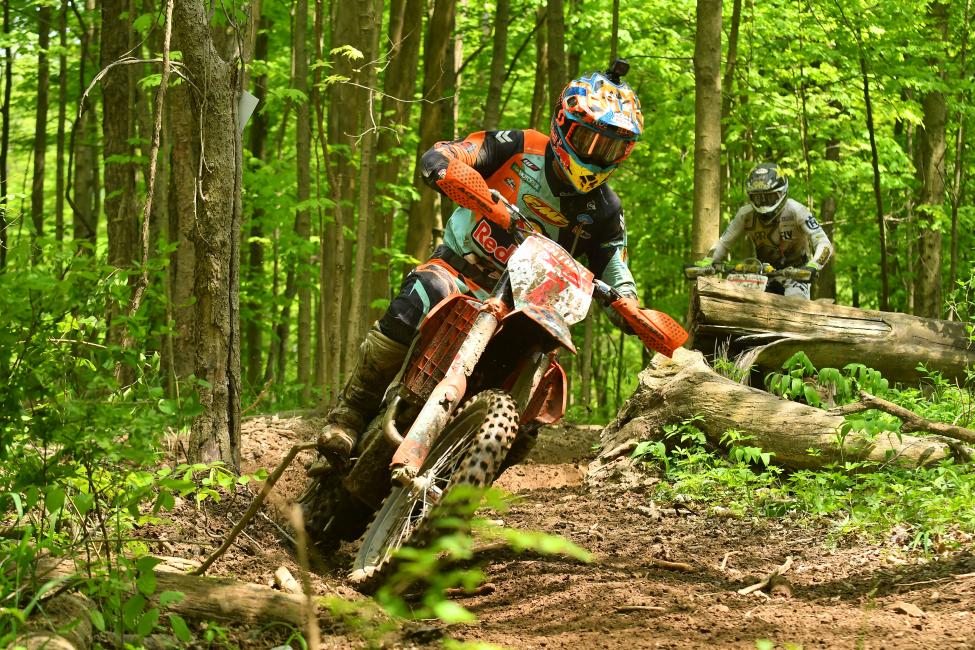 Kailub Russell and Thad Duvall have been battling all season, and are both looking to take the overall win at this weekend's John Penton GNCC.
– Ken Hill
Tely Energy Racing/KTM's Steward Baylor Jr. comes into this weekend's GNCC third in the championship standings, along with a handful of top five finishes in the first six rounds. Baylor Jr. will be aiming to battle through the XC1 Open Pro pack for his first overall win of the year. Baylor Jr.'s teammate and brother, Grant Baylor had a breakthrough performance at the previous round finishing third overall. G. Baylor will shoot to keep his momentum rolling and battle for the lead on Sunday afternoon.
Coming into this weekend fourth in points is JCR/Honda's Trevor Bollinger. With one podium finish at his hometown race this season, Bollinger is eager to make his way onto the box once again. Bollinger has had a consistent season thus far, and is looking to put his Honda machine up in the front of the pack as the GNCC circuit reaches its halfway point.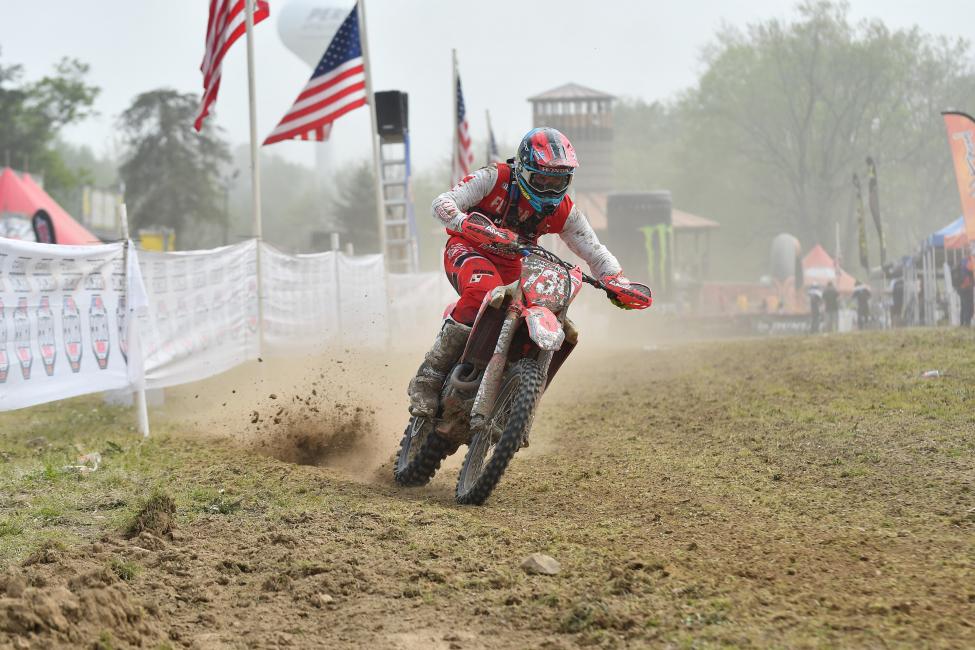 Trevor Bollinger is aiming to land on the podium once again this weekend.
– Ken Hill
Rockstar Energy/Factory Husqvarna Racing's Josh Strang is looking to advance himself in the championship points standings after this weekend's race. Strang has been steadily improving throughout the year, and is aiming for another top five finish this Sunday.
One rider that had a rough start to the season is AmPro Yamaha's Ricky Russell. The first couple rounds R. Russell found himself battling at the front of the pack, but misfortune would strike and R. Russell would suffer from a mechanical issue. However, heading into this weekend R. Russell is looking to return to the front of the XC1 Open Pro class and battle for his second podium finish of the season.