Kailub Russell Captures Eighth Victory of 2015 at the AMSOIL Snowshoe GNCC
FOR IMMEDIATE RELEASE
Media Inquiries
304-826-7716
[email protected]
Kailub Russell Captures Eighth Victory of 2015 at the AMSOIL Snowshoe GNCC
Jason Thomas Secures Fifth Win of the Season in XC2 Pro Lites
Morgantown, W.Va. (June 22, 2015) – Factory FMF/KTM rider Kailub Russell continued to prove himself, earning the top spot on the podium once again. Round nine of The 2015 AMSOIL Grand National Cross Country Series presented by Maxxis, an AMA National Championship, gave Russell his eighth victory of the season. The AMSOIL Snowshoe GNCC was held at the largest ski resort in West Virginia, Snowshoe Mountain.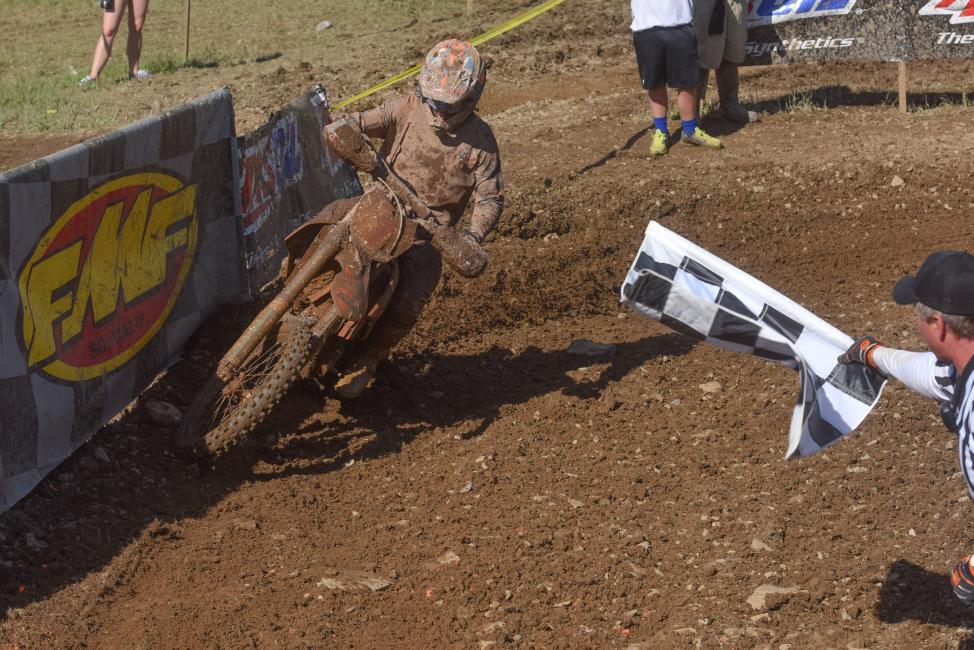 The current XC1 Pro points leader Russell began on the first row of the unique live engine start, replicating the start of GNCC's birth race the Blackwater 100.  After taking the early lead, Russell would start to feel pressure from Rocky Mountain ATV*MC/KR4/FAR's and West Virginia's own Thad DuVall.  DuVall made the pass on lap three and continued to lead until Russell made the pass back on lap seven. He would hold onto second place
"I kind of rode around there for about half the race, and once I got everything figured out I went for it and was able to pull the lead at the end," said Russell.
After struggling in the first half of the season the difficult Snowshoe track conditions didn't slow down the N-Fab AmPro Yamaha's Jordan Ashburn.  He walked away with his first podium of the season, rounding out the top three in the XC1 class.
"I'm just happy to be back where I know I should and can be," reported Ashburn, "I've had struggles and I hate it has taken this long, but I'm good now."
In addition to the full GNCC schedule, AirGroup/Rockstar Energy/Husqvarna backed rider Ryan Sipes has been busy with racing the past two rounds of the Lucas Oil Pro Motocross Championship.  He has been improving all season finishing second at the past two rounds.  Unfortunately Sipes injured his knee, ultimately ending his day.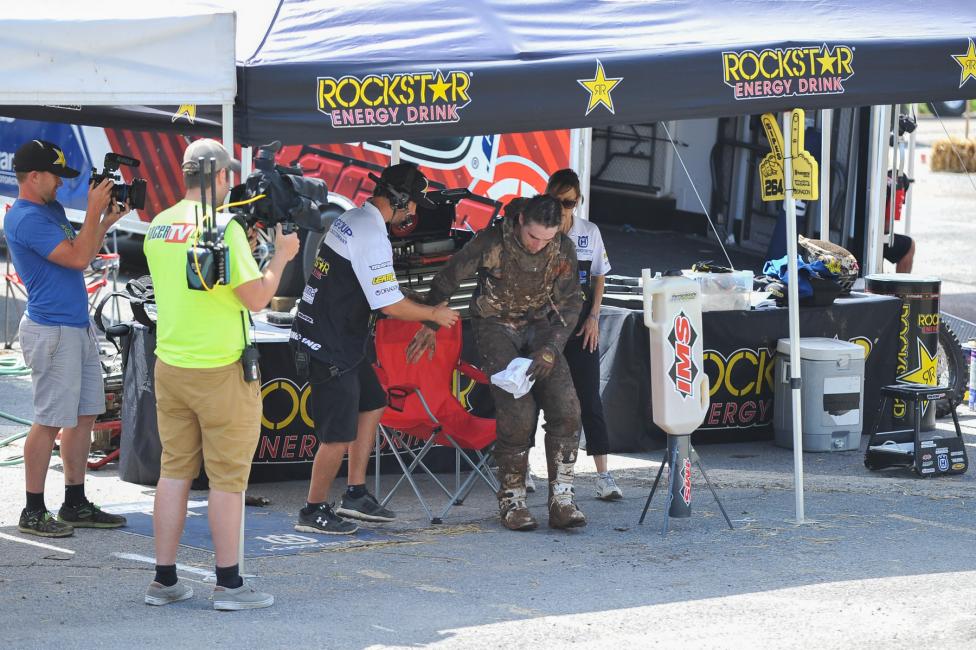 "I hit my knee on something, I'm not sure if it was a rock or handlebar," said Sipes, "but it swelled up and I couldn't hang on anymore or use my knees to grip."
JCR Honda's Chris Bach maintained a consistent placement throughout the race and finished fourth, followed by N-Fab AmPro Yamaha's Grant Baylor in fifth and Factory FMF/KTM's Taylor Robert in sixth.
Moto-Tech KTM's Steward Baylor takes home seventh place, N-Fab AmPro Yamaha's Daniel Milner in eighth, Funmart Cycle/FLY/RidePG.com's Adam Bonneur in ninth and Maxxis/Fly/Factory Connection's Chris Douglas finished out the XC1 Pro top ten.
The XC2 Pro Lites hosted an eventful race with DirtWise/Maxxis/KLIM's Jason Thomas and E&H Honda's Trevor Bollinger swapping first and second place throughout the three-hour race. At the end of the race, it would be Thomas who came out on the top spot of the podium. XC2 class rookie, KTM/St. Lawrence Radiology/Factory Connection's Mike Witkowski also earned his first-ever XC2 podium finish with a third in the class and 11th overall.
Raines Riding University/Atlas Yamaha/OffRoadViking.com's Ricky Russell found himself just one position away from the podium taking home fourth place. Husqvarna Support Rider Craig DeLong followed Russell in fifth and Honda's Layne Michael in sixth. Tegan Temple improved from his last finish at the John Penton, taking seventh place home. Cory Buttrick, Jesse Groemm and Samuel Evans round out the XC2 Pro Lites top 10.
Canadian rider Loic Leonard captured his first American Kargo Top Amateur award with a win in the 4 Stroke A Lites, and 18th overall.  The AMSOIL Snowshoe GNCC was Leonard's second race of the season. Previously Leonard finished 10th at Big Buck.
Factory FMF/KTM's rider Kacy Martinez finished on top of the WXC podium and wrapped up her second consecutive WXC title.
"It feels pretty good to get it wrapped up with four races still to go and before the summer break so I can take it easy over the summer break," says Martinez, "But I won't take too much time off and hop right back into it to get the last four rounds under my belt and on top of the box."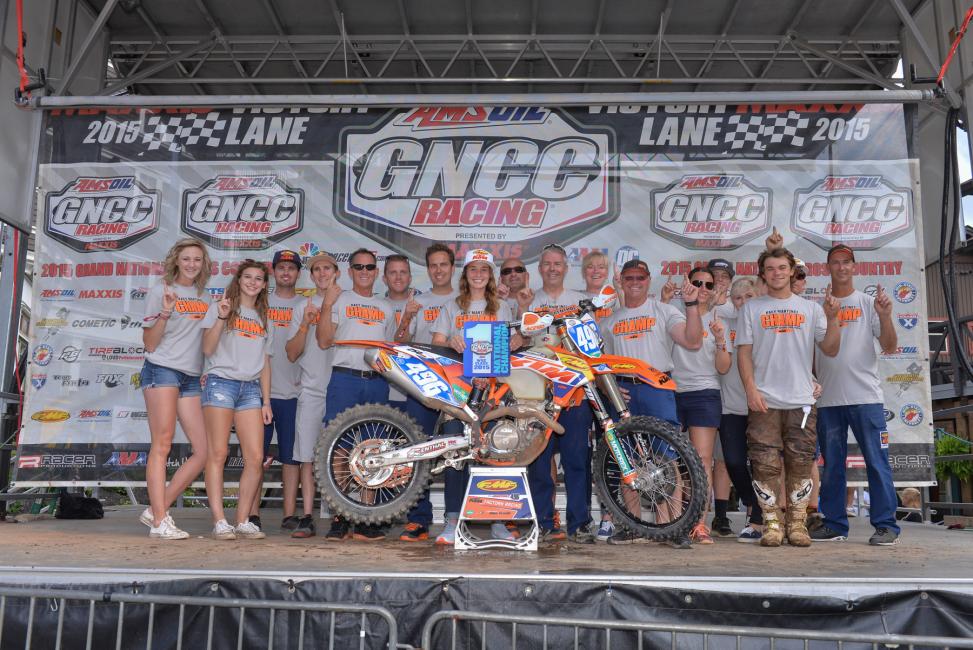 KTM's Rachel Gutish had her best finish of the season with a second place closely following Martinez. Husqvarna's Brooke Cosner held onto third place the entire race.
The 1:00 p.m. race was broadcast LIVE in its entirety on RacerTV.com and can be viewed as an archived video now online by visiting the GNCC LIVE page on RacerTV.com.
The 2015 AMSOIL Grand National Cross Country Series resumes after summer break on September 19 and 20 with the Parts Unlimited Unadilla GNCC. For more information on the series, visit www.gnccracing.com.
Stay up-to-date with exclusive content from the AMSOIL GNCC Series by following the series, Facebook, Twitter and Instagram.
AMSOIL Snowshoe
Snowshoe, West Virginia
Round 9 of 13
Sunday, June 21
XC1 Event Results:
Kailub Russell (KTM)
Thaddeus Duvall (HSQ)
Jordan Ashburn (YAM)
Chris Bach (HON)
Grant Baylor (YAM)
Taylor Robert (KTM)
Steward Baylor Jr. (KTM)
Daniel Milner (YAM)
Adam Bonneur (KTM)
Chris Douglas (KTM) 
*Overall National Championship Standings
Kailub Russell (265)
Thad DuVall (167)
Grant Baylor (166)
Chris Bach (153)
Ryan Sipes (145)
Josh Strang (138)
Jordan Ashburn (132)
Takeshi Koikeda (101)
Adam Bonneur (99)
Chris Douglas (97)
*Indicates that the Overall National Championship Standings will determine the 2015 National Champion.
XC2 Event Results: 
Jason Thomas (KTM)
Trevor Bollinger (HON)
Michael Witkowski (KTM)
Ricky Russell (YAM)
Craig Delong (HSQ)
Layne Michael (HON)
Tegan Temple (KTM)
Cory Buttrick (BET)
Jesse Groemm (BET)
Samuel Evans (KTM)
XC2 Series Standings:
Jason Thomas (222)
Ricky Russell (158)
Craig Delong (155)
Trevor Bollinger (143)
Layne Michael (142)
Nick Davis (125)
Cory Buttrick (122)
Tegan Temple (113)
Austin Lee (95)
Callan May (87)
About GNCC Racing: 
The AMSOIL Grand National Cross Country Series presented by Maxxis is America's premier off-road racing series. Founded in 1975, the 13-round championship is produced exclusively by Racer Productions. Cross-country racing is one of the most physically demanding sports in the world. The grueling three-hour GNCC races lead as many as 2,000 riders through tracks ranging in length from eight to 12 miles. With varied terrain, including hills, woods, mud, dirt, rocks and motocross sections, GNCC events are tests of both survival and speed. The series draws talent from all over the U.S., Europe, Japan, Australia and New Zealand. GNCC Racing is televised weekly on NBC Sports and RacerTV.com. For more information, please visit www.gnccracing.com.