MORGANTOWN, W.Va (April 3, 2016) – The third round of the 2016 AMSOIL Grand National Cross Country (GNCC) Series presented by Maxxis, an AMA National Championship, took place today, April 3 at the beautiful Steele Creek Campground in Morganton, North Carolina with the 16th Annual FMF Steele Creek GNCC. With a mix of sun and mild temperatures the groundwork was laid for one of the best races thus far in the season. At the end of the grueling three-hour race it was FMF/KTM Factory Racing's Kailub Russell who claimed the overall win.
"The season started off rough, but I'm glad to be back on the podium," said Russell. "The championship chase still isn't over and I've still got my eyes on it."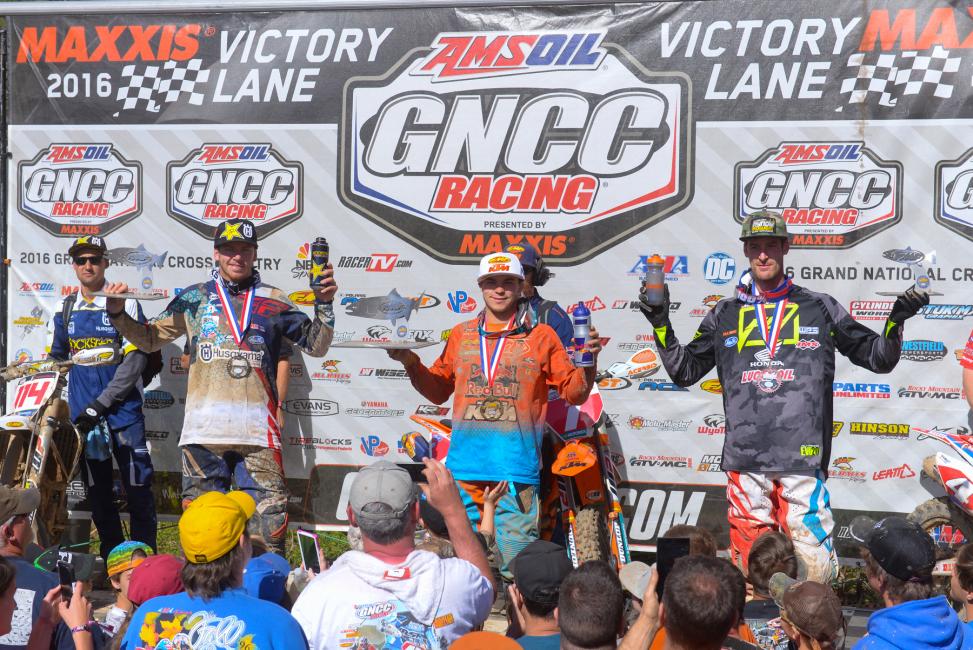 Overall Podium: (2) Josh Strang (1) Kailub Russell (3) Chris Bach
Photo: Ken Hill
As the green flag dropped it was Russell's teammate, Charlie Mullins who headed into the woods first earning himself the $125 All Balls Racing Holeshot Award. Perhaps this start served as the confidence boost that Mullins needed after a season-long hiatus due to a double-wrist injury. Mullins would quickly take charge of the race and pull a twenty second lead over the rest of the pack within the first three minutes of the race.
While Mullins was facing a clear track, the rest of the XC1 Pro class was battling it out and quickly advancing on him. By the second lap, Russell had worked his way from the back of the pack to second place where he caught up with Mullins at the three mile marker. As the two were racing wheel-to-wheel, Russell was able to make the move for the lead in an open field section.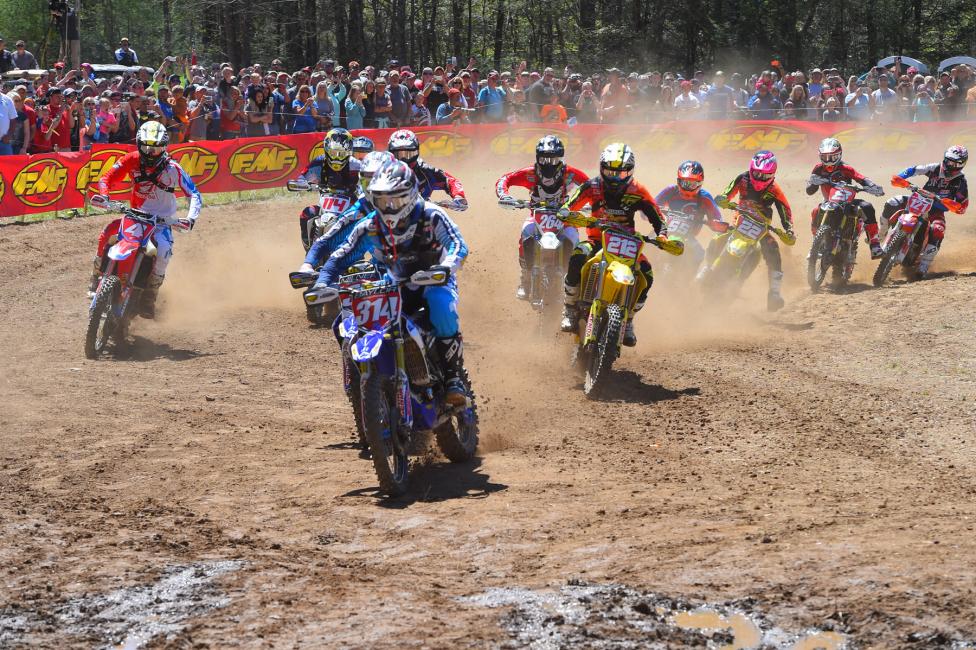 The XC1 Pro class put on quite a show for the Morganton, North Carolina GNCC fans. 
Photo: Ken Hill
With a quick check back Russell turned his focus on extending his lead by valuable seconds. Mullins would eventually fade back on the third lap allowing for JCR Honda/Lucas Oil/Maxxis/FLY Racing's Chris Bach and Rockstar Energy Husqvarna Factory Racing/Bel-Ray's Josh Strang to slide by.
"It's awesome to get my first podium of the season," said Bach. "I had a decent start and was able to even lead a little bit of the race. I've been dealing with issues from my crash in Florida but I'm taking it race by race and we're finally back where we should be."
With the added momentum, Bach quickly caught back up to Russell and took over the lead. It was Bach, Russell and Strang fighting for the lead on the third lap. After spending a lap following Bach, Russell put his head down and took back over the lead ultimately crossing the finish line a whole minute before second place.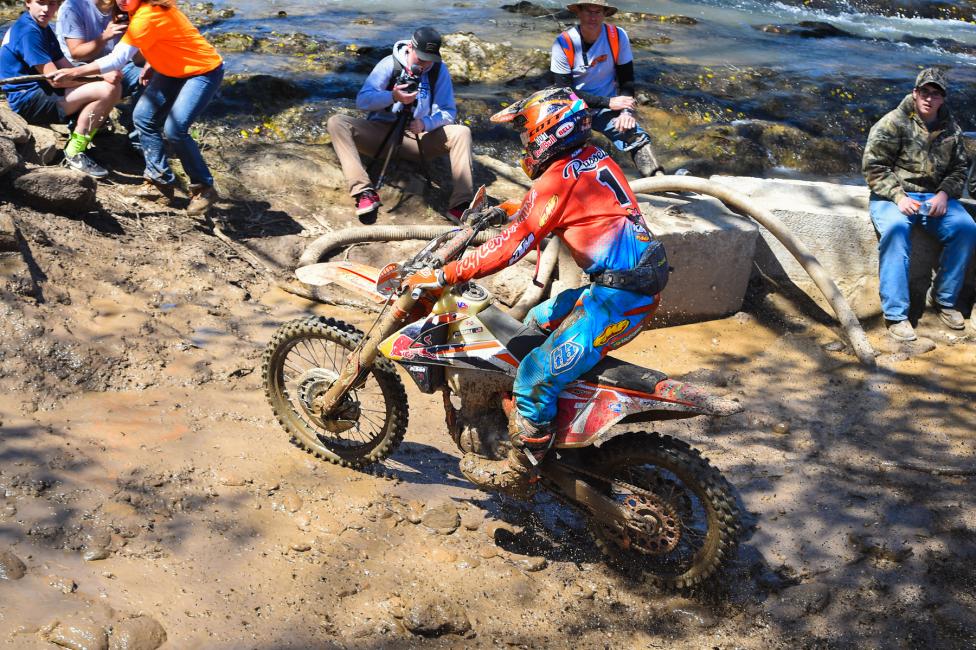 Russell captured the overall win and closes the points gap to just nine points.
Photo: Ken Hill
After hitting a hole at high speed, Mullins was out of the race where he suffered from too much pain in his wrists. With a last lap pass, Strang was able to salvage extra points with a second place finish. Strang still continues to hold onto the points lead, with Russell sitting in second just nine points behind. Bach made his first podium appearance of the season where he rounded out the overall podium in third.
"I'm not happy with a second place after getting the first two wins," said Strang. "I struggled in the first half of the race and when I finally put it all together I was too far back. I'll take it for this round, but my plan is to be back in the middle of the box at Big Buck."
Rockstar Energy Husqvarna Factory Racing/Bel-Ray's Ryan Sipes had a season-best finish and just missed the podium with fourth overall. N-Fab/AmPro Yamaha-backed Daniel Milner followed behind Sipes in the XC1 Pro division, but crossed the line seventh overall. Westfield Powersports KTM Presented by Moose Racing's Jordan Ashburn recovered from a dead last start finishing in ninth, N-Fab/AmPro Yamaha's Grant Baylor in tenth followed by KTM/SRT's Cory Buttrick with eleventh overall.
After a hard fought race, JCR Honda/Lucas Oil/Maxxis/FLY Racing's Trevor Bollinger came out with the XC2 Pro Lites win. The Morganton native took a hard hit during the race, but was able to recover and move back into the first place position. Following behind him was Coastal Racing/Husqvarna-backed Layne Michael in second. Coastal Racing/Husqvarna/MSR's Craig Delong jumped out to the early lead claiming the $100 Hot Cams Holeshot Award, but ultimately finished third. Connecticut's Benjamin Kelly and North Carolina native Trevor Barrett round out the top five.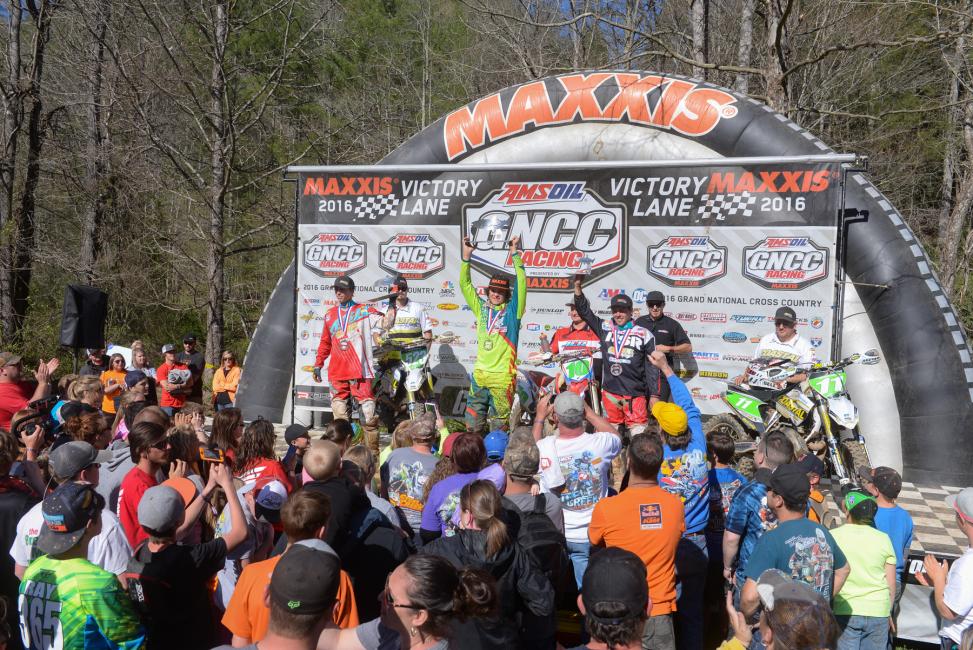 XC2 Pro Lites Podium: (2) Layne Michael (1) Trevor Bollinger (3) Craig Delong
Photo: Ken Hill
"It feels great to get a win at my hometown race especially after the race I had," said Bollinger. "I just couldn't get a clean lap in the whole race, but it feels good to come out with another win and keep fighting for the championship."
Pennsylvania's Alex Teagarden took home the overall amateur honors finishing twentieth overall and taking home the class win in the 250 A division.
FLY Racing/Maxxis/Seat Concepts/Yamaha's Becca Sheets took home gold in the WXC division in addition to the overall win. Sheets still sits second in points, but made a dent in closing the gap to just one point on FMF/KTM Factory Racing's Kacy Martinez who finished right behind her in second. Bonzi/RideMPS.com/Yahama's Brooke Cosner rounded out the podium in third.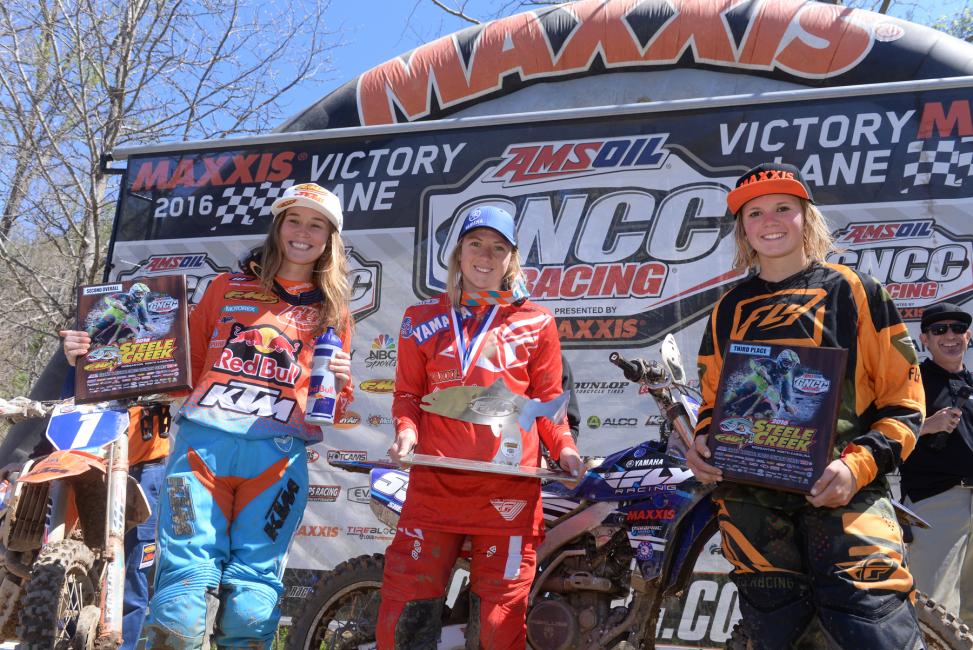 WXC Podium: (2) Kacy Martinez (1) Becca Sheets (3) Brooke Cosner
Photo: Ken Hill
The first podium of the day consisted the of the overall youth racers. South Carolina Brody Johnson came out with the top position claiming his first ever youth overall win. Hunter Riemer and Benjamin Wright followed behind in second and third.
The 1 p.m. race was broadcast LIVE in its entirety on RacerTV.com and can be viewed as an archived video now online by visiting the GNCC LIVE page online.
The 2016 AMSOIL Grand National Cross Country Series resumes April 16 and 17 with the VP Racing Fuels Big Buck GNCC in Union, South Carolina.
For more information on the series, visit the official website at www.gnccracing.comor call (304) 284-0084. Join the conversation on the series Facebook page, follow us on Twitter and Instagram, and be sure to always hashtag #GNCCLIVE.
FMF Steele Creek GNCC
Morganton, North Carolina
Round 3 of 13
Sunday, April 3
XC1 Pro Event Results:
Kailub Russell (KTM)
Josh Strang (HSQ)
Chris Bach (HON)
Ryan Sipes (HSQ)
Daniel Milner (YAM)
Jordan Ashburn (KTM)
Grant Baylor (YAM)
Cory Buttrick (KTM)
Steward Baylor Jr. (KTM)
Ricky Russell (SUZ)
*Overall National Championship Standings:
Josh Strang (85)
Kailub Russell (76)
Daniel Milner (51)
Trevor Bollinger (49)
Ryan Sipes (48)
Chris Bach (46)
Steward Baylor Jr. (37)
Grant Baylor (35)
Craig Delong (26)
Jesse Groemm (25)
*Indicates that the Overall National Championship Standings will determine the 2016 National Champion.
XC2 Pro-Am Event Results:
Trevor Bollinger (HON)
Layne Michael (HSQ)
Craig Delong (HSQ)
Benjamin Kelley (KTM)
Trevor Barrett (HSQ)
Austin Lee (YAM)
Jesse Groemm (BET)
Joshua Toth (KTM)
Zack Hayes (KTM)
Samuel Evans (YAM)
XC2 Pro-Am Series Standings:
Trevor Bollinger (90)
Craig Delong (58)
Jesse Groemm (57)
Tegan Temple (50)
Benjamin Kelley (47)
Layne Michael (47)
Trevor Barrett (40)
Zack Hayes (39)
Austin Lee (34)
Samuel Evans (31)