Russell Dominates VP Racing Fuels Big Buck GNCC and Claims Overall Win
Bollinger Remains Undefeated in XC2 Pro Lites
MORGANTOWN, W.Va (April 17, 2016) – The 2016 AMSOIL Grand National Cross Country (GNCC) Series presented by Maxxis, an AMA National Championship, continued today, April 17, with the 20th Annual Big Buck GNCC. The Palmetto State weather treated racers to perfect race conditions at the popular Big Buck Farm. At the end of the three-hour race it would be FMF/KTM Factory Racing's Kailub Russell claiming the overall win followed by JCR Honda/Lucas Oil/Maxxis/FLY Racing's Chris Bach and Rockstar Energy Husqvarna Factory Racing/Bel-Ray's Josh Strang.
Once the green flag waved after the traditional "ten seconds" call, it would be Obermeyer/MCS Racing Suzuki/Kenda/Fly Racing's Ricky Russell jumping out to the early lead and earning himself the $250 All Balls Racing Holeshot Award. However, defending champion Kailub Russell was right on his back tire and eager to take the lead away. It did not take long for a lead change to happen and Kailub Russell to put a gap on the rest of the XC1 Pro field.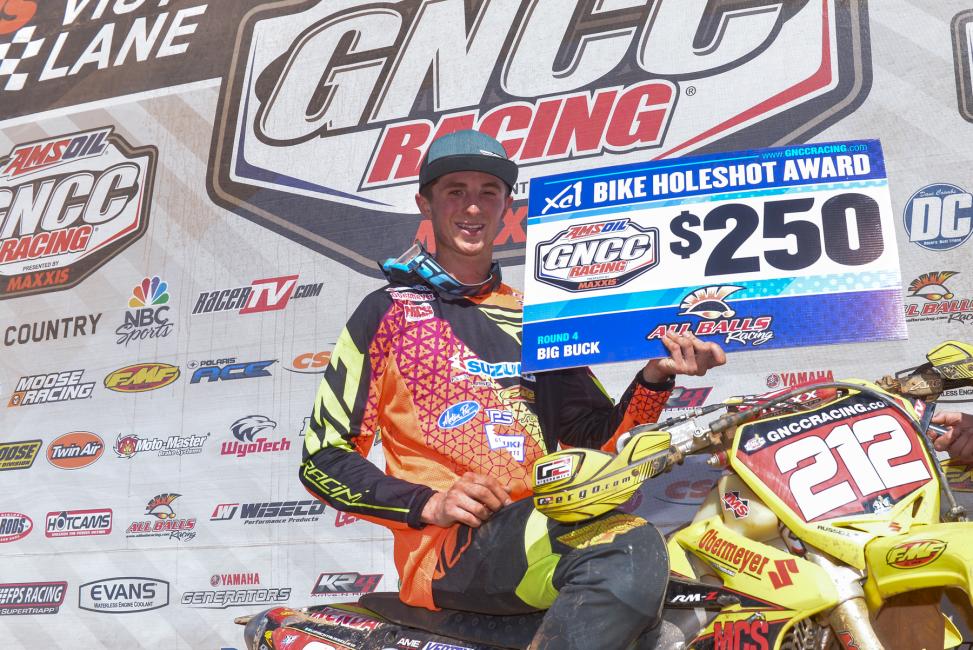 Meanwhile, Strang was busy working his way through the pack and making passes after a bad start. Strang suffered from a last minute mechanical issue and barely made it to the start on time, and once the green flag dropped he was stuck mid-pack.
"I had a rough start to the day," said Strang. "It was a little stressful, but we got everything figured out and it was fine after that. It was important to get a good start today with the dust, but I just didn't get as good as a start as I wanted, but I'm still pretty happy with third place."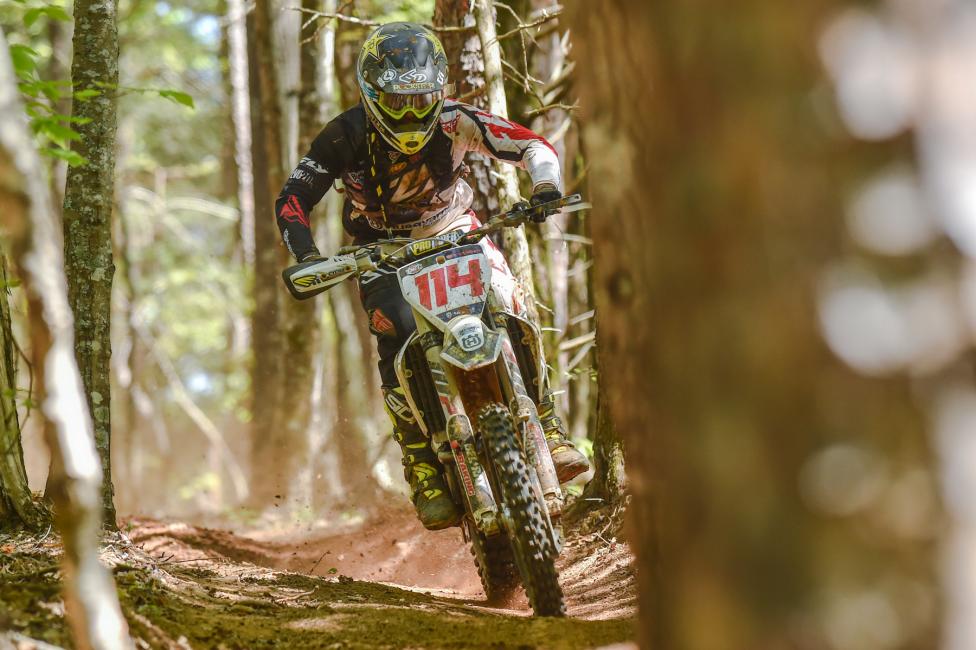 Ricky Russell began fading back through the pack allowing for Westfield Powersports KTM Presented by Moose Racing's Jordan Ashburn to take over the second place position. With a seven-second gap behind Kailub Russell, Ashburn put fourth his best effort and charged hard in hopes of taking over the lead.
Coastal Racing/Rockstar/Husqvarna's Ryan Sipes held the third place position once they checked into timing and scoring for the first time. On the second lap the battle began with Sipes and Ashburn, all while JCR Honda/Lucas Oil/Maxxis/FLY Racing's Chris Bach was creeping up from behind. After checking in sixth on the first lap, Bach was a man on a mission and quickly caught Sipes. Making a quick pass on Sipes and Ashburn, Bach found himself in second right behind the three-time defending champion Kailub Russell who continued to lead the way.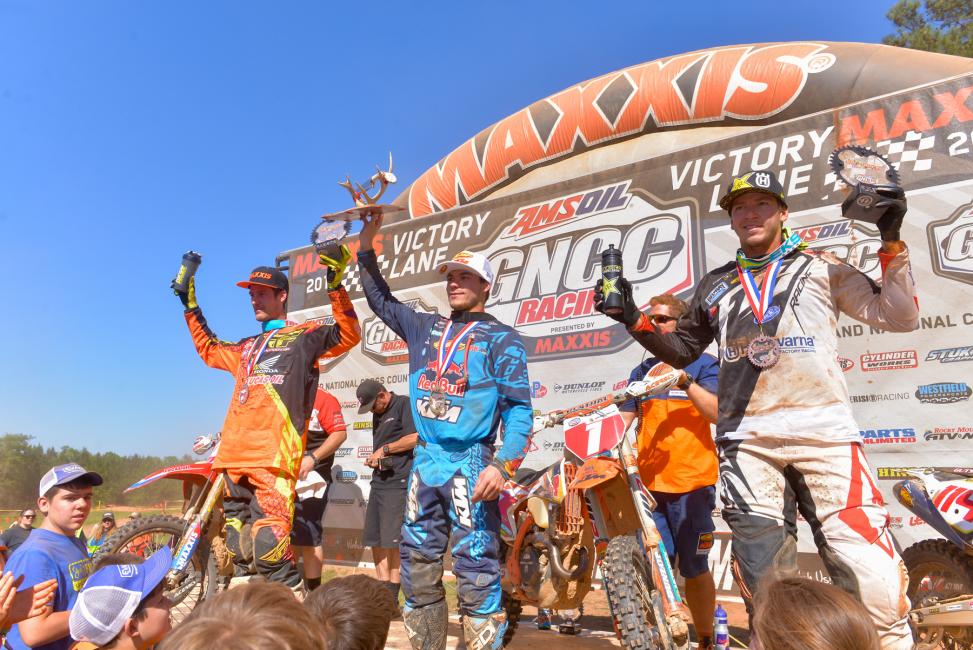 The fight for second pushed each rider to set record lap times and gain valuable seconds on Russell. Even though the North Carolina native still had a commanding lead, he began to feel the pressure after a pit stop mistake where his mechanic's radio cable was hung on his bike. Russell made a quick stop and unhooked it before quickly rebounding and maintaining the lead.
"When I had my pit stop my mechanic's radio tether got wrapped around my handlebars," said Russell. "So when I pulled out I drug his radio with me and had to slow down and unravel it. It was a bummer because I knew Ashburn and the rest of the guys were catching up so I just put in a little sprint for the next lap and was able to create another gap between us."
It would take four laps for Strang to be able to recover from his start and put himself in contention for a podium. By the time Strang made his way into third, Bach and Russell were just too far ahead for Strang to be able to catch. Throughout the remainder of the race, the top three would stay the same with Russell taking home the overall followed by Bach and Strang.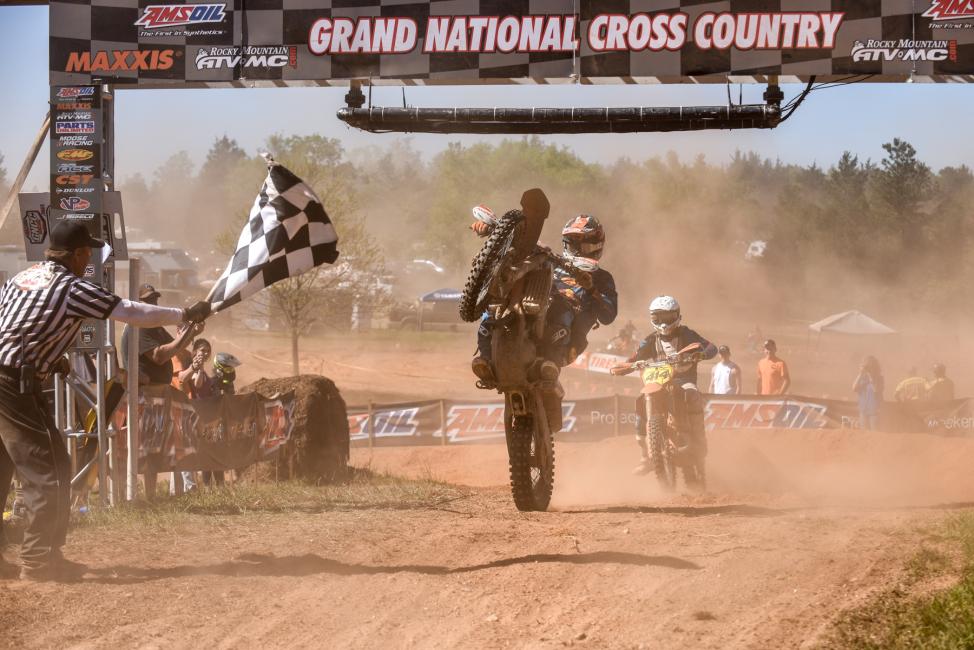 "I should have been on the podium the whole time this season," said Bach. "This is notoriously a bad track for me because I normally struggle here, but now I've got a little momentum for the rest of the season. I was able to win at the new track last year and that's my plan heading into the next South Carolina round."
Crossing the finish line in fourth, Sipes would end up missing the podium by just one position. The 2015 AMA Athlete of the Year has been absent from the podium thus far in the season, but has proved that he has the speed needed to make an appearance before too long.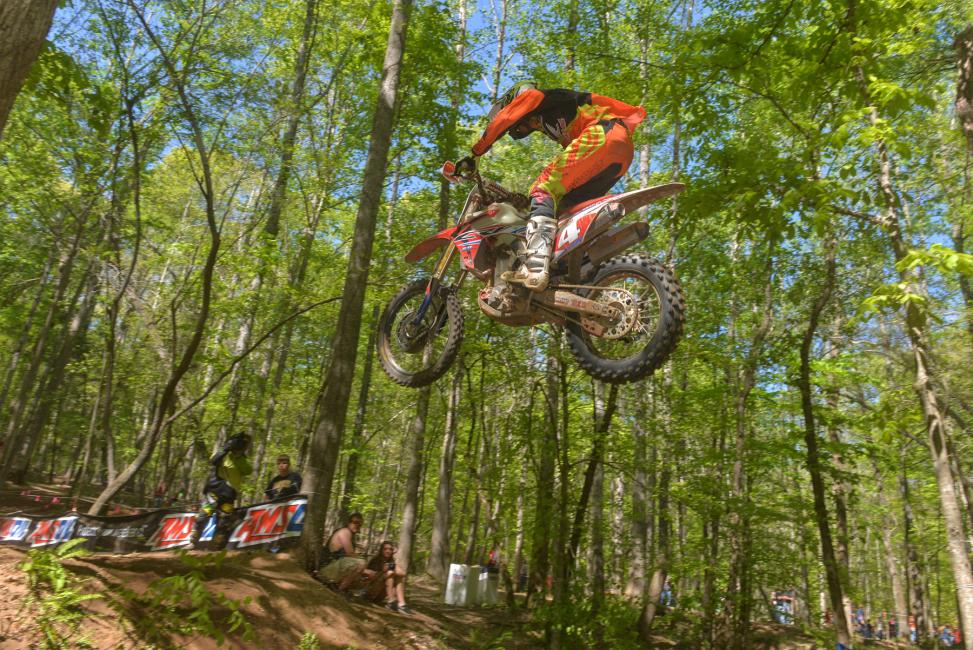 Sipes was followed by Ashburn who finished fifth overall, which is his best finish of the season. Hometown hero and N-Fab/AmPro Yamaha-backed Grant Baylor took home sixth, with Ricky Russell behind him in seventh overall.
In the XC2 Pro Lites division, JCR Honda/Lucas Oil/Maxxis/FLY Racing's Trevor Bollinger continued his dominance winning his fourth race of the season. However, it was not easy for Bollinger as he had to work his way through the pack after Coastal Racing/Husqvarna/MSR-backed Craig Delong pulled the holeshot pocketing the $100 Hot Cams Holeshot Award and crossing the line in second. Beta USA/Fly Racing/Kenda Tires' Jesse Groemm also had his turn leading the class, but would rounding out the podium in third. Indiana native Austin Lee and Beta USA's Teagan Temple finish out the top five.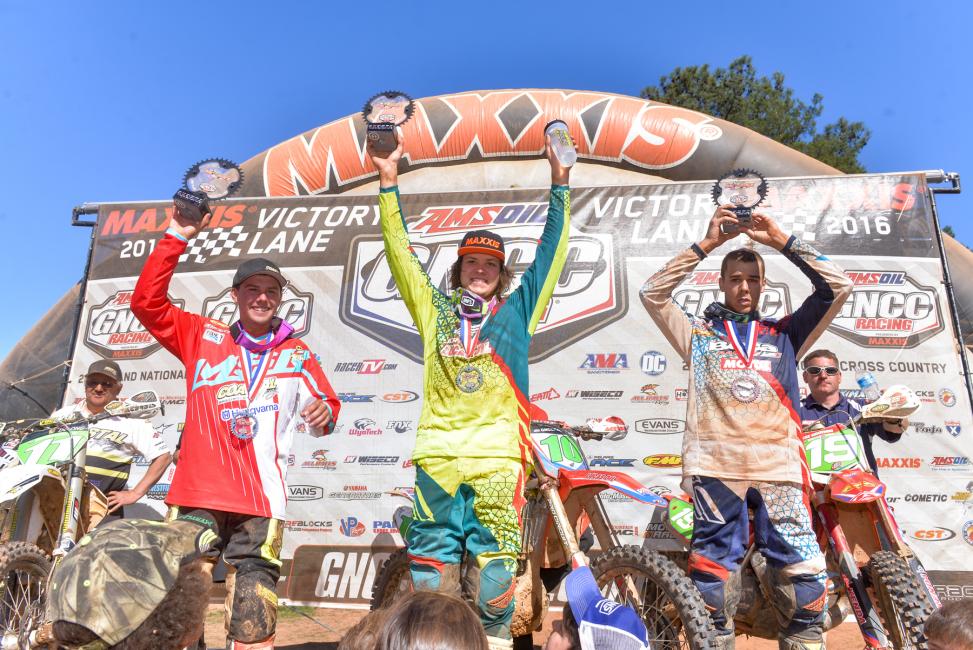 "Today was probably the hardest race I've had all season," said Bollinger. "Delong was running really good and ended up catching me on the last lap so I just pushed it as hard as I could without going overboard and luckily it was good enough for the win."
Braxton McGee took home the American Kargo overall amateur award finishing 21st overall and winning the 4-Stroke A Lites class.
The 10 a.m. overall podium was dominated by the WXC class where Obermeyer's Mackenzie Tricker took home her first overall win, just one week after winning the California Classic WMX title. FLY Racing/Maxxis/Seat Concepts/Yamaha-backed Becca Sheets took home second and catapulted herself into the championship points lead. After coming out of retirement to race this weekend, N-Fab/AmPro Yamaha's Jessica Patterson took home third.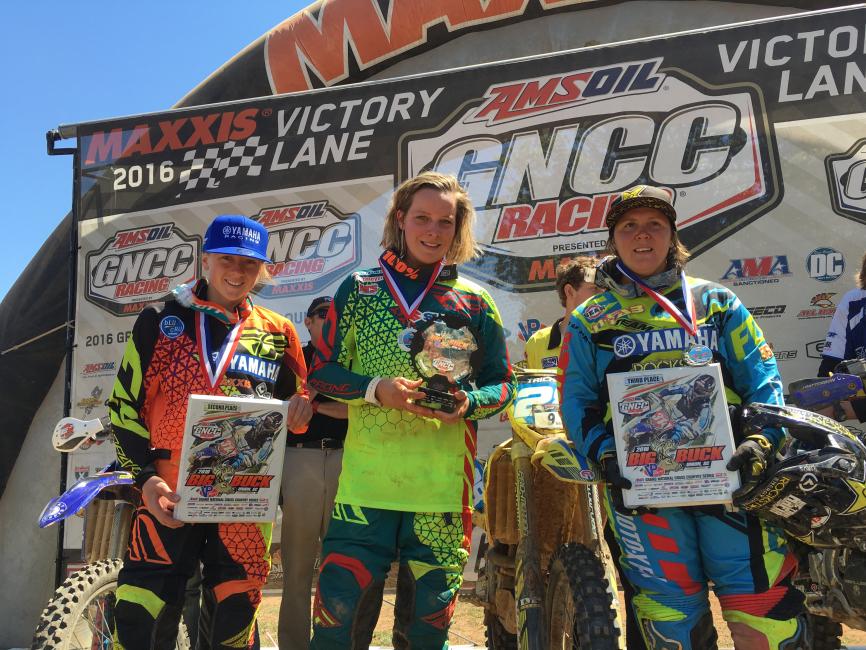 Super Mini Sr. (14-15) competitor Hunter Riemer was the first to find himself in the middle of the box after the 8 a.m. youth race. KTM rider Benjamin Wright and South Carolina's Brody Johnson rounded out the overall podium.
The 1 p.m. race was broadcast LIVE in its entirety on RacerTV.com and can be viewed as an archived video now online by visiting the GNCC LIVE page online.
The 2016 AMSOIL Grand National Cross Country Series resumes April 30 and May 1 with the inaugural CST Tires Camp Coker GNCC in Society Hill, South Carolina.
For more information on the series, visit the official website at www.gnccracing.comor call (304) 284-0084. Join the conversation on the series Facebook page, follow us on Twitter and Instagram, and be sure to always hashtag #GNCCLIVE.
VP Racing Fuels Big Buck GNCC
Union, South Carolina
Round 4 of 13
Sunday, April 17
XC1 Pro Event Results:
Kailub Russell (KTM)
Chris Bach (HON)
Josh Strang (HSQ)
Ryan Sipes (HSQ)
Jordan Ashburn (KTM)
Grant Baylor (YAM)
Ricky Russell (SUZ)
Daniel Milner (YAM)
Steward Baylor Jr. (KTM)
Jason Thomas (YAM)
*Overall National Championship Standings:
Kailub Russell (106)
Josh Strang (106)
Chris Bach (71)
Ryan Sipes (66)
Trevor Bollinger (62)
Daniel Milner (61)
Grant Baylor (50)
Steward Baylor Jr. (46)
Jordan Ashburn (41)
Craig Delong (38)
*Indicates that the Overall National Championship Standings will determine the 2016 National Champion.
XC2 Pro-Am Event Results:
Trevor Bollinger (HON)
Craig Delong (HSQ)
Jesse Groemm (BET)
Austin Lee (YAM)
Tegan Temple (BET)
Michael Witkowski (KTM)
Vance Francis (HON)
Mark Heresco Jr. (KTM)
Joshua Toth (KTM)
Samuel Evans (YAM)
XC2 Pro-Am Series Standings:
Trevor Bollinger (120)
Craig Delong (83)
Jesse Groemm (78)
Tegan Temple (66)
Austin Lee (52)
Layne Michael (52)
Trevor Barrett (49)
Benjamin Kelley (47)
Zack Hayes (43)
Samuel Evans (42)