Strang, Duvall and Baylor Look to Fill the Podium Heading into Season Finale at AMSOIL Ironman GNCC
Strang, Duvall and Baylor Look to Fill the Podium Heading into
Season Finale at AMSOIL Ironman GNCC
Ironman Raceway Adorned in Pink for October's Breast Cancer Awareness Month 
MORGANTOWN, W.Va (October 28, 2015) – The 2015 AMSOIL Grand National Cross Country Series (GNCC), presented by Maxxis, an AMA National Championship, heads into the final round of racing this Sunday, November 1 with the 21st running of the AMSOIL Ironman GNCC. Held in Crawfordsville, Indiana, Ironman is expected to draw one of the largest crowds this season with its festival-like atmosphere and pink livery in honor of October's Breast Cancer Awareness Month. With the XC1 Pro and XC2 Pro Lites Championships already wrapped up, round 13 will be less about points and more about pride as a deep field of talents is expected to compete in this year's highly anticipated season finale.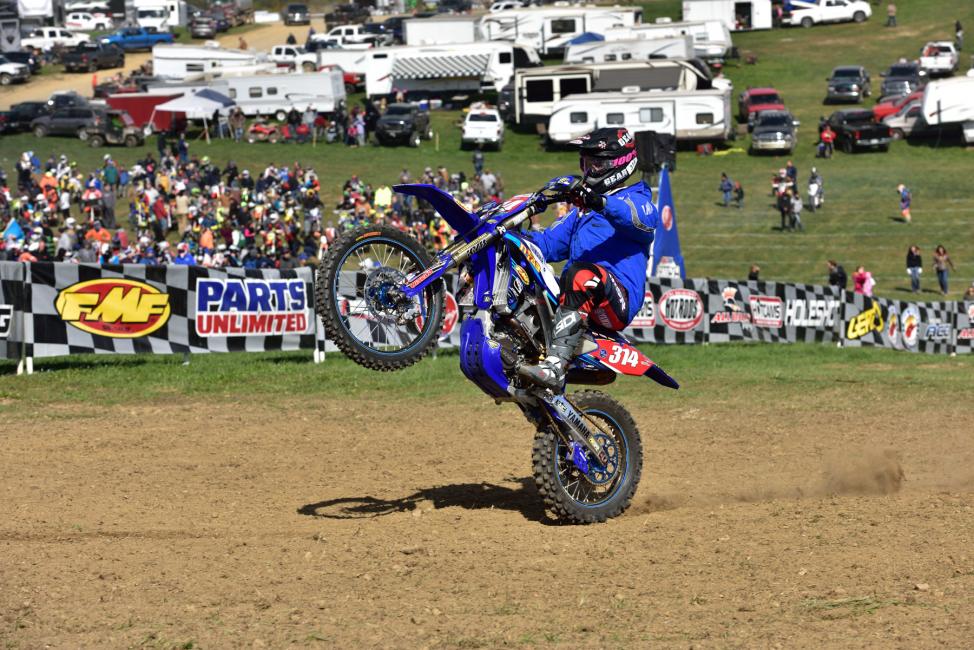 Factory FMF/KTM's Kailub Russell wrapped up his third consecutive GNCC National Championship four rounds early at Unadilla. Although he won't be participating in the season finale due to recovering from surgery to repair an ACL tear, he will return to defend his championship in 2016.
One rider who has proven his merit this season is N-Fab AmPro Yamaha's Grant Baylor, who has been a strong podium contender throughout his rookie XC1 Pro season. Baylor, who first made the move to XC1 at the 2014 Ironman GNCC where he finished ninth, goes into this weekend with hopes that having a full season competing this ultra-competitive class has allowed him to gain much needed experience to hold onto his second place in the points championship.
Rocky Mountain ATV*MC/KR4/FAR-backed Thad Duvall heads into the season finale going from getting his first overall win this season just two rounds ago, to then experiencing a mechanical issue at the next round. The West Virginia native continues to make his presence known against the sport's heavy hitters. However, a win won't come easy for Duvall as everyone will be looking to claim the final victory of the season, whether it's for pride, points or even to seal the deal on a ride for next season.
Rockstar Energy Husqvarna Factory Racing's Josh Strang has his eye on the prize with a successful couple of weekends behind him, taking the overall win at Powerline Park and then winning the Gotland Grand National race last weekend in Sweden. The 2011 National Champion vaulted himself into the fourth place position in points after returning to the second half of the season with his shoulder injury behind him.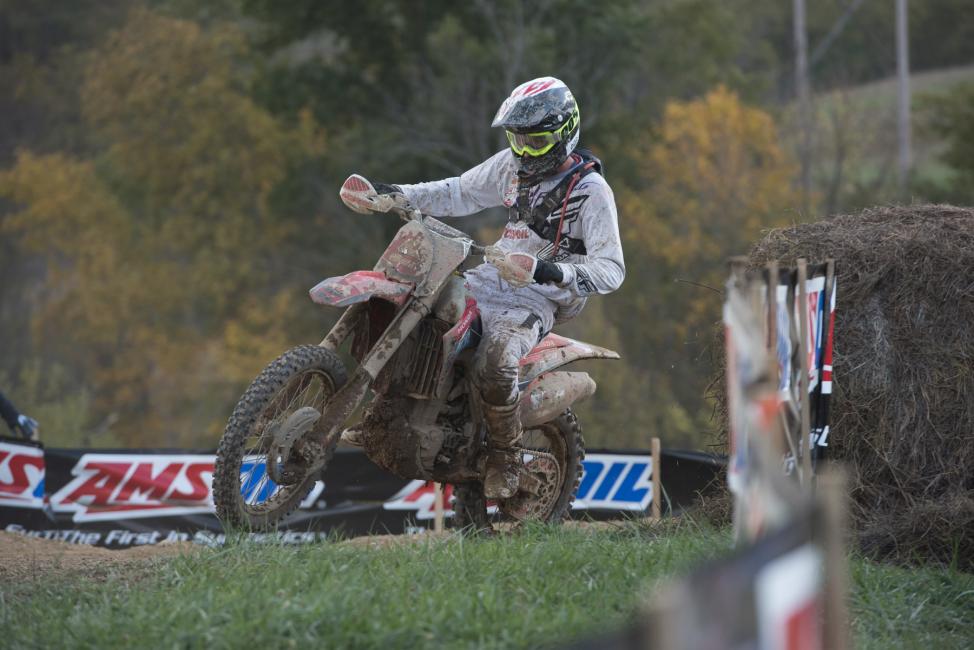 As an Indiana native, JCR Honda's Chris Bach heads into the weekend with a home state advantage over the rest of the field. Bach currently sits fifth in points and hopes to have an impressive race before competing in Japan in the Japan National Cross Country Series on November 8.
AirGroup/Rockstar Energy/Husqvarna's Ryan Sipes holds sixth place in the championship standings following a rough patch of races where he has faced mechanical issues. The 2015 ISDE Overall Winner is still looking to capture his first overall win of the season.
N-Fab AmPro Yamaha's Jordan Ashburn has been on a hot streak for the second half of the season and may just have what it takes to contend for an overall victory. Currently sitting seventh in the points championship, Ashburn will be looking to repeat his success from the last couple of rounds.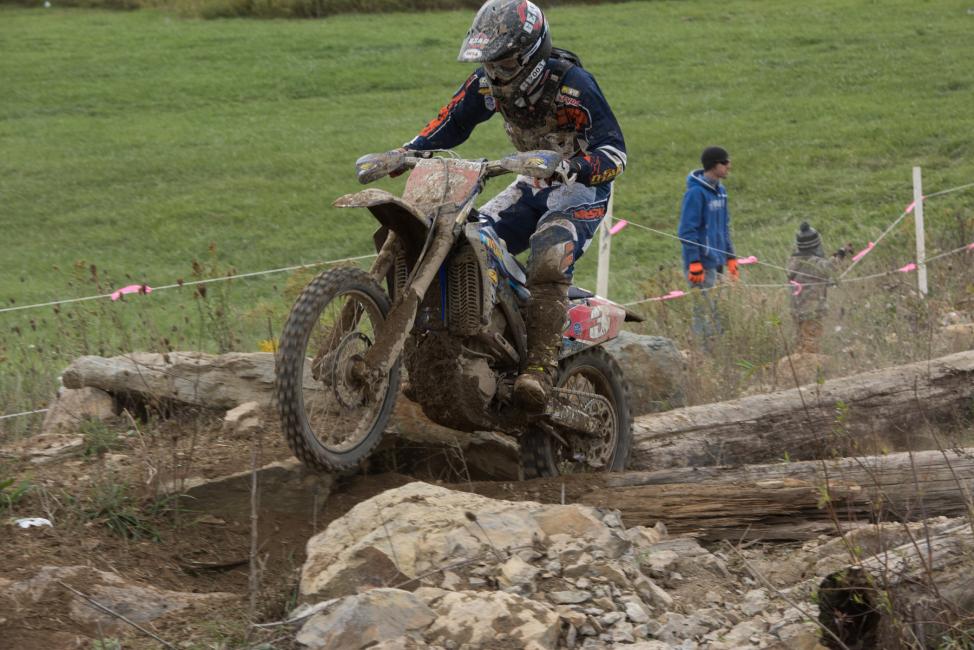 DirtWise/Maxxis/KLIM's Jason Thomas wrapped up the XC2 championship at Mountain Ridge, but heads into this weekend hoping to add one more class victory to his record. The three-hour race will not be easy for Thomas as Raines Riding University/Atlas Yamaha/OffRoadViking.com's Ricky Russell and E & H Honda's Trevor Bollinger will look to assume the top position on the box.
With the 2015 WXC Championship in hand, Factory FMF/KTM's Kacy Martinez continues her battle for race wins in a highly competitive Women's class. N-Fab AmPro Yamaha's Becca Sheets took home her first ever WXC win at the last round after Martinez suffered a mechanical issue. With that boost of confidence for Sheets' and her second place standing in the points chase, the WXC class is sure to be a crowd pleaser this weekend. N-Fab AmPro Yamaha-backed Jessica Patterson also found her way back to the podium at the last round finishing second and currently sits third in the championship points standings.
GNCC Racing encourages spectators to show their support for Breast Cancer Awareness by dressing in pink all weekend long. The race facility will be adorned in pink, including a pink-themed podium backdrop, t-shirts and much more. RidePG.com will also sell exclusive GNCC breast cancer themed awareness stickers for a minimum $1 donation, with contributions going to the Montgomery County Free Clinic (MCFC), a non-profit organization dedicated to providing free mammogram examinations. A recent partnership with Montgomery Country Community Foundation (MCCF) has allowed MCFC to continue to provide support for those affected by breast cancer. MCCF will match 50 cents to every dollar that is raised throughout the event.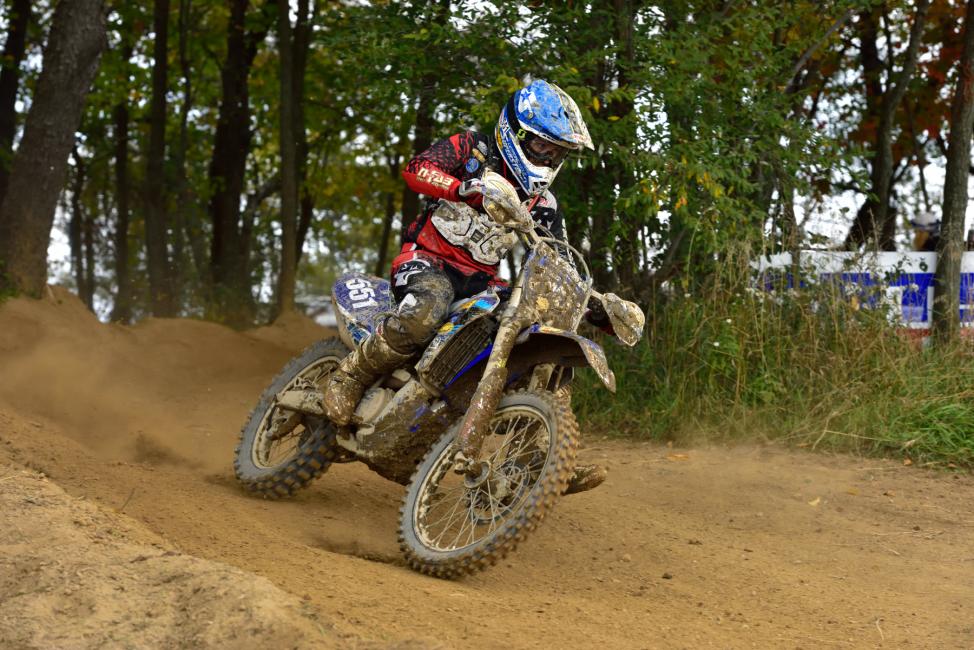 Also expected to compete next weekend on motorcycles will be Lance Maschino (85 12-13), Kenton Coleman (85 7-11), Garrett Mundy (65 10-11), Lucas Grounds (85 7-11), Cole Curtis (65 7-9), Ethan Marsh (65 7-9), Rachel Gutish (WXC), Robert Kirchner (Silver Masters 55+), Will Busick (250 C Schoolboy), Austin Lee (XC 2 Pro Lites), brothers Alex (Open A) and Mike Witkowski (XC2 Pro Lites), Duell Murphy (Open A), Vincent Smith (250 A), Eric Douglass (250 A), and Jake Froman (4 Stroke A Lites).
On Sunday, November 1, the motorcycles will take to the woods of Indiana with youth racing action starting the day off at 8 a.m., women and amateur riders race at 10 a.m., and the top amateurs and pros will start at 1 p.m.
Adult (12+) gate admission is $20 for the full weekend and $10 for kids (6-11) and kids five and under are free. Gate admission includes pro pit access and pro autographs at no additional charge.
Local racers are invited to compete at this event, as GNCC Racing offers classes for riders of all skill and experience levels. The amateur race entry fee is $40 and riders can sign up at the track.
Tune into RacerTV.com on Sunday at 1 p.m. EST to catch LIVE streaming of the Pro bike race. For more information on GNCC Live coverage visit www.racertv.com.
For more information on the series, visit the official website at www.gnccracing.com or call (304) 284-0084. Also follow us on Facebook, Twitter, and Instagram for exclusive content and to catch the latest news. 
Previous Round Results and Point Standings
ITP Powerline Park GNCC
St. Clairsville, Ohio
Round 12 of 13
Sunday, October 18
XC1 Event Results: 
Josh Strang (HSQ)
Grant Baylor (YAM)
Jordan Ashburn (YAM)
Chris Bach (HON)
Ryan Sipes (HSQ)
Jason Thomas (KTM)
Cory Buttrick (BET)
Ricky Russell (YAM)
Austin Lee (YAM)
Jesse Groemm (BETA)
*Overall National Championship Standings
Kailub Russell (283)
Grant Baylor (223)
Thad Duvall (200)
Josh Strang (196)
Chris Bach (191)
Ryan Sipes (170)
Jordan Ashburn (162)
Jason Thomas (147)
Ricky Russell (106)
Trevor Bollinger (97)
*Indicates that the Overall National Championship Standings will determine the 2015 National Champion.
XC2 Event Results: 
Jason Thomas (KTM)
Ricky Russell (YAM)
Austin Lee (YAM)
Jesse Groemm (BET)
Tegan Temple (KTM)
Ryder Lafferty (HSQ)
Scott Grills (YAM)
Michael Witkowski (KTM)
Trevor Bollinger (HON)
Callan May (YAM)
XC2 Series Standings:
Jason Thomas (307)
Ricky Russell (215)
Trevor Bollinger (194)
Nick Davis (183)
Craig Delong (175)
Tegan Temple (146)
Austin Lee (142)
Layne Michael (142)
Cory Buttrick (122)
Callan May (116)
About GNCC Racing: 
The AMSOIL Grand National Cross Country Series presented by Maxxis is America's premier off-road racing series. Founded in 1975, the 13-round championship is produced exclusively by Racer Productions. Cross-country racing is one of the most physically demanding sports in the world. The grueling three-hour GNCC races lead as many as 2,000 riders through tracks ranging in length from eight to 12 miles. With varied terrain, including hills, woods, mud, dirt, rocks and motocross sections, GNCC events are tests of both survival and speed. The series draws talent from all over the U.S., Europe, Japan, Australia and New Zealand. GNCC Racing is televised weekly on NBC Sports and RacerTV.com. For more information, please visit www.gnccracing.com.