Parts Unlimited Mason-Dixon: Motorcycle Race Report
Baylor and Snodgrass Earn XC1 and XC2 Wins in Pennsylvania
MOUNT MORRIS, Pa. (June 7, 2021) – Round 8 of the 2021 Grand National Cross Country (GNCC) Series presented by Specialized, an AMA National Championship, continued on Sunday, June 6 in Pennsylvania with the 4th Annual Parts Unlimited Mason-Dixon GNCC. Over 1,070 off-road motorcycle racers took to the trails on Sunday, totaling in over 1,900 riders throughout the course of the weekend.
As the green flag waved it was AmPro Yamaha's Layne Michael jumping off the line to grab the $100 All Balls Racing XC1 Holeshot Award. Not long after heading into the woods, FMF/KTM Factory Racing's Benjamin Kelley would make his move into the lead position.
Kelley would continue to hold the lead position for the first two and a half hours of the race as AmPro Yamaha's Steward Baylor Jr. continued to work his way through the pack. Kelley and Baylor would come through the finish line as the white flag waved, indicating one more lap to go, with just 8 seconds separating the two. As the pair made their way out on the last lap, Baylor would be able to make the pass for the lead.
After a grueling three-hour race with temperatures in the 90's, Kelley would be unable to retaliate. Baylor would make his way to the finish line 14 seconds ahead of Kelley to earn his fifth win of the season. With one more round before the Summer Break, Baylor sits four points behind Kelley in the National Championship standings.
Magna1 Motorsports/Husqvarna's Jordan Ashburn came through to earn his second overall podium finish of the season. Ashburn quickly made his way towards the front of the race, battling between third and fourth place for the duration of the race. As the two-lap board came out Ashburn found himself in fourth and would put his head down and push. As he came back through timing and scoring he was up to third with one more lap to go. Ashburn would come through the finish line with a 10 second gap between himself and fourth place.
Finishing just off the podium this weekend was Babbitt's Online/Monster Energy/Kawasaki Team Green's Josh Strang. After earning the win at round 7 Strang was eager to battle at the front once again. However, after a mid-pack start to the day he would have to battle through the XC1 Open Pro competition for the first part of the race. Strang would go back-and-forth with Ashburn for the last couple of laps, but he would be unable to make a pass back for the podium.
After a tough day of battling FMF/KTM Factory Racing's Josh Toth would come through to finish fifth in Pennsylvania. After starting the day in sixth, Toth would move into fifth and make a charge for the podium late in the race. With the dust and heat throughout the race, Strang would make his way back around Toth on the last lap. Toth would follow him to the finish, coming through just 3 seconds off Strang.
KLM Milwaukee GASGAS' Grant Baylor made his way to sixth by the time the checkered flag flew after a ninth place start to the day. Baylor would have his work cut out for him after a bad start, however, he would continue to push through the conditions and battle valuable championship points.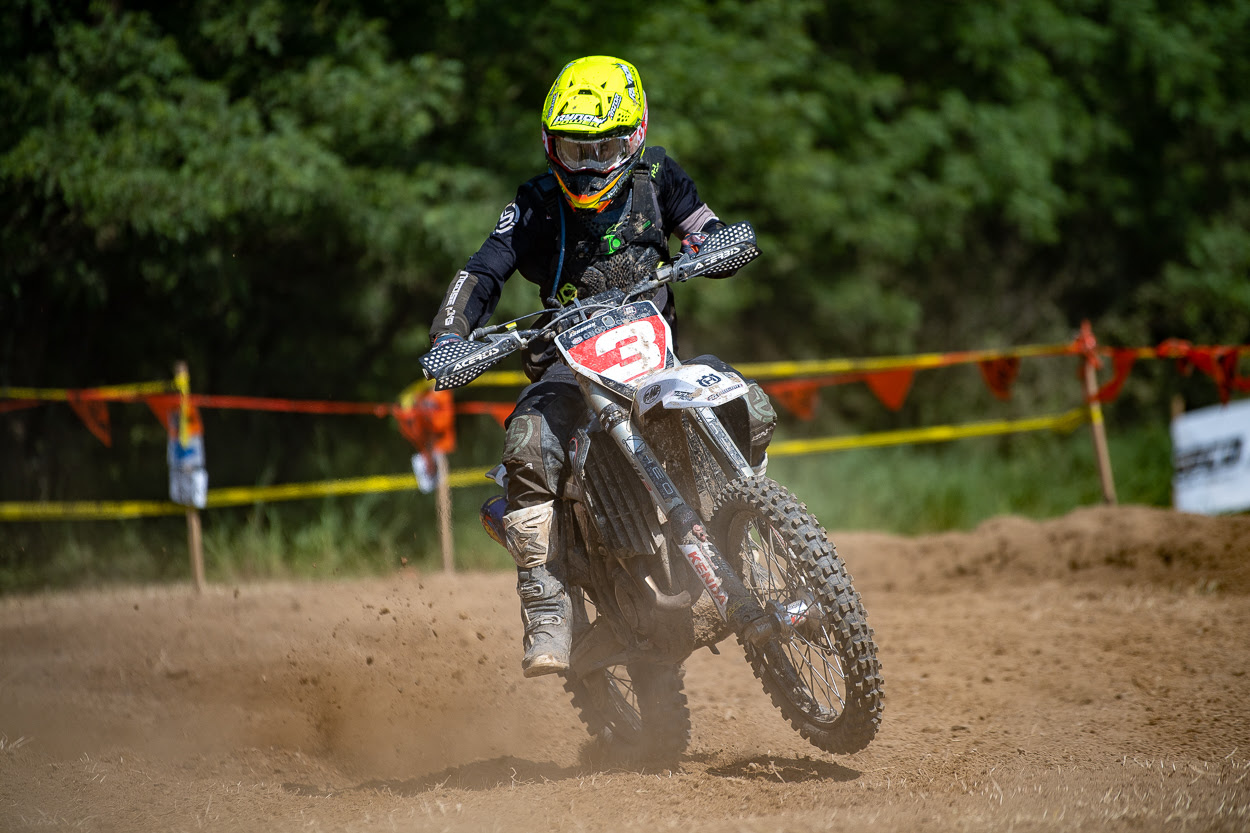 A rider who continues to battle back is Rockstar Energy Factory Husqvarna Racing's Trevor Bollinger. As he got a good jump off the line, Bollinger would make a bit of a bobble. Bollinger would continue to push, but he would be unable to catch the rest of the pack after a he tipped over on the second lap of the race. Bollinger would continue to ride in seventh, crossing the line a minute behind Baylor.
RedBull/MCS Racing Sherco's Benjamin Herrera came through to finish eighth in the XC1 Open Pro class. Herrera would start the day out in 10th as he continued to push on through the dry, humid conditions.
As for Rockstar Energy Factory Husqvarna Racing's Thad Duvall, he would push for the first half of the race running as high as fifth place. Duvall would experience a bike issue that ultimately ended his day after completing three full laps of racing.
Coastal GASGAS Factory Racing's Ricky Russell would come through timing and scoring second on the opening lap. However, he was struggling after coming through a set of trees, smashing both of his hands pretty hard. Russell would try to continue to push through the pain but after two laps he would return to his pit area to assess the hand damage. Russell posted on social media stating that he will have minor surgery on his right hand and then he will be back and read to battle.
Unfortunately for Michael a couple of miles into the course he would injure his ankle and head to his pits to assess the situation, after some time Michael would try to re-enter the race, but he would only be able to complete two laps before calling it a day.
In the XC2 250 Pro class it was Babbitt's Online/Monster Energy/Kawasaki Team Green's Lyndon Snodgrass coming through to earn his first-ever XC2 win. Snodgrass would get a good jump off the line and make a pass for the lead very early in the opening lap. Snodgrass would continue to lead the way in XC2 throughout the entire three-hour race. Snodgrass came through 13 seconds ahead of his competition.
Another newcomer to the podium in XC2 was Chile's Phoenix Racing Honda's Ruy Barbosa. After a great start to the race, Barbosa held onto third until he made the pass for second on lap three. Barbosa would continue to hold off the competitors behind him, coming through the finish line 5 seconds ahead of the No. 1 machine.
Rockstar Energy Factory Husqvarna Racing's Craig DeLong had a good start, charging to the first turn a little too hard which would cause him to go down and ultimately head into the woods last in his class. As DeLong found a steady pace, he would continue to pick off the competition and work his way towards the front. As the two-lap board came out DeLong found himself running third in the class. DeLong would be unable to catch the two front-runners, but he would continue to push his way towards the finish line.
Continuing to run inside the top-five throughout the race was Tely Energy Racing KTM's Liam Draper. As the green flag waved, Draper would be off to a good starting as he came through fourth on the opening lap. Draper continued to push ahead, but he would have to battle with several XC2 competitors to hold that fourth place position. Draper came through to take the position with 53 seconds to spare.
Coastal GASGAS Factory Racing's Johnny Girroir did not have the race he was hoping for after getting tangled up in the first turn with DeLong and then snapping off his shifter right after a fuel stop in the pits. Girroir would continue to charge, having to make another pit stop on the next lap to replace his shifter. With two laps remaining in the race Girroir would make the pass for fifth in the class, and he had set his sights ahead of him. He would ultimately be unable to make up more time as he come through the finish line fifth for the day. Girroir continues to hold the class points lead after eight rounds of racing.
After grabbing the $100 Hot Cams XC2 Holeshot Award, AmPro Yamaha's Mike Witkowski would continue to run at the front of the pack trying to put together a good race. However, after five laps of racing Witkowski would return to his pits feeling the effects of the heat and humidity.
In the FMF XC3 Pro-Am class it was Coastal GASGAS Factory Racing's Ben Parsons earning his second-straight win of the season. Parsons would jump out to the early lead on lap one and continue to push himself ahead. Parsons would lead from start to finish, sitting eight points out of second place in the points standings.
Coming through to earn second was Lojak Cycle Sales/Yamaha's Chase Colville. After a good start to the day Colville battled throughout the race in the third place position with Enduro Engineering/Husqvarna/FXR's Jake Froman, who grabbed the $100 Lojak Cycle Sales XC3 Holeshot Award. Colville and Froman went back-and-forth with Colville making the pass for second stick on the last lap of the race. Froman would hold onto third, his first podium finish of the season.
The Mason-Dixon Top Amateur honors went to 250 A winner, Kawasaki Team Green's Joseph Cunningham after a 17th overall finishing position. Second on the amateur podium was another Kawasaki Team Green rider, Grant Davis. David earned the win in the 4-Stroke A Lites class and a 22nd overall finishing position. Tristan Landrum finished second in 250 A and 23rd overall, rounding out the top amateur podium.
The Mason-Dixon AMSOIL Moto Hero recipient was Pennsylvania's own, Doug Whitmer. Doug served in the Pennsylvania National Guard as a Staff Sargent, and he was an airborne & air assault instructor. Doug was a GNCC Pro ATV racer from 1987 through 1991 and then was the mechanic for 8-time Champion, Barry Hawk. Doug continues to work in the GNCC Racing community as a mechanic on the Coastal GASGAS Factory Racing Team and has two boys that race in the 250 A (Cole Whitmer) and 250 B (Lane Whitmer) classes. He goes home with a $250 AMSOIL Shopping Spree, Kanati Truck Tires from GBC, a Commemorative American Flag from Columbia Flag & Sign Co. plus a gift certificate for their online store. He also earned a pair of 100% military appreciation goggles and an ARMA Black Edition Box full of supplements and gear.
GNCC Racing will continue on June 26 and 27 at Snowshoe Mountain Resort for the Yamaha Racing Snowshoe GNCC event. The Snowshoe event will be a weekend full of racing action and fun. GNCC University is in session from June 23-25, 2021. Non-lodging packages are still available. To reserve a spot, visit the Snowshoe website or call Snowshoe Reservations at 1-877-441-4386. The USA ISDE Trophy Team Fundraiser Golf Tournament will also take place on Friday at Raven Golf Club Course, as well as GNCC Graduation on Saturday evening at 6 p.m. To find out more on the event or register for a special event, click HERE.
Mason-Dixon Results and Points Standings
Mount Morris, Pennsylvania
Round 8 of 13
Sunday, June 6, 2021
XC1 Pro Event Results:
Steward Baylor (YAM)
Benjamin Kelley (KTM)
Jordan Ashburn (HQV)
Josh Strang (KAW)
Josh Toth (KTM)
Grant Baylor (GAS)
Trevor Bollinger (HQV)
Benjamin Herrera (SHR)
Thad Duvall (HQV)
Ricky Russell (GAS)
*Overall National Championship Standings:
Benjamin Kelley (182)
Steward Baylor (178)
Grant Baylor (140)
Josh Strang (140)
Jordan Ashburn (137)
Josh Toth (110)
Ricky Russell (106)
Jonathan Girroir (101)
Craig DeLong (91)
Lyndon Snodgrass (65)
*Indicates that the Overall National Championship Standings will determine the 2021 National Champion.
XC2 250 Pro Event Results:
Lyndon Snodgrass (KAW)
Ruy Barbosa (HON)
Craig DeLong (HQV)
Liam Draper (KTM)
Jonathan Girroir (GAS)
Evan Smith (HQV)
Cody Barnes (HON)
Thorn Devlin (BET)
Benjamin Nelko (HQV)
Simon Johnson (KTM)
XC2 250 Pro Series Standings:
Jonathan Girroir (202)
Craig DeLong (183)
Cody Barnes (132)
Lyndon Snodgrass (131)
Michael Witkowski (127)
Ruy Barbosa (119)
Liam Draper (115)
Thorn Devlin (105)
Evan Smith (102)
Jesse Ansley (77)