RIDING THE YAMAHA YZ65
For such a little bike, the 2018 Yamaha YZ65 is very big news. It shows that Yamaha can do more than rehash old designs when it comes to two-strokes. The YZ65 is a new design from the ground up. It shows a commitment to racing, a commitment to two-strokes and a commitment to the future of our sport. There were some claims that the motor was a scaled down version of the ancient YZ85. That's not true. If anything, it takes more from the YZ125. It has a mechanical powervalve that is operated by a ball-ramp governor, just like most full-size two-strokes. Other bikes this size either have no powervalve at all or some simpler (cheaper) version of one. Feature for feature, the bike shares most of its designs with big bikes. It has a coil-spring KYB fork with adjustable rebound and compression damping, it has a tapered aluminum handlebar. It has Nissin brakes. The only two areas where Yamaha deviated from the list of big-bike designs is the steel frame and the no-linkage rear suspension.
We got our first ride on a test bike on Monday, and since then we've had several opportunities to ride the YZ65 with kids of different sizes and ages. Gunnar Townsend and Grayson Townsend were two riders who gave amazingly detailed input about the new bike, and both were on the same page. They loved it.  The first thing they noticed was that the Yamaha is a little bigger than most 65s. When we say "most 65s," the primary comparison is the KTM, which is almost identical to the Husqvarna. The Kawasaki 65 is smaller yet. Both riders felt the Yamaha's strongest assets were its stability and the fact that it was easy to ride. It's definitely very fast, too. They said that the bike pulls well from down low by 65 standards.
Most dads we talked to were looking forward to the Yamaha for several reasons. It might have a longer shelf life than most 65s. Many kids stay on a 65 for about two years, then they're off to the 85 class. The Yamaha has some features like adjustable bars that allow it to grow with the rider. The fork is also much more sophisticated than most suspension in the 65 class and has fully adjustable damping.  The MSRP of the YZ65 will be $4599, which is around $500 less expensive than the KTM and Husqvarna models in that class, but $1000 more than the Kawasaki.
MORE POWER FOR THE SUZUKI RMZ250
This week we finished our Suzuki RMZ270 project. The bike was built by Jay Clark to demonstrate two main possibilities. First, the RMZ can be a really fun bike if it just had a little more power. It still handles better than just about anything in the class. Second, there are ways to radically change the Kayaba PSF2  air fork. In fact, Race Tech can change it into an incredibly good coil spring fork.
The motor on our bike, of course, is no longer a legal 250. We went with a big bore kit from Cylinder Works for the simple reason that it was easy. Getting more power out of the Suzuki motor is challenging and expensive any other way. Many riders race in vet classes anyway, where displacement isn't a factor. The story will appear in the July, 2018 print issue of Dirt Bike.
ALL NEW TM 250F
We just started on a test of the 2018 TM 250. Only a handful of these were manufactured as 2018 models. They are basically clones of the bike that Sam Bernardini rides in the MX2 class of the world championshhip for the factory team. It is truly a works bike. The motor is an electric-start EFI fourstoke with a very unusual drive train for the cams that incorporates gears as well as a chain. It's a pretty wild machine. It, too, will be in the July issue.
MERZOUGA RALLY
The Merzouga Rally is an old-school rally that takes place in Morocco, and it's a throwback to the bad old days of Dakar. It will wrap up today. Right now Joan Barreda of the Monster Energy HRC team is in front. His teammate Ricky Brabec is in fifth after finishing second on yesterday's stage. Andrew Short sits in 11th place on the Rockstar Husqvarna team.
Ricky Brabec: "The second day of the marathon went pretty well. I like this terrain a lot more than the sand dunes, the rocky stuff is definitely better than the dunes. I felt good today and rode well. I caught the rest from the speed and the navigation. I made less mistakes today and that paid off very well. I'm looking forward to tomorrow which is a mass start. I'm happy to be here and ready for the final day."
Andrew Short: "This Marathon Stage has been another big learning experience for me. I did quite well in the first part yesterday. In the morning there were some cool sections in the sand and some dry rivers and I really enjoyed riding my bike there. Then as the day went on the terrain changed and we had to race through some really rocky and treacherous sections. Overall, it was very cool to have this Marathon Stage. These are the stages that we will remember. It's nice to have that kind of camaraderie with the other riders and you also have to think and make sure you protect your bike throughout the day. Today I had a good feeling on the bike, but a few mistakes and a few small crashes didn't let me battle for a great result. Right before the end of today's stage I got lost together with many other riders. I'm really happy I got to do this race and I feel I learned a lot. It was a good experience and I am looking forward to reaching the finish of the Merzouga Rally tomorrow."
MERZOUGA RALLY, OVERALL STANDINGS AFTER 4 STAGES
1

BARREDA 

Joan

SPA
Monster Energy Honda Team
12:49'41
2

BENAVIDES 

Kevin

ARG
Monster Energy Honda Team
+6'33
3

QUINTANILLA 

Pablo

CHI
Husqvarna Factory Rally Team
+11'51
4

CAIMI 

Franco

ARG
Yamalube Yamaha Official Rally Team
+18'33
5

BRABEC 

Ricky

USA
Monster Energy Honda Team
+19'47
6

PRICE 

Toby

AUS
Red Bull KTM Rally Factory Team
+21'24
7

PEDRERO 

Joan

SPA
Sherco TVS Rally Factory
+26'43
8

CORNEJO 

José Ignacio

CHI
Monster Energy Honda Team
+42'21
9

SVITKO 

Stefan

SLO
Slovnaft Team
+50'22
10

DUPLESSIS 

Martín

ARG
Sherco TVS Rally Factory
+59'56
CZ WORLD CHAMPIONSHIP
Remember the CZ World Championships? It came back into being in 2014 to honor CZ enthusiast Don Matthews. The event welcomes all vintage and evo bikes. This year, the event will be held in Marysville, California on May 4th, 5th and 6th. Click on the flier to learn more.
GNCC IN SOUTH CAROLINA
Rockstar Energy/Factory Husqvarna Racing's Thad Duvall recently secured his first win of the 2018 AMSOIL Grand National Cross County (GNCC) Series, an AMA National Championship, minimizing the points lead that FMF/KTM Factory Racing's Kailub Russell had built through the first three rounds. This weekend, April 21 and 22, the GNCC Racing circuit heads to Moree's Sportman's Preserve in Society Hill, South Carolina for the 3rd Annual CST Tires Camp Coker Bullet GNCC.
With the weather forecast looking to be sunny and temperatures in the low 70's, it's easy to say that hydration will be key this weekend. However, one thing that remains uncertain is just how this race will unfold. K. Russell has his focus set on earning his sixth-straight National Championship, but he is going to have some difficult competition this year from the Husqvarna-backed rider, Duvall. After earning the win at Steele Creek two weeks ago, Duvall is looking to keep his momentum rolling into South Carolina this Sunday.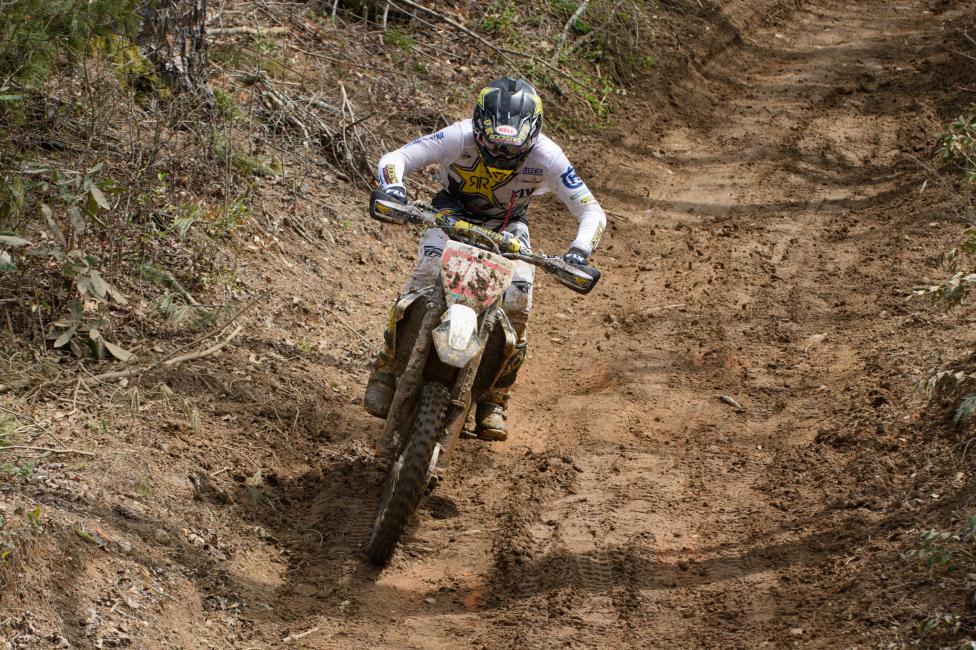 Thad Duvall is hoping to keep his success going, and earn his second win of the season.
– Ken Hill
Hailing from Belton, South Carolina, just three hours west of Society Hill, are the Tely Energy Racing/KTM teammates and brothers, Steward and Grant Baylor. Steward Baylor Jr. has had a consistent start to the 2018 season, finishing on the podium at the first three rounds. After a rough round four and finishing off the podium, S. Baylor will be aiming to make his way back onto the podium. After undergoing shoulder surgery during the off-season, Grant Baylor hasn't had the best of luck coming into season thus far. Mechanical issues kept him from finishing the race at round four, and he is now facing a hand injury sustained while practicing.
JCR Honda's Trevor Bollinger battled at the front of the pack at round four, and finished third overall in his hometown of Morganton, North Carolina. After the excitement of earning his first podium of the season in front of family and friends, Bollinger will once again be eager to fight for a top three finish.
Rockstar Energy/Factory Husqvarna Racing's Josh Strang finished in the fifth place position at round four, and is currently sixth overall in the points championship. Strang is hoping to earn valuable championship points this weekend by making his first podium appearance of the season. KR4/Husqvarna's Layne Michael is currently ranked seventh in the points championship, but as the season continues Michael will strive to break into the top three.
After finishing fourth at the last round South Carolina native, Steward Baylor Jr. is looking to return to the podium this weekend.
– Ken Hill
Beta USA's Jordan Ashburn has been steadily improving throughout the first four rounds, finishing sixth just two weeks ago. This is Ashburn's second year aboard Beta, and he is hoping to contend for a top five finish at the upcoming rounds. AmPro Yamaha's Ricky Russell has started each round strong, battling at the front of the XC1 pack. However, misfortune and mechanical issues have been a setback for R. Russell this year. As we head into round five, R. Russell will be looking to put the past four rounds behind him and battle at the front for the duration of the three-hour race.
Trail Jesters/KTM's Ben Kelley has three-consecutive wins, and leads the way in the XC2 250 Pro class points standings. Kelley currently tops Coastal Racing/Husqvarna's Pascal Rauchenecker and defending XC2 250 Pro Champion, FMF/KTM Factory Racing's Josh Toth in the series standings. Sitting just outside of the top three is Coastal Racing/Husqvarna's Craig Delong. Delong has finished fourth at the past three events, but will be competing to finish on the box this Sunday.
In the FMF XC3 125 Pro-Am class it's FMF/Maxxis/RPM KTM's Jesse Ansley controlling the points lead. MCS Racing's Cody Barnes sits 10 points behind Ansley in second, with Raines Riding University's Jason Raines holding onto the third place position. Nevertheless, just two weeks ago it was Ansley taking the win in the FMF XC3 class, his second of the season, followed by Chris Venditti in second and Coastal Racing/Husqvarna's Alex Teagarden rounding out the podium.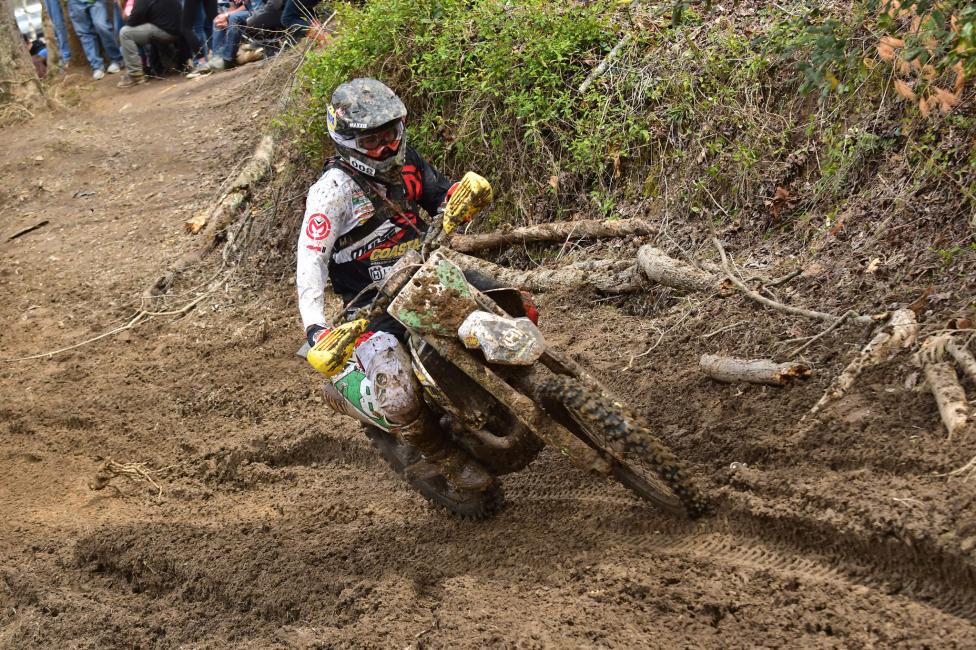 Craig Delong will be battling for his first podium finish of the season in the XC2 250 Pro class this Sunday. 
LAST DOG STANDING
Cody Webb will miss the Last Dog Standing on June 9 this year because he is contracted to ride the World Enduro Super Series. On the same weekend, round 3 of that series will be held in France. It's called the Trefle Lozerien AMV and has a classic Enduro format of timed special test racing like the ISDE. That means the Last Dog will actually be a real race again, instead of a demonstration of how much better Cody is than anyone else. There's a $10,000 purse, too. We hear there's talk of a legends challenge between Destry Abbott, Ty Davis, Jimmy Lewis and Johnny Campbell. That will be amazing.
SHASTA WESTERN HARE SCRAMBLES
Round 5 of the Kenda SRT Western Hare Scrambles Series was last weekend and it continues to be a wild season. This time it came down to a last-lap duel between reigning champion Max Gerston and Devan Bolin, with Bolin making the pass for the win.So far this year there have been five different winners in the five races. Trystan Hart has been the most consistent rider, and he holds the lead with three rounds left.
That's all for now!
–Ron Lawson