HONDA XC2 CHAMPION
Life isn't fair. Trevor Bollinger won the GNCC XC2 Championship in 2016 and was bumped up to the  450 class as a reward. He earned a number-one plate but never got to ride with it! He's not the first to suffer this, of course. Ask Malcolm Stewart … or worse yet, Mike LaRocco, who earned the  500cc National MX championship the year before the class was eliminated. Trevor, at least, is young and will have plenty of opportunity to win another number one plate. The same isn't true of his bike. The current version of the Honda CRF250R has most likely come to the end of its line, and it has gone totally unappreciated as the great off-road bike it is. Until now.
As part of our on-going quest to ride every off-road bike that earned a number one plate, we had to build an exact replica of Trevor's JCR Honda CRF250R. We started with our 2017 test bike because it was unchanged from 2016. This was a huge project, but now the bike is a factory-level racer with just as much technology and workmanship as Ken Roczen's supercross bike. The project centered around Dirt Bike test rider Justin Jones and his desire to ride a GNCC. We tied together Johnny Campbell and JCR technician Benny Breck to make the bike a reality.
On the surface, this bike looks like any other off-road conversion, with a big tank and some Pro Circuit parts. But there's so much more. The suspension is Showa A-kit stuff and the rest of the chassis is the product of loving attention to detail. The motor mounts have been modified to give the frame different flex characteristics. So has the subframe. And the footpegs have been relocated 8.5mm more rearward. Everything on the bike has been rethought and reengineered.
We spent a day with Justin and the JCR crew for the bike's initial shakedown. The machine is worthy of that big number one plate. It's the best off-road 250 four-stroke we've ever tested, and we've tested all of them! In truth, the stock version of the CRF is much better off-road than anyone realizes. It has torque way down low that most motocross riders ever experience. This bike, however, goes a step further. Two things were especially impressive. The comfort level is excellent. That's probably the result of all that chassis reengineering. And the power delivery is super smooth and friendly, mostly due to ignition remapping that JCR did. As of this weekend, the bike will be heading back east. But check back for reports on Justin's Big Adventure.
RJ WAGEMAN'S RM250 2-STROKE
Social media went a little berserk this week over the aluminum Suzuki RM250 that RJ Wageman rode in the MTA Two-Stroke Championship. We took some heat from the usual web assassins for showing photos and videos without any details. We would love to reveal all the facts about who built the bike and why, but we can't.  In order to get the bike, we agreed not to disclose any of that information. We can say that the bike is legitimate, built by important people in high places who believe in the future of the two-stroke. We're still hoping that the full story will come out. It deserves to be told.
OREGON'S THURSDAY NIGHT MX
This is a very well made look at the history of Thursday night motocross near Portland Oregon, which has become the longest running MX venue in the country. It all started with a post-war tragedy and ended with a family legacy.
GNCC RACING CONTINUES
FMF/KTM Factory Racing's Kailub Russell recently secured his third win of the 2017 AMSOIL Grand National Cross Country (GNCC) Series presented by Maxxis, an AMA National Championship, extending his points lead over SRT/KTM's Steward Baylor. Round Five will take place this weekend, April 22 and 23, at the scenic Moree's Sportsman's Preserve in Society Hill, South Carolina. Russell has his focus set on earning his fifth-straight National Championship, but hel isn't the only one vowing for the title. Baylor follows by 22-points and while that may seem like a large gap, Baylor has maintained his consistency and has yet to finish off the podium.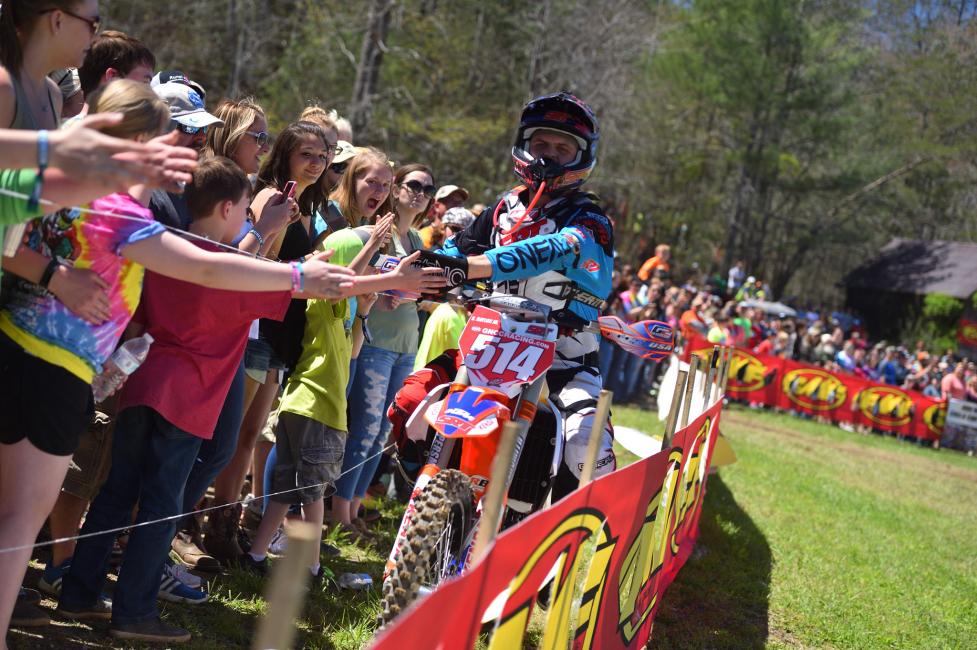 Steward Baylor heads into his home state race looking to top the charts once again. – Ken Hill
After a rough opening round, Rockstar Energy/Factory Husqvarna Racing's Thad Duvall quickly rebounded his season and has challenged Russell for the win at the past three races. Duvall shows the most promise in ending Russell's winning streak, and has been quoted on the podium his disappointment with second. Duvall will be charging to improve his race results at this Sunday's event.
N-Fab/AmPro Yamaha's Ricky Russell and JCR Honda's Trevor Bollinger have made a mark on the XC1 Pro division this season as they continue to finish up front. R Russell and Bollinger have been within an arm's length away from the podium on several occasions, making for a cutthroat battle for the top positions in the overall standings.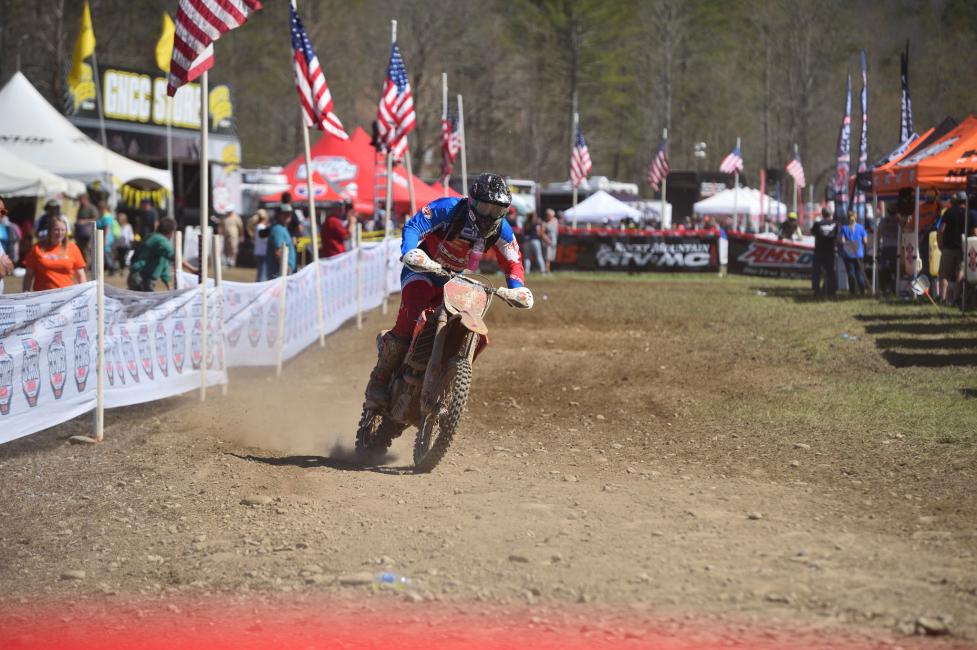 Jordan Ashburn has yet to make an appearance on the podium this year, but his recent results show he will soon be a contender.– Ken Hill
FMF/KTM Factory Racing's Russell Bobbitt and Beta USA's Jordan Ashburn follow Bollinger where they are ranked seventh and eighth in the points championship. Rocky Mountain ATV*MC/KR4/Husqvarna's Grant Baylor rounds out the top ten as the GNCC series travels to South Carolina.
N-Fab AmPro Yamaha's Josh Toth is young, but that hasn't stopped him from pushing his Yamaha 250 FX through the XC1 Open Pro ranks on adjusted time where he is ranked fourth overall, in addition to his four-race winning streak in the XC2 250 Pro division. Toth tops Coastal Racing/Husqvarna's Craig Delong and RPM/KTM's Mike Witkowski in the series standings, but the duo show no signs of surpassing to the Connecticut native just yet.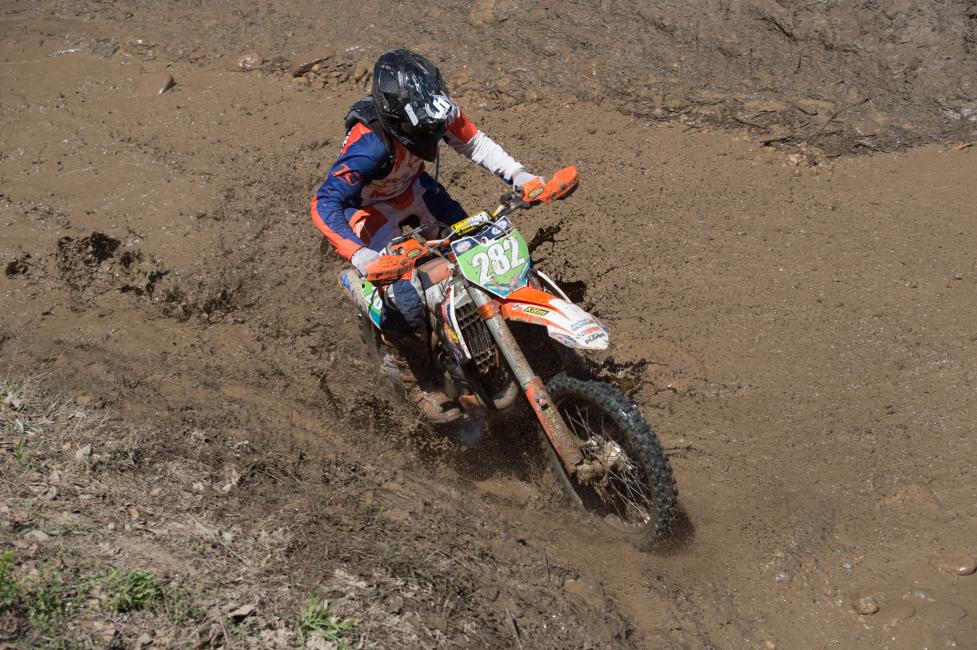 After two solid XC2 250 Pro podium finishes, Mike Witkowski has his eyes on stealing the top spot away from Josh Toth.
AMA VINTAGE DAYS SCHEDULE
The AMA Vintage motorcycle days has to be one of the coolest events in the U.S. It's held at the Mid-Ohio Sports Car Course every year and for 2007, it kicks off on July 6. For all the facts, go to https://www.amavintagemotorcycledays.com/. Never mind how slow the website is. Remember, it's vintage!
2017 AMA Vintage Motorcycle Days Summary Racing Schedule (Subject to change)
Thursday, July 6: Mid-Ohio Sports Car Course
Noon-5 p.m.: Road Race Registration (Lower Paddock Tech Garage)
2-5 p.m.: Hare Scramble, Motocross, Trials Registration (Ross Road off Steam Corners Road)
2-5 p.m.: Road Race Technical Inspection (Lower Paddock Tech Garage)
Friday, July 7: Mid-Ohio Sports Car Course
7 a.m.-5 p.m.: Road Race Registration (Lower Paddock Tech Garage)
7-8:30 a.m.: Hare Scramble Registration (Ross Road of Steam Corners Road)
7 a.m.-5 p.m.: Road Race Technical Inspection (Lower Paddock Tech Garage)
8 a.m.: Mandatory Road Race Rider's Meeting (Lower Paddock Base of Tower)
9 a.m.: Road Race Practice Begins (Lunch break from noon – 1:30 p.m.)
2-4 pm.: Pit Bike Racing Registration
9:30 a.m.: Hare Scrambles-Evolution 2/Evolution 3 Races begin following national anthem
Noon: Hare Scrambles-Vintage/Evolution/Evolution 1 Races Begin
Noon-5 p.m.: Motocross and Trials Registration (Ross Road off Steam Corners Road)
2-5 p.m.: Motocross Tech Inspection
2:30 p.m.: Hare Scrambles-Non-Current Vintage Races Begin
4:30 p.m.: Pit Bike Practice Begins
5 p.m.: Pit Bike Racing Begins
5:30 p.m.: Hare Scramble Awards Presentation (Tentative, half an hour after racing concludes)
Saturday July 8: Mid-Ohio Sports Car Course (unless otherwise noted)
7 a.m.: Mandatory Road Race Rider's Meeting (Lower Paddock Base of Tower)
7-9 a.m.: Motocross Registration (Vintage/Evolution 1 classes)
7-9 a.m.: Motocross Technical Inspection
7-10:45 a.m.: Road Race Technical Inspection (Lower Paddock Tech Garage)
7 a.m.-1 p.m.: Road Race Registration (Lower Paddock Tech Garage)
8 a.m.: Mandatory Motocross Riders Meeting (Quonset Hut)
8-11 a.m.: Road Race Practice Begins
8:30 a.m.: Motocross Practice Begins (Vintage/Evolution/Evolution 1 classes)
9:30 a.m.: Motocross Racing Beings (Vintage/Evolution/Evolution 1 classes)
1 p.m.: Road Racing Begins
1-3 p.m.: Dirt Track Registration (Ashland County Fairgrounds – Gate 5, Baney Road)
3:30 p.m.: Mandatory Dirt Track Rider's Meeting
4 p.m.: Dirt Track Practice Begins (Ashland County Fairgrounds)
4-6 p.m.: Holeshot Competition registration
5 p.m.: Motocross Awards Presentation (Tentative, half an hour after racing concludes)
6 p.m.: Holeshot Competition begins
6:30 p.m.: Dirt Track Heat Racing (Ashland County Fairgrounds)
8:30 p.m.: Dirt Track Finals (Ashland County Fairgrounds)
Sunday, July 9: Mid-Ohio Sports Car Course
7 a.m.: Mandatory Road Race Rider's Meeting (Lower Paddock Base of Tower)
7-8:30 a.m.: Motocross and Trials Registration (Evolution 2/Evolution 3/Post-Vintage classes)
7-9 a.m.: Motocross Technical Inspection
7-9:15 a.m.: Road Race Technical Inspection (Lower Paddock Tech Garage)
7 a.m.-Noon: Road Race Registration (Lower Paddock Tech Garage)
8 a.m.: Mandatory Motocross Rider's Meeting (Quonset Hut)
8-10 a.m.: Road Race Practice Begins
8:30 a.m.: Motocross Practice Begins (Evolution 2/Evolution 3/Post-Vintage classes)
8:45-9:15 a.m.: Trials Tech Inspection (Quonset Hut)
9:15 a.m.: Mandatory Trials Rider's Meeting (Quonset Hut)
9:30 a.m.: Motocross and Trials Racing Begins (Evolution 2/Evolution 3/Post-Vintage motocross classes only)
10 a.m.: Road Race Begins (Lunch Break from 11 a.m.-12:30 p.m.)
4 p.m.: Motocross Awards Presentation (Tentative, half an hour after racing concludes)
4:30 p.m.: Trials Awards Presentation (Tentative, half an hour after racing concludes)
6 p.m.: Road Race Awards (Road Racing Podium by Pit Lane)
Hope to see you there
–Ron