2-STROKE VS 4-STROKE

A few years ago, we did a  lot of two-stroke versus 4-stroke theme stories. After a while, we got tired of it; it was never a level playing field. No matter what two bikes you choose, too may things were different to make it a legitimate comparison. Now we have two bikes that are ideal for that challenge. TM is a tiny firm, but it somehow manages to produce very high-tech Italian motorcycles. For 2017, the company makes two off-road 300s. They have the same suspension, the same geometry, the same displacement and nearly the same weight. But one is a carbureted two-stroke and the other is an EFI four-stroke.
Of the two, the 300 four-stroke is the newest. It's an upsized version of the 250F, although TM never does anything the easy way.  Both the bore and the stroke have been changed. That seems like an odd displacement over here, but it was doubtlessly influenced by Matt Phillips, who won the overall World Enduro Championship on a Sherco 300 four-stroke. TM won the E1 class with Eero Remes on a 250 four-stroke, and was fourth overall. For 2017, it's on between TM and Sherco.
The 300 two-stroke is more familiar to us. It has evolved gradually over the years and now has an electronic power valve. The carburetor is still  a Keihin. Both bikes have KYB forks and TM-made rear shocks. The frame is hand-welded aluminum. Even though they seem to have the same chassis, there's a very important difference. The EFI intake on the four-stroke is mounted up high, forcing the air filter to be where the fuel-tank usually is. The fuel tank is under the seat, and that causes big changes in the subframe and the top shock mount. The two bikes have essentially the same weight. With the tanks full, the four-stroke weighs 245 pounds. The two-stroke is 246. Tanks empty, the four-stroke is 232 and the two-stroke is 231 because it holds a half gallon more (and needs it). The two-stroke is a five-speed and the four-stroke is a six. Only the four-stroke has electric start.

It's a little odd that they're so close in weight, but the real difference is how they feel when you ride them. The two-stroke feels much lighter. It's easier to throw around and manhandle. There are gyroscopic laws that work on the larger crank and additional spinning shafts in the four-stroke that affect the handling in a big way. They also make it more stable and help the suspension. The four-stroke has a clear advantage in rough terrain.

In power output, the two-stroke comes out on top. It has unstoppable low-end torque, whereas the four-stroke is a little weak down low. Once you get the thumper spinning, it catches up and it revs much higher, but unless you ride very aggressively, it's hard to keep it up there. We'll be riding these bike for the next few weeks, seeing how thy compare in all sorts of terrain. The story will be in the June print issue of Dirt Bike.
 VIDEO WEEK
https://youtu.be/_27wPJ7rroA
Our favorite of this week's crop of videos is this profile of Randy Hawkins' AmPro Yamaha off-road team. Ricky Russell is one of the key riders for 2017, and he benefits from the experience of Hawkins as well as Paul Whibley.
Kawasaki's ongoing video series "Science of Supercross" looks back on jumps and how they've changed the sport.
Shaun Simpson shows once again that UK riders ride mud better than anyone.
KTM AMA ADVENTURE RIDING SERIES
KTM North America is the title sponsor of the AMA National Adventure Riding Series. For the 2017 season, the KTM AMA National Adventure Riding Series offers 20 two-day events in locations across the country.
"KTM is very excited to be a part of the AMA National Adventure Riding Series," KTM Ride Orange Manager Mark Hyde said. "We offer a robust line of adventure motorcycles designed to perform on a variety of terrain, all while being extremely comfortable. Sponsoring the series gives us a great opportunity to visit with our customers, talk about and demo our products with potential customers and be able to get out and enjoy the sport together."
Hyde — a three-time national champion and a six-time member of the International Six Days Enduro, including the 1982 ISDE U.S. Trophy Team — said people should not be surprised if eight-time AMA National Enduro Champion Mike Lafferty happens to be helping at events throughout the year, along with other special KTM guests. Lafferty is now a KTM Ride Orange assistant manager.
This year, as part of the sponsorship agreement, a participant in the series will be selected for a free entry in the 15th Annual KTM Adventure Rider Rally to take place in 2018. The entry will include travel expenses, meals, use of a motorcycle, lodging and gear.
"The AMA appreciates KTM's support of the series, and we look forward to KTM actively participating in events organized by our AMA clubs and promoters throughout the next two years," said Assistant Recreational Riding and Volunteer Manager Heather Wilson. "KTM not only manufactures adventure motorcycles, the company offers regular opportunities for camaraderie with its customers. That mindset ties in perfectly with the AMA series."
GNCC ROUND 2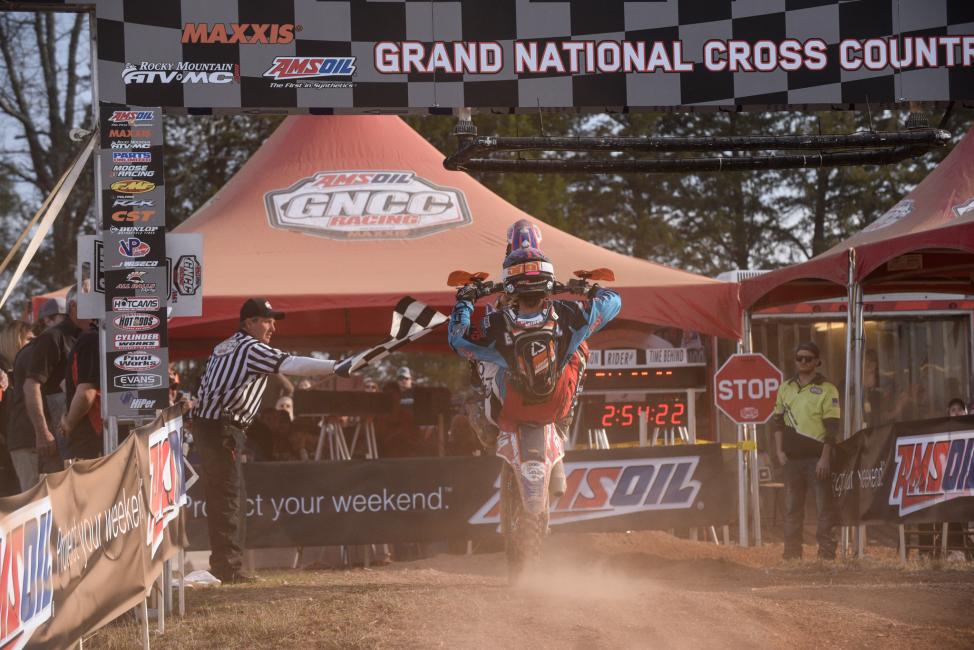 After an intense race just one week ago, the 2017 AMSOIL Grand National Cross Country (GNCC) Series presented by Maxxis, an AMA National Championship, continues this weekend, March 11 and 12, in Palatka, Florida. The Moose Racing Wild Boar GNCC will play host to the second race of the 13-round series.
Held annually in conjunction with Daytona Beach's "Bike Week" festivities, the Wild Boar GNCC always draws a unique and large crowd. Industry personnel, long-time series followers and local race enthusiasts will all gather this Sunday to watch the dramatic GNCC series continue. Just one week ago, SRT/KTM's Steward Baylor made quite the statement when he took his first career overall win and captured the early points lead. Baylor's training regimen for this season has paid off, and as the season continues Baylor will be looking to up his consistency as well.
One rider who knows that consistency is the key to championships is FMF/KTM Factory Racing's Kailub Russell. After crediting five national titles to his name, Russell remains a top contender for the win this weekend. Russell's personal track is located just a few short miles from the Wild Boar GNCC, and he will be looking to capitalize on his practice time and return to his winning ways this Sunday.
Coastal Racing's Ryan Sipes started his season off on right foot last weekend. Sipes seaon-long battle with injuries looks to finally be over, and his battles on the track are heating up. With the Sunshine State forecasting the highest temperatures the racers have saw so far this year, Sipes and the rest of the field will face an added obstacle to the already rough and rutted sands the Wild Boar GNCC offers.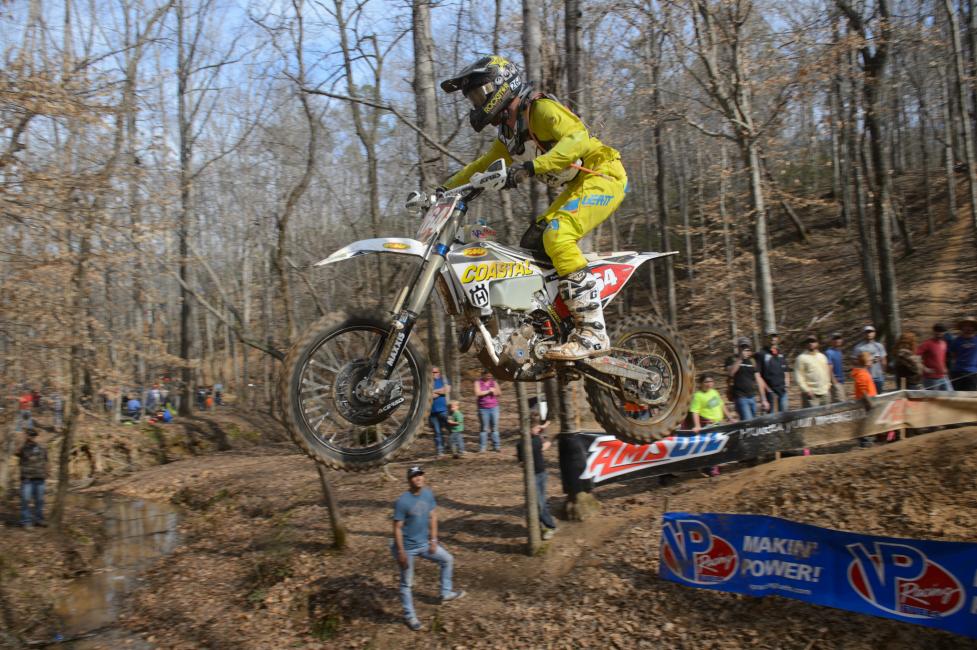 JCR Honda's Trevor Bollinger spent much of his off-season training in California, which could pay off this weekend. Bollinger finished fourth in this XC1 Pro debut and will be looking to showcase the skills he learned this winter and steal a spot on the overall podium on Sunday.
N-Fab/AmPro Yamaha's Ricky Russell had a stand out performance at the season opener where he placed just outside of the top five overall in sixth. After making multiple podium appearances last year, once R Russell gets fully adjusted to his new team it won't be long until the Yamaha-mounted rider makes his return to the box.
As he continues to get more GNCC races on his resume, FMF/KTM Factory Racing's Russell Bobbitt is one to keep an eye on. Bobbitt's last race resulted in consistent lap times, that improved as the three-hour race wore on. Racers will face one of the most difficult and strenuous tracks on the circuit this weekend, and Bobbitt will look to use his Enduro background to outshine the rest and make his first ever GNCC overall podium.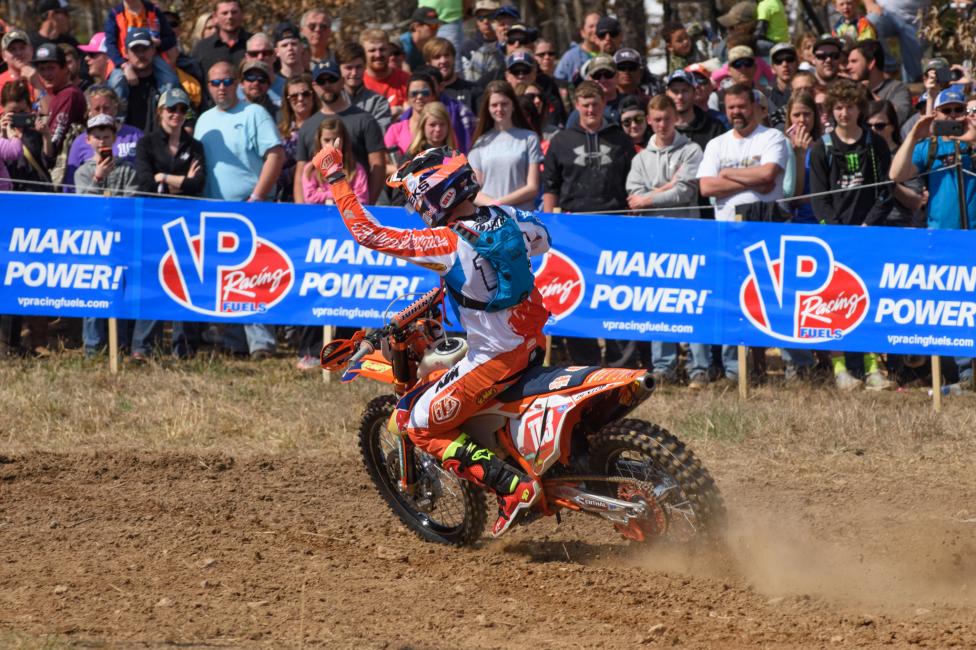 Sunday's race schedule is as follows: Youth Bike racing begins at 8 a.m., followed by amateurs and women at 10 a.m. and pros and top amateurs at 1 p.m.
See you next time,
–Ron Lawson