TM is a tiny company in Pesaro, Italy that is fanatically devoted to racing. Everything revolves around FIM GP competition, both in motocross and off-road. Last year, the company debuted a new bike in the MX2 class for Samuele Bernardini. The main goal was to win races, but the spin-off was the development of a motorcycle to sell. The first moto win came quickly, in the horrific conditions of round two in an Indonesian monsoon. The release of a bike to sell came more slowly. It's here in the U.S. now, and we got to ride it.
The bike has an unusual motor layout. The cam chain drives a single gear in the head, which turns the two counter-rotating overhead cams through gears. Finger followers are used to open the four valves. The motor is positioned in the frame so that the intake comes straight down from above, where the fuel-tank is normally located. The gas is stored under the seat. TM has used the tank-under-the-seat for a number of years on all its four-strokes. Like a Honda, it has two exhaust ports which feed two separate exhaust pipes; one on the left and one on the right. This bike was designed as an electric-start motorcycle, but in this case the engineers decided to leave the kickstarter in place.
One thing is very clear when you ride the bike: it's fast. The bike make a ton of power on top. Is it the fastest of all production 250Fs? Maybe. We've seen dyno figures that support that contention, with a peak of over 41 hp. That's one dyno run, though, and we didn't test other 250Fs on the same day, on the same dyno. We just know it's fun to ride. The full test will be in the July, 2018 print edition of Dirt Bike.
SUZUKI RMZ270
Last week I gave you a quick look at the Hot Cams/Cylinder Works Suzuki RMZ270 that we tested. It's another fun bike, mostly because we love the way the Suzuki RMZ250 handles. It turns better than anything in the class. Lately it seems like it's the forgotten bike in the 250 class because the motor has become somewhat dated.
That's why this project was so important to us. We figured that if we could get a little more power out of the Suzuki, it would be perfect. Interestingly enough, we have heard rumors that the 2019 Suzuki RMZ250 motor won't see a great deal of change. It still will be a kickstart-only bike with the same motor layout. It is supposed to get a new chassis and a coil-spring fork, similar to the updates that the 450 got for 2018. That's means the Hot Cams 270 project won't be rendered irrelevant. The story will appear in the July issue.
CODY WEBB WORLDWIDE
Cody Webb has been traveling the world and has become top dog on KTM's international enduro team. Today he's in the Dominican Republic for the Machete Hard Enduro, which he won last year. This has become a very big deal. It's held in  conjunction with a amateur race that draws 350 riders. That's a lot for Central America. This year, Cody will have some very talented opponents. Graham Jarvis, Mario Roman, Billy Bolt, Manny Lettenbichler and Wade Young will be there. Today, there's a prologue for the Pros.
This profile of Cody Webb was produced by the guys at Scott Goggles and gives a little background on what he's been through to get to this point in his career and life.
SALT LAKE CITY
The 2018 Monster Energy Supercross season can crown a champion tomorrow in Salt Lake City. It's been a long road for Jason Anderson, but in 2018, he really came into his own. No matter how a race is playing out, he always makes the most of it. And if there's a rider in front of him on the last lap, anything can happen. Tomorrow he just has to finish fifth place or better to wrap it up. He also has to stay out of the way between Eli Tomac and Marvin Musquin. After the last lap collision that gave Musquin the win in Foxborough last week, there's clearly bad blood between the two. At the post race press conference, Marvin brought up Eli's rough riding last year at Vegas against Dungey, and Eli accused Marvin of "fixing" the race last year in New York. Good stuff.
POINT STANDINGS
1 21 Jason Anderson Rio Rancho, NM 332
2 25 Marvin Musquin CLERMONT, FL 298
3 3 Eli Tomac Cortez, CO 269
4 10 Justin Brayton Mint Hill, NC 247
5 4 Blake Baggett Grand Terrace, CA 243
6 34 Weston Peick Menifee, CA 219
7 20 Broc Tickle Holly, MI 184
8 15 Dean Wilson Clermont, FL 183
9 2 Cooper Webb Newport, NC 181
10 27 Malcolm Stewart Haines City, FL 150
11 51 Justin Barcia Greenville, FL 145
12 55 Vince Friese Cape Girardeau, MO 141
13 22 Chad Reed Dade City, FL 135
14 69 Tyler Bowers Lake Elsinore, Ca 133
15 14 Cole Seely Newbury Park, CA 124
16 60 Benny Bloss Oak Grove, MO 108
17 94 Ken Roczen Clermont, FL 102
18 32 Christian Craig Orange, CA 96
19 39 Kyle Cunningham Willow Park, TX 87
20 33 Joshua Grant Wildomar, CA 83
CONTROVERSY IN AFRICA
The Merzouga Rally in Morocco  ended last week with very unhappy Toby Price. Here's what he said on Instagram:
So as of 12pm today I had made a half decent race and got lost a few times along the way which is very dam normal in rally racing! The last part was super tricky and hard to understand but starting 4th today and making the finish line first and moving up from 5th overall into 2nd overall and because around 12 people got lost in this section and people complained about the roadbook they have now cut the stage from waypoint #90!!! So just had a meeting with them and the exact same thing happened to me and lots others on day one because the roadbook was not correct (which they just sat there and said this straight to my face that day one had a incorrect note where I got lost) but my time and others where not given back!! So how is this fair?? Seriously such a joke, we all had the same roadbook, nobody was at an advantage or disadvantage just like we all had on day 1, plus in rally racing it's impossible to make a roadbook 100% accurate so why can stuff like this get changed cause a few got lost?? Racing will now have protests everyday cause there is always one wrong note in a roadbook!!
Seriously is so bad for the sport and makes me look like a clown posting to my followers and sponsors that I got to 2nd and now I'm back to 6th overall!!
Merzouga Dakar challenge, I'm sorry but this isn't right and you guys know it!!
Sorry everyone, I thought I had made a good day but it's a room of 8 people that can change the result at a snap of their 👐🏼s by the looks of it!! I'm sure your all going to look at this with weird faces being pulled!!
I'm sure the organisation will see this and not be happy that I posted this but I've gotta explain the situation and the results won't be changed back to the correct way because of this post but that's how and why the results changed in 8hrs time!!
VETERANS ELIGIBLE FOR FREE GNCC ADMISSION
Racer Productions recognizes the sacrifices made by our service men and women and are pleased to announce a new partnership with the Veteran Tickets Foundation. Active, retired military, veterans and families of those KIA can watch the on-track excitement of the world's premier ATV motocross series at no cost.
The Grand National Cross Country (GNCC) Series, an AMA National Championship has donated 40 weekend passes to the Vet Tix foundation for each of the 13 rounds of the championship. As we head in to round six of the 2018 season, VetTix has given out 200 tickets to veterans. Tickets will be available to all military veterans two weeks prior to each event through VetTix.org.
"We at Vet Tix are honored to have such great supporters such as GNCC," says Mike Focareto, CEO of Veteran Tickets Foundation. "We are inspired everyday by our currently serving military, veterans and their families. There are many ways to show appreciation to those who have served, but the simple gesture of inviting veterans and their families to enjoy the competition and entertainment of a race, is worth all the joy and smiles for those who have served America."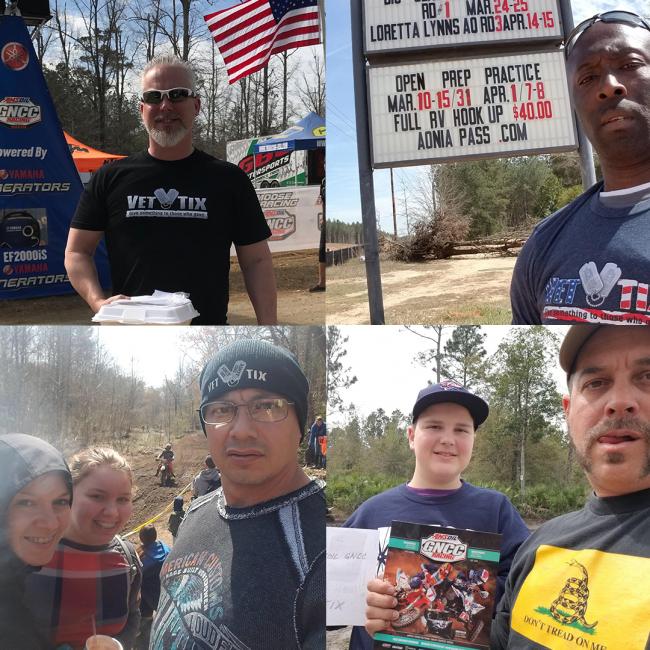 Major sports franchises from Lucas Oil Pro Motocross, Major League Baseball, the National Basketball Association, National Football League, and National Hockey League have also partnered with Vet Tix, as have touring organizations like World Wrestling Entertainment and Professional Bull Riders.
Vet Tix, based in Phoenix, is a national nonprofit organization that provides free tickets to veterans and active-duty members and their families, in addition to families of those KIA. Founder and CEO Michael Focareto, a U.S. Navy veteran, developed the concept of Vet Tix in 2008 and since then the organization has given away more than four million tickets to veterans nationwide.
All active and retired military veterans can create an account on VetTix.org to receive emails and reminders about when the GNCC tickets become available. More information about Vet Tix can be found at VetTix.org.
INSIDE THE SHOP AT PRO CIRCUIT
2018 Honda CRF250R Ti-6 Titanium Exhaust
Honda's new 2018 CRF250R with dual headers and dual mufflers is in big demand and Pro Circuit has performance exhausts for the new Honda machine. Superiorperformance and significant power gains are what's on tap with both our Ti-6 and T-6 systems.
In case you didn't know, Pro Circuit turns 40 in 2018! It's hard to believe and really makes us reflect back on the past 40 years. Each month, we'll head down memory lane.
One-time desert racing pro and motor tuning specialist Mitch Payton founded Pro Circuit in 1978 at the age of 18. Early Pro Circuit customers were mostly Husqvarna-mounted desert racers and motocrossers who wanted Mitch to provide the same speed set-ups that he and his father had learned to dial in on Mitch's personal race machines. Word regarding the success of Mitch's motor building skills traveled quickly around southern California racetracks and in no time the cult of Pro Circuit riders was formed. Mitch closed his family's Husqvarna dealership in 1980 to focus his energy on the shop's aftermarket hop-up business full-time.
In-House Suspension Department Can Fix Your Bike Up
We have one of the 
greatest suspension tuners in the business
 in 
Bones Bacon
and he's taught our amazing staff how to help get your setup just right!
The Pro Circuit shop mechanics have been hard at work getting suspension ready for customers across the country so make sure to hit them up if you're interested in getting something tuned up!
It's been a battle this year for Chad Reed, but he's proven he can persevere through anything life's thrown at him. Whether it was starting the year with only a few weeks under his belt after getting hurt in the off-season or getting stuck in the Seattle mud just feet from the finish line, Chad has stepped up to every challenge. We are proud to call him a friend and an avid supporter of the Pro Circuit brand.
Nearly every week, Pro Circuit puts out an 
Item of the Week
 an insane discount! This week, the Pro Circuit 
T-4 Stainless Steel System for a 2008 Hysung 450 is only $100!
Make sure to follow our social accounts (see below) to stay up to date on all the Items of the Week!
That's all for now
–Ron Lawson