RIDING THE BMW G310GS
BMW isn't really known for small bikes or inexpensive bikes. The new G310GS is an attempt to change that. It's a downsized version of the R1200GS adventure bike that sells for under $6000, and we just got ahold of one of the first ones in North America this week.
The question of which manufacturer started the whole adventure bike trend is debatable, but there's no arguing that BMW has become the main player. The GS line more or less defines what is and isn't an adventure bike, and as a group, they are the company's best sellers. Despite all that, BMW has been on the sidelines while others have exploited the lower-price range bikes. Honda has the CRF250L Rally($5149), Kawasaki has the Versys 300 ($5399) and then there are wildcard bikes like the Royal Enfield Himalayan. ($4500). You can buy all of them for the price of one R1200GS.
BMW's solution is a bare-bones GS with a single cylinder, 313cc motor. The concept was conceived and designed in Germany, but the bike itself is made in India by TVS (a very large scooter manufacturer) to BMW's quality control specifications. The design of the motor is similar to a YZ450F. The cylinder is tilted rearward with the intake in the front and the exhaust in the rear. It has double overhead cams, six gears, four valves and a 10,000 rpm redline. The bike looks so much like a 1200 it will probably make those guys furious.
So far we've only ridden that bike a couple of times, and it's always been raining. But it's still a blast. The 310 is amazingly quick. BMW says it makes about 34 horsepower, but what's surprising is how broad the powerband is. It runs well–really well–from 5000 rpm up. You don't have to keep it screaming all the time. When you do rev it up, it pulls well and sounds great.
In the dirt, it's limited by tires, suspension and rider positioning, all of which are heavily street oriented. The good news is that it's much less intimidating than a big adventure bike. It feels small, light and low. BMW claims it weighs 374 with a full tank of fuel. That's about 40 pounds heavier than a Honda 650. You can take it on smooth dirt roads all day long without feeling like you're doing anything scary or wrong.
This isn't a replacement for a pure dirt bike or a heavyweight adventure bike. It's for a guy who already has one of those and wants to dabble in the other world. For $5695, you can dabble. For the full test, look to the June, 2018 print edition of Dirt Bike.
HARE AND HOUND RECAP
ISDE QUALIFIERS
Two AMA Regional ISDE Qualifier Series are holding their second round of competition in April, offering riders a chance to earn a spot on the U.S. ISDE team that will compete in the 2018 FIM International Six Days Enduro in Viña del Mar, Chile.
"The ISDE qualifying season is in full swing," said AMA Off-Road Racing Manager Erek Kudla. "We were delighted to bring back the multi-event qualifying format last year. The competition was fierce in 2017, with some spots on the ISDE team being decided by razor-thin margins. This year is shaping up the same way, and we are looking forward to qualifying our very best riders through the close competition at these events."
The AMA West Region ISDE Qualifier will be hosted by North Bay MC and is slated for April 7-8 in Lakeport, Calif.
The AMA East Region ISDE Qualifier Series round will be hosted by Michigan Sprint Enduros on April 28-29 at the Battle Creek Motorcycle Club facility near Battle Creek, Mich.
The AMA ISDE Regional Qualifier Series were re-introduced in 2017 to create a fair and exciting platform for determining which 21 Club Team riders will join the 10 Trophy Team riders to make up the official U.S. ISDE team.
Each qualifier series consists of three rounds, two days each.
OREGON MOTORCYCLE RENTAL
https://youtu.be/iE3ruY_pf3s
Doug McDonald from Oregon Motorcycle Rental is a small advertiser in Dirt Bike who's been doing well with a creative business. He trains riders, rents motorcycles and guides groups in two different areas of the western U.S. In the winter, he operates out of Arizona, and in the spring and summer, it's all about the Pacific Northwest, where the trail riding is the best in the world. If you're thinking about a riding vacation, you might give him a call at (509) 281-0156 or go to oregonmotorcyclerental.com
GNCC GOES DOWN TO GEORGIA
MORGANTOWN, W.Va (March 15, 2018) – Round three of the 2018 AMSOIL Grand National Cross Country (GNCC) Series, an AMA National Championship heads to Washington, Georgia this Sunday, March 18. The Maxxis General GNCC returns to Aonia Pass MX for the first time since 2015. FMF/KTM Factory Racing's Kailub Russell has been a dominant force at the first two rounds, winning both. K. Russell has won The General GNCC from the year 2012 until the last round that was held in 2015.
Rockstar Energy/Factory Husqvarna Racing's Thad Duvall has been hot on K. Russell's heels as well as Tely Energy Racing/KTM's Steward Baylor Jr. Duvall and S. Baylor are currently tied in points after finishing 2-3 and 3-2 at the first two races. Both riders are looking to end K. Russell's winning streak this Sunday, and only time will tell who will come out on top in the Georgia clay.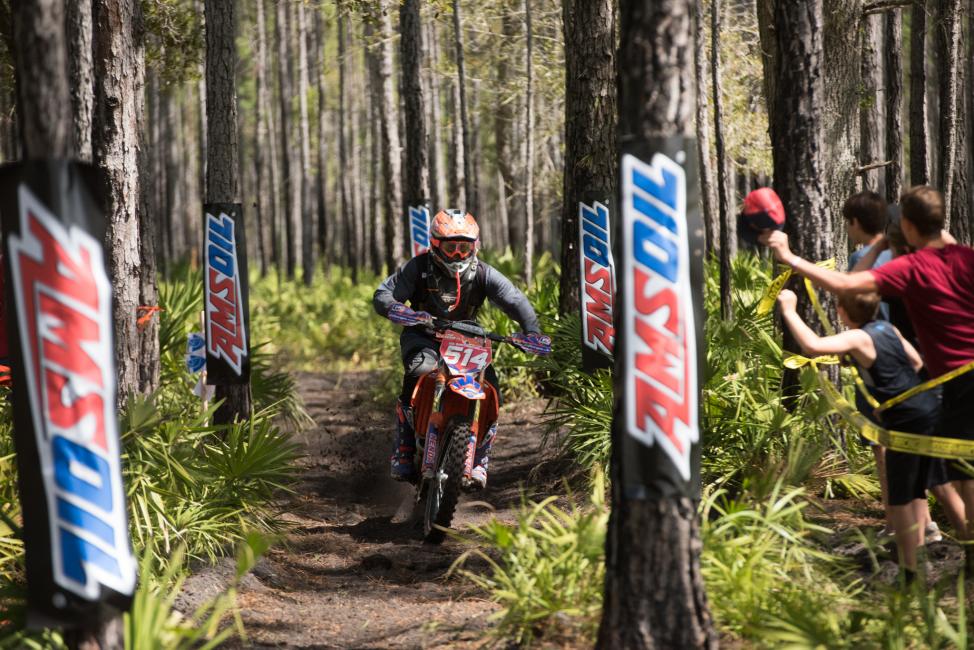 Steward Baylor Jr is looking to earn his first win of the season in Georgia. 
– Ken Hill
JCR Honda's Trevor Bollinger was running up front at last weekend's Wild Boar GNCC, and now that Bollinger is in his sophomore year of the XC1 Open Pro class he is hoping to land on the overall podium at round three. Layne Michael has had a good start to his rookie season in the XC1 Open Pro class on his new KR4-backed Husqvarna. Michael has finished sixth and fifth at the first two rounds, and knows he has what it takes to run at the front of the pack after finishing third overall from the second row at Unadilla last year.
Trail Jesters/KTM Racing's Ben Kelley earned his first XC2 250 Pro class win in Florida this past weekend, finishing 33 seconds ahead of FMF/KTM Factory Racing's Josh Toth. Toth, who is defending his XC2 National Championship, won the opening round, and was leading round two until a mistake miles before the finish line cost him the win. Kelley and Toth will both battle to see who can be the one to earn a second win of the season.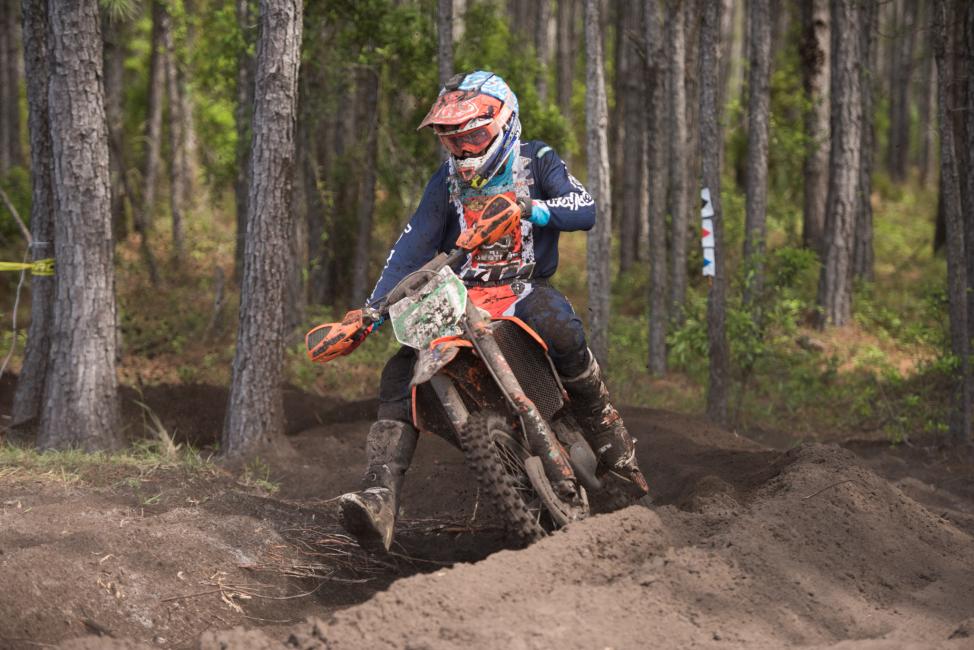 Ben Kelley earned his first XC2 class win last weekend, and will look to do the same this Sunday, March 18. 
– Ken Hill
Austria's Pascal Rauchenecker has finished in third in South Carolina and Florida aboard his Coastal Racing-backed Husqvarna. Rauchenecker will look to put an end to the KTM riders' success this weekend in Georgia. Teammate Craig Delong is looking to push forward and earn a podium finish this weekend, as well as fellow XC2 rider, M&E Honda/FLY Racing/Maxxis' Austin Lee.
In the FMF XC3 125 Pro-Am class it was Florida native, FMF/Maxxis/RPM KTM's Jesse Ansley who took the win after a first turn crash left him buried in the pack. AmPro Yamaha's Jason Raines got off to a good start and took the lead for the first two laps of the 3-hour race. This weekend we will see whose 125cc bike will make it through the Georgia clay first on Sunday, March 18.
The event is co-sanctioned with SETRA, a series that produces local racing events in the Southeast, and will ultimately bring out a full slate of local racers. All local racers are invited to compete at the Big Buck GNCC, as GNCC Racing offers classes for riders of all skill and experience levels. The amateur race entry fee is $50 and riders can sign up at the track. To learn more about GNCC Racing please visit the GNCC101webpage.
That's all for now.
–Ron Lawson