DUAL-SPORT ONE-ON-ONE
We have two 500cc dual-sport bikes in the house this week and we can't help but do a little one-on-one comparison. The Husqvarna FE501 is the flagship of the Husqvarna dual-sport line, whereas the Beta 500RR-S is the product of a much smaller, but less regulated Italian company.
The Husqvarna FE501 was new bike in 2017, and the biggest design goal for the bike was to meet all the US emission standards legitimately, without any measures that the buyer would have to disable or work around. The WP shock is mounted to linkage in the rear and a WP Xplor 48 fork is used up front. KTM's 500EXC, by the way, is very similar to the Husky, but has PDS no-linkage rear suspension as its primary difference. The Husky also has Magura brakes.  The U.S. government allows small companies like Beta to comply to more relaxed emission and noise standards, so the 500RR seems more like a full-blooded dirt bike. It still has all the proper equipment, reduced emissions and a quiet exhaust, but the concessions aren't as dramatic as those that Husqvarna faces.  Beta uses Synerject fuel injection whereas the Husky has a more mainstream Keihin system. Both are electric-start-only bikes, and have a place to put a kickstarter if you don't trust the button. The Beta has Sachs suspension and Nissin brakes.
Which is the most powerful? The Beta. It has more power from the bottom to the top by a noticeable margin. You would think the Beta had the larger motor, but it doesn't. It's actually 32cc smaller, but it revs like a big bike and has more engine braking. The Husky, on the other hand, is a more quick revving. The Husky also runs very clean, whereas the Beta 500RR-S has a tendency to cough and die more frequently. On the famously accurate Dirt Bike scale, both of these bikes are feathers by dual-sport standards. The Husky is 248 pounds with no fuel. The Beta is 257. The 9 pound difference is barely noticeable. Both bikes are soft, and have an uncomfortable amount of fork dive when you ride at an aggressive pace, but the Beta has a more progressive feel and bottoms less often.
By far, the biggest limitation for both bikes is rubber. The Beta comes with a DOT approved Michelin Enduro rear tire, which was originally designed to comply with the FIM's 13mm knob-height rule. The Husky's Continental TKC80s were originally designed for heavyweight adventure bikes, and are used on this model for the main purpose of complying with the drive-by noise rules. In most situations, the Beta's tires offer more grip. Which wins? We're still trying  to figure that out. Check out the June, 2018 print issue of Dirt Bike for the full test.
THIS WEEK'S ACTION
The guys at FasterUSA built a beautiful, up-to-date Yamaha YZ125 out of an well-used 2006 model. I shot Sean Lipanovich on Wednesday at Cahuilla Creek MX in his brand new FXR threads. It was music for the eyes and ears! You can read more about this build in next week's Two-Stroke Tuesday.
We teamed up with Dick Wilk from Dick's Racing to come up with a very cool concept for this Husqvarna FE350 dual-sport. Currently, there is no trail-bike version of the Husky 350, only the FX350, which is mostly a race bike. So Dick converted the dual-sport models into a pure dirt machine. There will be more on this bike next week, so stay tuned.
KINGS OF POWER
Ever wonder how the most powerful bikes of different eras compare? Back in the July 1994 issue, we gathered three legendary bikes from the early '70s and compared them with the most powerful bike we could find at the time, the KTM 550 two-stroke. We didn't know it then, but the KTM 550 would go down in history as the most powerful production two-stroke ever.
The three representatives from earlier times (early '70s) were a Yamaha SC500 owned by Dirt Bike ad executive Robb Mesecher, a Suzuki TM400 owned by Vintage Iron's Rick Doughty and a Maico 501 owned by none other than future Los Angeles Police Chief Charlie Beck. We also had a Vintage Iron YZ360 that DNFed early in the proceedings.
There were just two contests: a drag race and a dyno shootout (run on the FMF dyno). Needless to say, the 1994 KTM was much more powerful than any of the older machines. The FMF dyno confirmed what we already knew. The KTM made almost twice the power of the others. Just for fun, the dyno chart for our 2018 450 shootout appears below. It was also run on the FMF Dynojet dyno, albeit 24 years later. Kinda gives you respect for that old KTM 550, doesn't it?
SPRINT HERO ROUND THREE
Round 3 will be held at 
Canyon MX
, in Peoria AZ.
April 14-15th, 2018
Pre Entry is Open, click the link below to get Signed up!
Single day racing is now available. Sign ups at the track! $55 for all classes. Come to the track for Saturday or Sunday racing and enjoy the hottest new motocross racing format on the West Coast!
We have Classes for all skill levels and a wide range of ages! If you haven't check out the 
Sprint Hero Racing Website, do it!
f All the good stuff, info, updates, faq's, rules, details, pictures and more!
Not only is Sprint Hero Racing a fun and new event to the West Coast, but it also helps those in need. With your entry part of the proceeds go to to the 
DA8 Strong Foundation
. Be a HERO. RACE.
GNCC ON TV
Racer Productions, producer of the AMSOIL Grand National Cross Country (GNCC) series, an AMA National Championship, is pleased to announce the 2018 NBC Sports Network (NBCSN) cable television broadcast schedule.
NBCSN coverage begins this Sunday April 1, 2018 with the VP Racing Fuels Big Buck GNCC in Union, South Carolina. Cable broadcasts will continue with highlight shows of all 13-rounds through November 25, 2018 with the season-finale AMSOIL Ironman GNCC airing at 5:30 p.m. EST. Repeat airings will play throughout the year and will be updated on the GNCC Broadcast Schedule.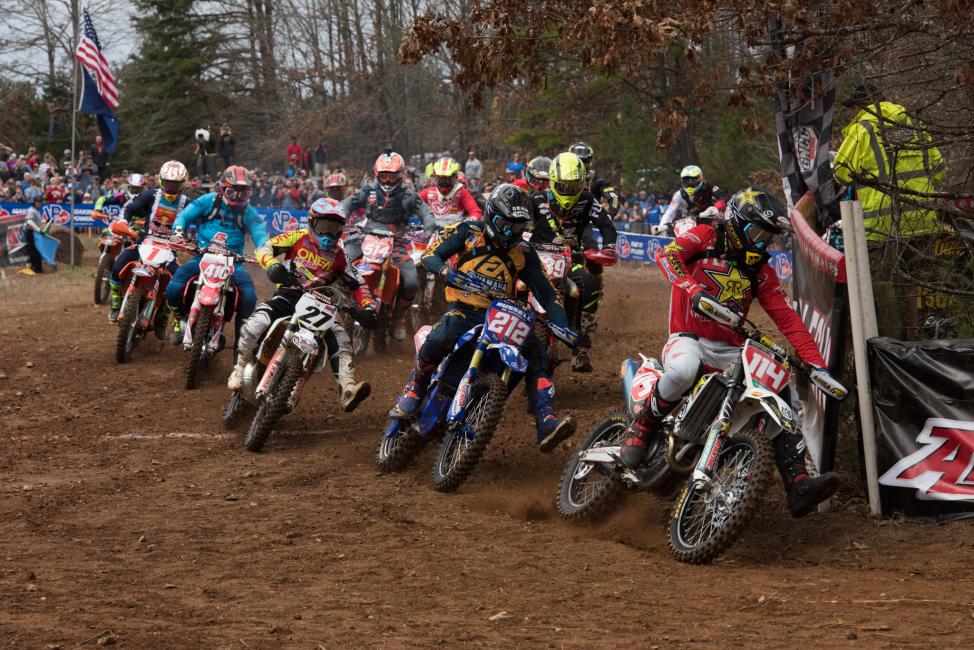 Full the 2018 GNCC Broadcast Schedule HERE.
– Ken Hill
Each highlight show will focus on the most intense racing action of the weekend, either pro ATV or bikes. An additional 13 full-length highlight episodes will be released separately on RacerTV.com showcasing the discipline that was not featured on NBCSN. This season will be the 18th consecutive year that GNCC has been broadcast on cable television and seventh partnering with NBCSN.
Additionally, #GNCCLIVE streaming will continue through the 2018 season with live coverage of all ATV and bike pro races, along with the UTV events as well. Race fans and family members can watch their favorite off-road racers compete live for the race wins and the coveted AMA National Championships all season.
All highlight and #GNCCLIVE shows will be archived on www.RacerTV.com for viewing. See below to view the full NBCSN television schedule.
2018 GNCC NBCSN Television Schedule
| | | | | | |
| --- | --- | --- | --- | --- | --- |
| Round | Event Date | Broadcast Date | Time | Event | Location |
| 1 | Feb 24-25 | Apr 1 | 5:00p.m. | Big Buck | Union, SC |
| 2 | Mar 10-11 | Apr 21 | 3:30 p.m. | Wild Boar | Palatka, FL |
| 3 | Mar 17-18 | May 6 | 5:00 p.m. | The General | Washington, GA |
| 4 | Apr 7-8 | May 26 | 2:30p.m. | Steele Creek | Morganton, NC |
| 5 | Apr 21-22 | Jun 3 | 3:00 p.m. | Camp Coker Bullet | Society Hill, SC |
| 6 | May 12-13 | Jun 9 | 6:00 p.m. | X-Factor | Peru, IN |
| 7 | May 26-27 | Jun 23 | 6:00 p.m. | The John Penton | Millfield, OH |
| 8 | Jun 9-10 | Jul 8 | 6:00 p.m. | Tomahawk | Odessa, NY |
| 9 | Jun 23-24 | Jul 28 | 1:00 p.m. | Snowshoe | Snowshoe, WV |
| 10 | Sep 15-16 | Nov 10 | 3:00 p.m. | Black Sky | Harpursville, NY |
| 11 | Sep 29-30 | Nov 11 | 3:00 p.m. | Mason-Dixon | Mount Morris, PA |
| 12 | Oct 13-14 | Nov 18 | 1:30 p.m. | Powerline Park | St. Clairsville, OH |
| 13 | Oct 27-28 | Nov 25 | 5:30 p.m. | Ironman | Crawfordsville, IN |
For more information on the series, visit the official website at 
www.gnccracing.com
 or call (304) 284-0084. Join the conversation on the series 
Facebook
 page, follow us on 
Twitter
 and 
Instagram
, and be sure to always hashtag #GNCC.
RICKY BRABEC SIXTH IN ABU DHABI
Round one of the 2018 FIM Cross Country Rallies World Championships wrapped up this week in the United Arab Emirates. Husqvarna finished on top with Pablo Quintanilla, and Southern California's Ricky Brabec put in a solid ride to finish sixth.
Pablo Quintanilla: "I'm really happy to get the win in Abu Dhabi and it's been a fantastic start to the new season. This year's Desert Challenge has been a really tough race from the beginning until the end. During these last few days we battled through extreme heat and the massive sand dunes of the area. There were many high-speed tracks and lots of off-piste sections where navigation was crucial. We also had some great fights with my main competitors and I'm happy I came out on top. I would like to thank all the Rockstar Energy Husqvarna Factory Racing team for the amazing job they did during this week. They are always by my side and this helps me achieve the results I want. It feels good to start the season with a victory and I'm looking forward to the events to come."
Brabec: "We're happy to arrive at the Yas Marina circuit again after finishing the first round of the world championship. Not such a good start to the series, this is quite a dangerous rally with the undulation of the dunes and major cuts. I haven't made a mistake or dropped the bike once the whole time. So that's a plus in my book. I'm looking forward to the rest of the year."
2018 Abu Dhabi Desert Challenge – Final Overall Standings
1. Pablo Quintanilla (Husqvarna) 16:51:11
2. Sam Sunderland (KTM) 16:56:22
3. Kevin Benavides (Honda) 16:59:45
4. Matthias Walkner (KTM) 17:00:47
5. Paulo Goncalves (Honda) 17:09:46
6. Ricky Brabec (Honda) 17:11:57
That's all for now,
—Ron Lawson