THIS WEEK AT DIRT BIKE

This week we wrapped up two rebuild projects–sort of. When you're working with older bikes and complete restorations, the end of the job isn't ever clear. There's always something more that you want to do or have to do. The 2001 CR125R rebuild has been Mark Tilley's baby for months, and he wasn't around to hear it run for the first time. Mark left for the MX of Nations in Italy, and so I had to do the last few things to get the bike ready for a photo shoot with Troy Vanscourt. I put the carb together and off we went. Unfortunately, the jetting was nowhere near the mark and we struggled with fouled plugs, pushing the photos later and later until it was almost dark. The bike looked awesome, and we'll get the bugs worked out next week.
1988 KDX200
This 1988 KDX200 has been a work in progress for about nine months. It all began when I decided I wanted to ride the 2016 ISDE in a proposed vintage class. I found a semi-running '88 Kawasaki KDX on Craigslist for $425 and started work. What followed was a long period of frustration and dead ends that included the bike blowing up at the Adelanto GP in February. Now the bike is finally done, but it won't be in the ISDE, at least not this year. Jeff Fredette, Bud Matto at Matto Cycle, John Anderson at Dubya, Mark Dooley at DG, Darren Ebberts at ZLT and the whole crew at Seat Concepts all got into this project deeply. The full story will be in the December print issue of Dirt Bike.
The photo shoot for the KDX was another late evening affair. I shot a sunset photo of Justin Jones, and then he suggested we trade places. I handed him my camera, put on my helmet and rode the KDX through the same turn, with somewhat different results. I would say that Justin did my job better than I did his job (below). The real masterpiece was the sunset, and neither of us gets credit for that.
SSR SC189
Earlier on the day of the KDX shoot, Justin and his girlfriend Samantha helped with the test of a cool little bike from China. The SSR 189 is a little like a Honda CRF150F, but it has KTM-looking bodywork and some very nice parts like the Pro Circuit exhaust. Samantha loved it. Justin is very experienced in the art of riding for the camera, and coached her through the whole process.
1981 DES NATIONS FILM
A new documentary film about America's first Motocross des Nations (MXdN) victory in 1981 will begin shooting this week in Maggiora, Italy during the 2016 Monster Energy Motocross Of Nations Presented by Fiat. The film titled "1981" will be produced and directed by Todd Huffman, acclaimed creator of The Motocross Files TV series and 2014's PENTON: The John Penton Story.
In 1981 it looked as though America would not have a team attending the annual MXdN event, often referred to as "The Olympics of Motocross". Not until American Honda team managers Roger DeCoster and Dave Arnold were approached by Motocross Action Magazine editor Dick Miller, to send American Honda's team riders Danny LaPorte, Donnie Hansen, Chuck Sun and Johnny O'Mara. In previous attempts the US had never won the MXdN and popular opinion held that this squad"America wasn't sending their best." LaPorte, Hansen, Sun and O'Mara were dubbed "The B Team" but their shocking 1981 victory proved the naysayers wrong and established their version of "The Miracle on Ice."
CAREER NATIONAL NUMBERS
The American Motorcyclist Association has announced the professional competition numbers for pro-licensed riders competing in Monster Energy AMA Supercross, an FIM World Championship, and the Lucas Oil AMA Pro Motocross Championship for the 2017 season. 
All riders use the assigned professional number for competition. In addition, the current champion runs the No. 1 plate instead of an assigned professional number when competing in the class or region in which the No. 1 plate was earned. When competing in a class other than the class where the championship was earned, the rider must use the assigned professional number. The new career numbers for 2017 will be Cooper Webb (2), Aaron Plessinger (23) and Alex Martin (26). Here are the current career numbers.
1 – 250SX West – Cooper Webb
1 – 250SX East – Malcolm Stewart
14*      Cole Seely
16*      Zach Osborne
17**    Joey Savatgy
24        Austin Forkner
25*      Marvin Musquin
26**    Alex Martin
29*      Andrew Short
 41*      Trey Canard
 51*      Justin Barcia
 77*    Christophe Pourcel
800*    Mike Alessi
ARIZONA ENDUROCROSS
The AMA EnduroCross series will make a first time visit to the state of Arizona this weekend and Taylor Robert headlines a long list of locals ready to showcase their talent inside the WestWorld Arena. Robert, a two time EnduroCross main event winner, is coming off his first ever FIM Enduro World Champioship event win last week in France. Several of the top stars of EnduroCross call the Phoenix area home including Beta's Max Gerston, Cooper Abbott, Mason Ottersberg and Mitch Carvolth, who happens to be Robert's roommate.
And all of the above riders would tell you that Destry Abbott, Cooper's father and a multi-time AMA Hare & Hound champion, played a role in their racing success. Destry is hoping to be on hand for his first EnduroCross event of the season as he has been enduring his own battle with Leukemia over the past several months.
Due to his Enduro World Championship commitments for 2016, this will be Robert's first EnduroCross of the year. But he did win the last EnduroCross race he competed in at the 2015 season finale in Ontario, California. "I'm really looking forward to the Phoenix EnduroCross," Robert said. "We have a really big off-road scene in Arizona and a handful of guys that can qualify for a main event so it should be really exciting for the hometown crowd."
Robert and the Arizona locals will be looking to break up the stranglehold at the top between Husqvarna's Colton Haaker and KTM's Cody Webb. Haaker won the first two events of the year and Webb won the most recent round in Salt Lake City. Haaker currently holds a one point lead over Webb leading into Phoenix.
GNCC WARS
FMF/KTM Factory Racing's Kailub Russell heads into the fifth annual Rocky Mountain ATV/MC Mountaineer Run GNCC with command of the National Championship standings, but Rockstar Energy Husqvarna Factory Racing/Bel-Ray's Josh Strang still has his eyes set on the title as well. The battle is set to continue this weekend, September 24 and 25, at Marvin's Mountain Top in Masontown, West Virginia.
Russell and Strang are the only two riders with overall wins credited to them this season, but with the season coming to a close, the racing intensity is at an all-time high. Strang knows in order to stop the three-time defending champion that he will have to put in the work. After falling just short of the win at the last round, Strang has had two weeks to test and train. Both Russell and Strang have experienced what it is like to be on top, and they both want to feel that again. This weekend will add another chapter to the 13-round chase for the 2016 National Championship.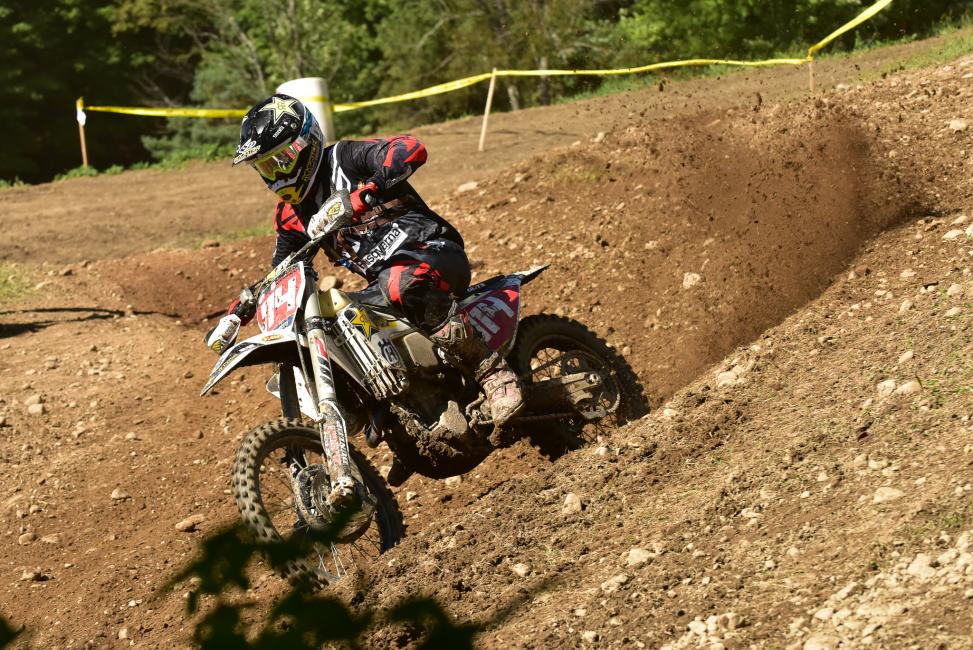 Josh Strang is eager to earn another overall win and gain valuable
points in the battle for the National Championship. 
Photo: Ken Hill
Heading into this weekend ranked fourth overall is Westfield Powersports KTM Presented by Moose Racing's Jordan Ashburn. The KTM-mounted rider faced difficulties in New York, but is eager to change that this weekend. After nearly a full year on his new bike under his belt, Ashburn has proven that he can be a frontrunner and will be fighting for the win this weekend.
Rocky Mountain ATV*MC/KR4 Arrive-N-Ride Team's Thad Duvall has experienced a season full of ups-and-downs, but one thing is for sure, Duvall always puts in a good ride at his hometown rounds. The West Virginia native comes into this round fresh off his third place finish in New York, and combined with his podium finish at the 2015 Mountaineer Run GNCC, Duvall will ultimately be a rider to keep an eye on as he contends for the top spot on the box.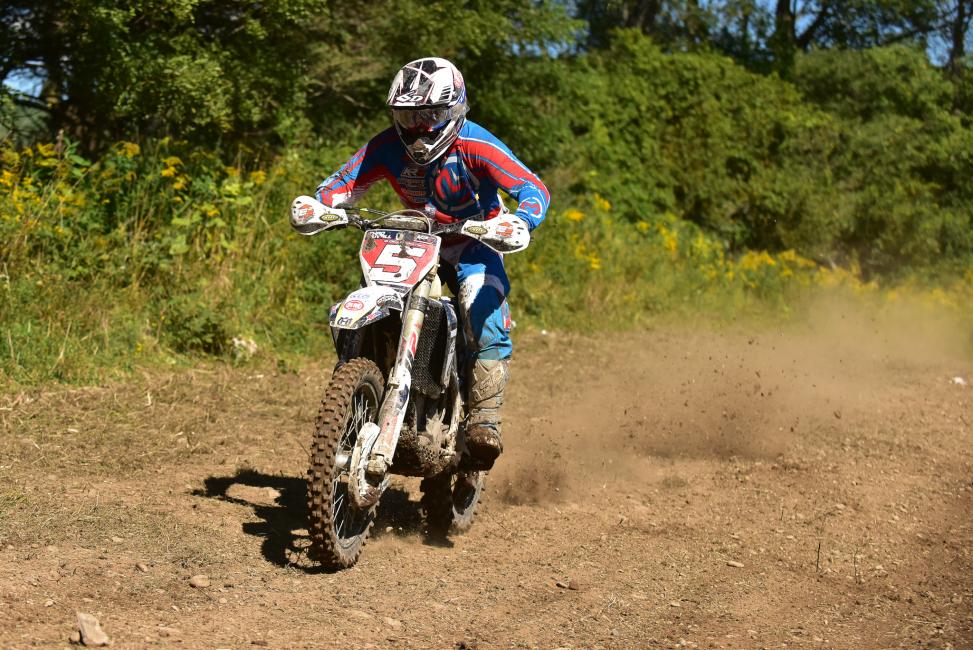 West Virginia native, Thad Duvall, finished on the podium in third at the last round, but is hoping to take away the top position in front of his family and friends this weekend. 
Photo: Ken Hill
Only one point separates N-Fab/AmPro Yamaha's Grant Baylor and SRT/KTM/Kenda Tires-backed Steward Baylor Jr. heading into this weekend's race. Steward Baylor just missed the podium at the previous round, and will be looking to capitalize on his success and not only land a spot on the podium, but also gain valuable points for the final season rankings. His brother, Grant, has the same goal in mind and will be charging for his third podium finish and first possible victory this weekend.
After missing four rounds due to an injury Coastal Racing/Rockstar/Husqvarna's Ryan Sipes placed a solid fifth overall at the last round and will be continuing his return to the top this weekend. JCR Honda/Lucas Oil/Maxxis/FLY Racing's Chris Bach is also recovering from an injury, but continues to be a fixture in the top positions. MCS Racing Suzuki/Obermeyer/Kenda/MX Tech/Fly Racing's Ricky Russell rounds out the top-ten as the 2016 GNCC series moves into the eleventh round.