NO ROADS REQUIRED EXHIBIT
The San Diego Automotive Museum unveiled their "No Roads Required" exhibit on September 22nd that features a diverse lineup of Kawasaki KX™ motorcycles over it's 50 year heritage in the USA. The exhibit features eight historical Kawasaki off road motorcycles on loan from Kawasaki's Heritage Hall Museum.
Family, friends and race fans will have the opportunity to get up, close and personal with motorcycles from Kawasaki's decades of racing success, including 2017 AMA Pro Motocross Champion, Eli Tomac's Monster Energy Kawasaki KX™450F.
The following Kawasaki motorcycles will be on display through January 2018 at the San Diego Automotive Museum.
1973 F11m 250cc Motocrosser
1978 KX™80 Pre-Production – Frame No.12
1995 KX™500 Baja 1000
2000 KX80 – James Stewart Team Green Championship bike
2000 KX™250 – Ricky Carmichael AMA Motocross National Championship race bike
2004 KX™125 – James Stewart AMA Motocross Championship race bike
2017 KX™450 – Eli Tomac AMA Pro Motocross Championship race bike
Ninja® H2™R Hybrid – Ricky Gadson Drag Race bike
The San Diego Automotive Museum is located at 2080 Pan American Plaza in San Diego and is open daily from 10:00 am until 5:00 pm.
For more information, please visit https://www.sdautomuseum.org
24 HOURS OF GLEN HELEN
Yesterday, we got together the with staff at Glen Helen and laid out the course for  next week's 24 hours of Glen Helen. The course will be around 10 miles long and I expect a 20-minute lap time for Pros. It will start on the motocross course, do about a half lap, then go on  the west ridge, which will have around two miles of single track. Then it will drop onto the pavement on the Glen Helen Regional park and actually run behind the stage of the San Manuel Amphitheater. From there it will be back on the east ridge, then it will do the REM course, the Lucas truck course and a few segments of the Stadium and EnduroCross courses. New rules for amateur teams allow each rider (up to six) to ride his own bike. It starts Saturday the 14th of October at 10:00
Colton Udall and the Ox team are the defending champions, and they will be back. Colton has been hurt for much of the year, but he reports that he's ready and will ride with Justin Jones, Mark Samuels and Eric Swan. There will be a second Ox pro team with Bryce Oxley, Ian Young and Ray Dal Saglio, and an Ox amateur team, yet to be named. It will be good!
WORCS YEAR ENDER
Next week, the 2017 WORCS season will come to its conclusion at Adelanto Stadium. This is a great venue and it will be the first time WORCS as been there. Right now, Gary Sutherlin has all but locked up the Pro championship, although Justin Seeds has a small chance of an upset. Afterward, there will be a Year End Awards Ceremony to congratulate racers in the top 3 of each class! There will be give-aways and raffle prizes to be won! Maxxis Tires, Autographed posters of Pro racers, shirts, gift certificates will be handed out.
Any WORCS racer, family and friends can attend. Tickets are $15 per adult and $12 for children 12 and under, each ticket will receive one raffle ticket. Tickets can be bought online through pre-entry at registration. *each person attending must have a ticket children 2 and under are free.
In order to be eligible for an end of the year trophy racers must be a WORCS Member, be in the TOP 3 OVERALL points standing, and MUST have completed 60% of the rounds.
All racers who have earned first place in their class will also receive a Class Championship Jacket.  these racers will be directed to the sizing table, parents of youth racer please be ready with your racer to pick the appropriate jacket size with them, samples will be available to try on.
ENDUROCROSS
FMF KTM's Cody Webb will come into round four of the series on a hot streak after taking the win at rounds two and three. Webb holds a small lead over Rockstar Husqvarna's Colton Haaker, who won the opening round but followed that up with a third in Reno and second in Denver. There is a talented field of riders fighting to knock Webb and Haaker off the top step of the podium that includes Trystan Hart, Kyle Redmond, Ty Tremaine, Noah Kepple, Geoff Aaron and Cooper Abbott.
These riders pound through some of the most difficult obstacles imaginable, which makes for an action-packed evening of entertainment. The Everett event often fills to capacity so get your tickets before it is too late.
EnduroCross includes a class for everyone with the Amateur, Vet, TrialsCross, Women's and Super EnduroCross (Pro) classes. And for 2017, there is an Amateur B Main, which allows more riders to make it into the night show. So if you want to give it a shot yourself, now is the time to sign up.
The Everett event will also include one of the Friday night Destry Abbott, DA8 training sessions on the track. The two-hour EnduroCross training session is very hands on with several of the top pro riders assisting Destry in providing instruction on how to tackle the obstacles. The session is open to all riders (even those not competing at the Everett event). For the $100 entry fee, you will learn how tackle the difficult obstacles found on tough trails and EnduroCross tracks.
CODY WEBB AT THE TKO
OILIBYA RALLY MOROCCO

The OilLibya Rally in Morocco has taken on more importance in recent years and now might be the second-most prestigious rally in the world. It began yesterday with a prologue, and defending Dakar champ Sam Sunderland was the top rider. For the first time in years, there are two Americans competing on the world stage: Ricky Brabec for HRC, who was ninth, and Andrew Short, for Husqvarna, who was 15th. Here's what they had to say.
Ricky Brabec: "It was a short stage. It was more or less just a prologue for the start positions for the real first stage. I didn't do so well in the prologue – the ground was very hard with a lot of stones. It was tough to ride fast. I started to go fast, blew a corner and ended up in the farm fields. I'm happy to have not tipped the bike over. Now we can get ready for the 900 kilometre date – stage one."
Andrew Short: "This event is like a big learning experience for me. The whole process is really exciting for me and I was very happy to get on with the racing bit today. The beginning of the stage had a lot of concrete on the side of the road and I was feeling maybe a bit over confident. After that it humbled me and I just decided to focus on my road book and enjoy the stage for what it was. Overall, it was nice to leave the bivouac and get a first feeling for how it all works with the speed zones and the waypoints. Everything is new for me so the whole process is fun. I know this event is going to be a big adventure for me and my main goal is to get as much experience as possible. I'm looking forward to the longer stages the next couple of days."
PROLOGUE RESULTS
Pos.
Rider
Num
Nation
Team
Time/Gap
1

SUNDERLAND 

Sam

GBR
KTM Factory Racing Team
08:53
2

WALKNER 

Matthias

AUT
KTM Factory Racing Team
+0'00
3

QUINTANILLA 

Pablo

CHI
Husqvarna Factory Rally Team
+0'17
4

VAN BEVEREN 

Adrien

FRA
Yamaha Motor Europe
+0'22
5

SANZ 

Laia

SPA
KTM Factory Racing Team
+0'26
6

BENAVIDES 

Kevin

ARG
Monster Energy Honda Team
+0'34
7

METGE 

Adrien

FRA
Sherco TVS Rally Factory
+0'39
8

RODRIGUES 

Joaquim

27
POR
Hero Motorsports Team Rally
+0'39
9

BRABEC 

Ricky

USA
Monster Energy Honda Team
+0'45
10

PEDRERO 

Joan

SPA
Sherco TVS Rally Factory
+0'52
11

PATRAO 

Mario

28
POR
JETMAR / KTM PORTUGAL
+0'53
12

SANTOLINO 

Lorenzo

SPA
Sherco TVS Rally Factory
+0'54
13

BOTTURI 

Alessandro

18
ITA
Yamalube Yamaha Official Rally Team
+0'55
14

GONCALVES 

Paulo

POR
Monster Energy Honda Team
+1'01
15

SHORT 

Andrew

USA
Husqvarna Factory Rally Team
+1'12
RED BUD GETS MXoN
This year's MXoN didnt go well for the U.S., but things are looking good for next year.
One of the most storied tracks in the history of the Lucas Oil Pro Motocross Championship, presented by AMA Pro Racing, will add to its legacy next year when RedBud MX becomes the first venue in the United States since 2010 to host the FIM Motocross of Nations. Event organizers, Youthstream, made the announcement at this past weekend's annual MXoN gathering from Matterley Basin in England.
As the halfway point of each season RedBud is the centerpiece of the Lucas Oil Pro Motocross Championship, and also serves as American motocross' perennial Independence Day celebration. It has been a part of the championship since 1974 and thanks to an incredibly dynamic track layout and a diehard fan base, it has become arguably the most popular and most anticipated round of the summer.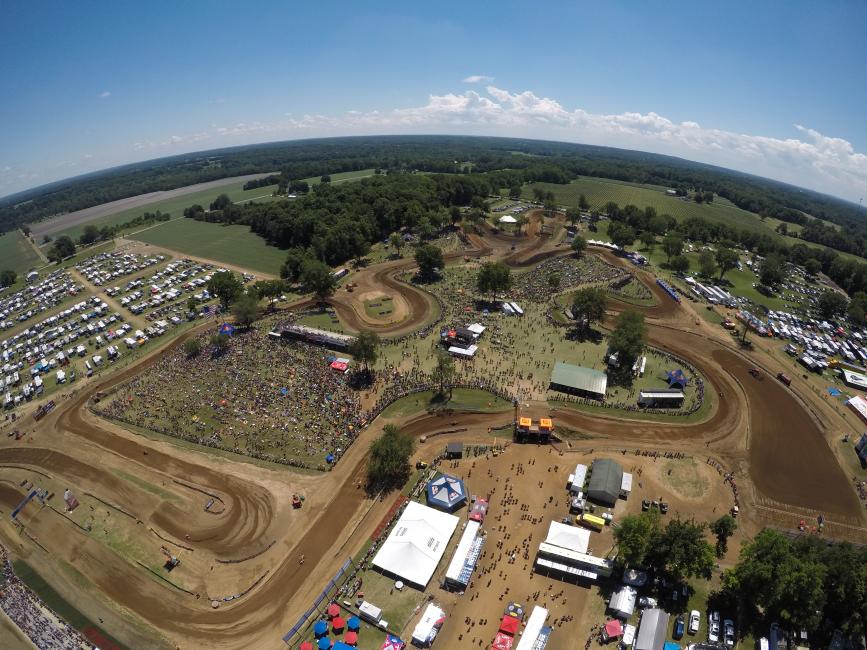 RedBud MX celebrates 45 years hosting an AMA Lucas Oil Pro Motocross National in 2018, and the first FIM Motocross of Nations in the U.S. since 2010.
Photo: Courtesy of MX Sports Pro Racing
Second generation RedBud track co-owner Amy Ritchie was on hand for the announcement, proud to add her family's track to a small but prestigious list of U.S. venues, all Pro Motocross tracks, that have hosted the MXoN, joining Unadilla MX, Budds Creek Motocross Park, and Thunder Valley Motocross Park. The announcement carried added sentimental significance as well, with late RedBud patriarch Gene Ritchie serving as inspiration for the decision.
"My dad's passion for the sport put RedBud on the U.S. motocross map. He was very proud to see my brother [Tim], my sister [Angie], and myself continue to grow RedBud's legacy. He dreamed of hosting the Motocross of Nations one day and would have been thrilled to see that dream come true," said Ritchie. "Bringing the biggest motocross event in the world to RedBud is the perfect way to honor everything our parents put into this facility. We couldn't be more excited to welcome the world to RedBud and showcase what has made this track a favorite for visitors and racers. And we can't wait for RedBud fans to meet their counterparts from countries around the world! It's going to be a fantastic event."
Since it began in 1947, the Motocross of Nations has visited the U.S. just three times in 71 years. Unadilla hosted the first MXoN in the states in 1987, but 20 years passed until it returned for a second time in 2007 at Budds Creek. Just a few years later it visited Thunder Valley for the 2010 race. The United States team has won each MXoN on U.S. soil and has won a record 22 times in total, but is in the midst of a six-year drought since its last triumph in 2011, now the longest gap between victories.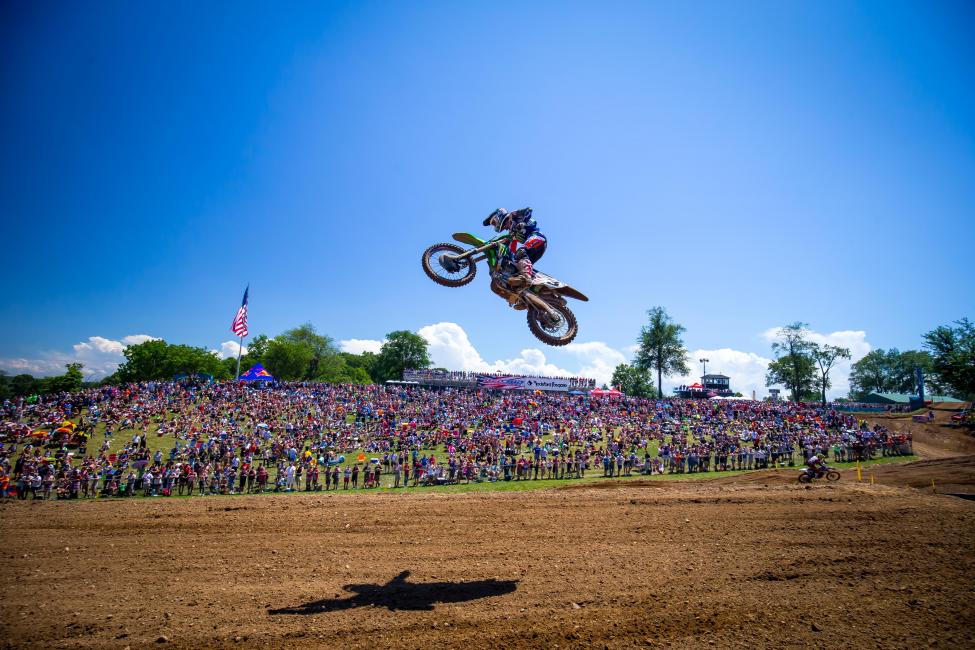 The RedBud MX fans are among the most passionate motocross fans in the U.S.
Photo: Rich Shepherd
"It's no secret that the United States has had a tough go of it at the MXoN the last several years. Coming off its most adversity filled event to date, I'm sure team manager Roger DeCoster and all American riders are looking forward to the opportunity to represent their country and race in front of the home crowd," said MX Sports Pro Racing President Davey Coombs. "In many ways RedBud epitomizes what American motocross represents, and is a bucket list destination for any fan. Next year's MXoN is destined to be a truly memorable and highly competitive event."
The 2018 FIM Motocross of Nations will take place next fall, with the event dates to be announced in the coming weeks. Additionally, the 2018 RedBud National will once again take place on the heels of Independence Day. The 2018 Lucas Oil Pro Motocross Championship schedule will be announced next week.
SHERCO SIX-DAYS BIKES AVAILABLE
125 SDE
Technical details:
COMPACT, POWERFUL ENGINE
OPTIMIZED ENGINE COOLING SYSTEM
ROTARY VALVES (HIGH-PERFORMANCE, SOLID, RELIABLE)
2 POWER CURVES (3 HP DIFFERENCE)
MONOBLOCK CYLINDER HEAD/TWO-RING PISTON
OPTIMIZED CRANKSHAFT (INERTIA DESIGNED FOR ENDURO)
VFORCE 4R REED VALVE BLOCK
POWERFUL 220 W STARTER
SPECIFIC 125 GEOMETRY (15 MM SHORTER – 0.9 DEGREES)
ULTRA-STRONG IN-MOLD GRAPHICS KIT (20% MORE FLEXIBLE PLASTICS)
SILENCER WITH CARBON END CAP
BLUE EXCEL RIMS
Improvements:
WP XPLOR FORK WITH SPRING PRELOAD ADJUSTMENT
SELLE DALLA VALLE "ASFALTE" GRIP SEAT COVER
SOLID REAR DISC
BLACK ANODIZED REAR SPROCKET
NEW HANDLEBAR SHAPE (MORE RACING-ORIENTED)


250 / 300 SE-SD
2-Stroke at the cutting edge of technology
Technical details:
TORQUE LIMITER / STARTER SYSTEM
SHIFT DRUM (SMOOTHER GEAR SHIFTS)
MODIFIED PRIMARY TRANSMISSION / TOOTH PROFILES (IMPROVED PERFORMANCE)
NEW WP 46 SHOCK ABSORBER (UPGRADED SHOCK ABSORPTION)
ULTRA-STRONG IN-MOLD GRAPHICS KIT (20% MORE FLEXIBLE PLASTICS)
Improvements:
SELLE DALLA VALLE "ASFALTE" GRIP SEAT COVER
WP XPLOR FORK WITH SPRING PRELOAD ADJUSTMENT
FMF RACING SILENCER
SOLID REAR DISC
NEW HANDLEBAR SHAPE (MORE COMPETITION-ORIENTED)
BLACK ANODIZED REAR SPROCKET
BLUE EXCEL RIMS
250 / 300 / 450 SEF-SD
Powerful, versatile, responsive
Technical details:
SHIFT DRUM (SMOOTHER GEAR SHIFTS)
INJECTION MAPPING (OPTIMIZED PERFORMANCE)
CRANKSHAFT WITH VIPER-PROFILE CONNECTING ROD (DURABILITY-PERFORMANCE)
250/300 CC MODELS
OPTIMIZED PISTON (LONGER LIFESPAN AND GREATER COMPRESSION) ON 300 CC MODEL
MODIFIED OIL CIRCULATION SYSTEM (TEMPERATURE CONTROL – BETTER PERFORMANCE) ON 450 CC MODEL
IMPROVED FUEL PUMP
NEW WP 46 SHOCK ABSORBER (UPGRADED SHOCK ABSORPTION) ON 250/300 CC MODELS
ULTRA-STRONG IN-MOLD GRAPHICS KIT (20% MORE FLEXIBLE PLASTICS)
Improvements:
GRIP SEAT COVER
WP XPLOR FORK WITH SPRING PRELOAD ADJUSTMENT
SOLID REAR DISC
NEW HANDLEBAR SHAPE (MORE COMPETITION-ORIENTED)
BLACK ANODIZED REAR SPROCKET
FULL AKRAPOVIC
"FACTORY"
EXHAUST SYSTEM
BLUE EXCEL RIMS
See you next time,
—Ron Lawson