INSIDE THE CHRISTINI SHOP
We got to see photos of the Christini AWD Dual-Sport bike last week. Now Steve Christini has shown us something else from inside his shop. This is a Timbersled version of the bike, called the II Track. They hope to bring to production and debut in time for the Winter X Games next month. We know guys in Idaho who will eat this up!
450s ON THE DYNO
The 2017 Dirt Bike 450 shootout is wrapped up. The last thing on the agenda for most of our shootouts is to put the bikes on the dyno. FMF has been kind enough to assist us with the testing of all six bikes. They were tested on the same day, under the same conditions for the sake of accuracy. There were no surprises, aside perhaps from the fact that the four most powerful are grouped much more tightly than we imagined. The Kawasaki's great low-end power is showcased. The peak power numbers are:
Honda: 56.83 @ 9800
Husqvarna: 58.19 @ 9300
Kawasaki: 56.31 @ 9000
KTM: 58.27 @ 9200
Suzuki: 54.05 @ 8500
Yamaha: 56.9 @ 9800
It's interesting that the Yamaha holds its peak longer than any of the others. It's making over 55 horsepower for more than 2000 rpm.
CODY WEBB ON ENDUROCROSS
CASELLI FOUNDATION RIDE DAY
The 4th Annual Kurt Caselli Memorial Ride Day presented by Rocky Mountain ATV/MC Saturday, December 10th, 2016 9;00AM
Join the Kurt Caselli Foundation for a great time with family and friends. Festivities include:
Glen Helen National Track
The Caselli Team Challenge
Off-Road Loop With Timed Special Test
Kids Only Practice On The Main Track
Pee-Wee Track
Great Raffle Prizes & Give Away's
Live Auction
THE REAL TOUGHEST RACE IN THE WORLD
Here's something great we got from Swedish Husky historian Kenneth Olausson:
Usually, it is cold, damp and wet. But snow and ice aren't uncommon. The 24-hour enduro race named Novemberkåsan is more grueling than any 6-Days. Here's what 'the Trophy of November' is all about…
Suddenly, a flickering light comes dancing through the black forest. Then a bike comes to a halt, the light beam pointing up in the air as the bike has stalled in a water trap. There's silence. With steaming motorcycle beneath him, a swearing rider announces he will never be back. Yet in his heart he knows that this is his life ambition. A few minutes later the rider restarts his bike, bringing the engine roaring back to life. He continues the race. He continues the Novemberkåsan story…

Novemberkåsan is the oldest and most well known race in Sweden. No other brand can claim as many victories as Husqvarna. The enduro to end all enduros began back in 1915 – just over one hundred years ago, when Swede Gunnar Enderlein won on his Royal Enfield.
One of the more remarkable races was held back in 1925 when Edvin Sagström was the sole competitor to reach the finish line. However he was so late – more than a whole day late – that the organisers cancelled the race and Sagström was not counted as the overall winner. The words uttered when he found out can, understandably, not be printed here…
As the name implies this macho male graduation test is held yearly in November when Sweden can be wet or icy, or both. Besides being a good rider, successful Novemberkåsan competitors have to be in great physical condition, have a perfect mental state and also be able to service their machine as a knowledgeable mechanic.
The first stage during the day is very tough – but it is during the night stage when riders get tired, thirsty, hungry and exhausted. It's at night that the true adventure begins. It helps eating a lot of carrots for better night vision. "Like a rabbit," Rolf Tibblin, the five time Husqvarna Novemberkåsan winner used to say.
"You also have to be strong enough to carry your bike through the worst water holes," told Tibblin, remembering his winning days for Husqvarna. "Patience is also needed since the engine is often full of water. Mentally, you have to think that things are surely worse for the other competitors in the race! If my bike sank to the motor, the others may have to save it from the height of the petrol tank…"
So, what's this super tough event all about? The enduro must exceed 400 kilometers (250 miles), which is covered once during the day and twice during the night! Generally, there are 10 to 12 special test stages on each lap, whereas the rest is considered to be 'transport roads' where the normal speed limits cannot be broken. In 1965 the temperatures during the night were below -25 degrees. And in this grueling weather Husqvarna showed their superior quality, dominating the race entirely.
Bike preparation is of essential importance. More often than not the tyres are studded with 400 – 500 spikes and water protection – to keep it out – is also cared for with extra love. Team mechanics follow their riders and can assist during intervals at service points. Throughout the years there has been no prize money paid out to the winners of any category or class.
So why bother? Well, this is among the truest art of motorcycling, where only the real fanatics compete. Winning Novemberkåsan is a real moral victory and considered to be a fantastic accomplishment. "To beat all competitors – around one-hundred nowadays – is a real treat", says one of the more successful modern riders.
These fantastic men on their flying machines… and mostly on Husqvarnas since the start in 1915. That's what we call brand heritage!
GNCC AWARDS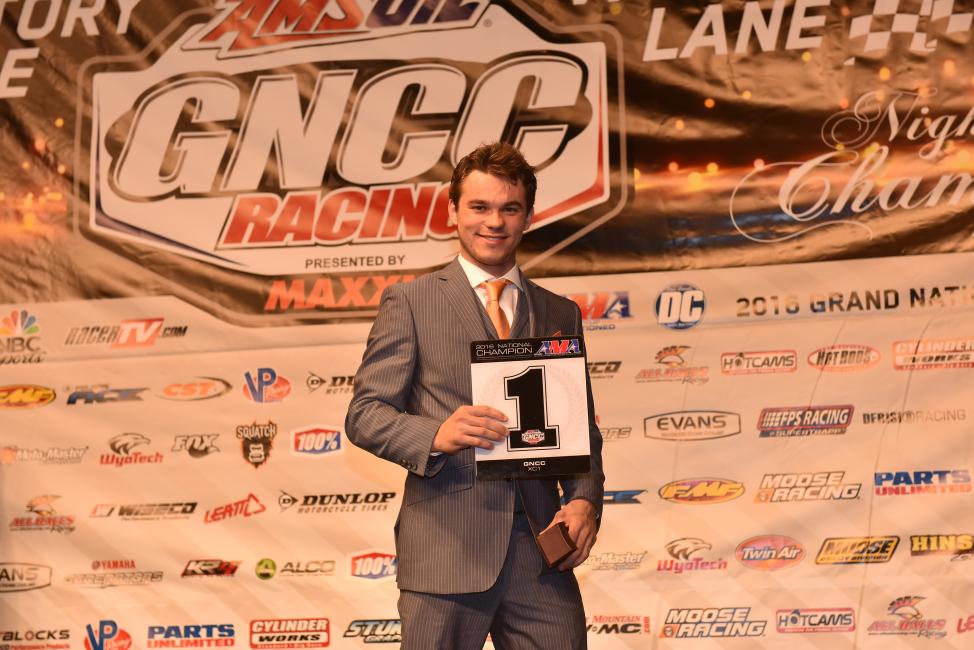 With all 13 race rounds complete on the 2016 circuit, the GNCC Banquet took place this past weekend, November 25 and 26, with the ultimate celebration to cap off the season. More than 1350 racers, family members and fans from all over the country came together in Morgantown, West Virginia to celebrate the prestigious accomplishments of the top 10 racers in each championship class.
Each evening kicked off at 5:30 p.m. with dinner and opening ceremonies. Each championship class was honored on stage, in addition to a handful of specialty awards and recognition of series sponsors and supporters. The best ATV racers were honored in front of over 700 people on Friday evening, while nearly 650 more attended Saturday evening's ceremony to honor the top motorcycle racers in the series. For a full list of 2016 GNCC champions please click HERE.
2016 Specialty Award Winners
ATV Winners
Bike Winners
Rider of the Year – Walker Fowler
Rider of the Year – Kailub Russell
4×4 Rider of the Year – Kevin Cunningham
Amateur Rider of the Year – Zach Nolan
Amateur Rider of the Year – Devon Feehan
Most Improved Rider – Josh Toth
Youth Rider of the Year – Mikey Nickels
Youth Rider of the Year – Hunter Riemer
Most Improved Rider – Greg Covert
Bad Ass Award – Becca Sheets
Bad Ass Award – Angel Knox
Rough & Ready Pit Crew – Tely Energy
Rough & Ready Pit Crew – Team Nappo
Award of Media Excellence – Matt Watson
Sport Ambassador – Vickie Fowler
Bike Manufacturers Cup – KTM North America
Award of Media Excellence – Johnny Gallagher
State Championship – Ohio
Manufacturers Cup – Yamaha Motor Corp.
Sponsor of the Year – FMF Racing
State Championship – Pennsylvania
Lifetime Achievement –  Charlie Mullins
Sponsor of the Year – Rocky Mountain ATV/MC
In Memoriam – Darrell Raines, Katherine Whibley, Earl Bennett Sr., Ty Kesten, Amy Yukevich, Cliff Ousley, Joy Shaver
In Memoriam – Tom Wright, Dusty Miller
The 2016 ATV sponsor of the year, Rocky Mountain ATV/MC, returned with their Ticket to Ride program. Four lucky winners received a paid trip-for-two to Moab, Utah for a riding excursion with the Rocky Mountain ATV/MC staff to take place this upcoming spring. Congratulations to Friday night's winner's Junior B (22+) rider Ryan Beauvais from Chepachet, Rhode Island, and Vet A (28+) champion Dustin Hendershot from Washington, West Virginia, who will be provided with Side-by-Side machines on the trip. Motorcycles will be provided for Saturday night's winners, WXC competitor Brooke Cosner from McHenry, Maryland and 250 A rider Andrew Boggs from Masontown, West Virginia.
Several thousand dollars' worth of contingency awards were distributed to the top 5 finishers in each class and additional door prizes were raffled off to racers throughout the evening. GNCC series sponsors stepped up to distribute the biggest contingency prizes in history, thanks to AMSOIL, Maxxis, Rocky Mountain ATV/MC, Parts Unlimited, FMF Racing, Polaris Ace, CST Tires, VP Racing Fuels, Dunlop, Leatt, Wiseco, All Balls Racing, Stuk MX, Mid-State Chevy, Hot Cams, Hot Rods, Cylinder Works, Tire Blocks, Factory Connection, Cometic, Hinson Clutches, Twin Air, Moto Master Brake System, Fox, Moto Tees, 100% Goggles, Evans Coolant, WyoTech, Alco Cleaners and FPS Racing.
Kailub Russell was on-hand at the banquet Saturday to accept his fourth-straight #1 plate.
Photo: Ken Hill
Immediately following the awards portion of the ceremony, musical entertainment was provided by DJ ELO, as GNCC Racers and their families continued the celebration on the dance floor. GNCC also provided a free photo booth from 5:30 p.m. – Midnight to capture the evening's festivities and video game stations were on site all evening to provide additional entertainment for the kids.
For those racers unable to attend the GNCC Banquet, awards can be obtained by filling out the GNCC shipping form HERE. Racers will be responsible for the cost of shipping and handling prior to shipping the award, and request can be made until December 31.
For the first time ever the 2017 AMSOIL Grand National Cross Country Series will kick off with the Big Buck GNCC in Union, South Carolina the weekend of March 4 and 5. For more information on the GNCC series, visit the official website at www.gnccracing.com or call (304) 284-0084. Also follow the official GNCC social media accounts on Facebook, Twitter and Instagram for exclusive content and to catch the latest news.
See you next time,
–Ron Lawson