BETA 125RR TWO-STROKE FIRST RIDE
Two-strokes continue to get more and more attention from European manufacturers. The newest one is a Beta 125cc off-road bike, which finally arrived in the U.S. last week. We got a hold of it as soon as we could. The 125RR has an all-motor motor using traditional designs and concepts. It has a carburetor and a mechanical powervalve. It's also a case reed design with a six-speed gearbox. The engineers designed the bike to accept an electric starter, although that feature won't be offered any time soon because it will push the price too high..
Beta markets the bike as an off-road machine, but it's competitive with 125 MX bikes. The headlight and electronic odometer can be removed very quickly an replaced with a factory-supplied front number plate. The bike comes with a horn, a kickstand a skid plate and other off-road tweaks. The Sachs suspension is very off-road oriented, or at least set up for a very MX light rider. There is a map switch on the handlebar that lets you choose between an agressive power delivery (marked by a little picture of a sun) and a mild one (designated by a rain icon). The mild power isn't of too much use, though. It takes away substantial power in the middle and actually makes the bike hit harder.  In aggressive power mode, it runs a little stronger than a YZ125.
We just started riding the Beta 125RR, and it will appear in the June, 2018 print issue of Dirt Bike.
WEIRD SUPERENDURO NIGHT
Even Cody Webb isn't perfect. He was almost perfect last week, winning the first two main events of SuperEnduro, round four. Then the wheels came off. In the third main he crashed a number of times, taking out a course worker in the last mishap. Taddy Blazusiak had the best score, and Webb salvaged third as well as the points lead. He has a 17 point lead of Blazusiak going into the final race in Sweden at the end of the month, which can pay as much as 63 points to the top rider. Reigning number one Colton Haaker  sits in fifth, 56 point behind Webb.
If it looks like Cody is unconcerned with the track worker, that's not the case. From Instagram:
GNCC THIS WEEK
After a close battle at the opening round just two weeks ago, the 2018 AMSOIL Grand National Cross Country (GNCC) Series, an AMA National Championship, continues this weekend, March 10 and 11, in Palatka, Florida. The Moose Racing Wild Boar GNCC will play host to the second race of the 13-round series.
Each year the Wild Boar GNCC is held in conjunction with Daytona Beach's "Bike Week" festivities, which contributes to a unique and large crowd. Industry personnel, long-time series followers and local race enthusiasts will all gather this Sunday to watch the GNCC series continue. At the season opening round, defending series champion FMF/KTM Factory Racing's Kailub Russell would claim the race win. Interestingly enough, this marked just the second time in the five-time champion's career that he has been able to claim the win at the season opener.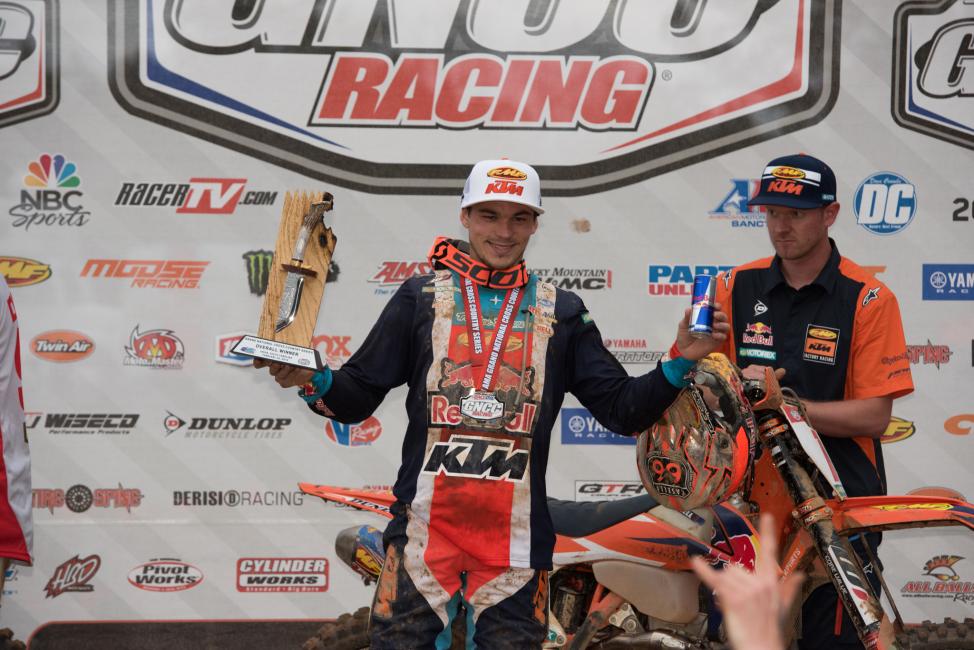 Kailub Russell earned the season opener win in South Carolina.
– Ken Hill
The race win did not come easy for Russell, as last year's championship runner-up, Rockstar Energy Factory Husqvarna Racing's Thad Duvall, would make it a race-long battle with Russell. Duvall showed that his 2017 race season was no fluke, as he would challenge for the race win down to the wire, finishing in second place just a little over one-second behind Russell. With two-weeks to prepare for the rough and rugged Florida terrain, Duvall will be looking to rebound and challenge for the race win once again.
Tely Energy Racing/KTM's Steward Baylor would also start the 2018 season on a high note with a third place finish in the opening round. Baylor is no stranger to the Florida terrain and considers himself to be a strong rider in sandy conditions. With a history of strong finishes in Florida GNCC rounds throughout his career, there is no doubt that Baylor could be in contention for the race win.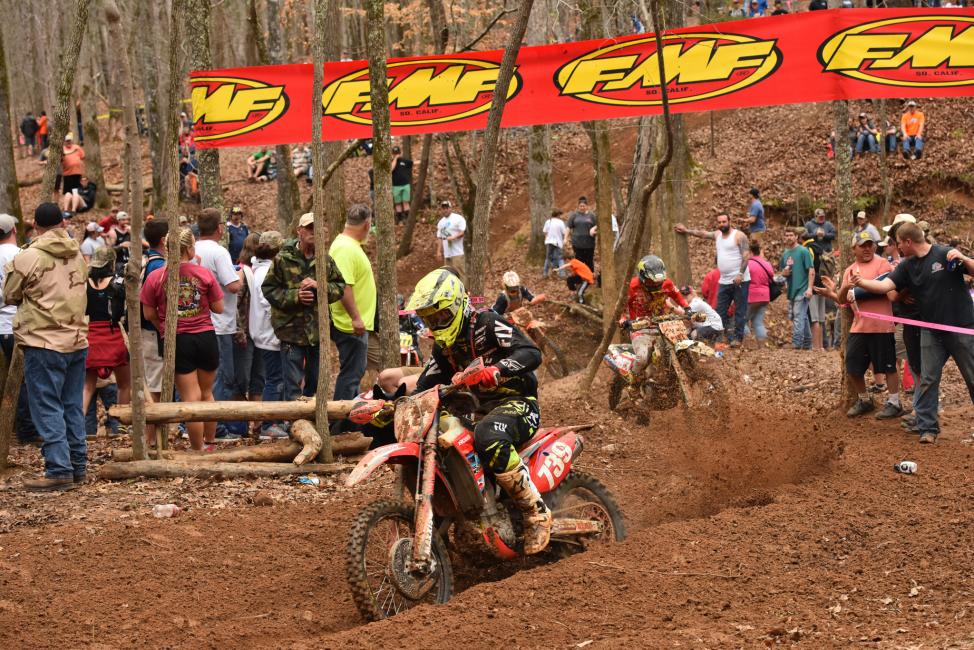 Trevor Bollinger had a good race at round one, and is looking to earn a podium finish this weekend.
– Ken Hill
JCR Honda-backed rider, Trevor Bollinger would run in podium contention for much of the opening round. The 2016 XC2 250 Pro class champion enters his sophomore season in the XC1 Open Pro class in 2018 and is looking for strong finishes. Bollinger is obviously hungry for his first-ever overall win, but will also be looking to build up to that win by claiming his first-ever XC1 Open Pro class podium. If his speed at the opening round is an indication of his potential in the 2018 season, then Bollinger is likely to find himself in contention for race wins soon.
2010 GNCC National Champion and Rockstar Energy/Factory Husqvarna Racing's Josh Strang, had an up and down 2017 season as he fought through an injury and other issues that kept him from performing at his full potential. He would begin the 2018 season strong by claiming the XC1 Open Pro class holeshot at round one and run in podium contention for much of the race. Strang would hold on to finish a solid fifth place in the opening round and will be looking to return to his old form soon.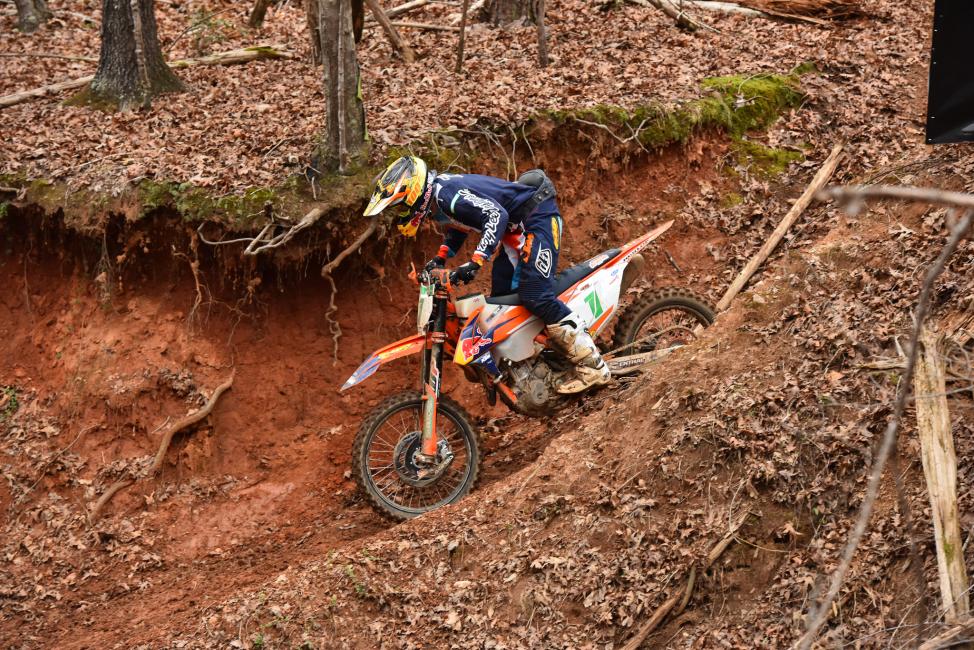 Josh Toth took the win at the Big Buck GNCC and is hoping to earn his second straight XC2 250 Pro Championship this year. 
– Ken Hill
Last season's XC2 250 Pro class champion, FMF/KTM Factory Racing's Josh Toth, would have an excellent opening round claiming the XC2 250 Pro class win and finish an impressive sixth place overall. As we enter round two, Toth will be looking to begin a win streak as he searches for his second XC2 250 Pro class championship. Also strong in the XC2 250 Pro class at the opening round was Trail Jesters KTM Racing's Ben Kelley who took second place in class and seventh overall.
KR4/Husqvarna's Layne Michael would make his XC1 Open Pro class debut at the season opening round and it proved to be quite successful, as he would finish sixth place in the XC1 class and eighth place overall. XC2 250 Pro class racers Coastal Racing/Husqvarna's Pascal Rauchenecker and M&E Honda/FLY Racing/Maxxis' Austin Lee would round out the top ten overall, and also finish third and fourth place in the XC2 250 Pro class, respectively. Both of these riders will be back and looking to gun for the XC2 class podium at the Wild Boar.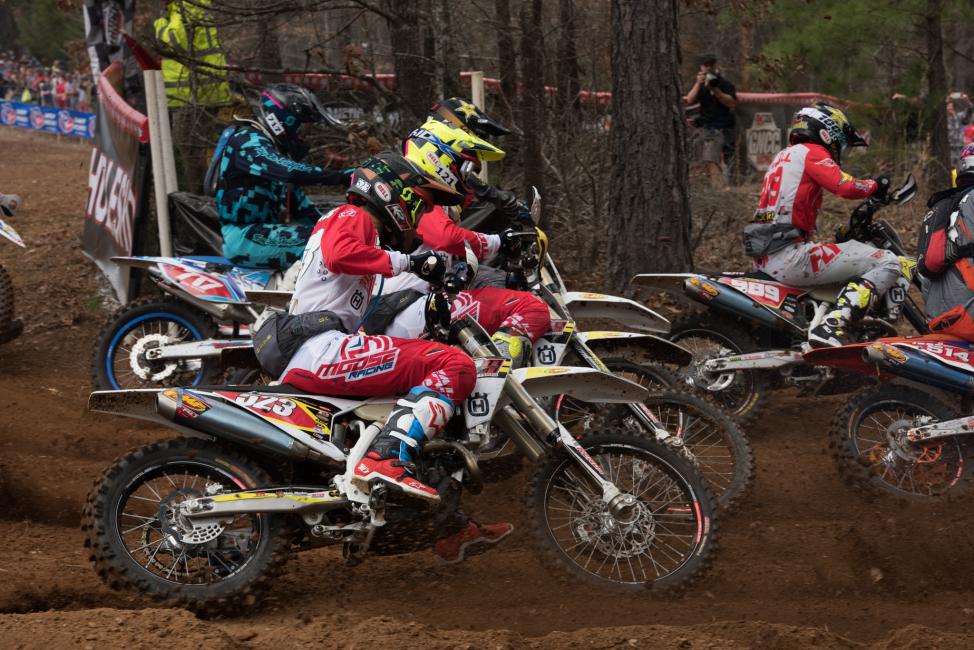 Layne Michael made his XC1 Open Pro debut at round one, and finished sixth in the class.
– Ken Hill
Sunday's race schedule is as follows: Youth Bike racing begins at 8 a.m., followed by amateurs and women at 10 a.m. and pros and top amateurs at 1 p.m.
The amateur race entry fee is only $50, and youth race entry fee is only $30. To learn more about GNCC Racing, refer to the GNCC 101 webpage.
Spectator passes run $20 for adults and $10 for children (6-11), and kids 5 and under are free for the full weekend (Saturday through Sunday), with pro pit access and pro autographs at no additional charge.
To get to the track from Highway 17 South, take Route 19 South to Route 310 West. Continue driving past the Rodman Plantation sign. Turn right approximately two miles at the Hog Waller sign.
The 1 p.m. pro races will be broadcast LIVE on the Internet via Racer TV on www.racertv.com both days. A highlight show featuring the event will air on NBC Sports Network on Saturday, April 21 at 5:30 p.m.
All local racers are invited to compete at the Wild Boar GNCC, as GNCC Racing offers classes for riders of all skill and experience levels. The amateur race entry fee $50 when riders sign up at the track. To learn more about GNCC Racing please visit the GNCC101 webpage.
MOTORCYCLE COACHES MEET
On Friday, February 9th, 2018, the United States Motorcycle Coaching Association, also known as the USMCA, met with over 100 motorcycle coaches and industry professionals in Southern California at the Temecula Creek Inn to discuss motorcycle coaching and how we as a community can grow the sport of motorcycling. USMCA Founder Jeff Emig welcomed attendees with an introduction to the team and his co-founders Jon-Erik Burleson and Mark Blackwell. 
USMCA Founder & Chairman Jon-Erik Burleson kicked off the Summit with the official messaging of our vision, purpose, mission and manifesto developed by the association over the last few months as well as how the USMCA will benefit motorcycle coaches. Jeff Emig and USMCA President & Founder Mark Blackwell teamed up and presented attendees with the current state of the USMCA and an affordable request to insurance for motorcycle coaches. 
Insurance
Together with K&K Insurance, USMCA now offers USMCA Certified Coaches with insurance for both road and dirt, closed-course sessions. Purchased individually,sport bike insurance will cost a USMCA Certified Coach around $197 per year and dirt bike insurance will cost a USMCA Certified Coach around $392 per year. Coaches will join on the USMCA's K&K insurance policy which is effective starting February 1, 2018 and will need to be renewed after policy comes to a year-end completion on January 31, 2019. 
Barrier Of Entry
We learned from motorcycle coaches, track owners, road racing, off-road and motocross riders on the subject of coaching and how we can lower the barrier of entry to new motorcycle riders and help advance the curriculum for Level 100 coaches and their riders. In a recent survey, the results revealed that 72% of the surveyed were first time attendees at a USMCA event and with that the USMCA gained valuable knowledge from the new stakeholders.
Road Racing
Current and former Professional road racing, Supercross, motocross and off-road riders spoke to the large group about what being a USMCA Certified Coach is, why it is important and what is involved as we build on Level 100. The road racing session started off with Chris Ulrich's colleague of racers including Jake Zemke, Josh Hayesand Jason Pridmore. The discussion involved converting riders from top level track days to novice club racing, introduction to mini bike dirt track training, transforming parents who are uncomfortable with their kids racing motorcycles to supportive motorcycle parents and other various cross-discipline topics.
Off-Road
Former factory off-road racer and multi-time Champion Destry Abbott brought the attendees into the off-road session with an introduction to the off-the-pavement, off-the-track discipline. Destry discussed off-road riding and racing, how it differs and how we can make it safer through off-road drills and skills, trail etiquette and preparation on the bike and rider whether trail riding or entering their first off-road race. Off-road riding is one of the most widely participated areas in the sport of motorcycling with nearly 1000 places to ride off-road in the United States, it is important that riders be coached properly on the use of our sport at a recreational level as well. 
Track Safety/Racing Standard
Recently retired Professional Supercross/Motocross racer and Racing Standard founder/owner Trey Canard led the attendees into track safety and how the sport can develop standards to address situations about track development, design & safety, track hot spots, communicating a rider's concerns and the world of coaching. 
In each session, the Q&A element prompted many important questions and concerns that have and will help the USMCA structure Level 200 content in the future as we build on the foundational Level 100. 
Partners
We would like to give a huge thank you to our Premier Corporate sponsor Wells Fargo Commercial Distribution Finance for the support and foundation that Wells Fargo CDF has provided the motorcycle industry and community of motorcycle coaches with. During our session on Protect & Grow your business, we introduced "Wells Fargo Works For Small Business" from our Premier Corporate Partner, and handed out out a reference sheet. We discussed holding quarterly webinars or other opportunities for USMCA Certified Coaches to gain ideas and help to grow their small businesses. 
Our Founding Partner Sponsor Husqvarna Motorcycles North America continues to provide continued support in our mission to grow the sport of motorcycling. Thank you to all of our supporting sponsors who believe in our mission to bring 250,000 new and returning riders to the sport of motorcycling.
ROCKSTAR ENERGY HUSQVARNA FACTORY RACING REPLICA COLLECTION
Husqvarna Motorcycles is pleased to announce the release of the new ROCKSTAR ENERGY HUSQVARNA FACTORY RACING COLLECTION – a line-up of premium, team and lifestyle clothing designed to celebrate the success of the Rockstar Energy Husqvarna Factory Racing team.
Items featured in this new collection are the official clothing worn by Rockstar Energy Husqvarna Factory Racing team riders in all racing disciplines around the world. Alongside its distinctive style, the collection is also designed according to Husqvarna Motorcycles' highest standards for premium quality, functionality and comfort.
REPLICA TEAM SHIRT
⦁ Sports style
⦁ Large logo print
⦁ 97% cotton / 3% elastane
REPLICA TEAM JACKET
Wind resistant & Waterproof
⦁ High, stand-up collar
⦁ Warm lining
⦁ Hidden side pockets
⦁ Large logo print
⦁ 92% polyester / 8% elastane
REPLICA TEAM HOODIE
⦁ Two different styles for Men & Women
⦁ Sports style
⦁ Drawstring in the hood
⦁ Large logo print
⦁ 100% cotton
REPLICA TEAM WINDBREAKER
⦁ Water-repellent
⦁ Wind-resistant
⦁ Foldable & storable inside bag
⦁ Large logo print
⦁ 100% polyester
You can view the studio photos of the entire line-up by clicking HERE
See you next week,
–Ron Lawson