KTM 125SX
This week we've been testing the 2018 KTM 125SX as part of our 125 MX shootout. We were stunned to realize we have never tested this bike in the pages of Dirt Bike–at least not since its redesign in 2016. The 125SX has undergone just as much annual change and evolution as any bike in the line-up, and in 2016, it was revised in virtually every way. The motor was reengineered and scaled down, the chassis was redesigned and the overall weight dropped to an astounding 195 pounds. Even though the motor uses the same basic case-reed, mechanical powervalve design as it has for years, the performance standard in the 125 class took a serious change for the better. This bike is also the basis for the Husqvarna TC125, but there are several differences, such as the subframe, the airbox, the clutch master cylinder, the bars and the bodywork.
Riding a bike that weighs under 200 pounds is a blast. It makes you believe you're a better rider. The brakes are strong, the clutch pull is light and the suspension is decent. The power is impressive, too. We have ridden a lot of near-40-horsepower 125s over the years, but none were this easy to ride and keep on the bubble.
GNCC RACING FIRES UP
The AMSOIL Grand National Cross Country (GNCC) Series an AMA National Championship, kicks off the 2018 season in South Carolina at the Big Buck Farm for the 22nd Annual VP Racing Fuels Big Buck GNCC. The world's fastest off-road racers will take to the woods surrounded by thousands of spectators all excited to observe the battle for the first overall win of the 44th annual GNCC Racing season.
FMF/KTM Factory Racing's Kailub Russell comes into round one looking to pick up where he left off last season. K. Russell earned his 47th career win at the season finale in 2017, surpassing Scott Summers on the all-time career overall bike wins list. K. Russell will not only have his eyes set on taking the early points lead, but also earning another championship to take over second on the GNCC Bike National Championships list.
Kailub Russell earned his 47th career win at the season finale in 2017, surpassing Scott Summers on the all-time career overall bike wins list.
– Simon Cudby
Coming into 2018, Rockstar Energy/Factory Husqvarna Racing's Thad Duvall is eager to put his Husqvarna FX 350 on the top step of the podium this weekend in South Carolina. After finishing in the runner-up position last season, Duvall is hungry to start the season with the points lead. Duvall's teammate, Josh Strang, will also be a rider to keep an eye on at the Big Buck GNCC. Strang's experience and off-season preparations will prove that he will continue to be a front-runner.
AmPro Yamaha's Ricky Russell had a standout year in 2017; where he earned his first win at the AMSOIL Snowshoe GNCC. R. Russell finished out last season in the number three position, and is looking to land in the center of the podium at round one this Sunday, February 25.
South Carolina natives and brothers, Steward and Grant Baylor are coming into 2018 as teammates with Tely Energy Racing/KTM. Steward opened the 2017 season with the win at Big Buck, and looks to repeat with another strong start. Grant Baylor who has been dealing with a shoulder injury, has race win experience as a two-time XC2 champion and earned the overall win at the 2017 John Penton GNCC.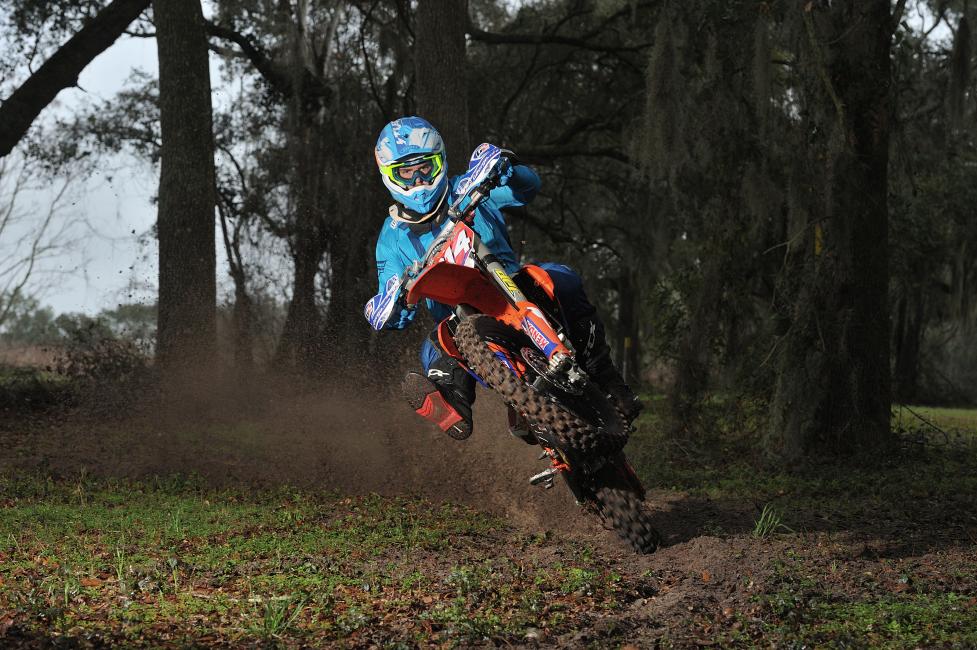 Grant Baylor is part of a new team this year, he'll be on the Tely Energy Racing/KTM team. – Ken Hill
JCR Honda-backed Trevor Bollinger is fresh off his first season in the XC1 Pro class. Bollinger has proven he can compete at the front of the pack and contend for an overall win on familiar terrain. Coming into 2018, Layne Michael will be aboard the KR4/Husqvarna team alongside Cory Buttrick. Michael is coming into the season as an XC1 rookie after finishing third in the XC2 250 Pro class. Buttrick, who took a break from GNCC Racing in 2017, is back and ready to compete.
Sunday's race schedule is as follows: Youth Bike racing begins at 8 a.m., followed by amateurs and women at 10 a.m. and pros and top amateurs at 1 p.m.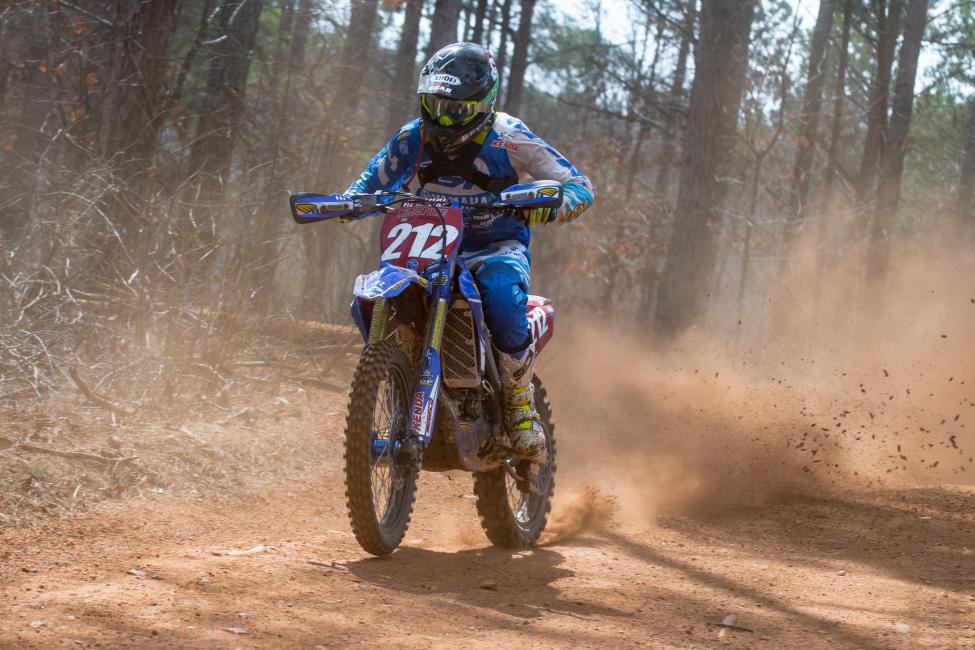 Ricky Russell is looking to earn the first overall win of 2018. – Ken Hill
Adult (12+) gate admission is $20 for the full weekend and $10 for kids (6-11), with kids five and under free. Gate admission includes pro pit access and pro autographs at no additional charge. Local racers expected to compete this Sunday will be Hayden Abbott (Open C Junior 25+), Coleman Brinson (Sportsman B), John Campbell (250 A), Brewer Cawley (250 A), Chase Hayes (250 A), Zack Hayes (XC2 250 Pro), Grant and Steward Baylor (XC1 Open Pro) Hector Snethen (Super Senior B 45+) and Devin Pomianowski (Open B).
The event is co-sanctioned with SETRA, a series that produces local racing events in the Southeast, and will ultimately bring out a full slate of local racers. All local racers are invited to compete at the Big Buck GNCC, as GNCC Racing offers classes for riders of all skill and experience levels. The amateur race entry fee is $50 and riders can sign up at the track. To learn more about GNCC Racing please visit the GNCC101webpage.
Tune in to RacerTV.com on Saturday at 1 p.m. EST to catch LIVE streaming of the Pro Bike race. For more information on GNCC LIVE coverage, visit www.racertv.com. A highlight show featuring the event will air on NBC Sports Network on Saturday, April 1, at 5:00 p.m.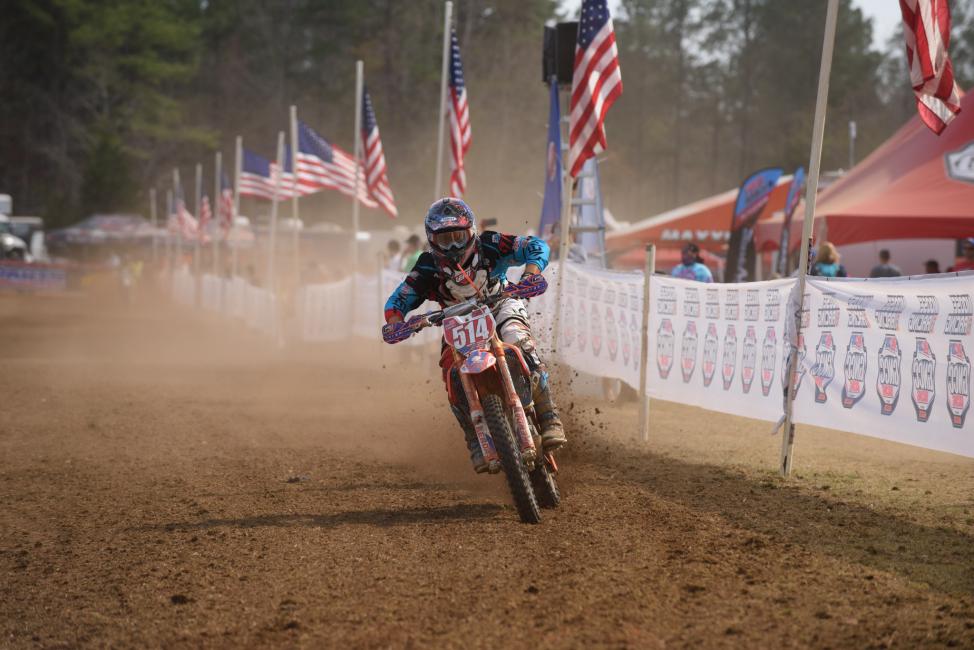 Steward Baylor earned the win at last years VP Racing Fuels Big Buck GNCC.– Ken Hill
The 2018 AMSOIL Grand National Cross Country Series heads to Union, South Carolina this weekend, February 24 and 25, for the VP Racing Fuels Big Buck GNCC. For a complete schedule of the weekend's activities, please visit the Big Buck GNCC event page on the series website by clicking HERE. For more information on the GNCC series, visit the official website at www.gnccracing.com or call (304) 284-0084.
THE NUMB BUM
I complained yesterday because it was below 70 degrees at Glen Helen. I'm such a wimp. The guys racing the Numb Bum near Edmonton, Alberta this weekend are real men. The Pembina Dirt Riders do this every year at ironically named Sandy Beach. The race has a 15 kilometer course that's cut into the ice. These photos are from the 2015 event, by Jeremy Caissie, and I'm hoping to get more material from this year's event for a feature in the print edition of Dirt Bike. You can follow this year's race in warm comfort on the Pembina Dirt Rider's Facebook page.
WOMAN IN RACING

MX Sports and Racer Productions will host a Women in Racing Conference at Daytona International Speedway on Monday, March 12, in conjunction with Daytona Bike Week. For the first time ever, women involved in all motorsports disciplines will meet together to discuss the current state of women racing in America and together develop a strategic plan for future growth.
The goal of the one-day conference is to conduct an in-depth inventory and evaluation of the current women's racing programs and an examination of their performance. Topics for discussion will include the risks and rewards of 'racing with the boys', sponsorship and career opportunities in the industry, the value of peer support, and the development of new ideas and initiatives.
Hosted in the Daytona International Speedway Press Room on Monday, March 12, the conference will be held from 10 am to 2 pm, with working lunch served. Women involved in all forms and at all levels of motorsports racing are invited to attend.
"It is our goal to get our racing role models and industry leaders together in one place and take an honest look at the current state of the industry as it relates to female athletes and career opportunities," said MX Sports Director Tim Cotter. "We have some amazing women athletes in GNCC and WMX, but we have not been very successful in moving the needle for them and opening up opportunities. We need their help if we are going to help them."
The guest list features former and current racing icons and industry leaders, including AMA Chairman of the Board Maggie McNally Bradshaw, former US National and World Motocross Champion Stefy Bau, 10-time GNCC WXC ATV Champion Traci Pickens, 2016 GNCC WXC Bike Champion Becca Sheets, 7-time WMX Champion, GNCC cross-over athlete and current race promoter Jessica Patterson, and off-road racing legend and GM mechanical engineer Claudia Danielewicz. Additional guests will be announced upon confirmation of attendance.
"We want to give these talented athletes and industry leaders an opportunity to give meaningful input and be part of the conversation on how to grow their sport," added Roy Janson, Director of Competition for MX Sports Pro Racing. "There are some great success stories that have gone untold for too long, not only on the track but off the track as well. The best kept secret is, women run racing in this country. They need to be part of the conversation, and we need to get out of the way."
Attendance is free and is open to women and men. To reserve your seat at the table and your opportunity to make a difference, email [email protected] or call Dana at (304) 284-0084.
6D ATR2 HELMET RELEASED
Our buddies Bob, Robert and Dominick at 6D helmets released the second generation of their helmet this week. We've been close to these guys since they started out in 2013 and have become real believers in  their design. Here's what they say about the latest version:
The ATR-2's Advanced ODS is highlighted by a new Expanded Polypropylene (EPP) multi-impact outer liner and a new Expanded Polystyrene (EPS) replaceable inner liner. As before, the two liners are connected via a series of elastomeric isolation dampers, assisting in progressive loading of the ODS system during impacts. Now, however, many of those dampers have been replaced by damping towers that are incorporated into only the outer liner; these towers are capped by new, low-friction disks that slide freely against the inner liner, thereby reducing friction under loading and increasing the displacement travel between the two liners.
The ATR-2 is available in three shell sizes covering a size range from XS to XXL and comes with a three-year limited warranty. MSRP starts at $695.
Key Features:
Advanced ODS system improves energy transfer mitigation at low-, mid-, and high-velocity accelerations for both linear and angular acceleration
Replaceable EPS inner liner for low-cost rebuilding
Increased ODS displacement travel (+30%)
Multi-impact EPP outer liner
Progressive damping towers with low-friction disks
Optimized, lightweight Tri-Composite shell
Brow Rib for increased structural integrity above the eyeport
Cervical Protection Zone
Air Gap Ventilation System with 17 transfer ports
Removable, washable comfort liner featuring Dri-Lex® anti-bacterial fabric
Emergency quick-release cheek pads
PRESCOTT WESTERN HARE SCRAMBLES
Last week was the second round of the AMA Hare Scrambles West series. The Pro results went like this:
1 Taylor Robert
2 Trystan Hart
3 Dante Oliveira
4 Kendall Norman
5 Max Gerston
6 Jacob Argubright
7 Noah Kepple
8 Travis Coy
9 Ricky Dietrich
10 Clayton Gerstner
ICE RACER OF THE YEAR
Kyle Martinez of Marlette, Mich., was named the 2018 AMA Ice Racer of the Year for his performance in the 2018 AMA Ice Race Grand Championship, held Feb. 2-4 in Cadillac, Mich.Dominic Huey, of Howell, Mich., is the 2018 AMA Youth Ice Racer of the Year. And Bryan Bigelow, of Omer, Mich., is the 2018 AMA Vet Senior Ice Racer of the Year. Martinez, 17, won the 451 Open class. "I was speechless when I realized I won the award. It was a great surprise," Martinez said. "I've been riding ice since I was 3 years old. The first time I rode on ice was on a '70s Honda 50 with a sidecar that my uncle and grandpa made for me to ride. I couldn't even touch the pegs. There were blocks on the sidecar, so I could touch." Huey, 9, won the 65 MOD GP (7-11), 65 MOD Oval (7-11) and 85 MOD Oval (9-13) classes. "It was quite surprising to win the award," said Huey, who has been ice racing for three years. "I didn't really know how much it meant. But it made me feel good for myself." Bigelow, 37, won the 30+ GP and 30+ Oval championships. "I wasn't even thinking I was eligible for an award like this," he said. "I was very surprised and proud, to say the least. It was most special, because it was presented to me from my old friend [AMA Track Racing Manager] Ken Saillant. Ken and I go way back to the early '90s, racing in Indiana. It is very cool that our friendship has come full circle. "I have been racing on the ice for 31 years," Bigelow said. "It is where I first learned to ride a motorcycle. And in northern Michigan, what else is there to do?" The 2018 AMA Ice Race Grand Championship was organized by Sherman MotorSports (www.shermanmotorsports.com). For more information about the AMA Ice Race Grand Championship, visit www.americanmotorcyclist.com/Racing/Ice-Racing.
That's all for now
–Ron