Duvall Earns First Victory of 2017 Season at X-Factor GNCC
Zach Nolan Wins First XC2 250 Pro Race of 2017
PERU, Ind. (May 21, 2017) – After several days of rainfall in Peru, Indiana the 2017 AMSOIL Grand National Cross Country (GNCC) Series presented by Maxxis, an AMA National Championship, continued today, May 21, with the inaugural X-Factor GNCC. For the first time since 2013's Mammoth GNCC, Racer Productions made the decision to combine the morning amateur race with the afternoon pro race.
At the conclusion of the two-hour race on an 8-mile long racecourse it was Rockstar Energy/Factory Husqvarna Racing's Thad Duvall who took home his first overall win of the season. However, it would not be an easy task for Duvall as it was N-Fab AmPro Yamaha's Ricky Russell who got the $250 All Balls Racing Holeshot Award. R Russell led the first two laps, but would eventually fall back two positions ultimately earning his season best finish of third overall.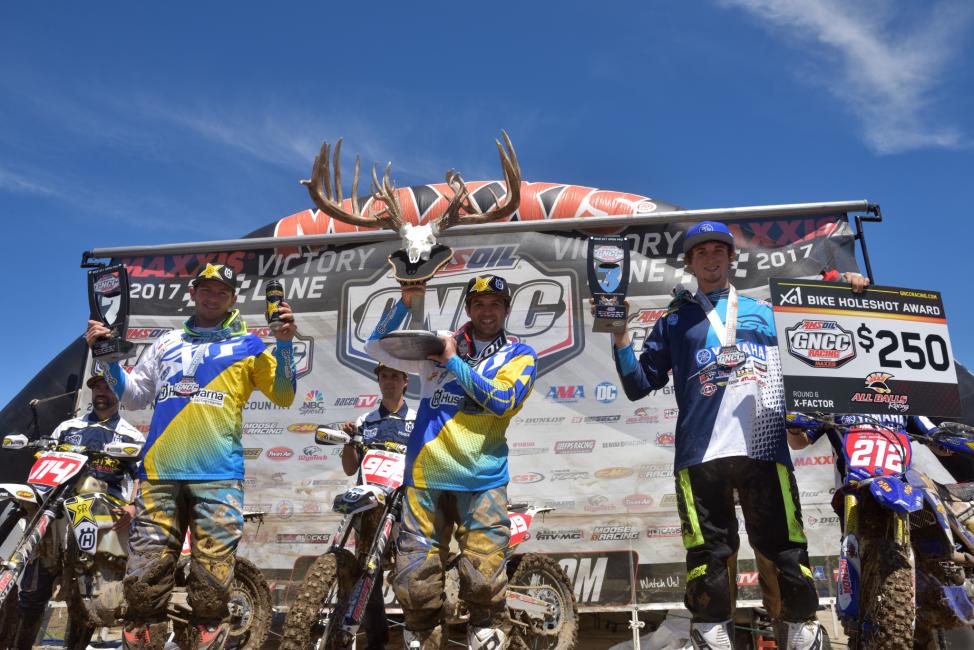 Duvall's teammate, Josh Strang, was also off to a good start where he would work his way into his first 2nd place finish of the season by the end of the four-lap race. FMF/Maxxis/RPM KTM Racing Team's Chris Bach finished just off the podium with his second 4th overall finish in 2017.
After a favorable start behind R Russell, Beta USA's Jordan Ashburn would find himself tangled in a power washer cord after a brief pit stop. Ashburn would fall back to 8th as he checked into timing and scoring on the first lap, but put on a hard charge eventually ended the day with an remarkable fifth overall.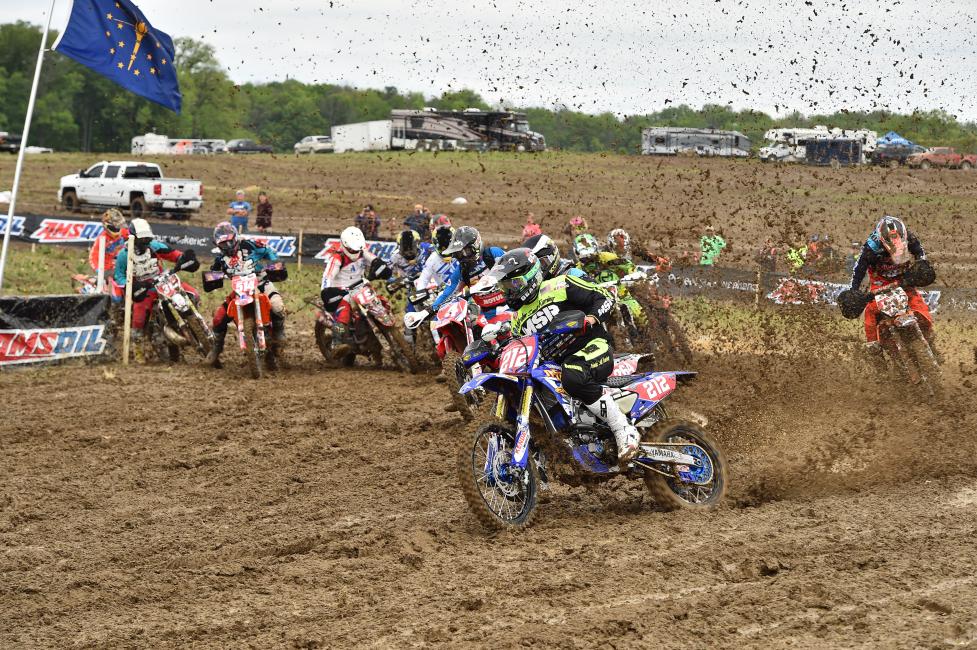 After heading into the woods in the back of the XC1 pack, JCR Honda's Trevor Bollinger plowed his way through the mud for a sixth place finish in XC1 and an 11th overall. Rocky Mountain ATV*MC/KR4/Husqvarna-backed rider Grant Baylor started the day with an unfavorable 11th place position as they came around the course after one lap. G Baylor would work his way up to 7th in XC1, while still finishing just outside the top 10 overall in 12th.
FMF/KTM Factory Racing and defending GNCC National Champion, Kailub Russell would find himself heading into the woods last off the start after falling in the second turn with another rider. K Russell and teammate, Russell Bobbitt, would finish the day out in the 8th and 9th place positions of the XC1 Pro class. K Russell would finish 14th overall, while Bobbitt salvaged a 20th overall finish. SRT/KTM rider, and round 1 winner, Steward Baylor would complete his first lap in the fourth place position. Unfortunately this would be the only glimpse anyone caught of S Baylor, as his race ended after that first lap due to an illness.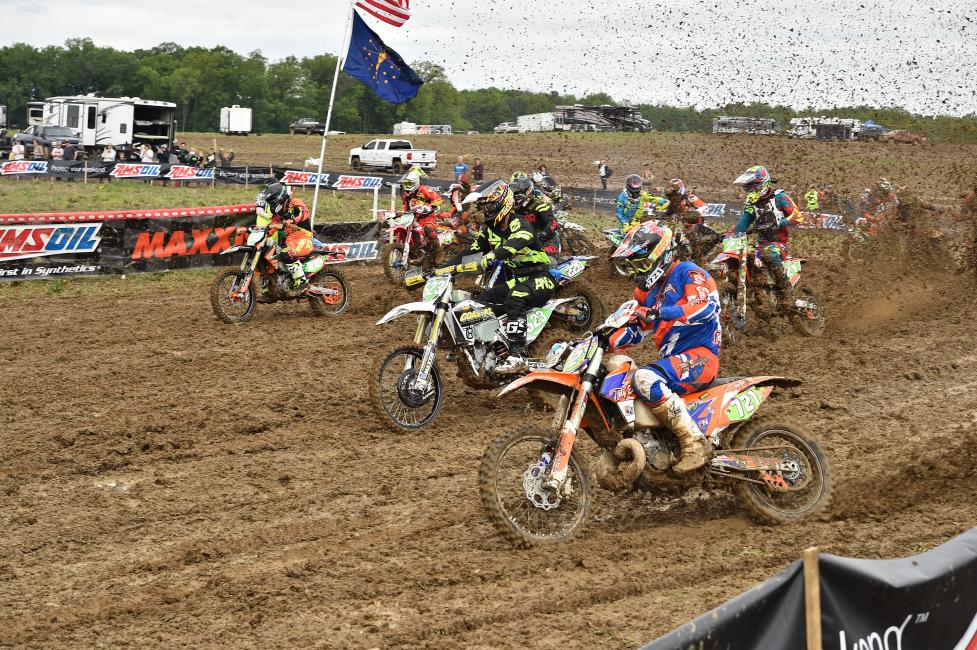 As a result of rule violations, the results from today's XC2 250 Pro (16-24) class and the WXC class are provisional and pending approval of additional evidence.
Tely Energy's Zach Nolan got a quick jump off the second line earning himself the XC2 250 Pro $100 Hot Cams Holeshot Award. Nolan found himself in first overall as they came through timing and scoring on the first lap, but after four laps of intense racing would finish 6th overall. However, the West Virginia native Nolan would earn his first XC2 250 Pro class win of the season holding off RPM/KTM's Mike Witkwoski and Coastal Racing/Husqvarna's Craig Delong who rounded out the podium. Current XC2 250 Pro points leader N-Fab AmPro Yamaha's Josh Toth had an unfavorable start, but managed to salvage a 4th place class finish in the muddy conditions.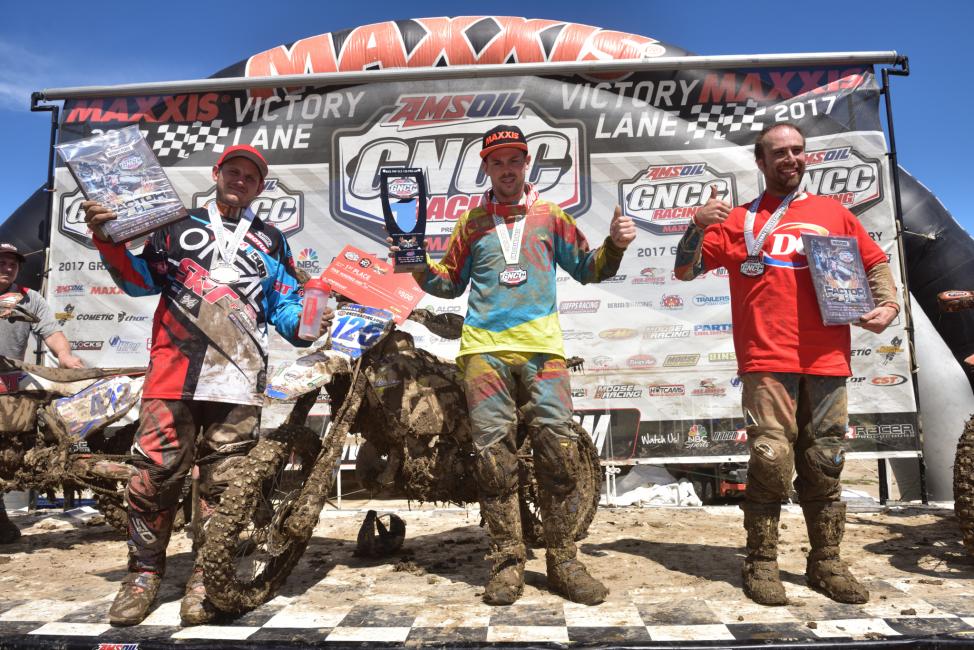 As the FMF XC3 125 Pro-Am class got off the line and rolling it was Jason Thomas who earned himself the $100 Wiseco Holeshot Award. Thomas never looked back after his holeshot, and earned himself his second FMF XC3 class win. SRT/KTM's Mark Heresco Jr. finished off the day in second, while Spyke's KTM/Grounds Quality Lawn Care/Superfly Racing's David Quillen rounded out the podium.
In the WXC class, Fly Racing/Maxxis/Seat Concepts/KTM rider Becca Sheets earned her first win of the season, while Trail Jesters/KTM's Mackenzie Tricker came in second and Spyke's KTM/Maxxis/FMF's Rachel Gutish finished in the third place position.
After delaying the youth bike race until 9 a.m. it was Illinois native, Tommy Fortune who came out on top of the sloppy conditions after 7 laps. So far this was Fortune's only race with the GNCC Series in 2017. Mack Riemer would find himself in the second overall position at the conclusion of the hour-long race, with Ryder Leblond rounding out the podium. After winning the first five rounds, Zachary Davidson would succumb to the muddy conditions after five laps and ultimately end up 8th in his class for the day.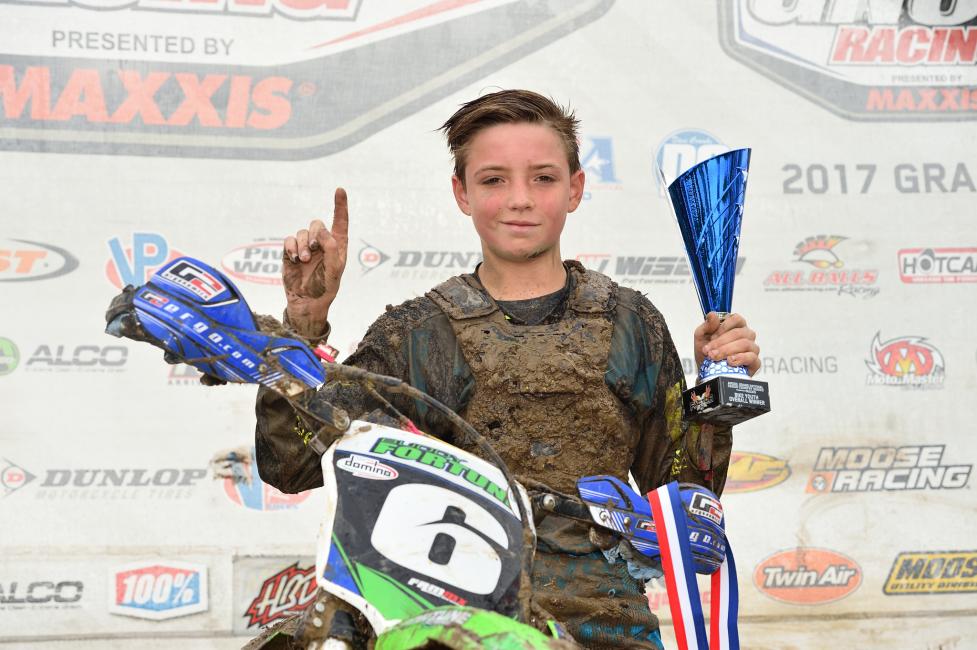 The 1 p.m. race was broadcast LIVE in its entirety on RacerTV.com and can be viewed as an archived video now online by visiting the GNCC LIVE page online. A highlight show featuring the event will air Saturday, June 17 at noon.
The 2017 AMSOIL Grand National Cross Country Series resumes next weekend, May 27 and 28, with the Wiseco John Penton GNCC in Millfield, Ohio.
For more information on the series, visit the official website at www.gnccracing.com or call (304) 284-0084. Join the conversation on the series Facebook page, follow us on Twitter and Instagram, and be sure to always hashtag #GNCC.
X-Factor GNCC
Peru, Indiana
Round 6 of 13
Sunday, May 21
XC1 Open Pro Event Results:
Thad Duvall (HSQ)
Josh Strang (HSQ)
Ricky Russell (YAM)
Chris Bach (HON)
Jordan Ashburn (BET)
Trevor Bollinger (HON)
Grant Baylor (YAM)
Kailub Russell (KTM)
Russell Bobbitt (KTM)
Scott Grills (HSQ)
*Overall National Championship Standings:
Kailub Russell (152)
Thad Duvall (126)
Steward Baylor (118)
Ricky Russell (96)
Josh Toth (85)
Jordan Ashburn (72)
Josh Strang (71)
Trevor Bollinger (67)
Grant Baylor (62)
Mike Witkowski (58)
*Indicates that the Overall National Championship Standings will determine the 2017 National Champion.
XC2 250 Pro Event Results (Provisional):
Zach Nolan (KTM)
Mike Witkowski (KTM)
Craig Delong (HSQ)
Josh Toth (YAM)
Austin Lee (HON)
Dylan Macritchie (KTM)
Layne Michael (HSQ)
Jesper Borjessen (HSQ)
Sam Evans (KTM)
Zack Hayes (KTM)
XC2 250 Pro Series Standings:
Josh Toth (158)
Craig Delong (122)
Mike Witkowski (117)
Layne Michael (106)
Jesse Groemm (94)
Austin Lee (84)
Zack Hayes (78)
Ben Kelley (71)
Trevor Barrett (54)
Sam Evans (53)
FMF XC3 125 Pro-Am Event Results:
Jason Thomas (HSQ)
Mark Heresco Jr (KTM)
David Quillen (KTM)
Dustin Gibson (KTM)
Matthew Sims (YAM)
Jaryn Williams (YAM)
Hunter Neuwirth (HSQ)
Joshua Adkins (YAM) 
FMF XC3 125 Pro-Am Points Standings:
Jason Thomas (156)
Jack Edmondson (145)
Mark Heresco Jr. (116)
Hunter Neuwirth (100)
Jaryn Williams (80)
Josh Adkins (71)
Paul Whibley (67)
Dustin Gibson (61)
Devan Welch (45)
Nate Smith (29)