MORGANTOWN, W.Va. (October 4, 2015) – Round 11 of the 2015 AMSOIL Grand National Cross Country Series (GNCC), presented by Maxxis, an AMA National Championship, took place in Somerset, Pennsylvania on Sunday with the Car-Mate Mountain Ridge GNCC. The weather may have cooled down with the threat of Hurricane Joaquin, but the racing action only heated up going into the last three rounds of the season. Rocky Mountain ATV*MC/KR4/FAR's Thad Duvall secured his first overall win of the 2015 season, while DirtWise/Maxxis/KLIM-backed Jason Thomas claimed the XC2 championship with his second place class finish.
Obermeyer Suzuki/Fly Racing/Maxxis Tires' Chris Douglas led the way through the first turn, grabbing the $250 All Balls Racing XC1 Holeshot Award and took the early lead, followed closely by N-Fab AmPro Yamaha's Jordan Ashburn on the opening lap. Ashburn was able to quickly capitalize on the weather conditions and move to the front of the pack.
Chris Douglas claims the $250 All Balls Racing XC1 Holeshot Award.
Photo: Ken Hill
"My goal today was to get a good start and to get out front," said Ashburn. "A gap on the rest of the pack always helps out, and after I had my rear tire replaced I knew I needed to get back to the front because I had the speed to be there. I plan to be on the podium for the rest of the year."
Meanwhile, N-Fab AmPro Yamaha-backed Grant Baylor got off to a not-so-favorable start, where he tipped over in the first corner. Baylor was able to rebound from the trivial mistake and work his way up to the front-runners checking in second on the first lap.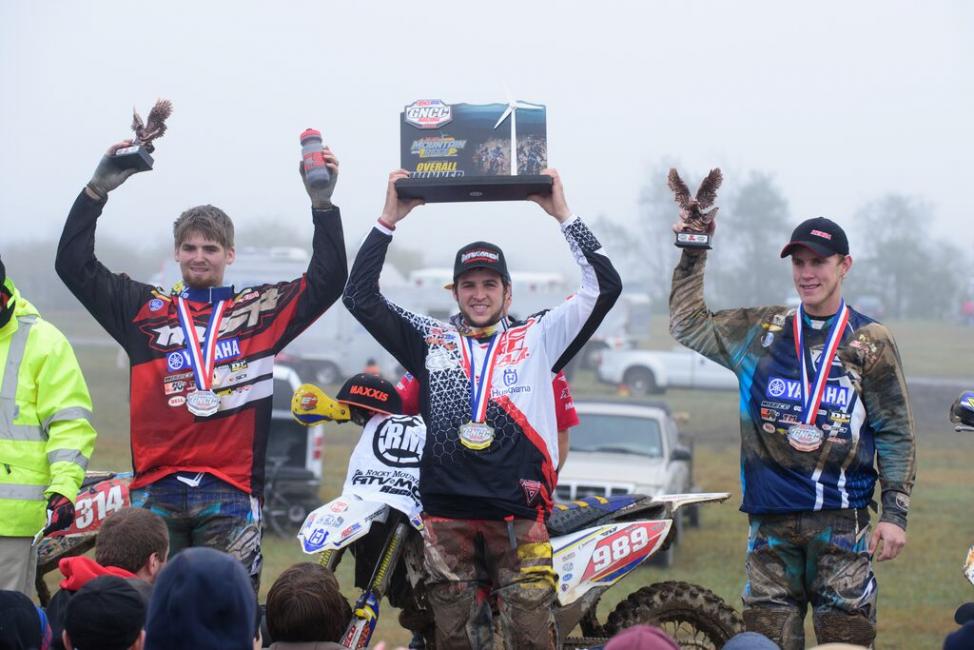 XC1 Podium: (1) Thad Duvall, (2) Grant Baylor, (3) Jordan Ashburn
Photo: Ken Hill
Within the second lap Ashburn had extended his lead by 37 seconds, but the running order tightened up immensely on the third lap when Duvall closed the gap by less than 10 seconds. Duvall would immediately move into the lead when Ashburn had to exit the track to make an extra pit stop due to his rear wheel's bib disintegrating. The N-Fab AmPro team was able to make a quick change and Ashburn re-entered the track where he left off still holding onto a top five position.
Ashburn's misfortune opened the doors not only for Thad, but also Baylor, to gain a position in the overall running. Baylor's race management skills allowed him to catch up to Duvall, only trailing by 10 seconds. Baylor eventually passed Duvall as he stopped to get a splash of gas, but Duvall would not stay behind for long.
"Going into today's race I was already excited because I tend to ride good in conditions like these," reported Duvall. "I don't necessarily like riding in the mud, but I always seem to do good. Baylor caught back up to me with two laps remaining and we battled it out, but I felt like I had a lot to give and I ended up in the middle of the box."
Thad Duvall wins his first overall in 2015.
Photo: Ken Hill
Duvall's stellar performance vaulted the West Virginia native into the lead for the final four laps, and also second into the overall points championship chase. Ashburn finished out strong, capturing third place in the XC1 Pro class and overall.
Rockstar Energy Husqvarna Factory Racing's Josh Strang proved that he is still in the game by getting fourth overall, and behind Strang was JCR's Honda-backed Chris Bach. AirGroup/Rockstar Energy/Husqvarna's Ryan Sipes dealt with handlebar issues, putting him sixth. Following behind Sipes in seventh was N-Fab AmPro Yamaha rider Daniel Milner, Beta's Cory Buttrick in eighth, Douglas in ninth, and rounding out the XC1 top ten was Funmart Cycle/FLY/RidePG.com's Adam Bonneur.
Rocky Mountain ATV*MC/KR4/FAR's Nick Davis was able to jump out to the quick lead claiming the $100 Hot Cams Holeshot Award, but struggled with holding the lead on the first lap to Thomas and Raines Riding University/Atlas Yamaha/OffRoadViking.com's Ricky Russell. However, as the race wore on, Davis picked up his pace drastically, where he rode on uncontested for yet another win in the class, as well as an impressive fifth place overall finish.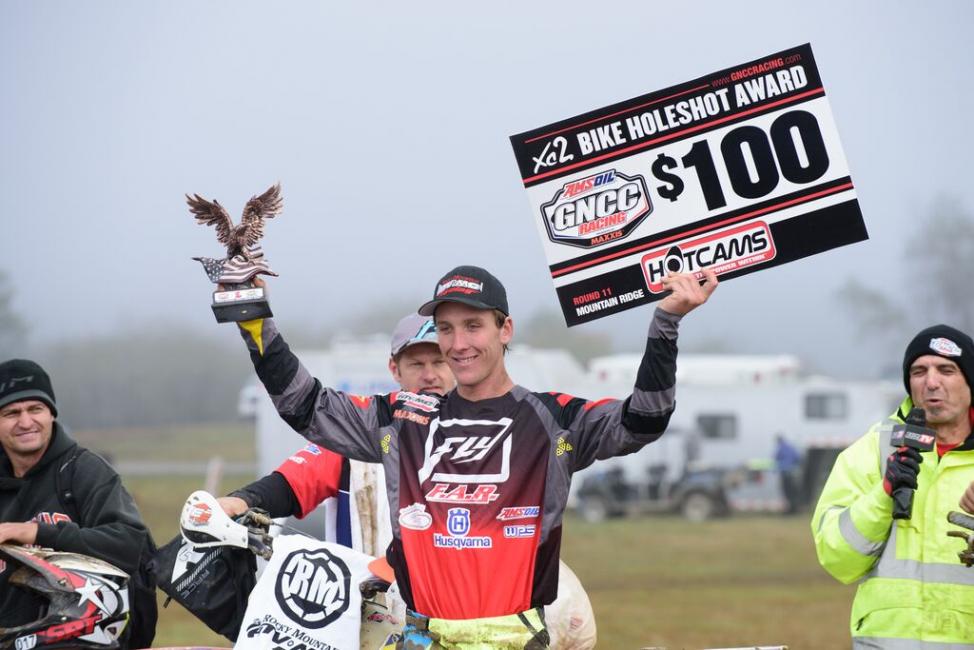 Nick Davis takes home the $100 Hot Cams Holeshot Award and XC2 class win.
Photo: Ken Hill
"It was really hard to see at the start, and all I could think was 'this is going to be a long three hours,'" reported Davis. "Then everything just started clicking, and I got back ahead of Thomas and Russell, and started pulling away."
Thomas was able to hold on for a second place finish, which was a good enough placement to result in being crowned the 2015 XC2 Pro Lites champion. Thomas will remain in the XC2 division throughout the end of this season, but will move up to the premier XC1 Pro division starting in 2016.
Newly crowned 2015 XC2 Pro Lites class champion, Jason Thomas, celebrates with his dad. 
Photo: Ken Hill
"It's been a long year, and we've done a lot of hard work behind the scenes. Everyone has been a big part of this, it wasn't just me," said Thomas. "My dad was able to make it this weekend, and it's a big deal because he isn't here every round like majority of the other guys' dads. It really meant a lot to me that he could be here."
Following behind Thomas was Connecticut's Benjamin Kelley in the third place position. Kelley first made an appearance this season at the previous Unadilla round where he finished eighth in the XC2 class.
Mason Atherton went home with the $125 American Kargo Top Amateur Award, after claiming his first win in the 250 A class and finishing 16th overall.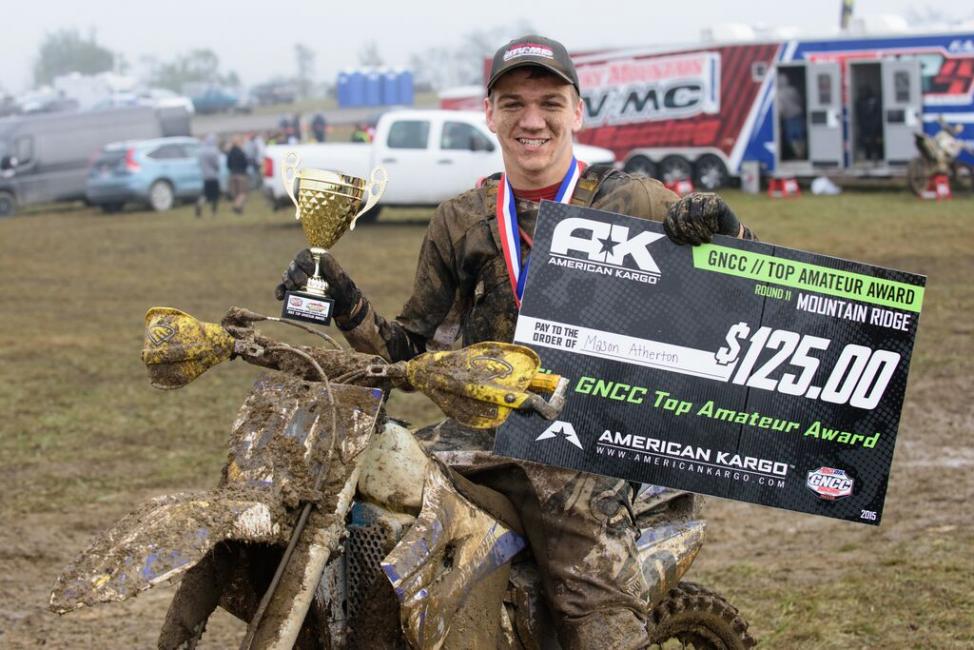 Mason Atherton claims his first American Kargo Top Amateur Award. 
Photo: Ken Hill
The WXC front-runners dominated the 10 a.m. race once again, with two female competitors even making the overall podium. Factory FMF/KTM's Kacy Martinez captured her 10th victory of the season, followed by N-Fab AmPro Yamaha's Becca Sheets in second, and her teammate Tayla Jones came in third for her first podium appearance of the season.
WXC Podium: (1) Kacy Martinez, (2) Becca Sheets, (3) Tayla Jones
Photo: Ken Hill
"This was one of the best GNCC events I've ever raced," said Sheets. "The track was so fun, but the hardest part was keeping your goggles clean and dealing with vision issues."
KTM's Jesse Ansley added another Youth overall victory, as well as the Super Mini (14-15) class win. This would allow Ansley to move to the first place position in the Youth Overall Championship standings, by one point. Ansley was joined atop of the podium by North Carolina native Connor Smith who finished second overall, and Jayce Knopp who worked his way from 11th on the first lap to third overall.
The 1:00 p.m. Pro race was broadcast LIVE in its entirety on RacerTV.com and can be viewed as an archived video now. Please click HERE to view the full three-hour race coverage. In addition to the archived live race coverage on RacerTV, a highlight show featuring the event will air on NBC Sports Network will feature a highlight show Sunday, December 6 at 4:30 p.m. Complete results from today's bike racing can be found HERE.
The 2015 AMSOIL GNCC series will head to St. Clairsville, Ohio on October 17 and 18 for the ITP Powerline Park GNCC. For more information on the series, visit the official website atwww.gnccracing.com or call (304) 284-0084.
Stay up-to-date with exclusive content from the 2015 AMSOIL GNCC Series by following the officialFacebook, Twitter, and Instagram accounts.
Car-Mate Mountain Ridge
Somerset, Pennsylvania
Round 11 of 13
Sunday, October 4
XC1 Event Results:
Thad Duvall (HSQ)
Grant Baylor (YAM)
Jordan Ashburn (YAM)
Josh Strang (HSQ)
Chris Bach (HON)
Ryan Sipes (HSQ)
Daniel Milner (YAM)
Cory Buttrick (BET)
Chris Douglas (SUZ)
Adam Bonneur (KTM)
*Overall National Championship Standings
Kailub Russell (283)
Thad DuVall (200)
Grant Baylor (198)
Chris Bach (173)
Josh Strang (166)
Ryan Sipes (154)
Jordan Ashburn (132)
Jason Thomas (132)
Trevor Bollinger (94)
Ricky Russell (93)