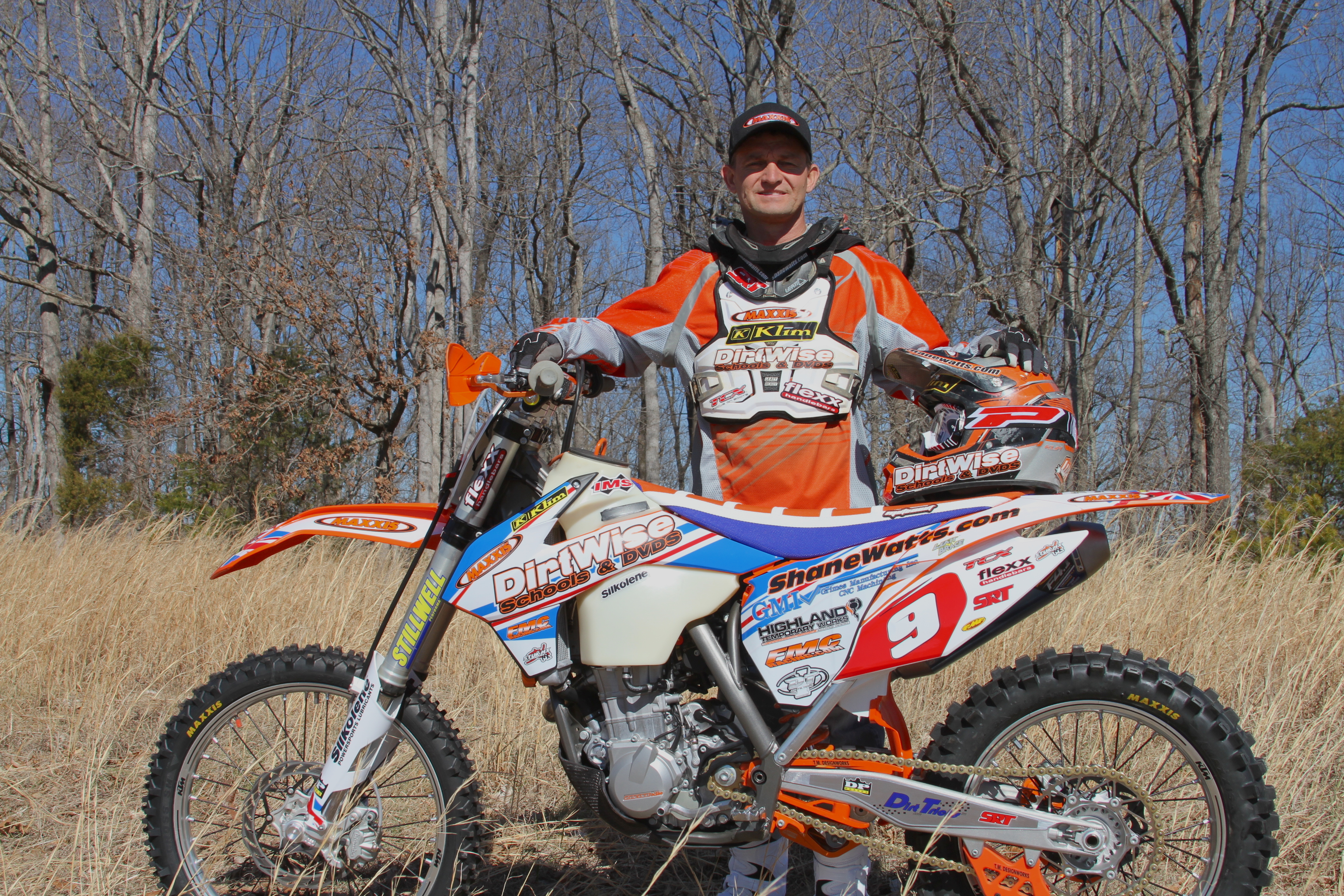 DIRTWISE TEAM RIDERS READY TO RACE AT NAT. ENDURO RD. 1
BY DIRTWISE ACADEMY | IN NEWS, SHANE WATTS | ON FEBRUARY 27, 2014
Newton, NC (Feb 27, 2014) – The Maxxis/KLIM/DirtWise KTM Race Team and the DirtWise 'Ready to Race' bike rental participants are all primed up for this weekend's first round of the National Enduro series in Pelion, SC.
With Pro class riders Jesse Groemm and Rory Mead fighting for the Overall victory, team owner Shane Watts going into battle in the +40A class, and DirtWise 'Ready to Race' participant Gregory Olenic (from Clinton, PA) who is taking advantage of the very low $500 fully prepped bike rental fee to give himself a great shot at the class win in the +40B class.
DirtWise founder, and Offroad racing legend, Shane Watts had this to say about the upcoming race, 'The DirtWise team is Ready to Race this weekend and we are excited to kick the year off in fine fashion. Both Jesse and Rory are riding strong right now and are packing some heat on the tight and twisty trails synonymous with the National Enduro series. Personally I'm looking to have a fun and enjoyable ride out there on some of the most awesome trails that you can roost on – that's why I totally love the National Enduro series! And we are stoked to give our Ready to Race participant Gregory Olenic a very cheap and easy option of just arriving at this race and allowing himself to solely focus on his racing! We look forward to many more Ready to Race participants joining joist the future races throughout the 2014 series.'
DirtWise team member Jesse Groemm is extremely excited to get the season started, 'The National Enduros are my main focus for 2014 and I plan on being a podium and race victory contender every single race this year. I'm feeling very comfortable on my KTM 250 and I've been turning some great lap times on the practice tracks recently – I had a great session with Charlie Mullins in the trees yesterday and I was on point with my speed against him. Let's get this thing started!'.
Meanwhile Rory Mead remains focused in his return to the National Enduro series, adding, 'I'm looking to have a strong and consistent ride this weekend and I'll be aiming for a great finish, but ultimately I'll be utilizing this race as my final preparation tool for the start of the GNCC XC2 Championship, which is where I'll be dedicating the majority of my efforts. I can't wait to rip some tight single track this weekend!'
DirtWise 'Ready to Race' participant Gregory Olenic enthused, 'Just showing up to the race and getting on a fully prepped DirtWise KTM is going to be great! There's no late nights in the garage working on bikes, no traveling issues, there's no worries at all mates. I just get to focus on me and having a sensational time railing through the trees – you can't beat that!'.
The Maxxis/KLIM/DirtWise Race team is supported by Maxxis tires, KLiM Technical Riding gear, KTM Sportmotorcycles, FunMart Cycles, Fasst Co. Flexx handlebars, TCX boots, Leatt protection, Grimes Manufacturing, HTW Scaffold design, Stuk Graphics, DirtTricks sprockets and brake rotors, G2 handguards and throttle tubes, IMS fuel tanks and footpegs, FMF exhausts, SRT chains and radiator guards, ProGrip goggles and grips, Silkolene Oils, DP brake pads and clutch plates, Stillwell Performance suspension, DT1 airfilters, TM Designworks chain guides, and P3 pipe guards and skid plates, KTMTalk.com, OffroadChampions.com, and MotoSeat.