Moose Racing Wild Boar: Motorcycle Race Report
Ben Kelley Takes 7th Annual Wild Boar GNCC Overall Win
PALATKA, Fla. (March 8, 2021) – Round two of the 2021 Grand National Cross Country (GNCC) Series presented by Specialized, an AMA National Championship, concluded with motorcycle racing on Sunday, March 7 in Palatka Florida. The world's fastest off-road motorcycle racers would take to the sandy terrain of Florida at Hog Waller's Mud BOG & ATV.
Getting a great jump off the line and earning himself the $250 All Balls Racing XC1 Holeshot Award was Magna1 Motorsports/Husqvarna's Jordan Ashburn. After getting that early lead, Coastal GASGAS Factory Racing's Ricky Russell would soon make a pass into the number one spot, holding onto it for the first two laps of racing.
As the riders checked in on lap three there was a new leader emerging, the FMF/KTM Factory Racing motorcycle of Ben Kelley. With an hour and a half left to go, Kelley would manage to hold a strong pace all the way to the checkered flag. Kelley would cross the finish line to earn his first victory in 2021, improving his standings early in the year as he battles for the 2021 GNCC National Championship.
Coming through fifth on the opening lap of racing in Florida, Babbitt's Online/Monster Energy/Kawasaki Team Green's Josh Strang steadily worked his way through the pack as the race continued on. Strang would find himself in podium contention with three laps remaining and set his sights on second place as the white flag came out. Strang was able to make the pass on the last lap and come through 28 seconds ahead of Ashburn.
After grabbing the holeshot and running second for the first five laps of racing Jordan Ashburn would hold on for a strong third overall finish as the checkered flag flew. Then it would be KLM Milwaukee GasGas' Grant Baylor making his way into fourth overall after an eighth place start to the day. Baylor was on the move throughout the whole race, making his way to fifth by the time the white flag was out which would then set him up for a last lap push to fourth overall. Baylor remains in the points lead as the series heads to Georgia next weekend.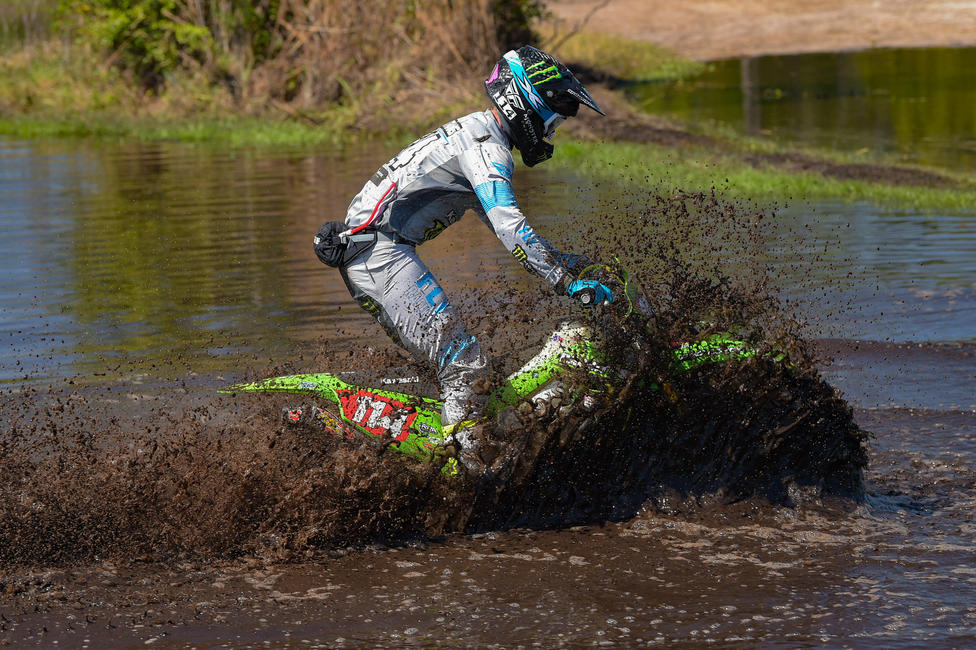 Rounding out the top five overall was FMF/KTM Factory Racing's Joshua Toth, who has continued to progress as he races after undergoing hand surgery last month. Toth would pick up momentum as the race wore on, as he broke into the top five on the fourth lap of racing. Toth would go swap positions multiple times throughout the day, but as the white flag came out, he would push himself to hold onto his fifth place finish.
Coastal GASGAS Factory Racing's Ricky Russell would hold the early lead as he came through timing and scoring on the first lap. Russell would continue to hold the lead for the first couple of laps but would suffer a mishap in the woods and fall as far back as eighth at one point. Russell put his head down to push the last couple of laps and would make his way back to sixth overall.
Swapping positions throughout the race was AmPro Yamaha's Layne Michael. As he came through the finish line on the opening lap, Michael sat in seventh. He would battle his way up to fifth before falling back to eighth as the white flag indicated one more lap to go. Michael was pushing hard throughout the last lap and was able to salvage another position and finish seventh in the XC1 class, ninth overall on the day.
After missing round one, AmPro Yamaha's Steward Baylor Jr. was back in action for Florida. Baylor would have a great start, and battle at the front as he came through in third for the first three laps of racing. Baylor would be faced with a tough battle as laps four and five got underway, and he would fall back to fourth with only one lap remaining in the race. Unfortunately for Baylor, he would encounter yet another setback on the last lap pushing him back to eighth in the class, 14th overall on the day.
Chilean rider, RedBull/MCS Racing Sherco's Benjamin Herrera had an impressive ride in Florida as he finished ninth overall in the XC1 class, and 16th overall in just his second GNCC race ever. Factory Beta's Cory Buttrick would come through to round out the top 10 in XC1 Open Pro.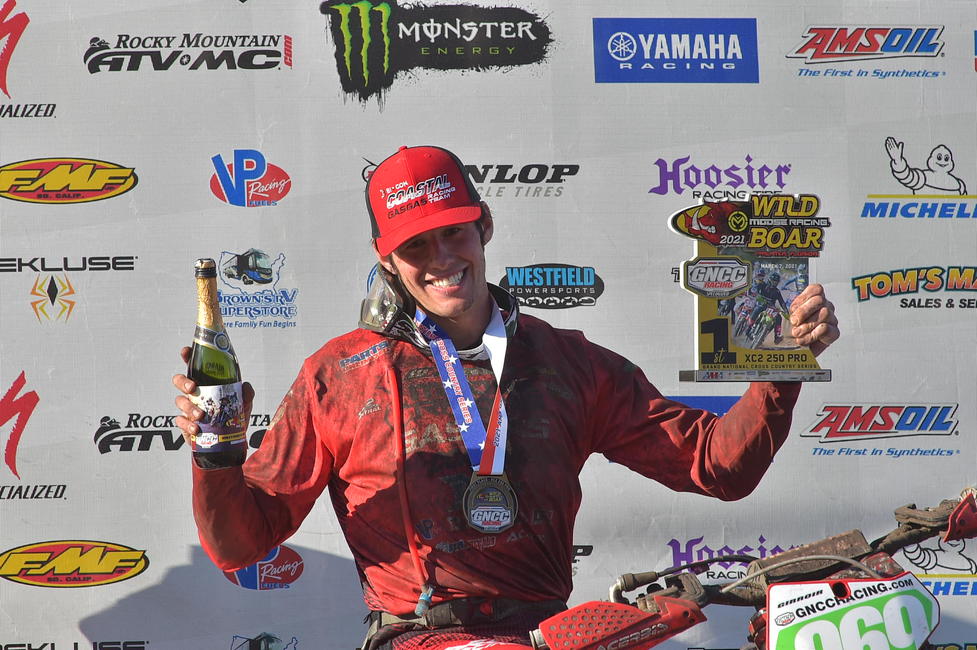 In the XC2 250 Pro class Coastal GASGAS Factory Racing's Jonathan Girroir grabbed the early lead away from Tely Energy Racing KTM's Liam Draper, who earned the $100 Hot Cams Holeshot Award. Girroir would hold the number one spot from the opening lap of racing until the checkered flag flew, earning his first win of 2021. Girroir would also place seventh overall on the day.
Rockstar Energy Factory Husqvarna Racing's Craig DeLong battled his way up to a podium finish in the XC2 class after taking a bad line a few miles into the course. The defending champion would continue to battle his way up through the pack as the race hit its halfway point. DeLong was able to overtake second in his class just a few miles from the finish line, while also finishing eighth overall.
Rounding out the XC2 class podium was AmPro Yamaha's Mike Witkowski. As the race got underway Witkowski got off to a good start, coming through timing and scoring second on the opening lap. Witkowski would continue to swap back-and-forth between second and third for the majority of the day. On the final two laps of the race Witkowski would try to make a push towards the two front-runners, but he would ultimately settle in for third on the day. Witkowski leaves round two with the class points lead.
Once again in the FMF XC3 125cc Pro-Am it was Magna1 Motorsports/Husqvarna's Jonathan Johnson coming away with the win. However, he would have a hard battle to fight throughout the entire race. Coastal GASGAS Factory Racing's Ben Parsons and defending champion, Carolina KTM/Moose Racing/XC Gear's Zack Hayes, did not make it easy for Johnson as they continued to battle at the front. Parsons would briefly move into the lead on lap two, but he would soon have Johnson making his way back around him. Parsons would hold onto second in the FMF XC3 class, with Hayes rounding out the top three class finishers.
Earning the Top Amateur honor was 250 A class winner, Kawasaki Team Green's Joseph Cunningham as he finished 18th overall. His fellow 250 A competitor, Bubz Tasha earned second in the class and 22nd overall to land second on the top amateur podium, followed by Open A winner Chase Hayes who came through 24th overall.
Becca Sheets brought home the WXC class win (photo left) and Chase Landers earned the Youth Overall win (photo right). Photo: Ken Hill
In the WXC class it was BABS Racing Yamaha/Maxxis/Pro Circuit's Becca Sheets making her way to the center of the podium after a fifth place start to the day had her pushing for that number one spot. Sheets would make her move into the lead on lap two and would continue to push herself until she saw the checkered flag waving at the finish line. Sheets is currently tied with AmPro Yamaha's Rachael Archer in the WXC points standings. Archer would hold steady in the second place position throughout all four laps of the race. Rounding out the WXC class podium was Magan1 Motorsports/Husqvarna/Rockstar Energy/Moose Racing's Tayla Jones as she was another steady force in the class holding onto third for all four laps.
The Youth Overall win went to Magna1 Motorsports/Husqvarna's Chase Landers in the YXC1 Super Mini Sr. class. Thor Powell and Caleb Lane, both of the YXC1 class, rounded out the youth overall and class podium at this year's Wild Boar GNCC.
In the YXC2 Super Mini Jr. class it was Robert Weiss taking the win, followed by Logan Crawford and Peyton Feather rounding out the top three. Brayden Baisley took the 85cc (7-11) win and came through to finish seventh overall in the youth race. While Addison Elliott took the Girls (8-15) class win.
This weekend's AMSOIL Moto Hero went to Joe Bromley of Warrington, PA. Joe is 27 years old, and raced in the Warrior class. He recently completed his duties in the U.S. Coast Guard, station in Norfolk, Virginia. Bromley was part of the Operation Specialist (S2) and served on the USCG Cutter "Dependable." He was a boarding team officer and sharpshooter as well as serving in drug interdiction, lifesaving operations, air traffic controller and navigations. Joe is also an 11-Time AMA National Champion in Flat Track and Hare Scrambles. Bromley was awarded a $250 AMSOIL Shopping spree, Kanati Lite Truck tires from GBC, a commemorative American flag courtesy of Columbia Flag & Sign Co. along with a certificate from their store. 100% Goggles also donated a pair of goggles and ARMA will be sending a Black Edition – ProKit full of ARMA supplements and gear. Thank you for your service!
GNCC Racing continues next weekend, March 13 and 14 in Washington, Georgia for The Specialized General GNCC. This will also be the first round of the 2021 Specialized Turbo eMTB GNCC National Championship. Two highlight shows featuring ATVs and motorcycles will be featured on MAVTV at a later date.
Moose Racing Wild Boar Results and Points Standings
Palatka, Florida
Round 2 of 13
Sunday, March 7, 2021
XC1 Pro Event Results:
Ben Kelley (KTM)
Josh Strang (KAW)
Jordan Ashburn (HQV)
Grant Baylor (GAS)
Joshua Toth (KTM)
Ricky Russell (GAS)
Layne Michael (YAM)
Steward Baylor (YAM)
Benjamin Herrera (SHR)
Cory Buttrick (BET)
*Overall National Championship Standings:
Grant Baylor (48)
Josh Strang (46)
Benjamin Kelley (46)
Jordan Ashburn (39)
Ricky Russell (30)
Craig DeLong (25)
Michael Witkowski (25)
Thad Duvall (25)
Layne Michael (25)
Joshua Toth (24)
*Indicates that the Overall National Championship Standings will determine the 2021 National Champion.
XC2 250 Pro Event Results:
Jonathan Girroir (GAS)
Craig DeLong (HQV)
Michael Witkowski (YAM)
Liam Draper (KTM)
Cody Barnes (BET)
Ruy Barbosa (HON)
Jesse Ansley (KTM)
Benjamin Nelko (HQV)
Ryder Lafferty (HQV)
Hunter Neuwirth (YAM)
XC2 250 Pro Series Standings:
Michael Witkowski (51)
Craig DeLong (50)
Jonathan Girroir (45)
Cody Barnes (32)
Liam Draper (32)
Evan Smith (27)
Jesse Ansley (27)
Ruy Barbosa (27)
Lyndon Snodgrass (24)
Ryder Lafferty (22)
To get the latest GNCC Racing clothing and merchandise visit https://www.mototees.com.