Hurricane Mills, Tenn. (Aug. 1, 2015) – The 34th Annual Rocky Mountain ATV/MC Amateur National Motocross Championship presented by AMSOIL came to a conclusion today with the fifth and final day of racing in Hurricane Mills, Tennessee. The last 17 races combatted on the distinguished facility at the Loretta Lynn Ranch and there were a total of thirty-eight National Championships bestowed and four AMA specialty awards.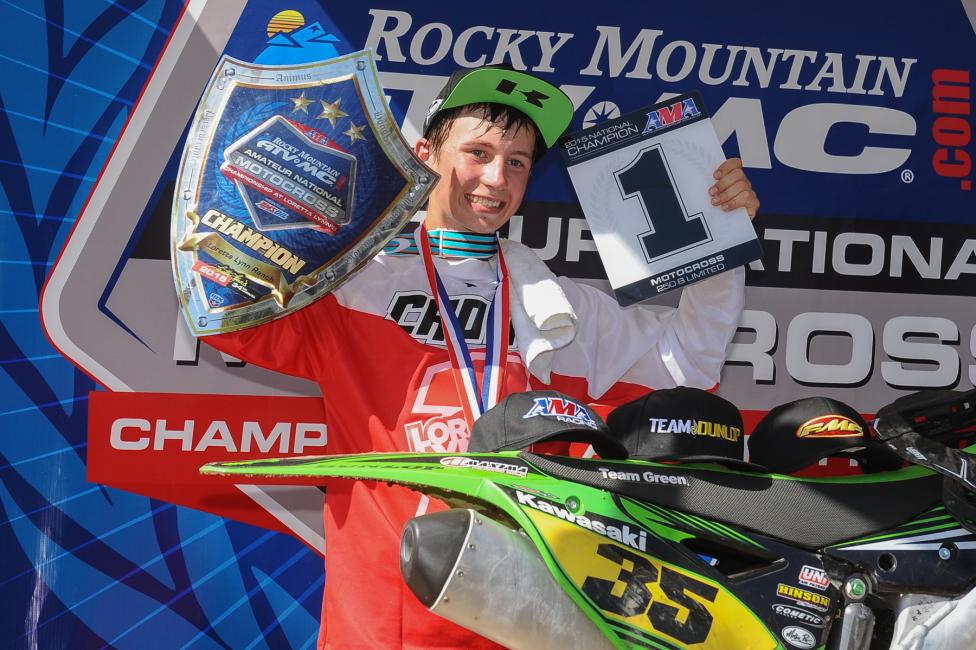 Photo: Ken Hill
The coveted AMA Horizon Award is given to the A rider who shows the most promise as they prepare to enter the professional ranks. It was awarded to Yamaha's Benny Bloss who won the Open Pro Sport and finished third overall in 450 A. The newly crowned AMA Horizon Award winner plans to compete in the upcoming round of the Lucas Oil Pro Motocross Championship at Unadilla in New Berlin, N.Y.
The AMA Motocross Youth Rider Award goes to a rider under the age of 16 chosen for his or her performance in the youth classes at Loretta Lynn Nationals. Youth riders who also participate in amateur classes will be considered, but only their youth class will be factored into the final decision. This year's recipient in the Youth division was Jett Reynolds, who swept all six motos in 85cc (9-11) and 85cc (9-11) Limited.
The AMA Motocross Amateur Rider Award is designed to recognize an outstanding non-A-class rider at the Loretta Lynn National who is ready to make an immediate impact in the A-class competition. This year's recipient, Austin Forkner, plans to turn professional at the first 2016 Lucas Oil Pro Motocross season opener at Hangtown. Forkner finished first in 250 B and Schoolboy 2 (13-16) B/C.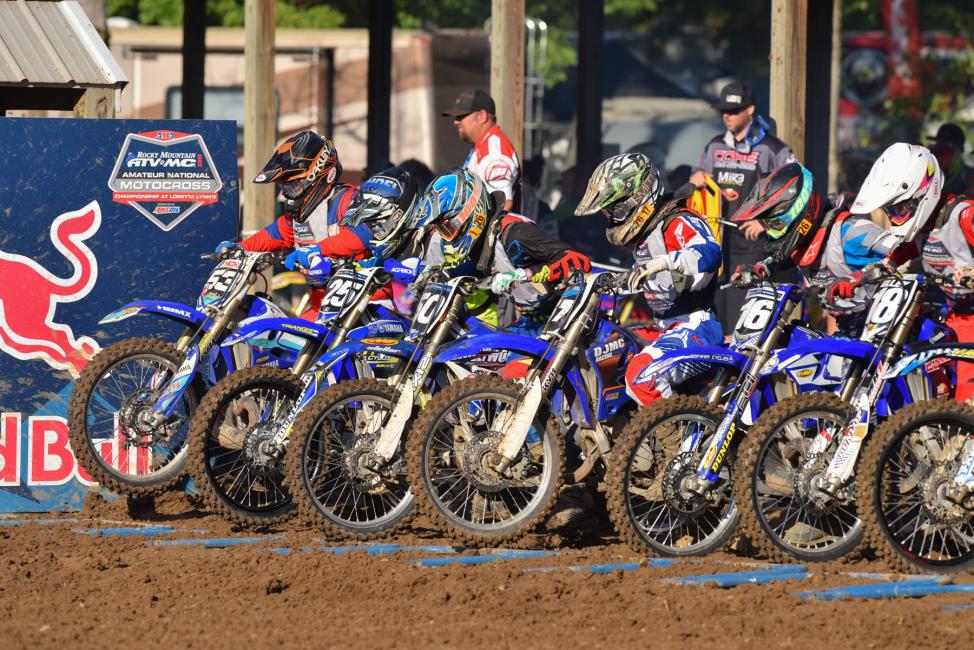 Riders completed their third motostoday.
Photo: Ken Hill
The AMA Motocross Vet/Senior Rider Award acknowledges an outstanding rider over the age of 30 at the AMA Motocross National Championships. Results from all Vet classes are taken into consideration in selecting the winner. In the ultra-competitive division, Sebastian Tortelli proved to be a front-runner by capturing the the Vet 35+ (2-1-1) title over Robbie Reynard (1-2-2) and John Grewe (3-3-3). Both Tortelli and Reynard raced Junior 25+ in addition to Vet 35+, but the positions were swapped as Reynard captured the title in Junior 25+.
California added another State Championship award to the books by having the most racers out of any other state in the country to win the overall titles.
Kawasaki owned the podium in the Vet 30+ class. Paul Perebijnos, former mechanic of professional rider Dean Wilson, prevailed in the final moto with a 2-2-1. Blake Keeton (1-3-5) followed in second and Charles Castloo (5-5-2) finished in third improving on his disappointing 39th in Junior 25+. Douglas Flinner (3-2-2), Terry Bostard (1-6-1), and Jay Wagner (9-3-3) were the top three in Senior (40+).
Tristan Charboneau, 2014 AMA Motocross Amateur Rider award winner, had the fastest lap time of the week running a 1:53.547 and was on his way to a 450 A championship, but unfortunately suffered a mechanical issue and DNF in the last moto opening up the number one spot. Bradley Taft (3-1-2) took home the win, with Darian Sanayei (2-3-6) and Benny Bloss (4-5-3) rounding out the podium.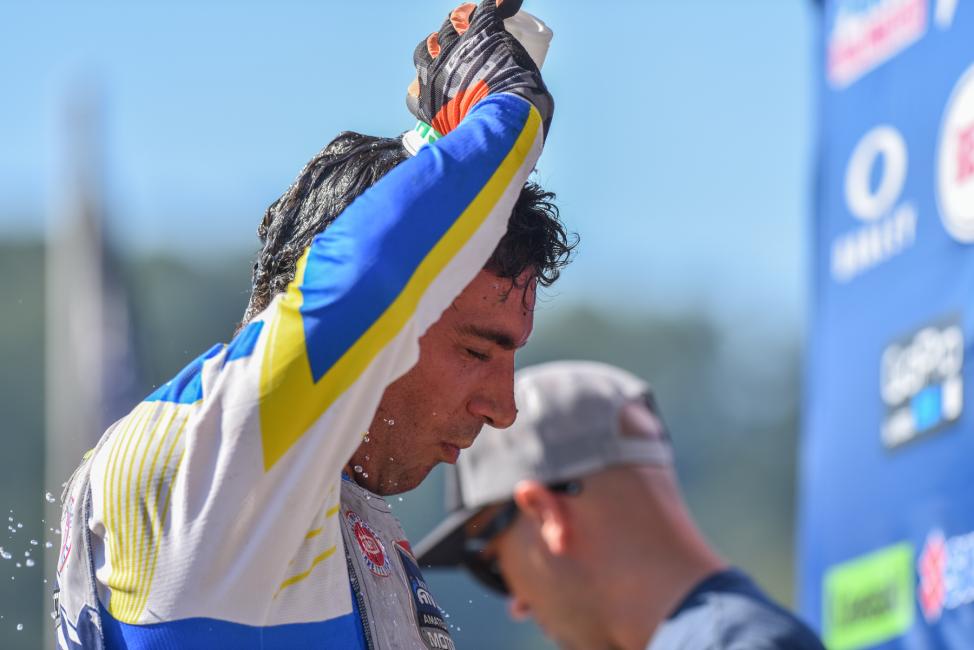 Photo: Ken Hill
Saturday's finale showcased some of the most exciting battles of the week, which included Justin Cooper adding to his College (16-24) championship, by sweeping every moto in Two-Stroke (16+) and College (16-24).
250 B Limited was jam-packed with exciting racing, but it ended up being Joey Crown claiming first with 3-1-1 finishes followed by Michael Mosiman (4-3-2) in second and Cole Barbieri (7-4-3) in third.
Hannah Hodges ended her minicycle days with yet again another clean sweep of the Girls Sr. (12-16) over Jordan Jarvis (2-2-2) and Jamie Astudillo (3-3-3). In Girls Jr. (9-13) Jazzmyn Canfield dominated the field with 1-1-1 over Karly Morgan (4-2-2) and Tayler Allred (3-3-5).
Super Mini 1 (12-15) and Super Mini 2 (13-16) both belonged to the quick moving Garrett Marchbanks, who is moving up to the B class next year. Carson Mumford (1-4-4) clinched the title in Mini Sr. (12-13) with Jarrett Frye (2-2-2) and Joe Shimoda (4-2-3) finishing second and third respectively.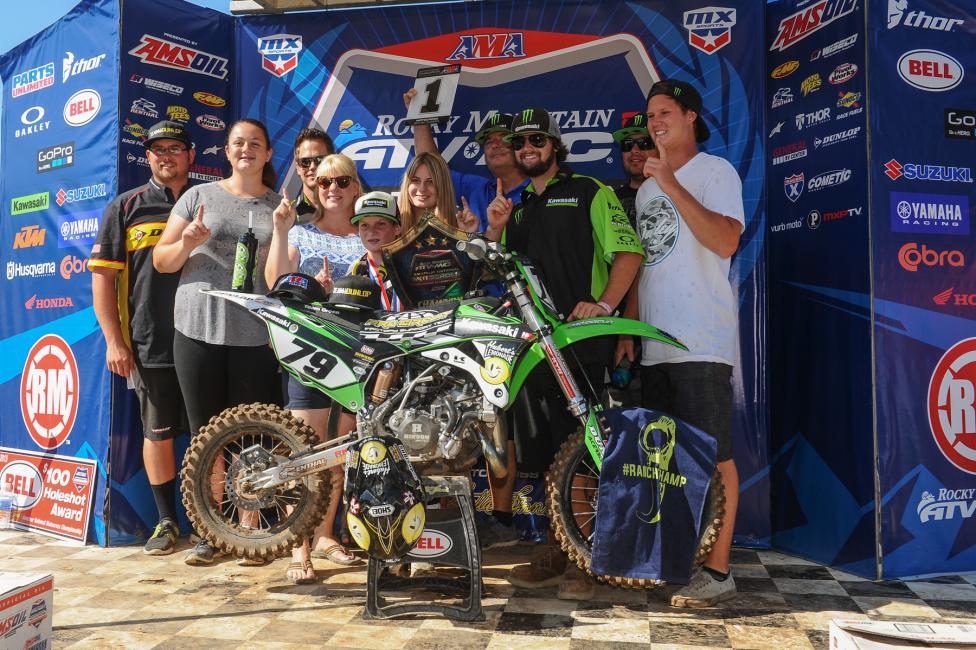 Photo: Ken Hill
One classification below the 85cc are the 65cc classes, which KTM had a clean sweep in 65 (7-11) with Matthew Leblanc (1-2-1) winning, Maximus Vohland (3-1-3) and Hunter Yoder (4-3-5) following on the podium.
All three 250 C divisions ran in the final day of racing. Sam Franklin (1-2-2), Richard Taylor (5-1-1) and Devon Oxsheer complete the 250 C podium. Levi Newby (6-1-2) claimed the first ever National title in the 250 C (12-16) Limited with Gaige Demars (4-6-1) and Richard Taylor (1-2-8) finishing out the podium in second and third. 250 C Limited was Sam Franklin finishing 1-1-2 and with Levi Newby (2-7-1) and Trevor Pavlik (4-5-3) rounding out the podium.
RacerTV.com provided over 40 hours of LIVE stream coverage of racing throughout the week and the archived footage is now available for viewing here. Complete results from the 2015 National Championship can be found here. For more information, visit the series official website at www.mxsports.com or call (304) 284-0084.
These are the top 100 fastest lap times during the week-long National.
| | | |
| --- | --- | --- |
| Lap Time | Name | Class |
| 01:53.5 | Tristan Charboneau | 450 A |
| 01:53.7 | Bradley Taft | 450 A |
| 01:53.7 | Bradley Taft | 450 A |
| 01:53.9 | Bradley Taft | 450 A |
| 01:54.3 | Chase Sexton | 250 B |
| 01:54.5 | Tristan Charboneau | 450 A |
| 01:54.6 | Chase Sexton | 250 B |
| 01:54.6 | Chase Sexton | 250 B |
| 01:54.7 | Michael Mosiman | 250 B |
| 01:54.9 | Justin Cooper | Two-Stroke (16+) |
| 01:55.0 | Austin Forkner | 250 B |
| 01:55.0 | Justin Cooper | Two-Stroke (16+) |
| 01:55.1 | Robbie Reynard | Vet 35+ |
| 01:55.1 | Austin Forkner | 250 B |
| 01:55.1 | Austin Forkner | 250 B |
| 01:55.2 | Sebastian Tortelli | Vet 35+ |
| 01:55.3 | Bradley Taft | 450 A |
| 01:55.3 | Austin Forkner | 250 B |
| 01:55.3 | Michael Mosiman | 250 B |
| 01:55.5 | Chase Sexton | 250 B |
| 01:55.5 | Michael Mosiman | 250 B |
| 01:55.6 | Jayce Pennington | Schoolboy 1 (12-16) B/C |
| 01:55.6 | Austin Forkner | 250 B |
| 01:55.6 | Austin Forkner | 250 B |
| 01:55.7 | Robbie Reynard | Vet 35+ |
| 01:55.7 | Chase Sexton | Schoolboy 2 (13-16) B/C |
| 01:55.7 | Chase Sexton | Schoolboy 2 (13-16) B/C |
| 01:55.7 | Tristan Charboneau | 450 A |
| 01:55.8 | Bradley Taft | 450 A |
| 01:55.9 | Austin Forkner | Schoolboy 2 (13-16) B/C |
| 01:55.9 | Joey Crown | 250 B Limited |
| 01:55.9 | Chase Sexton | 250 B |
| 01:55.9 | Austin Forkner | Schoolboy 2 (13-16) B/C |
| 01:56.0 | Michael Mosiman | 250 B |
| 01:56.1 | Robbie Reynard | Vet 35+ |
| 01:56.1 | Austin Forkner | 250 B |
| 01:56.1 | Chase Sexton | 250 B |
| 01:56.1 | Sebastian Tortelli | Vet 35+ |
| 01:56.1 | Bradley Taft | 450 A |
| 01:56.2 | Bradley Taft | 250 A |
| 01:56.3 | Joey Crown | 250 B Limited |
| 01:56.3 | Austin Forkner | 250 B |
| 01:56.4 | Justin Cooper | College (16-24) |
| 01:56.4 | Tristan Charboneau | 450 A |
| 01:56.4 | Chase Sexton | Schoolboy 2 (13-16) B/C |
| 01:56.4 | Justin Cooper | Two-Stroke (16+) |
| 01:56.4 | Chase Sexton | 250 B |
| 01:56.4 | Robbie Reynard | Vet 35+ |
| 01:56.4 | Robbie Reynard | Vet 35+ |
| 01:56.4 | Justin Cooper | College (16-24) |
| 01:56.5 | Austin Forkner | 250 B |
| 01:56.5 | Darian Sanayei | 450 A |
| 01:56.5 | Tristan Charboneau | 250 A |
| 01:56.5 | Mitchell Falk | Schoolboy 1 (12-16) B/C |
| 01:56.5 | Joey Crown | 250 B Limited |
| 01:56.5 | Mitchell Falk | Schoolboy 1 (12-16) B/C |
| 01:56.6 | Josh Osby | 450 A |
| 01:56.6 | Lorenzo Locurcio | 450 A |
| 01:56.6 | Josh Osby | 450 A |
| 01:56.6 | Benny Bloss | 450 A |
| 01:56.6 | Benny Bloss | Open Pro Sport |
| 01:56.6 | Sean Cantrell | 250 B |
| 01:56.6 | Michael Mosiman | 250 B |
| 01:56.6 | Darian Sanayei | 250 A |
| 01:56.6 | Richard Jackson | 450 B |
| 01:56.7 | Mark Worth | 250 A |
| 01:56.7 | Benny Bloss | 450 A |
| 01:56.7 | Austin Forkner | Schoolboy 2 (13-16) B/C |
| 01:56.7 | Jayce Pennington | Schoolboy 1 (12-16) B/C |
| 01:56.7 | Jayce Pennington | Schoolboy 1 (12-16) B/C |
| 01:56.7 | Jayce Pennington | Schoolboy 1 (12-16) B/C |
| 01:56.8 | Benny Bloss | 450 A |
| 01:56.8 | Austin Forkner | 250 B |
| 01:56.8 | Jon Ames | 450 B |
| 01:56.8 | Benny Bloss | Open Pro Sport |
| 01:56.8 | Richard Jackson | 450 B |
| 01:56.8 | Darian Sanayei | 250 A |
| 01:56.8 | Richard Jackson | 450 B |
| 01:56.8 | Sean Cantrell | 250 B |
| 01:56.8 | Chase Sexton | Schoolboy 2 (13-16) B/C |
| 01:56.8 | Austin Forkner | 250 B |
| 01:56.9 | Robbie Reynard | Vet 35+ |
| 01:56.9 | Justin Cooper | College (16-24) |
| 01:57.0 | Benny Bloss | 450 A |
| 01:57.0 | Joey Crown | 250 B Limited |
| 01:57.0 | Chase Sexton | Schoolboy 2 (13-16) B/C |
| 01:57.1 | Darian Sanayei | 450 A |
| 01:57.1 | Sean Cantrell | 250 B |
| 01:57.1 | Lorenzo Locurcio | 450 A |
| 01:57.2 | Chase Sexton | Schoolboy 2 (13-16) B/C |
| 01:57.2 | Richard Jackson | 450 B |
| 01:57.2 | Darian Sanayei | 450 A |
| 01:57.3 | Mitchell Falk | Schoolboy 1 (12-16) B/C |
| 01:57.3 | Sebastian Tortelli | Vet 35+ |
| 01:57.3 | Michael Mosiman | 250 B Limited |
| 01:57.3 | Lorenzo Locurcio | 450 A |
| 01:57.3 | Chase Sexton | 250 B |
| 01:57.4 | Austin Forkner | Schoolboy 2 (13-16) B/C |
| 01:57.4 | Justin Cooper | Two-Stroke (16+) |