This week, Yamaha released a new YZ250F, and while it wasn't really a surprise, it was what Yamaha needed. The 2018 YZ had slipped back in most shootouts, including Dirt Bike's. Here's where I need to point out that there was much disagreement among test riders. Pete Murray and I both listed the Yamaha as our favorites. The YZ250F had the most low-end power and it was the easiest to ride. I understand why most riders picked the KTM on top. It was faster and lighter. That counts for a lot, especially in the pro class.
So will the new YZ250F be back on top? Let's break down the info we have so far. The new bike is claimed to weigh 234 pounds with a full tank of gas. Last year, the bike was said to weigh 231, tank full. We weigh our test bikes without fuel, and the Yamaha was 222 pounds. That means Yamaha's claimed figures aren't far off by advertising standards; gas is supposed to weigh 6 pounds per gallon at 68 degrees (it gets lighter in warmer temperatures) and Yamaha is saying that last year's two-gallon tank held 9 pounds of fuel. Let's say it was warm that day. The new tank is 1.6 gallons, so it should hold 7.2 pounds of the same super-light fuel. The new bike should weigh 227 without fuel, so it gained 5 pounds with electric start. That's about the same as the Honda CRF250R, but the gap to the KTM 250SXF (219 pounds) is larger than it was.
The motor is new on the Yamaha, mostly to accommodate electric start and a larger clutch. The most interesting part here is that Yamaha apparently didn't redesign the valve train to use finger followers between the cams and valves. Honda and KTM have gone to this system and we know that other manufacturers will follow. It apparently allows for higher revs and more aggressive cam profiles. Yamaha did reconfigure the piston and cams and increase compression. The engine's rearward tilting head is said to be more upright.
Yamaha changed EFI system from Keihin to Mikuni. This happened on the 450 last year. It might have something to do with the Power Tuner Smartphone app, which will now work on the 250. This isn't a gimmick. The Smartphone app on the 450 was very useful and fairly easy to use.
The bottom line is that the YZ's most significant advancements are electric start and engine tunability. Yamaha says that the motor is designed for more top end power, but the increase in compression usually means more low-end. We'll see. There's every indication that the new bike will still be aimed at more mainstream riders. That's good for me.To see Yamaha's official 2019 MX bike release, click here.
THE HONDA MONKEY
Okay, I'll give away my age. I was born in 1958, which means I'm the same age as the Honda Super Cub. Honda is celebrating my upcoming birthday by releasing a new version of the Cub, as well as another throwback bike they call the Monkey. I knew it as the Z50, only now it's a fuel-injected 125 with a option for anti-lock brakes. The original Z50 is pictured below, and as I recall, it had anti-lock brakes of a different sort–more of a drag-your-feet system. I'm happy to see it come back. Now the Monkey sells for $3999 and the Cub is $3599.
Engine Type 124.9cc air-cooled single-cylinder four-stroke
Bore And Stroke 52.4mm x 57.9mm
Compression Ratio 9.3:1
Induction PGM-FI with automatic enrichment
Ignition Fully transistorized
Valve Train SOHC; two valves per cylinder
DRIVE TRAIN
Transmission Four-speed
Final Drive Chain
Clutch Multiplate wet
CHASSIS / SUSPENSION / BRAKES
Front Suspension 31mm inverted fork; 3.9 inches travel
Rear Suspension Twin shock; 4.1 inches travel
Front Brake Single 220mm hydraulic disc
Rear Brake Single 190mm hydraulic disc
Front Tire 120/80-12
Rear Tire 130/80-12
DIMENSIONS
Rake 25°
Trail 3.2 inches
Wheelbase 45.3 inches
Seat Height 30.6 inches
Fuel Capacity 1.5 gallons
Curb Weight 234 pounds (Includes all standard equipment, required fluids and full tank of fuel—ready to ride)
AMA VINTAGE DAYS
American Motorcyclist Association members have only until the end of the day to get a discount on tickets for 2018 AMA Vintage Motorcycle Days at Mid-Ohio Sports Car Course in Lexington, Ohio. The event, scheduled for July 6-8, is North America's premier event for vintage motorcycle riders, racers, collectors and fans. AMA members can visit www.amavintagemotorcycledays.com or call (614) 856-1900 to order.
For AMA members, weekend passes are $45, a savings of $15. AMA members can get daily passes for Friday and Saturday at $25 a day, instead of $40. And Sunday tickets are $20 for members, instead of $35. Non-AMA members can buy tickets through Mid-Ohio Sports Car Course online at www.midohio.com or by calling (419) 884-4000. Regularly priced tickets also will be available for purchase at the gate all weekend.
OLD BIKE MECCA
AMA Vintage Motorcycle Days includes racing, bike shows, live music at the Old Bike Barn Crossroads stage, seminars and motorcycle attractions. The AMA Vintage Motorcycle Days Swap Meet, brought to you by Federal Motorcycle Shipping, brings hundreds of vendors together to sell, buy or trade bikes, parts and memorabilia. The event also features the AMA Vintage Grand Championship, which features road racing, motocross, hare scrambles, trials and dirt-track racing.
Current production bikes will be on hand for display and demo rides. Informational seminars are scheduled to help riders become better motorcyclists. The event also features the AMA Vintage Grand Championship, which features road racing, motocross, hare scrambles, trials and dirt-track racing.
AMA Vintage Motorcycle Days is a family-friendly event. Children 12 and younger get in free with a ticketed adult. Free parking is also available on site. Proceeds from AMA Vintage Motorcycle Days benefit the AMA Motorcycle Hall of Fame, which is located on the AMA campus in Pickerington, Ohio. The mission of the Hall of Fame is to tell the stories and preserve the history of motorcycling's legends and heroes. For more information, call (614) 856-2222, or visit the Hall of Fame's website at www.motorcyclemuseum.org.
DESTRY AND COOPER IN CHILE
Destry Abbott and Cooper Abbott will be going on a family vacation in Chile this fall. Here's what Destry has to say about qualifying for the ISDE with his son this year
"Let me start off with my biggest news that I'm super excited and proud about: Cooper and I will both be going to Chile for the 2018 ISDE in November! I'm pretty happy with what I've accomplished throughout my career, but being able to represent USA for my 10th ISDE as well as racing beside my son will definitely be one of the highlights.
"It's even more special considering where I was two years ago when my future was so uncertain and I didn't know if I would be here or riding a motorcycle again. To offset some of the cost, we'll be making a t-shirt that will be up for sale on our site in the next month along with a local ride day/fundraiser in October at one of the local AZ tracks."
LAST DOG STANDING LIVE BROADCAST
The Last Dog Standing will be broadcast live on Youtube tomorrow. Tune in!
TOMAHAWK GNCC
After a grueling three-hour race just two weeks ago in Ohio, The 2018 AMSOIL Grand National Cross Country (GNCC) Series, an AMA National Championship, heads to New York for the 4th Annual Dunlop Tomahawk GNCC this weekend, June 9 and 10. Rockstar Energy/Factory Husqvarna Racing's Thad Duvall had a dominating performance at the previous round, and is looking to keep his momentum rolling into this weekend.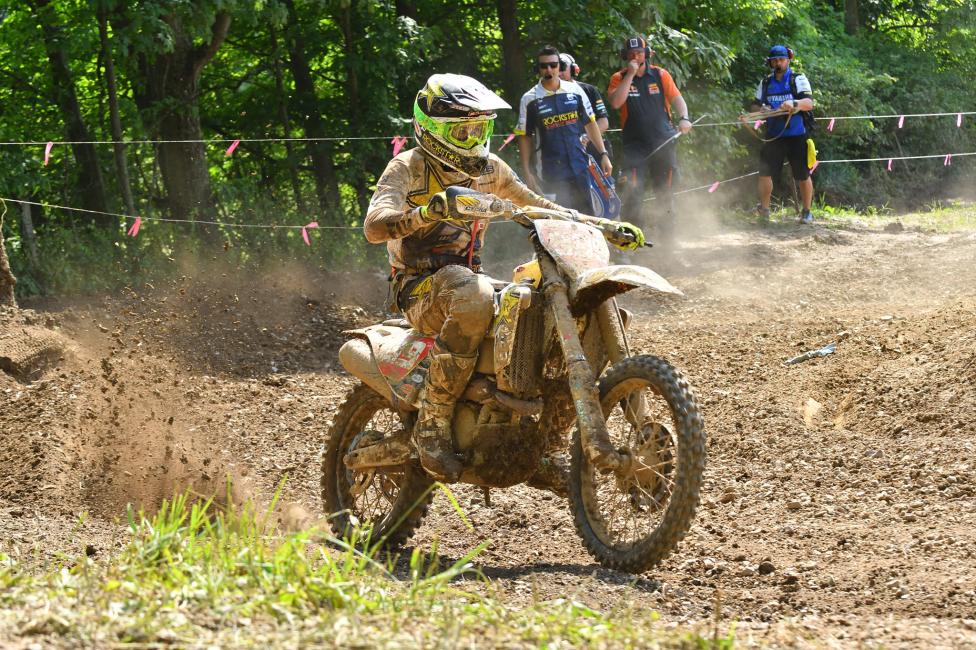 Duvall is aiming to make it two-in-a-row this weekend in New York.-– Ken Hill
Duvall earned the win at last year's Tomahawk GNCC, and with two wins under his belt thus far in 2018 he is eager to battle for a third and earn valuable points towards to the championship battle. He sits 15 points out of the lead behind FMF/KTM Factory Racing's Kailub Russell for the title. Since Duvall has yet to finish off the podium and with the added momentum knowing that K. Russell has not earned a win at this venue, it could be the start to Duvall's winning streak.
K. RUSSELL STILL LEADS
Kailub Russell rounded out the podium at The John Penton GNCC, after having trouble firing his bike on the starting line. K. Russell stated that he did not make it easy on himself throughout the race, but he still managed to land on the podium. This Sunday he will be looking to earn his first win at Tomahawk, and his sixth of the season.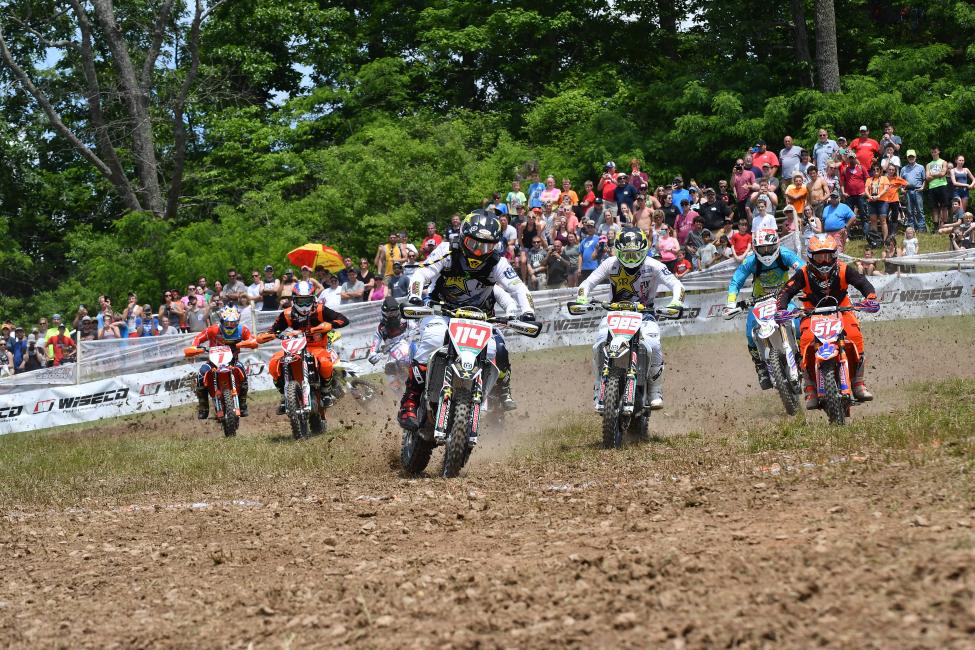 Josh Strang captured the XC1 Open Pro holeshot, and he earned his first podium finish of the season.-– Ken Hill
STRANG COMES BACK
Rockstar Energy/Factory Husqvarna Racing's Josh Strang is another rider who will be looking for the front spot of the race this weekend. Strang found himself at the front of the pack two weeks ago where he finished in the second-place position, which his best finish so far in 2018. Strang has had success at this race in the past, and he will be looking to earn his first overall win of the season on Sunday.
Coming into round eight currently sitting third in the championship standings is Tely Energy Racing/KTM's Steward Baylor Jr. Since the beginning of the season S. Baylor has not finished outside of the top five, yet he will be aiming to take home his first overall win. Beta USA's Jordan Ashburn put in a good ride at the previous round and is hoping to keep his drive going into round eight.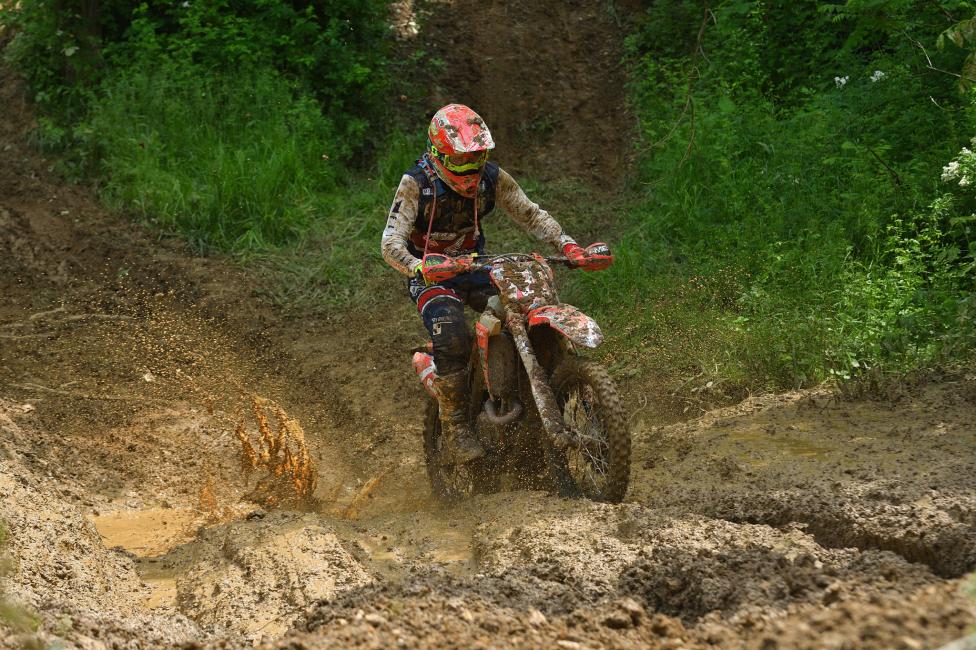 Trevor Bollinger currently sits in the fourth place position, but is looking to earn another podium finish at the Tomahawk GNCC.– Ken Hill
That's all for now
–Ron Lawson