BLAST FROM THE PAST
TIM GAJSER; HONDA GARIBOLDI RIDER AND NEW WORLD CHAMP
This is a prety tight video of an unlikely MXGP2 champion Tim Gajser from Slovenia.
CHAPARRAL MONSTER PARKING LOT SALE THIS SATURDAY OCTOBER 3RD!!!!
Chaparral Motorsports is excited to announce its annual Monster Parking Lot Sale is returning to the Chaparral Motorsports headquarters on South H Street in San Bernardino, and will take place on Saturday October 3rd from 8am-3pm. After several years at San Manuel Stadium, Chaparral Motorsports decided to bring the Monster Sale back home so that motorcycle, ATV, and UTV enthusiasts could take advantage of all the great deals available from the numerous vendors as well as the great prices inside the Chaparral Motorsports store, where riders are rewarded for their purchases.
The 29th annual Monster Parking Lot Sale will be located in the parking lots directly behind the Chaparral Motorsports building and will feature top name vendors like O'neal, Pro Circuit, FMF, Oakley, and many more. "Before we moved the sale over to San Manuel Stadium we used to have it here at our H Street address," stated Crystal Ashby, marketing VP at Chaparral Motorsports. "It's great to bring it back home, this move will make it easier for everyone to quickly and easily find the best deals from their favorite vendors and enjoy our numerous one-day-only, in-store pricing without having to drive to two different locations.
With incredible deals on everything from UTV and motorcycle tires to astonishing prices on riding gear, parts, and accessories, the Chaparral Motorsports Monster Parking Lot Sale has become a must-attend event for motorsports fans from as far away as Arizona and beyond. Comparable to Black Friday sales, fans start lining up at the wee hours of the morning just to ensure they can get all the best deals. This year's lineup of vendors and inventory is shaping up to be the best in years and should make for a spectacular event.
Chaparral Motorsports is recognized as one of the largest motorcycle dealerships in the country, offering a great selection of motorcycle parts, accessories, motorcycle gear, and motorcycle tires. Chaparral Motorsports now encompasses a 160,000 square foot footprint in San Bernardino, Calif. Started as a family motorcycle parts business, Chaparral Motorsports has developed into a multi-line motorcycle and ATV superstore, offering Honda, Yamaha, Kawasaki, KTM, Suzuki, Can-Am, Polaris, and Kymco ATV's, motorcycles, side by sides and utility vehicles. For more information on Chaparral Motorsports, visit www.chaparral-racing.com

ISDE OUTTAKES FOUND ON KATO'S GAGGLE OF PICS
You gotta think about this, Mark Kariya is one of the finest photojournalists on the planet. He has covered the ISDE since Burleson was in diapers. He shoots for six solid days and in the magazine we maybe use 10-15 shots. We're talking thousands of pics here, and I just snuck out a few that didn't make the cut. Enjoy and thanks Kato.
______________________________________________________________
Russell Crowned 2015 GNCC and National Enduro Champion
Becomes First to Clinch Both Championships in the Same Year
Factory FMF/KTM rider Kailub Russell made history this past weekend by claiming the 2015 Kenda AMA National Enduro Championship, just one week after securing the AMSOIL Grand National Cross Country (GNCC) National Championship. Russell is the first racer in the history of off-road racing to clinch both the GNCC and National Enduro Championships in the same season.
Both championships come after the official announcement that Russell had, in fact, torn his ACL during the International Six Days Enduro (ISDE) in Slovakia just two weeks ago. Pushing through his injury, Russell was able to finish on the podium this past weekend at round nine of the National Enduro Championship with a third place overall.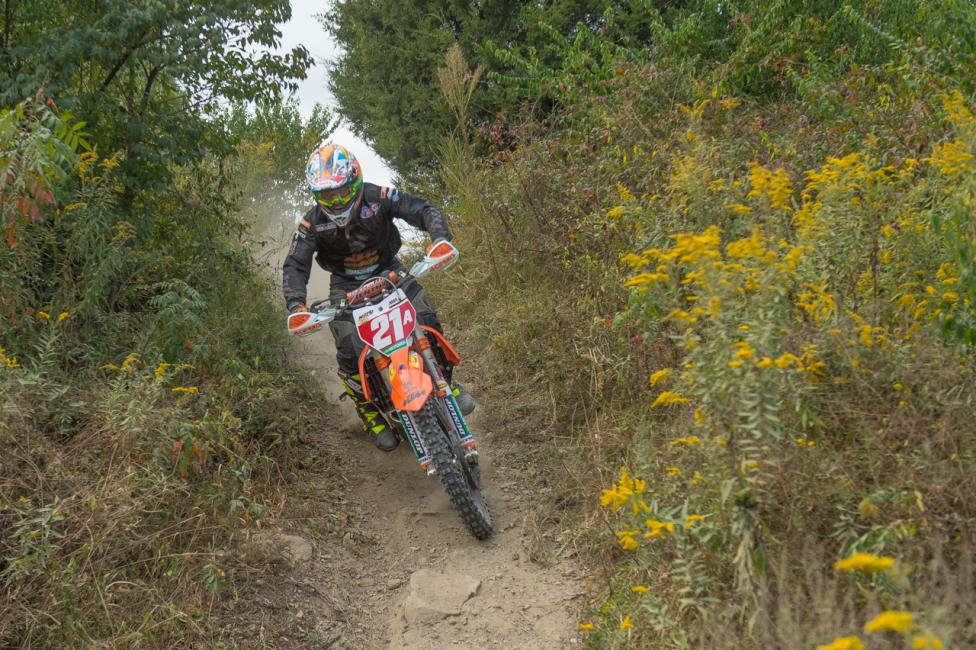 "A few weeks ago when I hurt my knee, I wasn't sure what I would be able to do with the two championships I had on the line," said Russell. "I am so thankful I was able to ride through this injury and win these championships. I had a great season and I am very grateful to my team for their support."
In addition to becoming the first rider to ever claim the GNCC and National Enduro championships in the same season, the National Enduro championship is also historically significant as he and his father, Jeff Russell, became the first ever father and son duo to claim AMA National Enduro championships.
PRODUCT SHOWCASE
MOOSE EXPEDITION JACKET
$349.95
•    Seam sealed laminated nylon shell is highly durable, waterproof, windproof, and breathable
•    500D Cordura™ overlay panels in shoulder and elbow
•    D3O® EVO XT shoulder protectors and elbow protectors
•    D3O® VIPER 1 back protector
•    Micro fleece lined collar
•    Top collar and bottom hem cinch cord
•    Articulated arms and stretch material in sleeve
•    Available in sizes SM – 4X
MOOSE EXPEDITION PANT
•    Seam sealed laminated nylon shell is highly durable, waterproof, windproof and breathable
•    500D Cordua™ overlays in knee and seat
•    D3O® EVO XT knee protectors and hip protectors
•    Full grain leather inner knee panels
•    Four pockets: two hand and two side leg
•    Extended side leg zipper for easy entry/exit
•    Locking YKK™ zipper closure and 2 side hook and loop waist adjusters
•    Available in sizes 30"- 48"

 $325.00
www.mooseracing.com
________________________________________________________________________________________________________________
When you absolutely need to know where you're going and how to get there—especially off-road or in an emergency—get a Garmin Navigation System. Garmin is the world leader in navigation systems for automotive, outdoor, and marine use. And unlike a smartphone that requires a cell signal, a Garmin uses GPS satellites to relay navigation information. That means you get the directions you need wherever you might be, anywhere in the world.
Summit Racing carries three Garmin Navigation Systems:
Nüvi 58LMT Navigator

The Nüvi 58LMT is an easy-to-use, dedicated GPS navigator that does not rely on cellular signals and is unaffected by cellular dead zones. It features a bright, five inch display that can be viewed horizontally or vertically. The Nüvi 58LMT comes pre-loaded with detailed maps for the U.S. and Canada, with free lifetime map updates. Other features include:
• Spoken turn-by-turn directions with Garmin Real Directions™ guide uses landmarks and traffic lights
• Foursquare feature makes it easy to find addresses for businesses, stores, restaurants, etc.
• Direct Access simplifies finding destinations at large areas like malls and airports
• Lane Assist with interchange junction view uses bright colored arrows to indicate proper lane
• Garmin Traffic Alerts provide details about delay times, possible detours, and finding the fastest route
• UpAhead feature shows points of interest right on the map screen
• Speed limit indicator and school zone alert warning
• Can be used with the Garmin BC 30 wireless backup camera, available separately
Nüvi Cam LMTHD Premium Navigator

The NuviCam LMTHD has a built-in dash cam that continuously records your drive and automatically saves the footage in case of an impact. GPS records exactly where and when the event occurred, and you can view a map of where you were at the time of the incident. The dash cam's swivel lens lets you adjust camera angle for better recording from either a windshield or dashboard mounting location. Other features include:
• Detailed maps of North America with free lifetime map updates
• HD Digital Traffic sends traffic updates as often as every 30 seconds, can report delay times and possible detours
• Garmin Real Vision will switch to dash cam view with a bright arrow to point out your destination
• Spoken turn-by-turn directions with Garmin Real Directions™ guide
• Lane Assist with interchange junction view
• Foursquare feature to find addresses for businesses, stores, restaurants, etc.
• Direct Access simplifies finding destinations at large areas like malls and airports
• Forward collision warning alerts you if you are too close to the car ahead
• Lane departure warning alerts you if you drift off the road or into oncoming traffic
• Bluetooth® and smartphone link compatible
• Speed limit indicator and school zone alert warning
Zumo® 590LM Motorcycle Navigator

Designed specifically for motorcycles, the Zumo 590LM features a five inch touchscreen display that is readable in direct sunlight and easy to use even with gloves. The built-in Bluetooth interface provides hands-free phone control when used with a Bluetooth-enabled smartphone and headset. Other features include:
• Spoken turn-by-turn directions with Garmin Real Directions guide (Bluetooth headset required)
• Curvy Roads feature finds winding roads for exciting rides
• Round trip routing can plan your ride according to time, distance, or location
• UpAhead feature shows points of interest right on the screen
• Lane Assist with interchange junction view
• Supports TOPO and custom maps for off-road rides (additional mapping sold separately)
• TracBack feature helps you navigate back to where you started a ride
• Built-in trip computer with compass display, digital fuel gauge, and speed limit indicator
• Compatible with Garmin VIRB Action Cameras (sold separately) to record your rides
• Monitor motorcycle tire pressure with optional TPMS sensors
• Service history log records service dates, mileage, and performed maintenance
• Built-in MP3 player
• Comes with motorcycle mount plus a mount and power cable for use in a car or truck
SEE GARMIN NAVIGATION SYSTEMS AT SUMMIT RACING
Summit Racing Equipment
www.SummitRacing.com
1-800-230-3030
2016 PRO CIRCUIT EXHAUST HONDA 450/ YAMAHA 250
 At Pro Circuit, we get just as excited about new models as
everyone else and we could hardly wait to get our hands on the new 2016 Honda CRF450R and
2016 Yamaha YZ250F. For '16, the CRF450R will utilize the same T-6 & Ti-6 exhaust systems as
the '15 version with the same unmatched performance advantage racers have come to expect from
Pro Circuit. The Ti-6 Pro and T-6 Euro systems have been revised for improved performance and
still meet the AMA/FIM and European sound requirements. The YZ250F T-6 and Ti-6 systems are
all new for 2016 with superior performance gains across the entire RPM range. Additionally, racers
with '14-15 YZ250F models also benefit from our endless hours of testing because our new '16
systems also fits these earlier versions as well with the same winning performance.
THOR PRIME-FIT RIDING GEAR
2016 Prime Fit jersey from Thor is the newest in form-fitting athletic inspired racewear that gives you an edge on the track. Prime Fit features an all new contoured chassis, compression style sleeves, and an innovative flat-seam construction around the shoulder while providing the same ultra lightweight design.
DIRT BIKE MAGAZINE PRESENTS "PREMIX"
WAS THIS THE ONLY AMERICAN TO EVER WIN THE MOTOCROSS DES NATIONS AND TOP AMERICAN AT THE ISDE? 
Danny Laporte was on the winning 1981 des Nations team, went on to win a World GP championship in 1982, became a Rally star and in 1989 won the Top American award at the Germany round of the ISDE.
_________________________________________________________________________
WOLF: BACK IN THE DAY