BLAST FROM THE PAST
RUMORS
On the motocross scene there has been an ongoing buzz that James and Malcolm Stewart will hook up on a Go Pro, Red Bull backed Honda effort.
JGR, not happy with Yamaha's decision to field their own factory effort will run Yosh Suzukis next year.
Ryan Villopoto is bored and coming out of retirement. It's also rumored that there are big bucks trying to coax him back into being a full time racer.
NOT A RUMOR…
Glen Helen will not get next year's Motocross of Nations. This was probably preempted by the miserable fan base that showed for the GP and the fact that they are a business, and buying into the MXoN takes a big check and the number one return is tickets. No spectators means no $.
–
REST IN PEACE: CHUCK "FEETS" MINERT (1931-2016)
If you get the chance go over to Motocross Actions website and read Jody's editorial on the passing of Chuck "Feets' Minert. It's well worth it!
–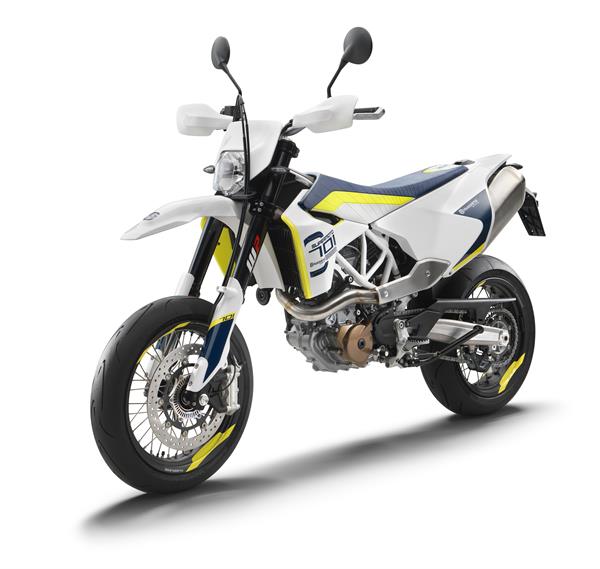 HUSQVARNA MOTORCYCLES INTRODUCES NEW 701 SUPERMOTO & 701 ENDURO
701 FAMILY REACHES NEW HEIGHTS IN PERFORMANCE WITH THE LATEST GENERATION SINGLE CYLINDER ENGINE FOR MODEL YEAR 2017
Husqvarna Motorcycles are proud to unveil the new 701 SUPERMOTO and 701 ENDURO, fitted with the most powerful single cylinder engine ever developed by Husqvarna delivering an additional (4.5kW) 6 hp and 3.0 Nm of torque over the previous generation while also meeting strict EURO IV emission levels.

Always committed to innovative product development, Husqvarna have focused on introducing further advances in engine performance and reliability, while giving both new models a fresh look that remains true to the brand's Swedish heritage.

Combining high-tech componentry to offer unparalleled performance, the new 701 SUPERMOTO and 701 ENDURO ensure Husqvarna riders shall have the perfect machinery to make the most out of any riding situation, ranging from daily commuting to adrenaline-filled on or offroad adventures.

MAJOR ADVANCES

Both the 701 SUPERMOTO and 701 ENDURO are equipped with a new generation Euro IV compliant single cylinder engine that features the latest technology in terms of design and electronics. With a significantly improved power output of 74 hp (55kW) at 8,000 rpm and torque of 71.0 Nm at 6,750 rpm, the 692.7cc single cylinder powerplant offers class-leading performance.

With reliability a key factor, the use of innovative solutions such as the active evacuation and forced lubrication of the crankcase ensure long 10,000 km service intervals. All the latest engine advances provide an extremely low fuel consumption that along with the lengthy service intervals massively reduces the cost of ownership in the long run.

Smooth power delivery is guaranteed by the state-of-the-art four-valve cylinder head with its twin spark ignition. With the single overhead camshaft technology allowing for more exact valve timing at higher engine speeds, Husqvarna engineers added an extra 1000 rpm of usable power to the engine. For increased comfort and less vibrations the engine also features a second counter balancer shaft.

The Keihin electronic fuel injection features a new 50 mm throttle body that has no mechanical linkage to the throttle grip and offers better throttle response and ride-ability at small throttle valve positions.

ENGINE HIGHLIGHTS
=>Increased power & torque of 74 hp & 71.0 Nm
=>An additional 1000 rpm of usable power
=>Reduced oscillating masses for lower vibrations
=>New intake resonator for improved response at low rpm
=>Long service intervals & low fuel consumption
=>Single overhead cam
=>Double spark plugs
=>Large bore & short stroke [105 mm & 80 mm]
=>Forged aluminium piston
=>Cutting edge ride-by-wire electronics

701 SUPERMOTO

Perfectly mixing the finest craftsmanship with unparalleled single cylinder performance, the 701 SUPERMOTO brings Husqvarna's World Supermoto Championship winning pedigree into a machine that's versatile enough to be ridden by all. Loyal to Swedish styling for a minimalistic but highly efficient design the new model gets updated graphics, with white colours prevailing over blue and yellow.

Featuring a maximum power output of 74 hp and a torque of 71.0 Nm the updated single cylinder EURO IV engine leaves no doubt regarding performance. Combining the highest quality components with the latest electronics in terms of engine management, the new 701 SUPERMOTO takes performance and agility to a whole new level.

701 ENDURO

Carrying Husqvarna's Enduro World Championship winning tradition, the 701 ENDURO can handle both urban environments and offroad terrain with ease. Equipped with the upgraded single cylinder engine, the all-new 2017 model reaches new levels of performance and versatility.

The new poweplant offers an additional 1,000 rpm of usable power, which along with reduced vibrations bring single cylinder technology to the highest level. With its crisp throttle response the engine allows riders to confidently tackle offroad adventures as well as their daily commute.

Staying true to its Swedish heritage, Husqvarna have given the new 701 ENDURO a fresh look, with a white, blue and yellow colour scheme subtly enhancing the minimalistic and modern design.
PRODUCTS
For 2017, the YZ250F T-6 and Ti-6 systems are all new with
superior performance gains across the entire RPM range. 2017 YZ250F racers will benefit from
our endless hours of testing because the new systems also fit earlier models as well with the
same winning performance.
–
AFRICA TWIN GOODS FROM BLACK DOG
–
ALPINESTARS DES NATIONS SPECIAL
–
---
www.REDLABEL.mx Custom Graphics is proud to release New 2017 SPEED Suzuki Line of Custom Graphics. REDLABEL has 7 Color Options to start with and then customize your kit from there, for free. FREE CUSTOM WORK for every order at www.REDLABEL.mx
Full Custom Bike Bike Kits are $189 which includes FREE CUSTOM WORK, free hub stickers and free mini plates with every order. Use coupon code "REDLABEL 10-OFF" to get a 10% discount on your first REDLABEL Custom Graphics Kit.
–
–
Ride Engineering
, the industry leader in aftermarket handling and braking performance is proud to release a new 
270mm Brake Rotor Kit
. With better braking power, riders are able to carry more speed and out brake the pack corner after corner.
This new 
270mm Solid Wave Rotor
, made by Galfer exclusively for Ride Engineering, offers great stopping power at a lower cost and lighter weight than similiar floating discs. Using a special blend of stainless steel and iron alloy materials imported from Japan, this secret recipe is preferred by many factory racing teams. A precision machined hanger bracket, 2024 aluminum, ensures a precise fit without drag on the front wheel and is sold separately or included as a kit. This solid wave rotor weighs in at a minimal 1lb 1oz. Pair it with our 
Billet Front Brake Caliper
 for unbeatable stopping power!
These Rotors ($175), Hangers ($65), or combo kits ($235) are available for most popular KTM, Honda, Kawasaki, Suzuki, Yamaha, and Husqvarna models.
–
THE B TEAM MIRACLE
FOR IMMEDIATE RELEASE, PLEASE.


1981 MOTOCROSS DES NATIONS DOCUMENTARY PRODUCTION UNDERWAY IN MAGGIORA, ITALY
Acclaimed film and TV director Todd Huffman to chronicle American milestone in international motorcycle racing competition.

Johnny O'Mara shocks the world in Lommel, Belgium

The "B Team" ready to do battle.
Danny LaPorte doing his part in Bielstein, Germany
How sweet victory is.
FULLERTON, CALIF. (September 22, 2016) – A new documentary film about America's first Motocross des Nations (MXdN) victory in 1981 will begin shooting this week in Maggiora, Italy during the 2016 Monster Energy Motocross Of Nations Presented by Fiat. The film titled "1981" will be produced and directed by Todd Huffman, acclaimed creator of The Motocross Files TV series and 2014's PENTON: The John Penton Story.
In 1981 it looked as though America would not have a team attending the annual MXdN event, often referred to as "The Olympics of Motocross". Not until American Honda team managers Roger DeCoster and Dave Arnold were approached by Motocross Action Magazine editor Dick Miller, to send American Honda's team riders Danny LaPorte, Donnie Hansen, Chuck Sun and Johnny O'Mara. In previous attempts the US had never won the MXdN and popular opinion held that this squad "America wasn't sending their best." LaPorte, Hansen, Sun and O'Mara were dubbed "The B Team" but their shocking 1981 victory proved the naysayers wrong and established their version of "The Miracle on Ice."
1981 tells the story through the eyes of the racers, managers, mechanics, competitors, spectators, fans and the media as it has never been told before. Using interviews, archival film and reenactments, 1981 is the story that motocross fans have been waiting to see on the big screen.
"Since I have been telling motocross stories on TV and in our films, this story has always risen to the top as one that needs it's own voice," said Huffman. "I'm looking forward to finally bringing it to fans around everywhere who love motocross and celebrate the underdogs."
1981 is supported initially by Bel-Ray Lubricants as a sponsor brand who was a key partner in the original 1981 Team USA success in Europe and has continued to support motorized competition to this day.
"Bel-Ray has a long history in supporting important championships and this 1981 event was particularly special because of our involvement with that team and those riders," said Bel-Ray's Marketing Director, Karl Locascio. "It will be great to celebrate their story again."
Director Huffman is using the 2016 Motocross of Nations event in Maggiora, Italy to begin filming as a tribute to the 30th anniversary of America's "Dream Team" win at the same location in the 1986 Motocross des Nations. Team members Ricky Johnson, David Bailey and Johnny O'Mara will be in Maggiora for 30th anniversary ceremonies. Film production will continue through 2017 with an anticipated release theatrically in 2018.
There are opportunities for other sponsor brands to join Bel-Ray in becoming part of the 1981 film project for branding, dealer activation, social media content, etc.

About PDM
Pipeline Digital Media is a full-service, high-definition, broadcast TV, commercial and video production company based in Fullerton, CA. They produce commercial and social media projects for a wide-range of clients in retails and business-to-business segments. PDM also has produced the highly acclaimed series for Speed on the history of the sport of motocross, The Motocross Files and currently have the feature documentary PENTON: The John Penton Story in limited theatres and on home video.
About Bel-Ray
Bel-Ray Company, Inc. was founded in 1946 and serves the lubrication needs of powersports, industrial and mining customers worldwide. "Flex Your Engine" with Bel-Ray's superior Powersports line that delivers top quality Made-in-the-USA lubricants and service products to motorcycle and recreational vehicle enthusiasts around the world. Bel-Ray products are available at powersports dealers worldwide. Visit BelRay.com for a complete dealer listing. Find the right lubricant for your equipment with Bel-Ray's Lubricant Advisor. Like us on Facebook.com/BelRayCompany or follow us on Twitter / Instagram.
For more information contact Todd Huffman, Producer/Director
E-mail:  info@pdmtv.com
Phone: +1-714-626-0885
Web:  www.pdmtv.com

ON MY DESK
I clipped this out of Cycle News in November of 2001. Second behind TC at a National Enduro wasn't half bad. On the uglier side, dag that was a LONG time ago!
WOLF: BACK IN THE DAY